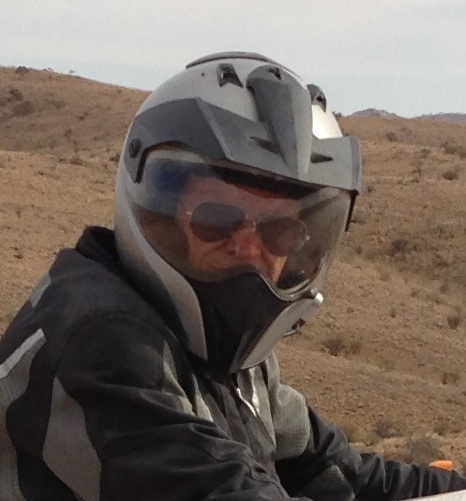 Just because you like roughing it in the bush on your adventure bike doesn't mean your head has to suffer as well. That's why I wear a BMW Enduro helmet.
Alcantra is a soft suede-like material BMW uses in the upholstery of its luxury cars.
The liner in my BMW Enduro helmet is a modern chemical marvel being a mix of Alcantra and DuPont Coolmax.
Pullling on the helmet feels like sticking your head inside a pillow. Adding to the comfort factor are the two Alcantra pads inside the chin straps.
I've had it for almost two years now and it's still as good as the day I bought it despite removing the liner on several occasions to wash off my sweat and the outback red dust.
The adventure helmet is motocross style with a peak, but also with a visor so it's suitable for traveling at high speed.
It doesn't have the large gap between your chin and the helmet like MX helmets so it doesn't allow as much airflow into your mouth. However, adventure riding is not usually as physically demanding as MX so you don't need to gulp in large amounts of air.
The small vents on the top don't seem to add to the airflow.
Surprisingly, on a hot day it feels cooler having the visor closed and the chin/dust guard fitted. Maybe it's that venturi principle at work again, forcing faster and therefore cooler air into the front of the helmet.
The enduro is also a good helmet in winter with an antifog and antiscratch visor.
The peak isn't as long as an MX helmet, but does shield a bit of sun off your nose.
At high speed, the peak can pull at your head, but you can quickly unscrew it with your bike key.
It's quite light for an adventure helmet at 1380 grams, but like most of its ilk it's not extremely quiet.
While it hasn't been crash tested, it's made of fibreglass with carbon and Kevlar reinforcement and a five-part expanded polystyrene inner shell, so it must be strong.
BMW ENDURO HELMET
WEIGHT: 1380g (with visor)
SIZES: 53/54–63/64
PRICE: $900