No, it's not a 2014 BMW R nineT Roadster. It's actually a 2003 BMW R 1150 R Rockster custom. It's the brainchild of Brisbane Motorline BMW dealer principal Craig Rose whose workshop turned his dream into reality.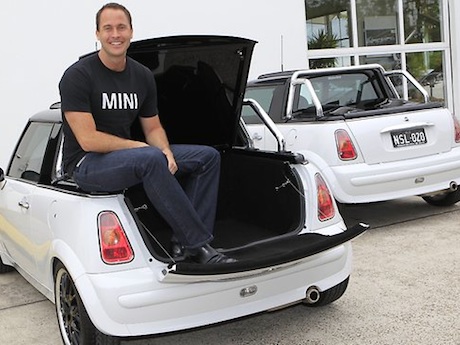 It's the second motorcycle custom the workshop has produced after turning an R 80 RT into a cafe racer. The workshop has also restored many motorcycles and cars and even built a unique vehicle Craig called a Mute – a Mini converted into a ute! Craig says all the design, fabrication and painting for these vehicles was done in-house.
The Rockster came to Motorline as a trade-in and Craig spotted potential in the vehicle, so it was sent to the workshop where it was hacked and hewn into this superb masterpiece. Rocksters are honest bikes, but downright ugly. So the scant bodywork and tank were removed, the tail obliterated and the handlebars, headlight and instruments chucked in the waste bin. What was left was a frame, engine, suspension, shaft and wheels.
The Motorline workshop then fabricated a fibreglass rear hugger, fitted a handmade solo seat, MX bars with bar-end drop down mirrors, small instrument pod, headlight and many other tasty accessories and bits. But the defining style of the custom is the oversized R 1150 GS Adventure fuel tank. It looks so ugly, it's beautiful. Kind of like a bulldog.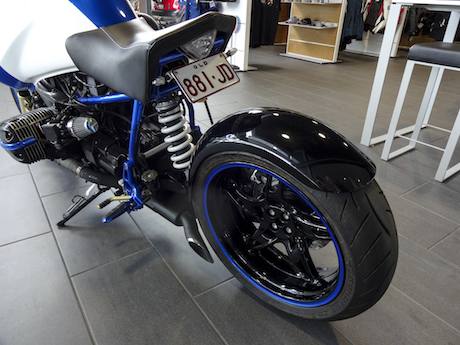 Final detail is the heat-wrapped header pipes leading to shorty exhausts that exit just in front of the rear wheel on either side. The paint shop has stuck to BMW blue and white with a blue frame and gloss black wheels. We're not sure how it rides, but just sitting on it in the showroom it feels as solid as a rock.
Motorrad section boss Ben Lang says Craig saw a lot of potential in the Rockster and that the result is "a showcase for the sort of things we can do". Possibly their biggest coup will be to get it approved for registration.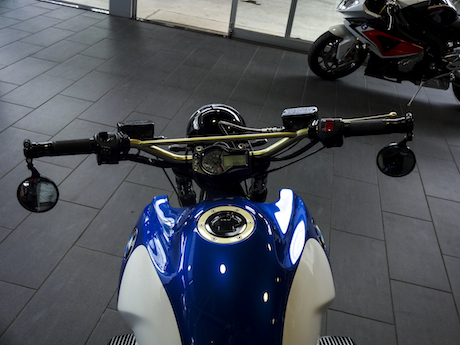 It currently has the rego plates from the trade-in, but with that minimal rear end, they may have some difficulty getting street compliance. It's the same issue that faces the R nineT which arrives in April at $20,950 and has a convertible tail end that removes.
If you want this one-off custom, it will cost you $26,000 which sounds expensive but is probably a fair price for its uniqueness, all the bits and pieces added to it and the many hours of work that have gone into it. Otherwise, you could buy a second-hand Rockster and get busy with a hacksaw.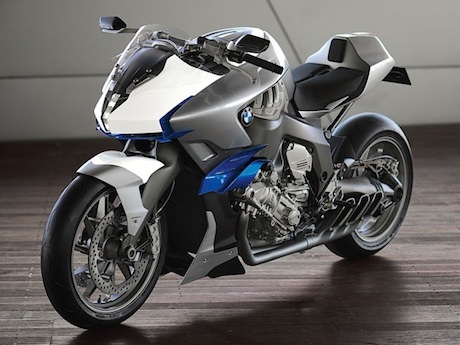 Meanwhile, the next project for the Motorline custom workshop is turning a crashed K 1600 GTL into a Concept 6 custom. I can't wait to see that!