BMW Café Racers
By: Uli Cloesen
Hardcover
ISBN: 978-1-845845-29-2
Publisher: Veloce Publishing
Publication Date: February 2013
128 Pages. 205 Photos. 250 mm x 250 mm
List Price: $39.95; £25.00
BMW Café Racers continues what is now a four-part series of "square" (25 cm x 25 cm) books authored by Uli Cloesen for Veloce Publishing.
The first of the series was BMW Custom Motorcycles: Choppers, Cruisers, Bobbers, Trikes & Quads, reviewed by yours truly back in June of 2011 (Was it really that long ago? Seems like just yesterday…).
I didn't know at the time that there would be a series of these books…and perhaps neither did Veloce (or the author).
But here it is, almost exactly two years later and we have what can be considered Part 2 of the series, BMW Café Racers. Also released is the very wild 'n' crazy Italian Custom Motorcycles: Choppers, Cruisers, Bobbers, Trikes & Quads (review) and now I'm very curious about the last of the current series, Japanese Custom Motorcycles: Cruisers, Bobbers & Ditto...
I didn't quite know what to make of BMW Custom Motorcycles, but BMW Café Racers makes a lot more sense to me. In fact, for me it was the original BMW café racer, the BMW R90S (background), that was one of my first BMW objets de convoitise.
[asa2 tplid="6″]1845845293[/asa2]
The R90S was and is one of the most classic, iconic motorcycles of all time, no ifs, ands, buts or any two ways about it.
But, like I wrote in my review of BMW Custom Motorcycles, "BMW Motorrad seems to be almost phobic about even mentioning a reference to their past, much less bringing out a modern retro Airhead model to celebrate it." That's just as true today unfortunately, even though it is rumored that BMW will release the "NineT", a limited-edition retro, this year at the annual 2013 BMW Motorrad Days (preview).
The NineT (or whatever it ends up being called) remains to be seen, but so far the reports haven't kept me up at night dreaming. Instead of really stretching and making what would have been the true "Last of the Airheads", BMW will apparently use the old and somewhat troublesome "Oilhead" engine for what appears to be a very mild makeover of a generic R1200R.
What makes it unfortunate is what could/should be — hinted at in this BMW Café Racers book. There are some awesome BMW café racers shown here in 205 (count 'em) color photographs, big as life. We're talking everything from the ultra-classic 1925 BMW R37 to Yuri Shif's very custom two-engined (placed vertically and back-to-back!) BMW Airhead custom that simply has to be the single most outrageous BMW ever made.
And yes, that classic R90S is in there too. Don't forget the K1100 "Flying Brick"; BMW's "No, we're not Japanese" four-cylinder water-pumpers. Believe it or not, there are some pretty cool-looking customs…I mean café racer-ed 'Bricks around also. Not to mention some sweet-looking Ural café racers — can you imagine that?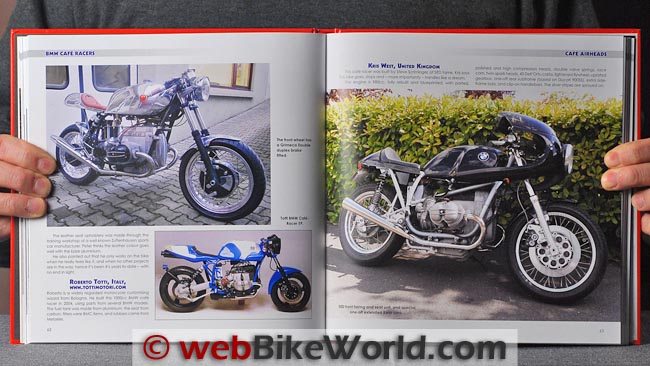 BMW Café Racers is short on text and long on photos, and any BMW lover will want this book. When I reviewed BMW Customs, I wasn't sure what to make of it. But now that I've seen 3 volumes out of the 4-pack, I get it. You'll definitely want all four. Example: In the book Italian Custom Motorcycles (review), there's a Laverda chopper, among others. You're in for a treat!
BUY IT HERE  BMW Café Racers
wBW "Flaming Helmet" Rating:



More wBW Motorcycle Book Reviews  |  All wBW Book Reviews by Rating
Note:
 For informational use only. All material and photographs are Copyright © webWorld International, LLC since 2000. All rights reserved. See the webBikeWorld® 
Site Info page
. Product specifications, features and details may change or differ from our descriptions. Always check before purchasing. Read the
Terms and Conditions
!
Owner Comments and Feedback
Other WebBikeWorld Book Posts