BMW Boulder Neon Jacket Review Summary
Review Summary
So while the BMW Boulder Neon jacket is representative of everything that makes most of the BMW Motorrad clothing line what it is, the jacket also represents a shortfall, revealing that some of the lustre or shine has been lost. If this expensive two-piece garment were updated to provide full rain protection and a better insulating layer, perhaps as a three piece system, then the current cost of the garment would be far more justifiable and an even better investment.
Pros
Bright
Excellent design and technology
Attractive styling
Collar cut
finish and fit is outstanding
Multiple pockets are functional and easy to access
Extremely comfortable lightweight
Cons
Zippers are hard to access
Removable liner is very poor when the wet stuff comes
Sleeve adjusters not included, Despite hype
none of the pockets are waterproof
Expensive
3.5
Average, With Drawbacks
Neon Jacket Image Gallery
Can you see me now? If you miss seeing me on the road when I'm wearing this hi-viz neon garment then there is truly something wrong. Even at night, the minimalistic but strategically placed retro-reflective strips cannot be missed when illuminated.
Even the BMW Motorrad logo is retro-reflective. It's not quite a waistcoat but not quite a three-quarter coat. The BMW Boulder Neon jacket works well in this middle zone with its drop-back cut making sure the rear is always covered. As for sizing, a Boulder jacket in XL would have worked but the sleeves were a tad short for me.
In going with the XXL model, the needed sleeve length was provided along with some wiggle room and the ability to add an extra layer underneath. The ability to add an extra layer could be a good thing in many situations; the removable climate membrane liner in the Boulder jacket is a viable windbreaker but it falls well short of providing extended protection from the wet stuff.
If dipping temperatures and wet weather isn't a major concern, then the Boulder Neon jacket in its current form will make an outstanding and highly visible outer garment that should last for a long time, making the jacket a very good investment. But for user scenarios where dipping temperatures and wet weather are concerns, the minimal moisture protection provided by the removable liner will be a real factor.
That's when you'll have to decide whether to invest in this garment and accept that rain gear of some sort will be needed as well… If BMW Motorrad were to adopt a multi-piece layered approach addressing the current shortfall, the jacket would be competitive at any level and best of all, a true three- to four-season garment for many riders. I sure hope BMW fixes this, because the Boulder jacket is otherwise just a good product that could and should be an outstanding product.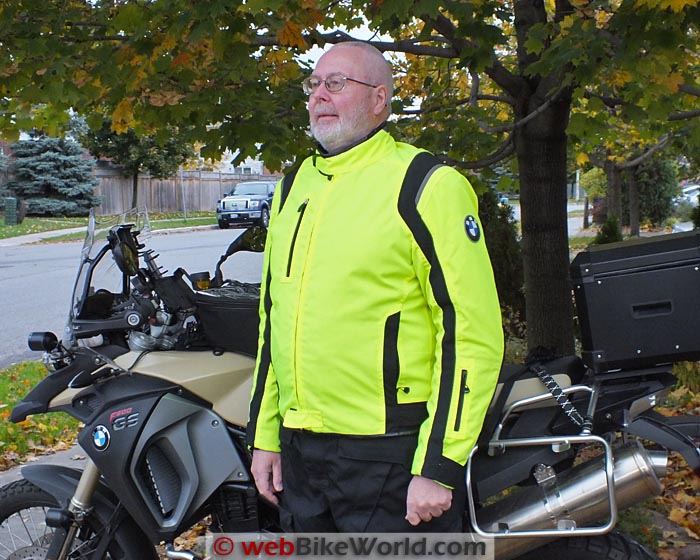 Editor's Note: Boulder Jacket Nomenclature
Discussing the BMW Boulder jacket series is a bit complicated.
The slightly-difficult-to-find high-viz version called the Boulder Neon jacket is based on the standard BMW Boulder 2 jacket that comes in olive colour with black trim.
The Neon version is listed as having a 52% polyamide and 48% polyester shell with a "double-bed weave for high friction resistance and color fastness".
Apparently the high-viz yellow color needed its own shell fabric to hold the color.
The Boulder 2 jacket has an (slightly unusual) 65% polyamide and 35% cotton outer shell that has a "waterproof" coating of some type of wax finish.
This is somewhat similar to the classic Barbour International jacket (review) or the Belstaff Trialmaster jacket (review)..
Finally, the original Boulder jacket had a 500 denier Cordura outer shell with a "breathable coating" and the original Boulder jacket also had removable sleeves. It is a grey colour only.
Note that all three of these jackets are still available in various stock quantities and can still be found in stock at some retailers.
Bottom line: As far as we know, the Boulder Neon is simply a high-viz yellow version of the Boulder 2, so we'll use the name "Boulder 2" and "Boulder Neon" interchangeably in this review because they're all basically the same jacket, just in different colours.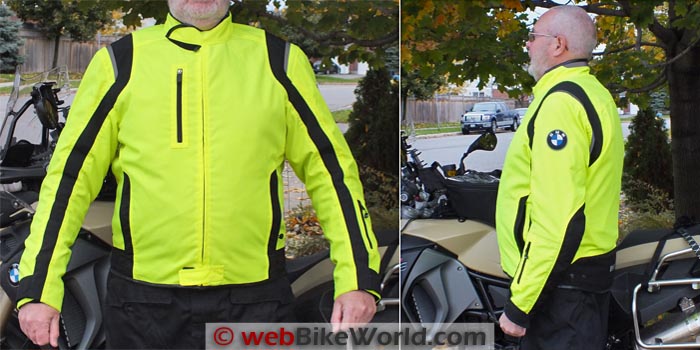 Introduction
So there I was, doing some window shopping of sorts, when this BMW Boulder Neon jacket in Day-Glo seemed to leap out at me from its spot between darker-coloured companions on the hanger rack.
Its neon colouration is hard to miss…anywhere.
Our local BMW motorcycle dealer always brings back a pallet or two of discounted gear from the Canadian Motorrad Days held at Mosport, Ontario.
And in past years I've managed to find one or two pieces of kit, sometimes needed, sometimes not, but all at attractive prices. This time, a high-viz jacket of some type was actually on my "wanted" list.
BMW Boulder Neon Jacket Details
Outside of an aging but treasured REV'IT! Turbine USA mesh jacket (size 56) that actually has longer-than-normal sleeves and thus fits me perfectly, all the other jackets in my current use are pretty much three-quarter length.
So some hesitation in going for the shorter Boulder jacket was understandable, although the cost savings provided an off-setting argument.
With eye-pleasing styling and a slimming cut (all good) the Boulder Neon jacket is pretty much assembled of large hi-viz neon (sometimes marketed as "Signal Yellow") sections.
It has strategic black inserts for styling contrast and soft pseudo-leather trim on the collar and bottom edge for comfort.
Thin plastic retro-reflective inserts wrap around the outer shoulders.
Another section is inserted at the back of the collar, all serving to increase visibility of the wearer and hopefully translating to increased safety (passive or otherwise) while spinning along on two wheels.
BMW states that the Boulder-series jackets are "a master of the art of metamorphosis". I don't know if I would go that far.
But it is indeed a multi-faceted multi-purpose jacket and depending on where you live could well serve as a three- to four-season garment.
The lightweight permeable outer shell of the jacket provides excellent air flow and with the removable C.A.R.E. (Concept of Advanced Rider Equipment) climate liner added, it becomes a heavier-duty garment capable of providing wind and (some) moisture protection.
The outer polyester layer of the Boulder jacket is woven together in a double-bed weave with polyamide (nylon).
This provides a strong and resilient layering with high-friction resistance and colour fastness, so the high-viz stays high-viz for a long time. Or should…
The inside material or jacket liner is polyester. Its "water-repellent" or "water-proof" wax coating (depending on which marketing information you read) is supposed to be permanent.
And, as such, it is unaffected by washing, although the care and feeding instructions for the jacket seem to indicate otherwise…time will tell.
A BMW Motorrad logo on the lower back section and the usual distinctive BMW roundel on the left sleeve strikes the right balance for discrete visual branding.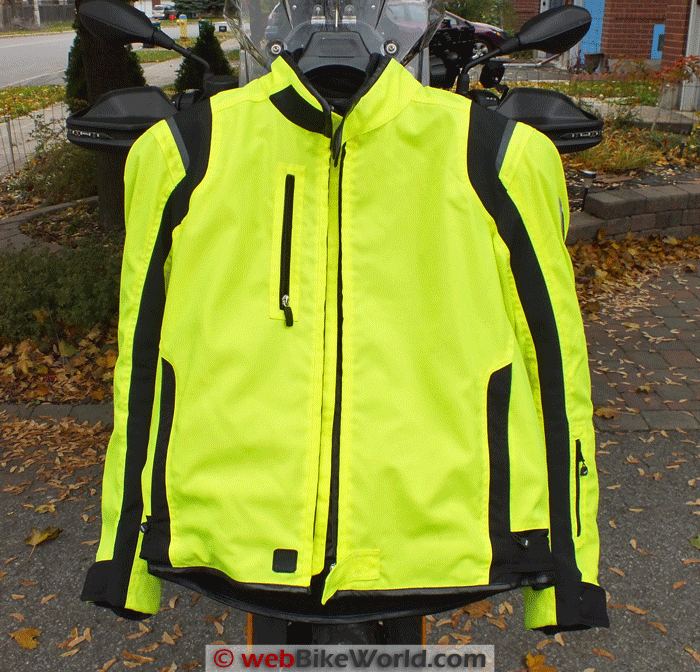 Does C.A.R.E. Have What It Takes?
The "Concept of Advanced Rider Equipment" or C.A.R.E. is a hallmark feature of many products marketed by BMW Motorrad.
It serves to identify and define the technology, design and production aspects of their riding gear that for the most part truly is state of the art.
The C.A.R.E. Climate Membrane comprising the removable liner (shell) of the Boulder 2 Jacket is a 75% polyester and 25% polyurethane and advertised as windproof and watertight while being extremely "free-breathing".
It certainly is a very good windproof layer.
And as I mentioned earlier, it could be the only other thing needed to make the Boulder, Boulder 2 or Boulder Neon (which all share the same basic "chassis") a true year-round jacket.
Depending on which website is visited and which marketing material is used for reference, the removable liner is touted as "water-resistant", "watertight" or even "waterproof".
But while it might be "water-resistant" (kind of), it isn't either of the latter two and doesn't provide much insulation either (which is sometimes good to have when moisture intrudes).
This opinion was formed after several rides of varying duration in light to medium rain showers.
After five minutes or so, the jacket gets cool and damp inside and by the ten minute mark, it is getting wet on the inside — not like a dip in the pool, but very evident. And as the liner does little in the warmth department, it can get very uncomfortable very quickly.
My experience with the liner in the Boulder jacket is pretty much on par with other liners or inserts used with other BMW Motorrad gear currently in use; I rate all of them as marginal at best.
Previous (older) products used better and well recognized water-resistant/water-proof materials (including Gore-Tex) for protection from the elements.
And on a parting note about the removable liner: it isn't actually designed to be worn as a stand-alone garment when dismounted, although it can be.
This design/function shortfall is very noticeable when comparing the multi-piece Boulder 2 jacket to virtually any other multi-piece garment on the market, especially in its price range.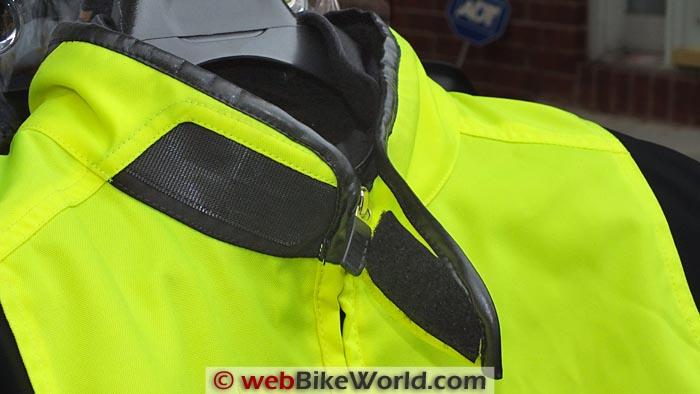 Vents, Pockets and Zippers
With its permeable outer shell, ventilation in the Boulder Neon jacket is a given. Thus, the "poor man's ventilation system" (aka an open collar and/or open zipper) isn't really needed.
On several late fall days when temperatures hit the mid to high 20's C (77 to 83 F), the Boulder jacket was heavier than needed but it never got hot or uncomfortable.
The late afternoon cooling that generated some wind chill was handled by the liner; it is an excellent windbreaker layer.
Unlike many other mesh, air-flow style or lightweight jackets, the Boulder Neon Jacket does have five very useful zippered pockets in the shell and another small zippered pouch in the removable liner.
The front left and right side jacket pockets are deep, hold lots and keep the hands warm when needed; the vertical pocket on the upper left chest is deep enough for a large smartphone or phablet.
A small pocket on the lower left sleeve is good for small or flat items; and a (almost) waterproof pocket is found on the upper left chest inseam.
A single stash pocket is hidden on the inside right of the removable liner.
There are two 40 cm (15.7 inch) connection zippers for pants as well, one on the liner and one on the outer shell, with both attached by heavy elastic material for stretch and comfort when in use.
The main shell zipper is a full length YKK piece running from just above the bottom trim to just below the top collar trim.
It is reinforced with sturdy backing and a front material over-flap which does a good job of hiding the zipper and adds additional protection from the elements, but also complicates zipper access and thus use — virtually impossible with any type of glove on.
Actually, YKK zippers are used exclusively for the outer shell and liner and while all appear a bit lightweight.
This includes the also-hard-to-access inner zipper on the removable liner — they all run very well and so far none of them has shown any sign of weakness.
And for what it's worth, I've only managed to break one zipper on a BMW Motorrad garment over many years, which is saying something as I am very hard on zippers and fasteners of any type.
You want something put to the test? Send it to me!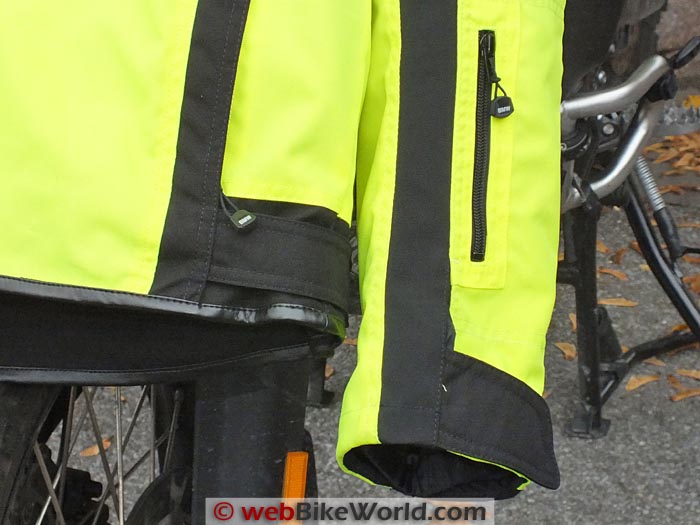 Collar, Cuffs and Waist Adjuster
The collar is a basic high-back tapering down at the front with a matching rounded collar flap with lots of adjustment.
The light weight fine brushed material used on the inner of the collar is arguably the best feeling and most comfortable material I've experienced over the years for an outer garment…no irritation of any sort with superb all-day comfort.
Like the collar, the cuff adjuster pieces are long with lots of range.
This allows the lower sleeve to be adjusted for lots, some or no air flow and as such, most gloves with mid or long cuffs can be used, either tucked inside or on the outside (my preference).
Sturdy but easy-to-use snap fasteners are used extensively on the removable liner for its collar, front outer flap and for attaching the liner to the outer shell at nine points: back of the neck, two on each inner side and two for each elasticized sleeve cuff.
Bottom or near-waist sizing adjustments are provided by an adjuster strap on each side stitched in just below the main pockets.
Each strap has a heavy duty rubber coated snap at the end for use with any of the three equally spaced studs riveted into the bottom panel of the jacket.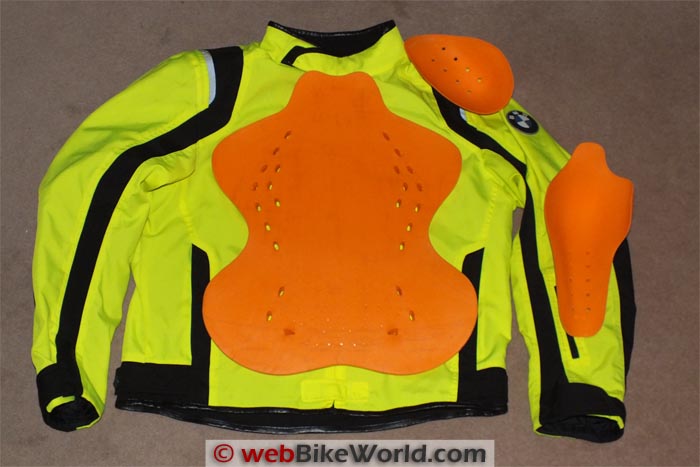 New BMW NP Protectors
BMW uses their new "NP" protectors in the Boulder jacket; they're more or less a variant on the D3O type of "memory" protectors.
We searched extensively but could not find an official BMW definition that defines what "NP" stands for.
BMW claims that the NP protectors are "extremely flexible and soft yet provide excellent attenuation values" and they are "more than 200 to 700 %" better than other protectors used in the field of motorcycling".
All five of the protective inserts that come with the Boulder jacket are removable. The individual shoulder and elbow pieces are identified as NP-E2 Type B with CE EN 1621-1 (Armour for All Body Parts (Except Back/Spine)).
Each piece is also marked with a replacement part number and labeled for installation purposes and the pieces are available separately.
The huge back pad covers most of the back area, shaped so that only shoulder and hip performance isn't impeded. It carries a CE EN 1621-2/03 (( (Back/Spine Protective Armour) and NP-R2 Pro markings.
A full-width zipper at the bottom of the shell liner provides the means to access this large protective piece although it takes some tugging to pull out. The smaller shoulder pieces are quickly removed from their hook-and-loop flap pouches.
But the long above elbow to lower arm pieces can take some effort.
The inner pocket is a couple of inches longer than the pieces to allow adjustment.
This excess space provides the means to simplify extraction of the protector by pushing the piece all the way up and with some flexing of the bottom end of the piece slip it out of the pocket via the below-centre access slit.
I hear and see lots of complaints about the size and positioning of the protection pieces used in BMW clothing and admittedly only limited adjustability is provided (see above).
But the reasoning for this is predicated on the objectives of having a garment that is properly sized and fitted for the wearer.
On a related note, when the jacket is cold — and thus the molded protection pieces also — they will be very stiff and it can be a struggle to just get the jacket on.
Some warm-up exercises or heated gear takes care of the stiffness issue..body and outer garment related!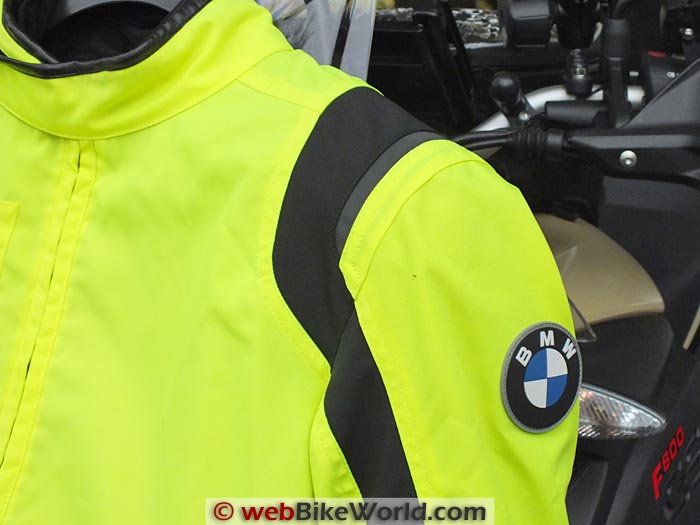 Fit and Sizing
The BMW Boulder Neon jacket is available in six sizes: S, M, L, XL, 2XL and 3XL. I purchased a 2XL as it is a perfect fit for the upper part of my 188 cm (6 ft. 2in.) plus frame, including long arms
A Boulder Neon in size XL was comfortable in the chest and for overall length, but it didn't leave room for an extra layer underneath or any air circulation and the sleeves were definitely too short for me.
The BMW Boulder Neon measurements for the 2XL size are:
Rear Length: 84 cm (33″).
Front Length: 66 cm (26″).
Inner Sleeve Length: 56 cm (22″) with arm straight at side.
Outer Sleeve Length: 74 cm (29″) with slight bend in elbow.
Neck: 56 cm (22″).
Front Zipper Length: 62 cm (24.5″).
Girth: 128 cm (50.4″) with bottom adjusters at first snap.
As noted earlier, jacket cut, profile and contrasting inserts make the BMW Boulder Neon a nice-looking jacket and if sized properly, it's very comfortable.
It also provides excellent upper body movement at the shoulder height and above, something even a lot of lighter-weight jackets can't provide.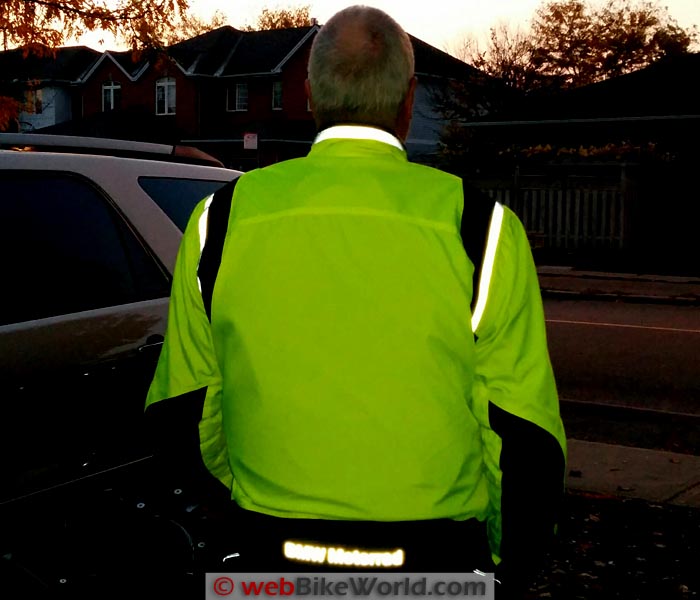 Boulder Neon Functionality
BMW states that the Boulder Neon or Boulder 2 jacket is designed with "urban motorcycling in mind…suitable for summer and the transitional times of the year".
That's just like the current conditions, as we ride into fall with cooler temps (at least up here) and long stretches of lurid foliage that disappear all too quickly.
When complete sealing is needed, the well-shaped collar with its long over-flap works extremely well under lots of different styles of helmets and the brushed material liner and soft pseudo-leather trim is all comfort zone.
The only thing missing is a means to secure the over-flap when a bit more openness is desired.
The sleeves would really benefit from one or two strategically positioned adjustable straps allowing the sleeves to be adjusted based on arm sizing, especially with the long elbow protector installed and space requirements depending on any under layering.
Without encountering any of the wet stuff, the jacket handles a wide range of temperatures with the liner acting as a functional windbreaker, albeit lacking any insulating qualities.
To cure this shortfall — especially as temperatures dip down to 5C (41F) or so — I use a lightweight BMW Motorrad Windbreaker 3 jacket as an under-layer.
By itself, the BMW Motorrad Windbreaker 3 is an excellent casual jacket that happens to provide insulation and additional water repellency.
And it would make an excellent inner component of a three-piece Boulder system.
The 

w

BW 

Opinionator: BMW Boulder Jacket
Picks…
…and Pans.

Can we say "BRIGHT"?
Excellent design and technology, for the most part.
Attractive styling with well-placed contrast sections.
Drop length at the back overcomes shortfalls of the waist-length design.
Collar cut, finish and fit is outstanding for my sizing.
Multiple pockets are functional and easy to access, although none are waterproof.
Collar, cuff and bottom adjusters are basic but work very well.
Extremely comfortable lightweight (literally) garment.
A worthwhile investment in quality and safety, as long as its limitations are understood.

Zippers are lightweight and the main front ones very hard to access, but nothing has broken.
Removable (Climate Membrane) liner is a great windbreaker but very poor when the wet stuff comes.
Sleeve adjusters not included…but should be.
Despite hype, none of the pockets are waterproof.
Multi-piece approach: outer, water and warmth insert is missing, a great opportunity lost.
Expensive, even more so in light of its wet weather protection shortfall.
Conclusion
Many products currently available from BMW Motorrad are at or near the top of their product heap. And it really is hard to criticize the C.A.R.E. approach because it results in high standards applied across a diverse product line. And there really is (probably) something for (almost) everyone, no matter what, where or how one rides.
So while the BMW Boulder Neon jacket is representative of everything that makes most of the BMW Motorrad clothing line what it is, the jacket also represents a shortfall, revealing that some of the lustre or shine has been lost. Even a multi-season multi-purpose jacket needs to be a bit of everything and this is where the Boulder Neon falls short, no matter how much I like it.
If this expensive two-piece garment were updated to provide full rain protection and a better insulating layer, perhaps as a three piece system, then the current cost of the garment would be far more justifiable and an even better investment.
w

BW

 Product Review: BMW Boulder Jacket
Manufacturer: BMW Motorrad
List Price (2014): $529.00 USD or $555.00 CAD
Colors: Black/Olive or Black/Neon (Signal Yellow)
Made In: Indonesia
Sizes: S-3XL
Review Date: October 2014
Note: Item provided by a retailer, distributor or manufacturer with these Terms and Conditions.
Note:
 For informational use only. All material and photographs are Copyright © webWorld International, LLC since 2000. All rights reserved. See the webBikeWorld® 
Site Info page
. Product specifications, features and details may change or differ from our descriptions. Always check before purchasing. Read the
Terms and Conditions
!
Owner Comments and Feedback