BMW Back Protector Image Gallery
The BMW Back Protector 2 is thin enough to fit under most motorcycle jackets.
It also covers a large area of the back.
The lining is comfortable (relatively speaking) and the Back Protector 2 seems to be more flexible than other back protectors.
It's also a lightweight at only 1.75 lbs. (for size medium).
We're still surprised at the positive reaction of many webBikeWorld visitors to our series of articles covering back protectors and other protective gear.
Could it be that motorcyclists are becoming more concerned about safety?
This is a good thing and a strong interest in safety gear will only help convince the manufacturers to bring more of it to market.
Several visitors asked about the BMW Back Protector 2, the subject of this review. To be honest, I didn't even realize that BMW made a back protector, so I have no idea what "Back Protector 1" looked like, or if there even was such a thing.
So we placed an order for a Back Protector 2, even though I'll admit to doubts about how much a motorcycle manufacturer would know about the subject.
But then again, BMW makes some excellent riding apparel (in addition to motorcycles), so why not?
After all, I have always suggested to riders who can't find some of the other name brand gear that is featured on these pages that they could do a heck of a lot worse than stopping by their local BMW dealer to get fully outfitted.
So what's different about the BMW Back Protector 2?  The most obvious difference is the protection around the collarbone, which can be seen in these photos. At first I though it was a gimmick, but after wearing it for a while, I'm not so sure.
BMW and collarbone padding rang a bell in my dusty memory banks, until I remembered a press release that we featured in a webBikeWorld news article back in October of 2005.
The subject was a new type of spine protector developed by BMW and KTM, which was designed to "reduce the risk of injury to the neck, the cervical spine, the spinal cord and the collar bone in the event of a serious fall".
Check out that article and then take a look at the Back Protector 2, which looks like a greatly toned down version.
Although I don't know this for a fact, I'd say that there's a lot of that spine protection research that's gone into this production version.
Although there's no way we can offer anything but a subjective evaluation of the Back Protector 2 (or any back protector or safety equipment, for that matter), I'd like to think that the collarbone padding will add a little extra protection when compared to other back protectors.
My first impression upon seeing the photos of the Back Protector 2 was that it would somehow interfere with the normally tight collars on motorcycle jackets, but this hasn't been the case.
Now don't get too excited about the added collarbone protection, because it really doesn't seem to be much more than a couple of sections of padding stitched under the collar, as you can see in this photo: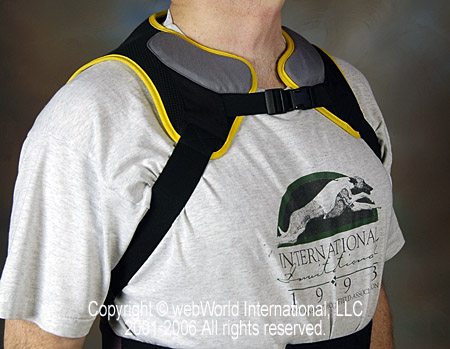 Back Protector 2 Details
But what is very nice about the Back Protector 2 is the way the entire neck section is designed.
I'd have never guessed, but having this extra support that extends over the shoulders and around the neck makes this, in my opinion, the most comfortable back protector yet.
(See the links to the reviews of other back protectors and riding gear in the right-hand column of this page).
The entire neck section keeps the Back Protector 2 securely in place, where it can do its job, and the added support and the way the elastic straps are designed keeps it from moving around and distributes the weight more evenly.
And speaking of weight, there's not much of it, as this Back Protector 2 weighs only 1.75 lbs in size medium.
Fit and Sizing
The size medium is recommended by BMW for a torso length of 51 to 54 cm (~20 to 21.3 inches) and a body height of 172 to 184 cm (72.4 to 77.2 inches, or 6.0 to 6'4″ tall). Although according to BMW's figures I should be wearing a small, the size medium seems to fit my 5'11" body perfectly.
BMW also offers a size small, recommended for a torso length of 46 to 50 cm, which is about 18.1 to 19.7 inches and a body height of 160 to 172 cm, or 63 to 67.7 inches.
The size large is recommended for a torso length of 55 to 59 cm (21.6 to 23.2 inches) and a height of 184 to 196 cm (72.4 to 77.2). How they measure the torso length is not specified in the owner's manual.
The fabric that is located towards the rider is about as comfortable as it gets for back protectors and feels about the same as the Bohn and Knox protectors we've tried. There's a bit of padding underneath the lining.
BMW recommends that the Back Protector 2 is cleaned "using a damp cloth only" and they don't specify whether that means the outside, the inside or both. I'm assuming both… Here's a photo of the lining, also showing the European safety standard labeling:
Protective Standards
BMW claims that the Back Protector 2 meets the more stringent "Level 2" European standard for back protectors.
Can that be what the "2" in "Back Protector 2" means?  Or does the "prEN 1621-2" designation signify that it meets Level 2 standards?
We covered this topic in our comparison review of the Bohn vs. T-Pro back protectors, but those came with a specific laboratory test report certifying that they met the standard.
The BMW product, or at least ours, did not come with a lab test certification, so I'll have to take BMW's word for it in their marketing materials that the Back Protector 2 does in fact meet the Level 2 standard.
In any case, this is yet another one of those "who knows?" deals, where the consumer gets confused over what really is best. Who knows if Level 2 is really better, in reality, than Level 1?
As far as I'm concerned, any back protector is 100% better than none, safety standards notwithstanding.
Each underarm shoulder strap on the Back Protector 2 is adjustable, as is the short elastic strap with buckle that comes across the neck.
The waist strap is typical in its design; that is, it comes across the stomach, which is one of the worst features of all of these back protectors, in my opinion. People don't mind having a strap (aka "belt") around their waist, but the stomach?
No thanks. I guess one gets used to it, but I'm not sure how it will feel on riders with big guts.
The Rückenprotektor 2, as it's known in German, seems more flexible than the other back protectors, even though the business side has a long strip of plastic-like material covering the spine.
The plastic is divided into four separate sections, allowing it to bend with the rider's back while it offers resistance to bending the other way.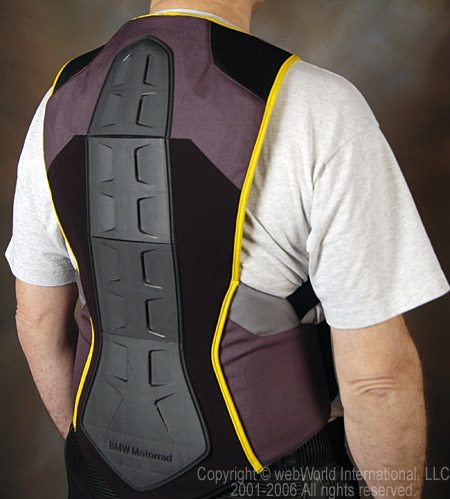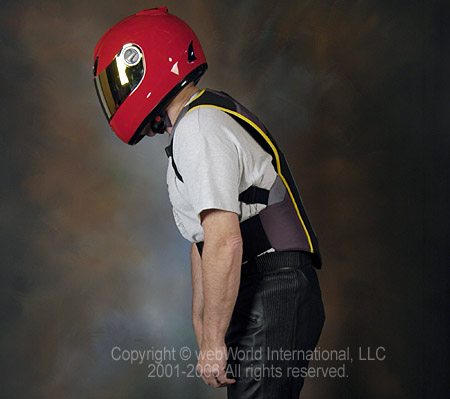 As I mentioned above, the surprise is that the neck seems to fit under the neck of various types of motorcycle jackets without problems.
This is because it fits down on the collarbone rather than around the neck, which would probably be an uncomfortable location anyway.
Here's a photograph of the Back Protector 2 being worn underneath the Olympia vented leather jacket, which is typical of two-piece motorcycle leather wear: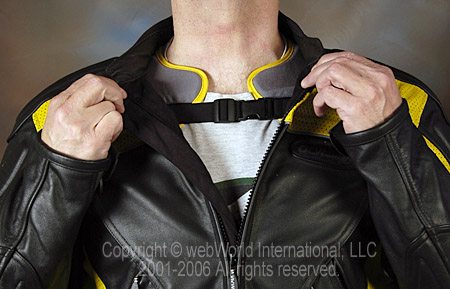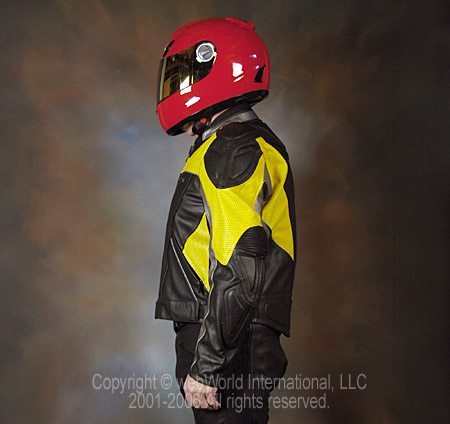 Conclusion
Either I'm getting used to wearing back protectors or the BMW Back Protector 2 is the most comfortable of the bunch. I'll go with the latter…
I like the BMW product; it's comfortable, the price is reasonable, it seems lighter than the rest and although the jury's still out on the efficacy of the collarbone protector.
BMW claims that the product "has a measured residual force of less than 2 kN", which, I take it, is a good thing.
By the way, we promised to report back (pun intended) on the back protectors once the weather turned warm.
The bottom line is that all of these will add a bit of discomfort and a sweaty back — there's simply no getting around it. But what price safety?
w

BW

 Review: BMW Back Protector 2
Manufacturer: BMW Motorrad
List Price (2006): $149.00
Colors: Black with Yellow piping
Made In: Hungary
Review Date: May 2006
Note:
 For informational use only. All material and photographs are Copyright © webWorld International, LLC since 2000. All rights reserved. See the webBikeWorld® 
Site Info page
. Product specifications, features and details may change or differ from our descriptions. Always check before purchasing. Read the
Terms and Conditions
!
Owner Comments and Feedback
---
From "J.U.":  "I just tried on (and purchased) a BMW Protector 2 back protector. My comment relates to sizing:  I tried on a medium size, with my BMW Savanna 2 jacket (size 42) and then sat on a BMW in the showroom.
Although I am 5′ 9″ tall of average build, and wear a size 40 (US) dress coat, the size medium BMW back protector was a little small, as I had all adjustment straps let out all the way, and the device seamed short for my torso.
The dealer did not have a large size in stock, so I had them order one for me.
I would recommend that anyone buying this type of device (clothing?) To try before buying. I strongly applaud your advocacy of this article of safety gear."
---
From C.B.: "As you point out in your review of the BMW Back Protector 2 it's very difficult for a consumer to compare and make an educated decision on back protectors.
I've been trying to decide between the TPRO Forcefield, Dainese Wave, Helimot TLV, and now the BMW Back Protector 2. All apparently meet the prnEN1621-2 Level 2 CE standard.
There's a lot of conflicting information out there. For example:
1. Dainese specifies "Maximum Average Force Transmitted" as 16 KN.
2. BMW specifieds "measured residual force of less than 2 kN"
3. The prEN1621-2 CE standard specifies 9 KN as maximum transmitted force (for 50 Joule test)
It's interesting that the TPRO is a soft protector while the Dainese and BMW have plastic external shells. TPRO says most back injuries are the result of either hip or shoulder impacts and that a hard shell can increase injuries.
Other "experts" indicate that a hard shell will prevent twisting of the spine.
The British Magazine Ride has an interesting product comparison that ranks TPRO the best, however it appears rather subjective to me.
So, in order to make a decision, I've been trying to find actual CE test results. Do you know if these results are available to the public ?
Keep up the great work at WebBikeWorld.com. You rock !"
Editor's Response: If I recall, one of the back protectors we reviewed (I think the T-Pro) came with a certificate from the testing labs, but it wasn't the full test with all the data.
There's just no way to compare these (and other) motorcycle safety products, unfortunately. So I figure if they meet and are approved by a recognized standard, that's about all we can do. Like Burn says in the article, any back protector is 100% better than none (at least I think he said that!).
To be honest, I try not to get too hung up on these type of technical details that I'd never be able to compare anyway.
For example, even if you did have access to the tests, other than comparing all the numbers, which I'm sure would be all over the place with some pluses and some minuses for each product, in the end, you'd still never know which one was "best" unless you crashed using each protector in identical situations!
So my advice is to do the one thing you do have control over.
Find the back protector that is most comfortable for you and that you will use most often. In the end, I think that will provide you with the best protection.
You may find one that, for example, is 10% "better" in some tested areas. But if it's not comfortable, doesn't fit correctly or you aren't wearing it the one time you crash, what good is it?  Ride safe — Rick.