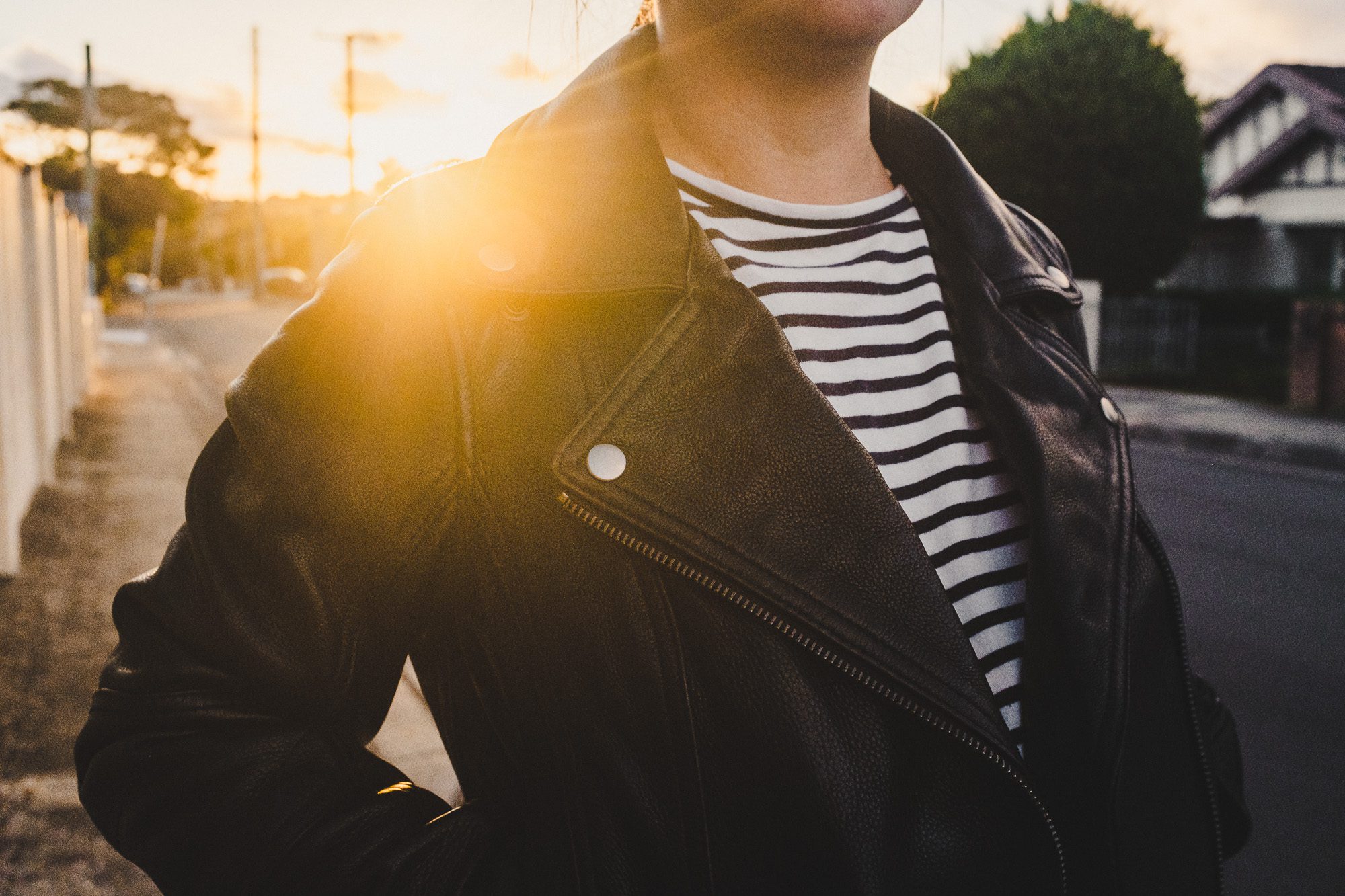 Blackbird Motorcycle Wear's 'Fly By Night' Leather Jacket
If the cafe racer boom of the past 15 years has taught us anything, it's that some things never go out of style. If you have a bike and the helmet to match, then a classic leather jacket like this is a real no-brainer that should certainly go on your moto shopping list. The fact that you can wear it even when you're not on the bike is just the cherry on the gasoline cake.
Pros
Timeless styling
Well made
Wool collar is a great addition
Genuinely multi-purpose
Cons
Zip pulls can flap about at speed
Ah, the classics! There's a good reason why they never go out of style. It's all fine and well to have your Power Rangers outfits with their hi-viz this and their airbag that, but if you have a bike and helmet that suits, you'd be silly not to lean on history a little. Why, if it worked for Marlon Brando, James Dean and Elvis Presley, who are we to question it? Looking to get a little more leather in our lives, we spent a few weeks with brill cream in our hair and a Triumph between our knees while we gave the 'Fly By Night' Leather Jacket from Australia's Blackbird Motorcycle Wear a good ol' spin around the block.
And with Sydney now descending into Autumn, we weren't a moment too soon, either. It goes without saying that reviewing a leather jacket in the height of a Sydney summer is like trying to hammer a nail with a banana; it's the wrong tool for the job. So with a welcome layer of hide between us and the not-so-chilly Sydney Autumn, off we went. Read on to see what we thought.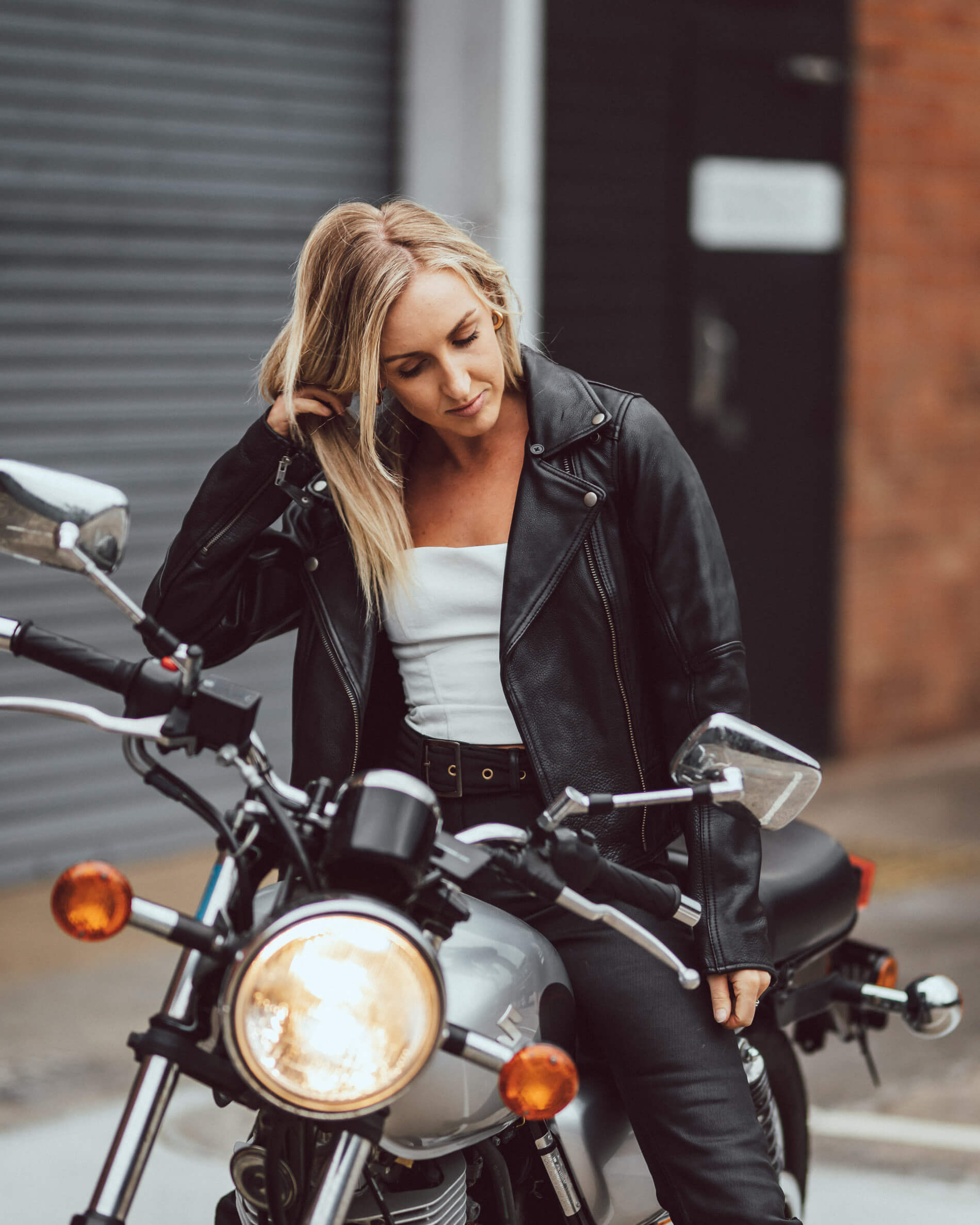 What Is It, Exactly?
According to the Blackbird website, the Fly By Night is 'a ladies leather motorcycle jacket that balances classic biker and edgy aviator style.' Of course, the intermingling of the aviation and moto genres goes all the way back to WWII and the penchant ex-fly boys had for motorcycles and the as-close-as-you-can-get-to-flying thrills that they have always delivered. So off they went on their two-wheeled adventures, with their ex-air force gear in hand.
And the rest, as they say, is history. The cafe racers of the late '50s in London adopted this double-breasted look and the city's famous Lewis Leathers took the whole kit and kaboodle and set it in stone (or skin, as the case may be) with their still best-selling 'Bronx Jacket No. 384.'
Taking this as their baseplate and adding their own little spin on things, Blackbird have tweaked the design both for modernity and to reinstate a little more 'aviator' style into the mix – most notably with the addition of a removable, genuine Aussie wool collar.
Who's Blackbird Motorcycle Wear, Then?
Owned and run since 2013 by the Mother-and-Daughter team of Belinda and Matilda McPhee, the company was founded after a particularly spiritual moonlight run on a Ducati 1100 down a country road. In my head, the Beatles' famous song 'Blackbird' is playing; but in reality, I guess the blast of the wind would have overwhelmed any Hollywood-like soundtracks. Damn you, real life.
I've been fortunate enough to meet the Blackbird team on numerous occasions and I can tell you that they are not only in the business for all the right reasons, but they also live and breathe the gear like only a family-run business can. There's no faceless global megacorps here, just two passionate women who clearly love what they do.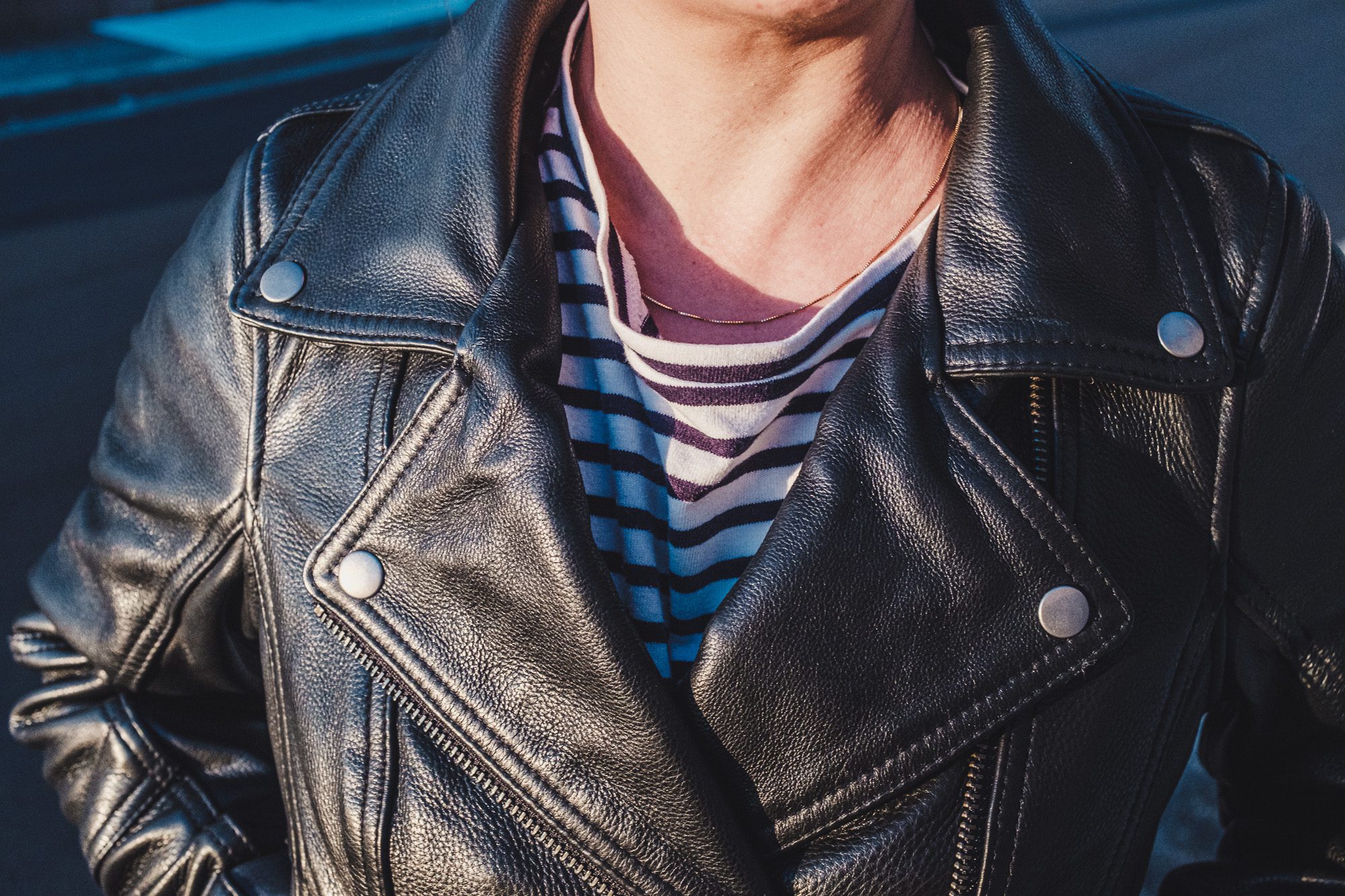 What Does it Look Like?
Right out of the rather large Blackbird Moto Wear-branded shopping bag, the jacket impresses. Its weight is impressive without being unwieldy; this is clearly a substantial leather stock. Linings are 100% polyester and all zippers on the jacket are YKK brand – a good indication in my books that things are being done without corners being cut. Similarly, the detachable collar (which doesn't come with the item and must be purchased at an additional cost if the necessity takes you) looks and feels top shelf.
And while it definitely draws from the classic aviator jacket of years gone by, the design has been simplified by Blackbird into a cleaner, less fussy look without the multitude of zips and pockets the original air force designed called for. The leather has a pleasant sheen to it before any decent patina has set in, and clearly it will be a few years until some decent aging is accomplished. And if it looks this good now, just imagine how it'll look then?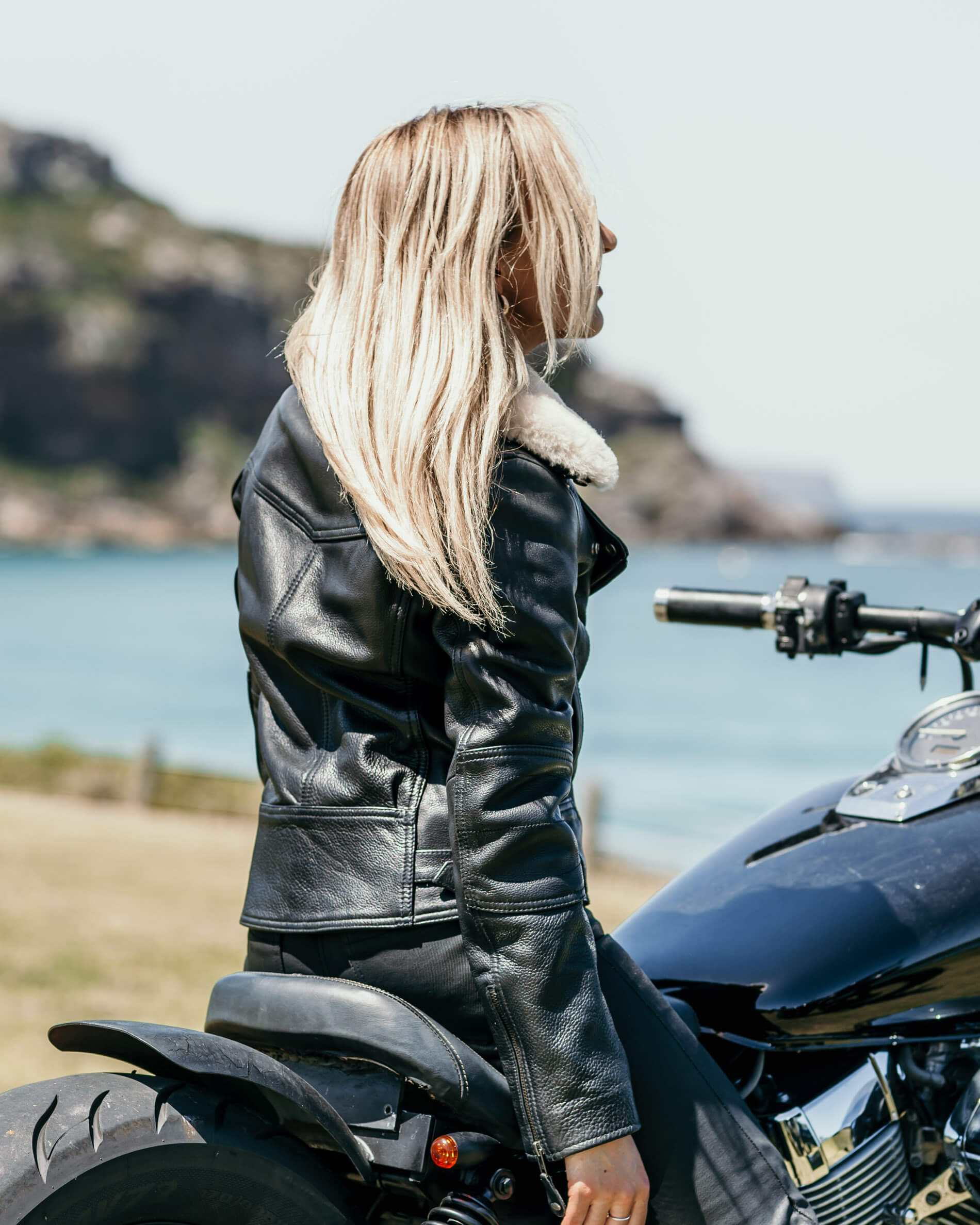 What's It Made Like?
The tags on the jacket indicate that it was crafted in Pakistan – aka the world's tannery. There's no surprises here. In this modern world of globalisation, a vast majority of the leather products you see on shelves come out of this part of the planet. Whether it's a small boutique label like Blackbird or heavy hitters like AlpineStars, this is where modern moto gear is made. And you thought AlpineStars were an Italian brand?
Of course, the country of origin doesn't dictate quality and I'm happy to report that this jacket ticks an army of boxes upon closer inspection. As always, the devil is in the details but nit-picky checks of the pocket linings and the compartments designed to take the CE-rated armour that comes supplied with the item is promising. And unlike some jackets I've reviewed in the past, all the press studs here fasten with a similar amount of pressure; there's no 'dud' ones that seem to eternally pop open if you dare even look at them sideways.
And the smell? It'll send vegans packing but if genuine leather is what you're after, then this 'Supersoft, natural milled cowhide' will be the perfume for you. With a thickness of about 1.1 to 1.3mm across the entire item, it strikes a rather nice balance between toughness and useability. One issue I have come across in the past with certain types of Pakistani leather is that regular exposure to sun and the elements can cause some inconsistent fading – especially across the back and arms. Now I'm not suggesting that it will be an issue here, but it's something to think about when considering a relatively small-batch item such as this.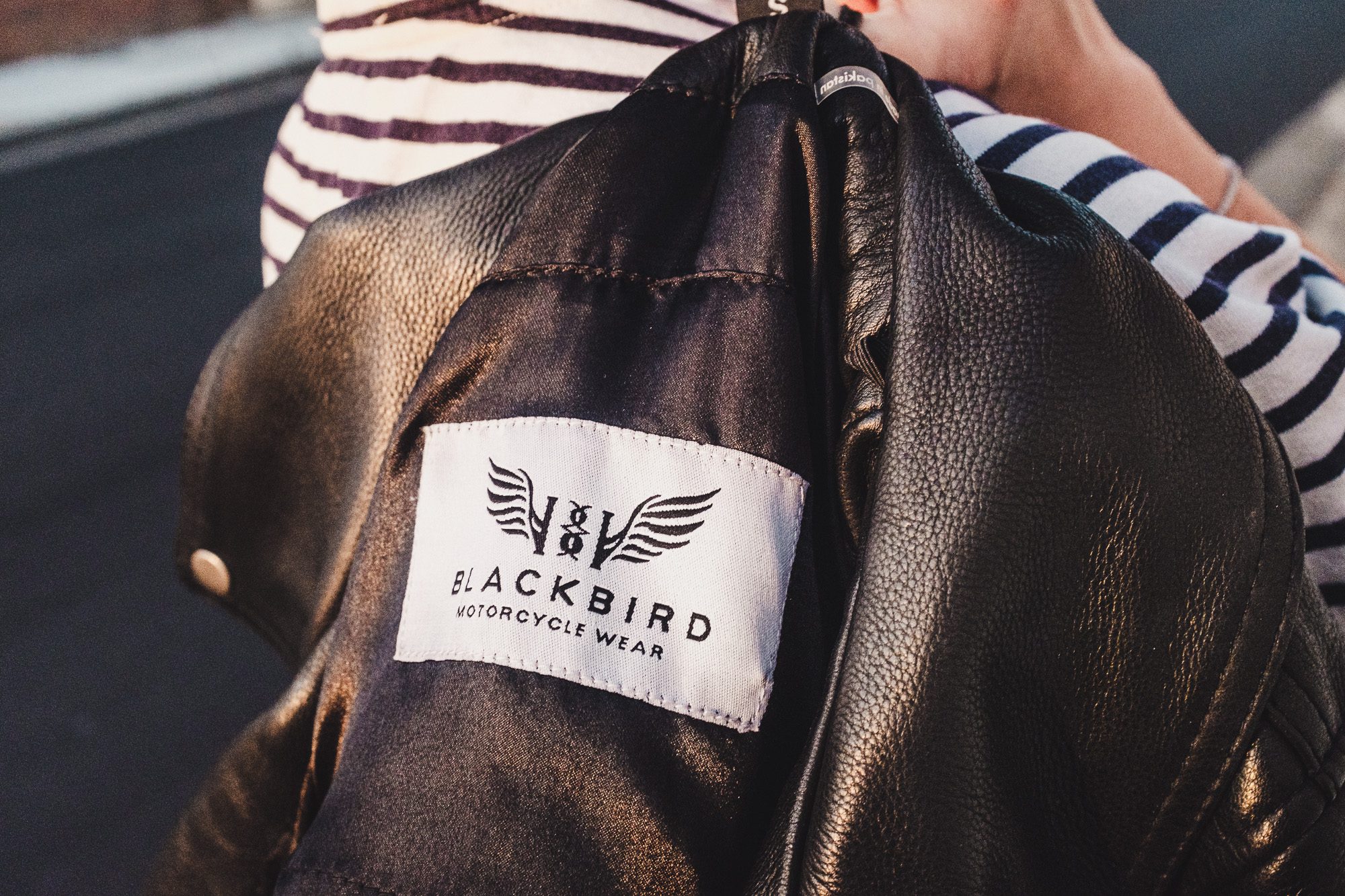 What Features Does it Have?
As mentioned, it comes with a full set of CE protection armour; bright yellow shoulder, back and elbow memory foam squishies are for you to insert or not, as the mood or intended purpose of the jacket may call for. The woolen collar comes in two shades, ivory and black. The lining is a satin-finish polyester and the two external pockets are matched to two internal (and unzipped) ones.
Zips on the cuffs include some pretty substantial pulls, as do the external pockets and the big sister main zip that runs right up the front. For those unfamiliar with the design, this zip closes the jacket up entirely when put to use and the large lapels that go such a long way to providing the jacket its style are neatly folded away when needed, or when the temps drop to such a point that wind must be banned from your core.
Finally, some side buckles just above the hips allow a tighter hug should you see fit. Buckles here are aged with a tarnished finish, as below. This integrates them more comfortably into the overall look and prevents them from being too bling-y, too.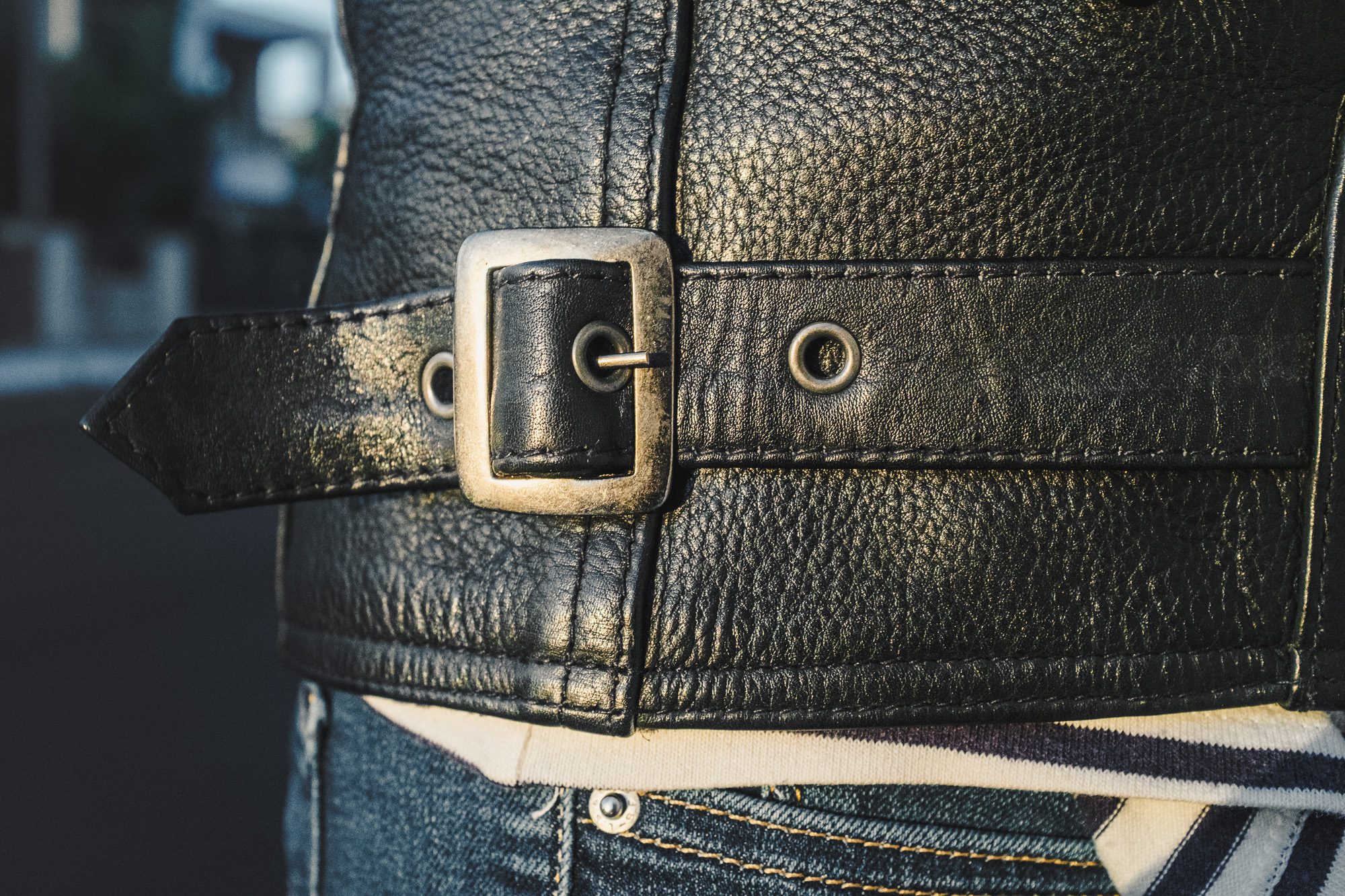 Stitching is doubled up where required and the design itself means that when fully zipped, you'll actually have two layers of hide at your front quarters should it ever come under sustained attack. The back of the jacket has a seam right up the middle that forms a sporty vee with the shoulder panel above it and the cut-off at the base of your back is extended ever-so-slightly to keep things covered up.
The final word in the features list is its clearly-intended functionality as a fashion piece alongside the fact that it can also save your bacon and keep you warm while riding. If you need any further justification as to why you should spend the money, a classic moto jacket like this will probably get used far more than you might think. You may not be riding at night with it on, but chances are you'll definitely be using it after the sun goes down.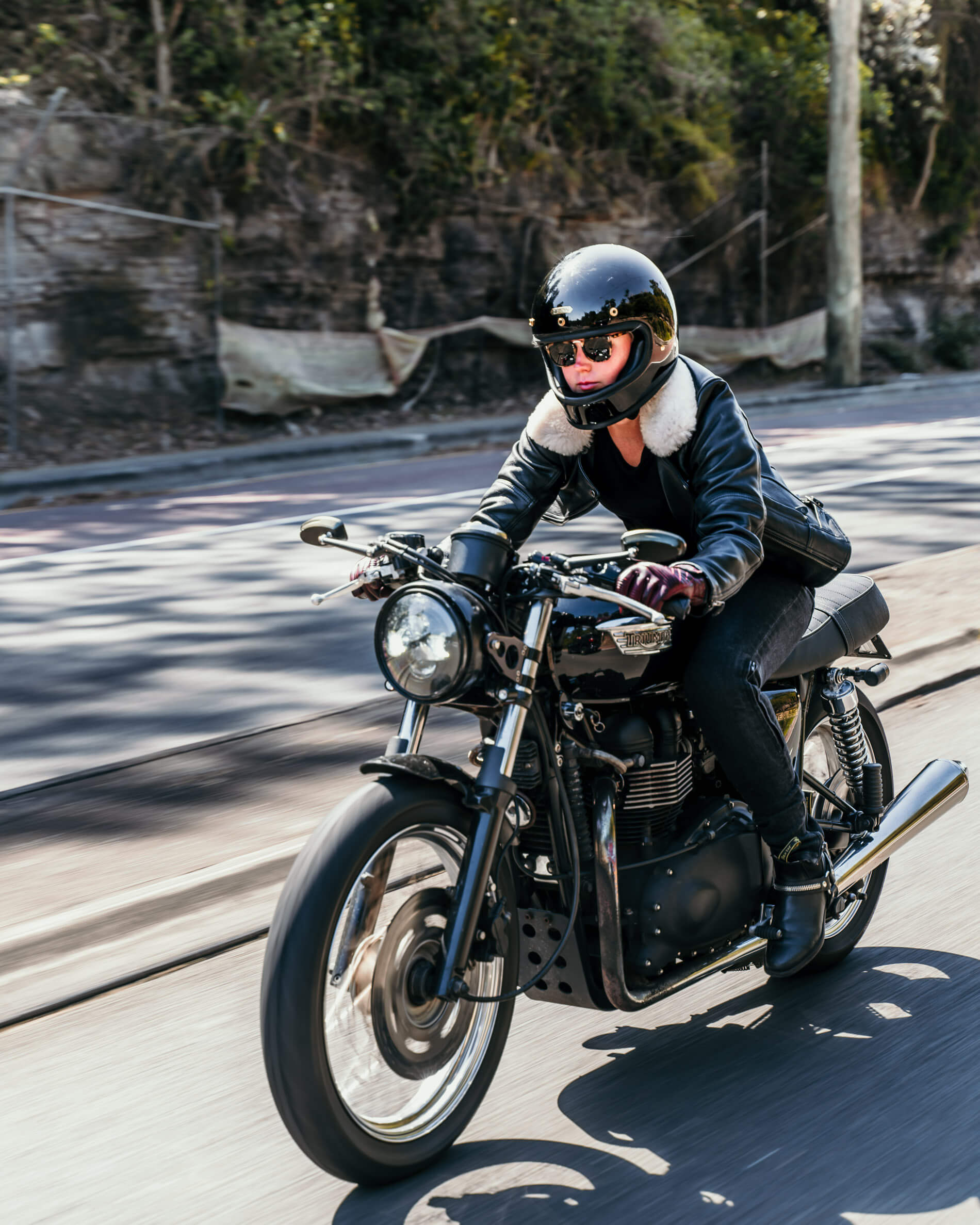 Why Should I Buy One?
If the cafe racer boom of the past 15 years has taught us anything, it's that some things never go out of style. If you have a bike and the helmet to match, then a classic leather jacket like this is a real no-brainer that should certainly go on your moto shopping list. The fact that you can wear it even when you're not on the bike is just the cherry on the gasoline cake.
Yes, the design – or something like it –  is available from a plethora of brands from the boutique likes of Blackbird all the way up to the original gangsters like Lewis Leathers and Belstaff. Who you go with should you decide to pull the trigger on the purchase is entirely up to you, but I'm happy to say that this here Fly By Night jacket is well worth your consideration.
Pros:
Timeless styling
Well made
Wool collar is a great addition
Genuinely multi-purpose
Cons:
Zip pulls can flap about at speed
Right now, the Fly By Night jacket will set you back AUD$599.00 (that's USD$466, £335 and €385 at the time of writing). It comes in sizes from XXS to XXL, and it ships free worldwide. Click below to find out more.