Common Radio Use
With three sets of North American FRS/GMRS radios on hand and a lot of Biker Com connection cables (dual-pin L and K types) on hand I was eager to put the system through its paces.
Determining if using a common radio system was going to be a reality, or a disappointment as my experiences to date with other wireless systems have been was a top priority for this evaluation.
Our Midland radios use a dual-pin connector (3.5 mm for output and 2.5 mm for input) and work with other systems using supplied interface cables and I was kind of expecting that this would be the case for the Biker Com as well. But, it was not to be; the Control Box would sense when the radio was plugged in or turned on but that was about it…a disappointing first step.
After a quick email to the Open Road representative regarding the situation, an offer to send two qualified commercial multi-band transceivers was accepted so that I could complete the initial radio testing of the Biker Com. An expedited shipment saw the radios travel from Taiwan to Ontario in under two days – great stuff.
In the interim, using the Biker Com Push-to-Talk (PTT) switch along with the Talk button on the radio to initiate a voice session and transmit it through the system to the radio worked fine for ad-hoc tests. The initiated transmission is heard almost instantly at the second radio.
Acknowledging that manually activating the radio minimizes typical (and problematic) switching delays, the speed and smoothness in which audio is processed through the headset, Control Box and radio, transmitted or received, is impressive.
Having managed to get two other Bluetooth systems working to a degree with external radio systems, neither of them come close to the efficiency of the Biker Com components.
With the two qualified multi-band transceivers from Open Road set up, putting two Biker Com systems through their paces didn't bring any further disappointments. I remain extremely impressed with the speed of the system, probably in the order of less than half a second (<500ms).
With the Editor anxious to get this part published, longer term evaluation of the common radio capability will continue and updates posted. I am very satisfied with the results to date.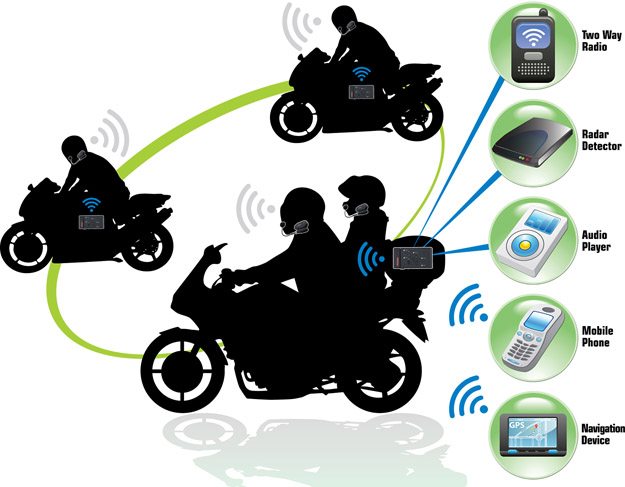 Audio Handling Observations
When the PTT switch is activated, any other audio is muted until the radio session is completed or the time-out period, which seems to be fifteen seconds, ends. After this, the previous audio will resume.
But I also found that after a single voice transmission is received, the time-out is less than five seconds before the previous audio is restored. Some more investigation into this issue will be done.
When the intercom feature is activated, other audio is muted. The time-out is ten seconds after which the previous audio will be restored.
System Use
In daily use the Control Box is unobtrusive and trouble-free. The only time I access it is to add or change a peripheral connection or when otherwise playing with the system in some configuration.
With the rider's headset module powered up and the corresponding Control Box switch (HHR) turned on, powering up the system via the push-to-talk component results in a light display boot sequence on the box. By the time this is done the helmet module and hub are connected and ready for business. The passenger Bluetooth headset module can now be activated as well.
I have all the peripheral cables for each system colour coded and marked for function, which facilitates layout changes or reconnection of the various devices, especially as they get used between multiple motorcycles in the fleet or as dismounted for static testing.
To demonstrate just what the Biker Com supports, a typical configuration is:
BC-MPR Bluetooth: HTC PDA/mobile phone.
BC-Other: Garmin zumo 550 or BMW Navigator III+ (zumo can host phone as well).
Radio: Midland GMRS or CB, typically tuned to weather advisory channel.
Auxiliary 1: Small MP3 player.
Auxiliary 2: iPod nano.
Audio: New Pioneer XM/MP3 unit (should have done this a long time ago…).
If any of the Priority Two audio devices are active and a call comes in via the MPR everything gets muted except the phone audio. Once the call is terminated or cancelled, the music stream and/or navigation instructions resume in seconds.
Audio broadcasting from the Control Box to the rider and passenger headsets works really well and as long as nothing of a higher priority intrudes the stereo steam is virtually perfect. Only when range limits are reached will the link drop, as will the intercom when active.
Like most of the new or updated systems on the market the wireless links are extremely reliable. Dropped links are re-established seamlessly and noise levels remain very low even in built-up areas.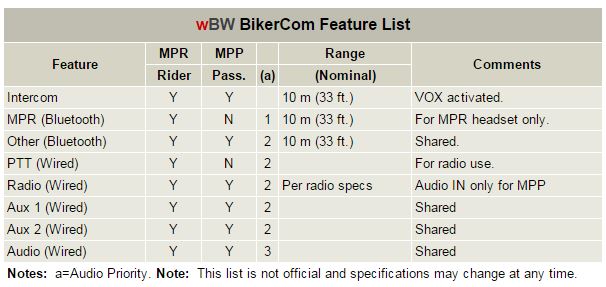 Some System Tips
Both of the Biker Com headsets can be reset at the same time if restoral action is necessary. To do this, put both headsets modules in to Pairing Mode. With the Control Box accessed, turn on the rider and passenger power buttons (HHR and HHP) and then turn on the main power switch.
Both headsets will then automatically reconnect to the Control Box as confirmed by the status lights. Just remember that if the headsets are reset sequentially, then the rider headset module must be done first and it must be active, before pairing or reconnecting the passenger headset module.
Power Management: While connected to a live 12v DC power source the Control Box will remain powered as long as the supply voltage is 12.5V or greater: once the voltage falls below this point the system will power itself off.
This feature was specifically highlighted as an enhancement in the printout of the manual supplied with the last two systems received. It is a good feature and should prevent the system from (eventually) draining the battery if left on.
Pairing and Profiles: If either of the headsets is paired to another device other than the Control Box, that profile should be deleted from the device before subsequently pairing it to the Control Box. From a Bluetooth perspective this makes sense and it helps to eliminate device errors.
Compatibility: I also managed to individually connect the rider headset module and the Control Box to my Sony VAIO large screen multimedia notebook that has Bluetooth onboard, and also with my new netbook, which is equipped with a RocketFish mini-USB Bluetooth adapter. This is neat stuff and a story for another submission…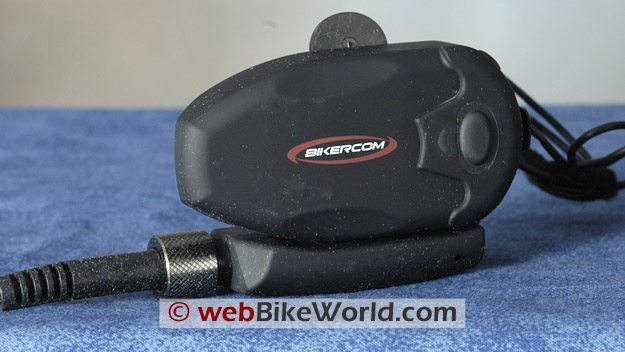 BikerCom Bluetooth Communications System – Bottom Line Ratings

Feature
Rating
Comments
Packaging
Outstanding
Big colourful box. Seemingly old-fashioned and clunky until it is opened to reveal everything packed carefully inside. This is one well thought-out system. Everything required, less the helmets and users, is included in the package.
Design
Excellent
Simple design, that provides optimal functionality. The Control Box seems overly large, even though it has to accommodate the physical interface strip. On the positive side, the Control Box remains relatively cool, whereas the components of some other systems can become hot, literally, to the touch.
Execution
Excellent
Control Box is heavy duty with nicely finished edges and sealing. Module and all headset components are well made, fit tightly together and appear robust. the push-to-talk (PTT) control is small, easy to install and use.

Cables are thin, thus lightweight, but have reinforced (strain relief) connectors. A minor detraction is the set of small and overly thick adhesive pads intended for use in mounting the headset assembly to a helmet. A test mount revealed how little adhesive surface the pad provides; it had trouble keeping the headset assembly in place on the helmet and the thickness of the pads moves everything further out into the air stream.

Features
Outstanding
As a hub-based system, it rivals wired systems for versatility and performance. As a Bluetooth-based system it performs as well or better than other standalone Bluetooth systems. The Headsets, an integral part of the 'system' can also function as standalone devices, albeit in a limited sense.

The speakers are very good — on par with anything else evaluated this summer except for the 

Twiins intercom units (review)

. But I still think some improvement could be made. While a common radio can take care of group requirements, being able to use two systems together would be icing on the cake.

To some degree enabling the rider and passenger headsets with a Class A powered link feature would do the trick. One of the best features is the ambient noise monitoring capability — it provides automatic gain control so that audio levels remain constant as ambient noise levels increase or decrease. I have come to deeply appreciate this feature and wish it were a part of a few other systems.

Fit
Very Good
If the Control Box and optional Noise Filter units can be accommodated there isn't much else to worry about, except which mounting option to exercise for the helmets. Ignoring the provided adhesion pads and using something a bit more effective will resolve that fitment issue.
Setup and Configuration
Outstanding
Even with more pieces, more buttons to push and more lights to watch, everything went together, everything worked the first time and everything in the instructions was completely understandable.

Take the time to set the volume output levels on connected devices, set the individual helmet volume levels as well as the intercom activation levels, then sit back and let the Control Box maintain the helmet environment. The 'Easy Button' has been getting a workout this summer — this is a good trend.

Performance
Excellent
There is very little to ping here, every feature works as advertised and with compatible radios available, the common radio capability seems to work just fine, although I am going to put a small place-holder here to allow any longer-term feedback.

With the Control Box powered, the headset modules always receive a full-power signal, leaving only the headsets to run on internal power and run they do. I easily get ten to twelve hours and more of steady use (music steaming and intercom use) from each headset. Apples to apples between both wired and wireless systems: the BikerCom stacks up near the top.

Ease of Use
Excellent
While the slight-of-hand Control Box controls can be a tad difficult to manipulate, unless frequent access is needed they are not a big downer. But simply changing them all to pressure switches would resolve this issue. The Multi-Function Button makes life simple at the Headset level. It is easy to use with virtually any weight of glove. The rear-placed volume controls are a bit harder to access. Once the volume and activation levels are set, the system takes care of the rest.
Power
Very Good
The Control Box is vehicle powered and the headsets run on high-capacity batteries that provide long life. Based on current use times, the claimed talk-time of 15 hours is not likely far off the mark. Missing is the ability to determine or be informed of battery status, visually or aurally.
Reliability
Excellent
With three headsets in use on various helmets and two systems installed and moved between four motorcycles in the fleet, exposure has been pretty extended over three months. Nothing has broken and though I had concerns over the small and seemingly fragile push-to-talk units, they are all surviving very well.
Maintenance and Support
Excellent
Other than charging the headsets infrequently and keeping components wiped down, nothing has been needed. What has really helped to boost this rating is the continued first rate support from the OpenRoad representative. There is an obvious and very tangible desire to build and evolve the BikerCom based on user requirements and feedback.
Cost
Very Good
The MSRP is listed at $749.00 USD. Some promotions, if still valid, may bring the price down to $699.00 for a bundle that includes the optional filter and free shipping.

Compared to some upper tier wired systems that have similar Bluetooth functionality as cost options, everything packed in the BikerCom box is well worth the price.

Value
Very Good
If the pricing listed is maintained or even reduced with promotions, based on design, features, components and capabilities, the BikerCom system represents a very good investment.

My concern is that there is no current North American distribution entity. I have been extremely happy with the service provided during this evaluation and hopefully this is indicative of how other consumers will be treated.
Conclusion
In some ways this is a tough one to call. As a hybrid it sits squarely between fully wired systems and stand-alone Bluetooth systems.
Acknowledging that many wired systems are now offering Bluetooth enhancements to expand peripheral use or to remove the wired connection to the helmet, the clean sheet design taken for the BikerCom just seems to provide a better payout, at least for me.
Putting on my 'best of all worlds hat', I could wish that the headsets had more autonomy, the Intercom had more power for greater range and possibly (down the road) for inter-system connectivity and, that a long list of fully qualified North American radios with connection cables were available.
But even with my wish list not totally satisfied, based on design, intended use, proven functionality and performance the BikerCom is a winning system.
If due diligence is done for the North American market and an aggressive pricing strategy is used other manufacturers may be caught looking over their shoulders rather than ahead.
See Also
▪ Part 1: BikerCom Review
▪ Part 2: BikerCom Installation
Details and Owner Comments in Part 1 of the BikerCom Review
Note:
 For informational use only. All material and photographs are Copyright © webWorld International, LLC since 2000. All rights reserved. See the webBikeWorld® 
Site Info page
. Product specifications, features and details may change or differ from our descriptions. Always check before purchasing. Read the
Terms and Conditions
!