Biker sisters are a competitive lot with Australian, British and now American women vying for world records at all-female motorcycle rallies and parades.
In 2014 the Babe Raid rally set the record when 284 women rode to the coastal NSW town of Ballina. Record Setter officially declared the record at 221 women on 190 bikes.
In 2015, their Brit sisters broke that record when 661 women rode to the famous Ace Cafe in London to set the world record for the largest female bike gathering with 246 women riding bikes in a parade.
Last year, 1002 Aussie women from as far as Western Australia and aged 16 to 74 took back to the record at Dubbo.
Just last month the Brits won it back with 1132 women at a biker meet in Shropshire.
Now the Yanks want their turn.
Last year, they created the inaugural Lace, Grace and Gears Rally in Beaumont, Texas, to do just that, but failed by 200 riders.
But spokeswoman Julie Nordskog says they hope this year to attract 1200 women to Bandera, Texas, for their second rally from September 28-October 1, 2017.
"This time we hope to break the world record with the all-female Parade of Sisters and bring the record to the US for the first time," she says.
"We need to raise the bar much higher, not only because the numbers have increased, but also to avoid being knocked off the pedestal too quickly.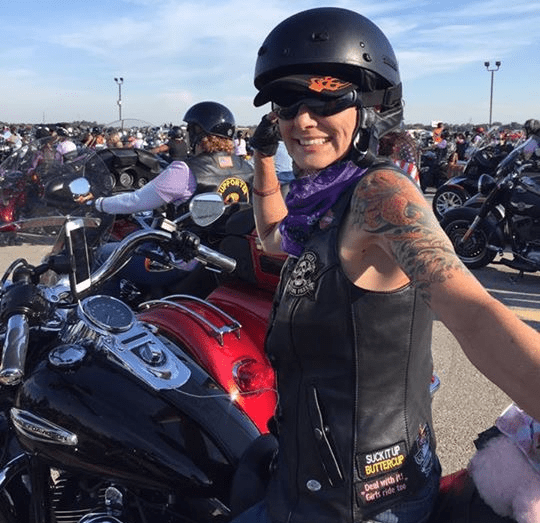 "While we women riders continue in friendly competition, the stronger message is women in motorcycling are gathering in growing numbers and becoming more visible worldwide," says Julie. 
If successful, the Americans may not hold the record for long.
Aussies ladies have declared they want to break and/or set several world records at their next 2WheelBabes Mega Babe Raid and World Record Event which returns to Dubbo from November 16-19, 2018.
The records are:
Biggest all-female Mega Bike Rally;

Most women at a female bike meet;

Most women on motorcycles at one time;

Longest motorcycle convoy – female only;

Longest motorcycle convoy – female and male participants; and

Most mother/daughter teams at one female-only event.
Female riders account for only about 10% of the Australian riding population, but about 14% of American riders, so it will be a tall order for the Aussies.
Besides, the event is not being held in a major city, but in the middle of NSW.
The Babe Raid events are organised by Debb Dagger, a mother of two and senior property manager.
She also organises annual Babe Raids in four states. The first in South Australia was held earlier this year, as well as one in Queensland.
The next event is at Byron Bay, NSW, from September 8-11, then Ballarat, Victoria, on November 17-20, 2017.