BikeComm Hola Intercom Image Gallery
Part 3: Hola Intercom Ride Report
As a long-term effort there has been lots of opportunity to use all of the Hola systems with different helmets while riding different motorcycles under differing riding conditions.
The first thing that needs to be mentioned is how much the firmware updates and upgraded components have improved system performance.
This has translated into a far more positive experience for the user; kudos to Open Road Solutions and specifically the BikeComm team.
Case in point: the first Hola intercom systems we received late last year lacked output volume and when the volume levels were cranked up, distortion was very prevalent.
Even on a fully-faired BMW R1200RT, the system audio was overwhelmed at speeds between 100 to 120 km/h.
But system changes including firmware tweaks, along with the optional larger speakers and the latest supplied boom and thin-wire microphones have made the most recent versions of the Hola systems much better.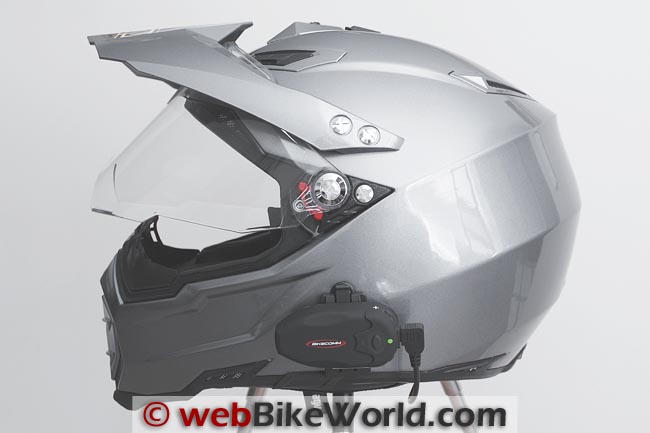 BikeComm Hola Intercom On-Road Ride Report
The on-the-road audio performance was good to excellent with a fully faired motorcycle (BMW R 1200 RT).
Same with an adventure-touring style (BMW F 800 GS and R 1200 GS) and the sports oriented (Kawasaki Ninja 650).
Also the same with a little open-to-the-wind bundle of pure joy, the Ducati 796 Hypermotard. T
he ratings are based on an averaging of motorcycles and helmets used and considering environmental factors.
Score: Overall on the road audio performance is:  Good.
A more detailed comparison table involving specific motorcycles, helmets and environmental settings is still under development as a longer term effort to provide more information relevant to the test and use environment.
The Editor has also identified some initiatives to work with generated audio, with the objective of being more objective.
Mounting: The fitment components are lightweight but up to the task; none of the systems ever fell off or moved very much although bumping the original spring-loaded clip mount could move the system on its axis slightly, but nothing more.
Microphones: The original boom microphones provided decent sensitivity but the new ones are a vast improvement with the latest thin-wire microphones received on par or perhaps even a little better than the standard boom microphone components.
Headset Speakers: I received two sets of optional larger headsets from the BikeComm representative who asked me to try them; he thought the larger speakers would help address the rather bland and (low) output of the supplied headsets – they did.
The difference is night and day compared to the standard components.
Far more responsive, the new units provide superb clarity at any setting. But they are still lacking in the lower frequency range when compared to some other Bluetooth communications headsets in the same helmet.
I haven't tried the new speakers in all the helmets yet, but they are definitely a big step in the right direction and they should be packaged with the retail products.
Hola Intercom Audio Quality and Volume
Not wanting to sound repetitive, but output from the original Hola intercoms running the original firmware was poor.
But no more; between system and firmware changes, including frequency response enhancements to the intercom and stereo streaming, and the larger speakers, the improvement is remarkable.
While audio output of the BikeComm Hola intercoms still lags behind Sena, Midland and Cardo products, overall the Hola components can now be used in noisy environments at increased speeds and at peak volume with no distortion.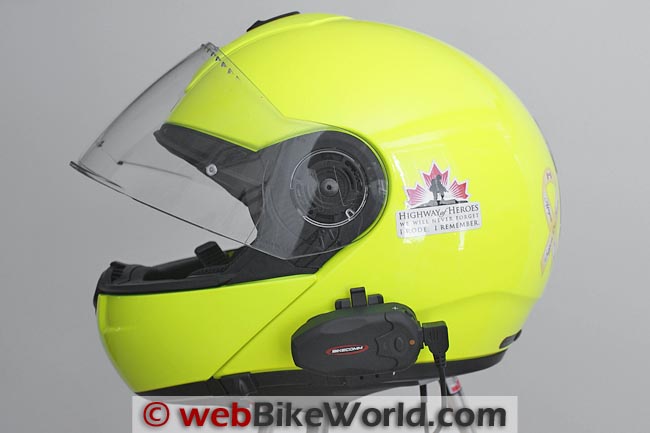 Hola Intercom Range
This is a far more measureable or objective assessment, with the Hola-S units typically providing 150 m to 250 m of communication distance range.
This will depend on terrain and the man-made environment, but it was all good for rider with passenger or shorter-distance rider-to-rider communications.
The Hola-F systems are touted as the long range systems best suited for rider-to-rider use and this is another area where the changes and tweaks have been very positive.
Originally these systems would typically drop off well before the stated 900 meter range, whereas now link ranges of 1 kilometer have been achieved under ideal conditions with minimal loss of audio.
Background Noise Levels
Noise levels heard in the BikeComm Hola intercoms are typically low, with the odd spike in electronically cluttered environments and some minor interference at times from other communications devices.
Although that doesn't typically prevent an intercom conversation from being conducted.
As communication distance limits are approached, noise will increase slightly.
But not as much as many other systems on the market, although the Interphone F5 (review) andMidland BT Next (review) systems are still the clear champions here, at least from my perspective.
Bluetooth peripheral links are virtually noise-free even in a cluttered electrical environment with the latest firmware tweaks helping to eliminate much of the switching noise as well.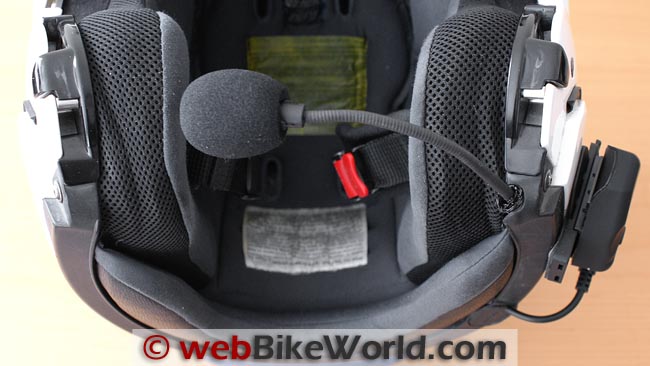 Pairing, Switching and Recovery
Nothing has ever refused to pair with the Hola headsets and with the latest systems running the latest firmware (v1.92), the process is even faster.
Once paired, renewal is probably 99 percent and seemingly within seconds, with link activation even faster, on the order of milliseconds.
When the intercom link does drop off, I sometimes hear a single tone, but the latest systems provide a four-tone sequence that indicates "out of reception range".
Link restoral is automatic and only twice over several months did I have to manually reinitiate an intercom session.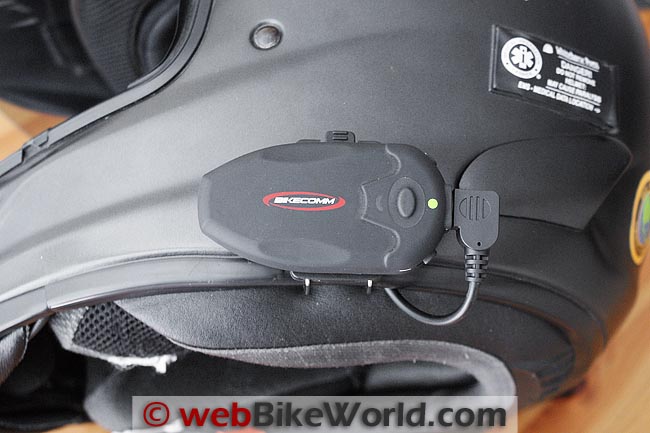 BikeComm Hola Firmware Updates
Although the Bluetooth Firmware Upgrader (BFU) application is not yet posted on the Open Road Solutions website, we asked for and were provided with advance copies of the BFU PC application and firmware updates; another plus that was greatly appreciated.
The PC application came as a compressed .rar file and once unzipped, it is 1.03 MB in size.
Double-clicking on it should initiate installation, although depending on individual PC settings regarding user privileges and security some operating system warning screens may pop up.
A typical installation splash screen appears and accepting the defaults on subsequent screens will see the application installed in four steps.
As selected, a small "OR" icon will appear on the desk top or launch bar, which is the launcher for the BikeComm Firmware Upgrader or BFU.
An initial attempt to update of the Hola S-10 units didn't work very well due to a lack of formal instructions and what I suspected were files that were being corrupted during the long-distance download.
Quick action by the U.S.-based company representative fixed that issue and after updating one of the original Hola F-10 modules to firmware version 1.85.
The spoken status announcements "Voice" was now present, providing audio guidance during setup and use of the system.
The latest sets of Hola-F systems are running firmware v1.89 and 1.92 (the best release yet). Each firmware release has included subtle tweaks and enhancements.
These all serve to tangibly demonstrate the benefits that can be gained from this feature and the commitment of Open Road Solutions to the BikeComm products and the consumer market.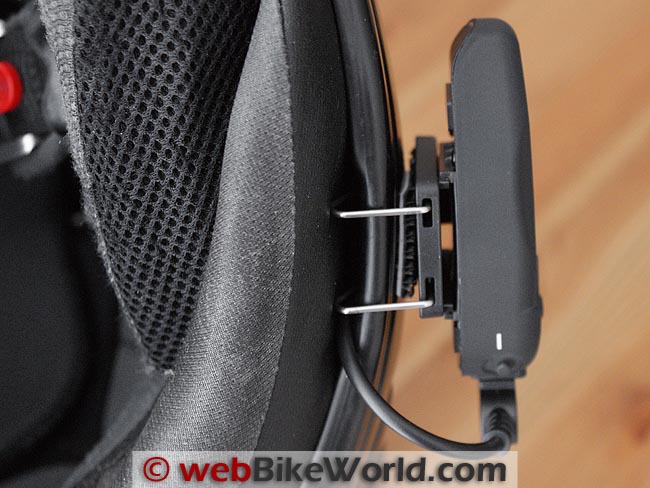 Conclusion
Having multiple BikeComm Hola systems on hand for an extended period of time provided a great opportunity allowing continued use of multiple systems at varying stages of development and running different firmware.
This opportunity has been greatly enhanced by the patience of the Editor and an ongoing information exchange and support environment with company representatives from engineering to marketing.
That is an opportunity not often presented but always appreciated.
Over the course of six months the Hola systems have undergone design and functional changes that have resulted in greatly improved function and performance.
None of the systems have failed in very wet, cold or extremely hot and humid conditions and the seemingly fragile thin-wire headsets are in reality very strong.
Although initially skeptical about the Hola Bluetooth helmet systems, time, insight, continued improvements and continued use have all conspired to result in a far better bottom line.
I really like what Hola headsets are and can do, with the knowledge that further evolution is likely.
BikeComm is working on establishing a North American presence, which will allow the company to expand their current global market and bring more options to riders.
As evidenced by the original BikerComm BK-01 (review), which won the 2009 webBikeWorld Motorcycle Intercom of the Year Award, BikeComm (changed from BikerComm) products represent simplicity, functionality and reliability.
The Hola systems — especially the Hola-F Pro Team retail kit — are worth a detailed look. Aggressive pricing makes them an excellent return for the investment.
Stay tuned for the next BikeComm system installment: Part Two on the BikeComm BK-02 hub-based communications system.
web

BikeWorld

 Overall Opinionator – BikeComm Hola Intercoms
Picks…
…and Pans

Simple, lightweight components.
Mounts on virtually any helmet.
Small footprint and mounted profile.
Only three controls.
Compatibility between Hola models.
Seamless pairing and switching.
Relatively low price, good ROI.

Still more output volume needed.
Firmware and on-line support not yet active.
w

BW

 Review: BikeComm Hola Bluetooth Intercom
NOTE:
 The webBikeWorld evaluators wear properly fitted ear plugs for intercom evaluations. This is reflected in the opinions on sound quality and speaker volume. Your experience may differ. Always protect your hearing when riding a motorcycle (
more
).
Note:
 For informational use only. All material and photographs are Copyright © webWorld International, LLC since 2000. All rights reserved. See the webBikeWorld® 
Site Info page
. Product specifications, features and details may change or differ from our descriptions. Always check before purchasing. Read the
Terms and Conditions
!
Owner Comments and Feedback