Part 2: Hola Intercom Functionality
With the BikeComm Hola intercom modules fully charged before use, the headsets were connected for an initial evaluation before being installed on helmets.
The BikeComm Hola intercoms worked just fine on startup.
The documented beeps and tone sequences provide audio status information in a form that most of us are familiar with.
The spoken status announcement voice — a new feature in the latest BikeComm Hola intercoms — was very loud and very clear in the headset.
A one- to two-second push on the MFB button powers the system on indicated by a slow blinking Blue LED and a [comm activation – level one] announcement in the headset.
A five-second push initiates power off, with a battery status [battery charge – full] and [firmware version xx] announcements made before the module shuts down with one (or multiple) Red LED flashes.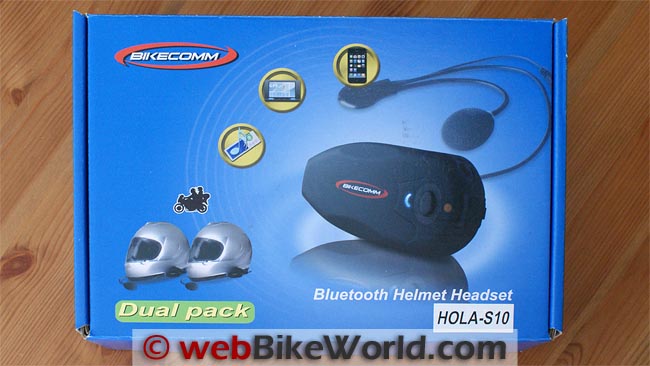 Intercom Use
Up to four BikeComm Hola intercom modules (headsets) can be paired together in discrete pairs, although BikeComm utilizes a slight variation on the theme in allowing all three control buttons to be used for pairing assignments.
With Module A as the example, the MFB, Volume Up (+) and Volume Down (-) controls can all be used to pair with module B, that can also use any of its three controls as the pair button.
The appropriate button selected on each module becomes the control to initiate an intercom session with another paired unit.
If a symmetrical assignment standard is used (module A uses MFB and module B uses MFB) or a simple matrix drawn up, mentally or literally, representing the assignments all should be fine.
Two sample matrix diagrams are provided in the Owner's Manual but it is all pretty easy to use and a few minutes spent in playing with the systems is time well spent.
Note: if one of the modules in pairing mode is not physically assigned a pair button, the system will use the MFB button by default.
When only two modules are being paired this shouldn't be an issue, but if other pairings have or will take place, this may cause issues down the road.
When setting up two modules for intercom use, the first session must be manually initiated by pressing the assigned activation control, e.g. [MFB] button.
Subsequent sessions are initiated by either user via VOX or manually by pressing the assigned button for one to two seconds.
A single low tone is generated in the headset and/or voice notification announcements [Comm A selected], [Comm B selected] or [Comm C selected] are heard.
The spoken status announcements make it much easier to identify which link is being activated. If the link is subsequently established a double tone will be heard, followed by some increased white noise to physically confirm a link.
To initiate a VOX intercom session just speak (loudly) into the microphone until a triple-tone sequence is heard, indicating an active link.
A VOX initiated session terminates automatically after ten seconds of 'sensed' silence by the system.
If a VOX initiated session remains open beyond the ten second timing (typically due to noise) the link can be manually ended by pushing the MFB button.
Other audio rules applicable to intercom use are described in the Audio Management section of the manual.
The [Party Occupied] voice notification or double-tone busy signal indicates that the headset you are trying to establish a link with is otherwise engaged (on a call or another intercom session).
But all is not lost; the intended recipient hears a voice notification [missed a page] once their other intercom session is over.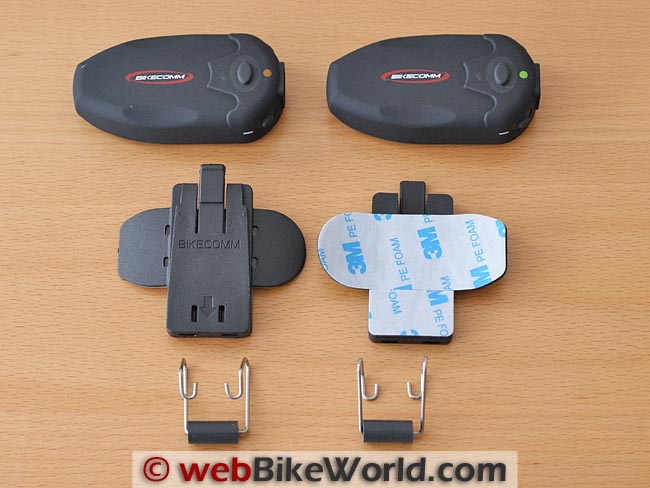 Hola Intercom Peripheral Pairings
Multi-point connectivity plays a role in allowing simultaneous support of a mobile phone and a navigation device.
If both audio sources become active both will be heard, although any ongoing intercom session will be paused, then resumed once the higher priority audio is terminated.
Smart/Mobile Phone Pairing
The multi-point pairing feature of the Hola intercom module allows it to be paired or connected to two mobile phones.
Although the last one paired must support advanced functions (e.g., voice dialing, reconnecting cell phone and A2DP), as it becomes the primary phone for receiving or making calls.
Manual switching is needed to activate the first paired phone – something that should not be done while riding.
Putting the module into pairing mode as described above initiates the Red/Blue LED dance and the device to be paired can now be put into search or pairing mode.
If found, the respective Hola device identification will be displayed on the device and pairing will either be done automatically or after the default 0000 PIN is keyed in.
Manually answering a call is done by pushing the MFB once, although true hands-free functionality is provided via two distinct answer modes, based on paired device capabilities.
Activating and switching between the two answer modes is done using the Volume controls. For Voice Answer mode, press [V+] for seven to eight seconds until the LED turns Green, activating the Voice Answer mode.
Alternatively, pressing [V-] for the same period of time until the LED turns Green activates Automatic Answer mode.
The appropriate voice notification will be made after each change [Voice Answering Mode] or [Automatic Answering Mode].
As may be expected, Voice Answer mode is tied to the VOX feature settings. As long as VOX has been enabled and configured for the riding environment a call may be answered by simply (and loudly) saying "Hola" or something related.
With compatible devices, voice activated dialing is available. A quick push on the MFB button activates the phone's voice control; once the activation tone is heard, speak into the microphone.
The iPhone 4S is a very good partner for this feature using either Voice Control or Siri, although cockpit noise levels impact the accuracy of voice input commands.
In Automatic Answer mode, an incoming call will be transferred to the headset and answered after about five seconds of ring-tones.
A three-second press of the MFB button rejects the incoming call.
Audio from other apps on the iPhone all worked, including voice navigation instructions from an activated Garmin onDemand application that provides quite accurate instructions covering North America.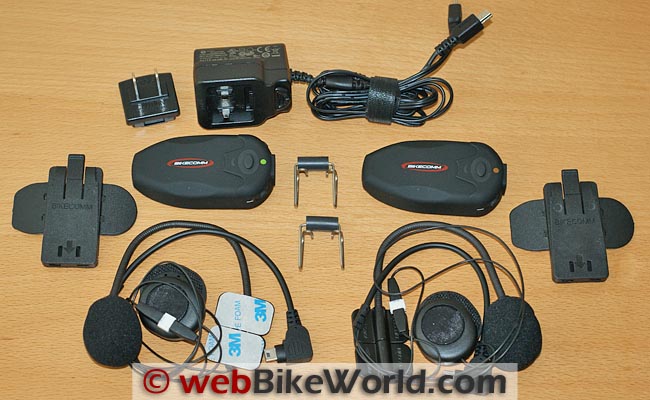 BikeComm Hola GPS Pairing
Speaking of navigation and related support devices, initiating the pairing process described earlier gets the Hola intercom modules paired up with compatible navigation devices, in my case these being the zumo 660 and 665.
Mono (single channel) voice navigation and stereo music streaming is provided to the headset, with switching between navigation voice and music almost seamless with no clipping of speech and only a very slight click heard on occasion.
If a phone is to be added to the configuration and if the GPS device supports dual headset connections (most current navigation devices do for this express purpose), turn the Hola system off.
Then pair the GPS and the phone first, making sure the phone hosting menu on the GPS is working.
Now turn the GPS or at least its Bluetooth off and then on again as a soft reset.
Put the Hola system into pairing mode so it finds the GPS and enter the default 0000 if requested. Using Bluetooth systems with a GPS hosting, the phone can provide mixed results with newer systems typically more efficient than earlier systems.
The Hola-zumo 665-phone combination worked as expected, especially with the iPhone 4S.
Bluetooth Adapter Compatibility
As with other recent Bluetooth helmet intercom system evaluations, the opportunity to add both the Sena SR10 (review) and the UClear WT300 "Spider" (preview) (currently under evaluation) into the use and test configuration mix was taken.
The end results reveal that either device, depending on user requirements, can provide additional capacity and additional capability, like two-way radio use, for Hola system users.
Note:
 For informational use only. All material and photographs are Copyright © webWorld International, LLC since 2000. All rights reserved. See the webBikeWorld® 
Site Info page
. Product specifications, features and details may change or differ from our descriptions. Always check before purchasing. Read the
Terms and Conditions
!
Owner Comments and Feedback
---
Owner Comments and Summary Table in BikeComm Hola Intercom Review Part 3.