BikeComm BK02 Group Intercom Communications System Image Gallery
Borrowing a page from the Editor's playbook used to introduce the Sena SR10 Bluetooth hub (review), this article will first provide a brief initial overview of the new BikeComm BK02 system.
The BK02 uses a Bluetooth hub as its core component. It provides a capability requested by many motorcyclists — it can stream distributed audio in mono or stereo to both the rider and passenger, via its proprietary wireless headset link.
Part 2 of this review will describe the BikeComm BK02 in more detail, along with user impressions.
The new BikeComm BK02 motorcycle communications system promises to deliver some very unique features, including streaming of distributed audio in mono and stereo to both the rider and passenger.
We wanted to bring you the news about this device as soon as possible, so we're going to split this review into two parts.
Part 1 will describe the BK02 system and its features.
Meanwhile, we're still conducting on-the-road evaluations of the BK02 system, along with the BikeComm Hola-F10 and Hola-S10 intercoms.
Part 2 will be published at a later date, with our impressions of the BK02 and our evaluations of the individual intercom pairs.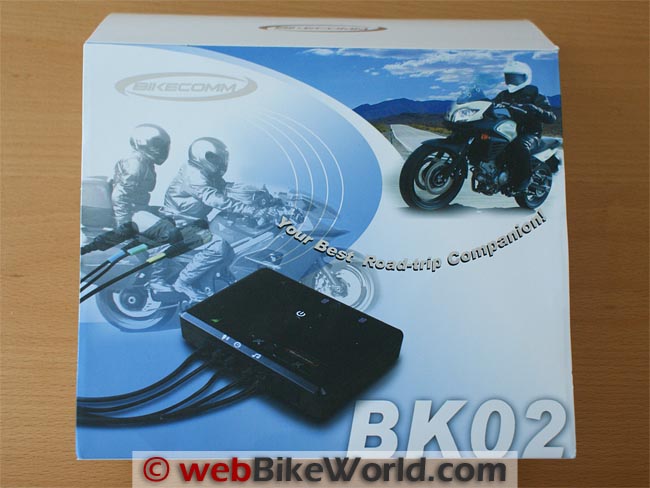 The BikeComm BK02 is one of three new systems being released by Open Road Solutions, all currently undergoing a webBikeWorld evaluation.
Does the BikeComm name sound familiar? webBikeWorld readers may remember my review of the BikerCom Bluetooth intercom system (review); apparently, the BikerCom (aka Biker Com) name has been shortened to BikeComm by the manufacturer, Open Road Solutions.
A real evolution of sorts is taking place in motorcycle communications systems, thanks to continued consumer demand, evolving technology integration and production efficiencies.
The end results are new products like the Sena SR10 and this new BikeComm BK02 version of the original BikerCom intercom system, to name only two.
Advanced Bluetooth motorcycle communications systems and a virtual ocean of Bluetooth-enabled devices and interface expansion options or hubs provide more versatility, flexibility and significant performance enhancements.
We are going to get spoiled. And my point is? Enjoy the ride!
The opportunity to evaluate new motorcycle communications systems along with other accessories and motorcycle clothing keeps me busy, involved with industry and best of all, out riding.
Another perk — albeit longer term — is the opportunity of working with follow-on versions of systems that I originally evaluated for the webBikeWorld reviews.
So when the Editor asked me if I wanted to review the new BikeComm Bluetooth systems, including the successor to the webBikeWorld.com 2009 Motorcycle Intercom of the Year recipient — the original BikerCom BK-01 hub-based Bluetooth helmet system — there wasn't any hesitation on my part.
Now identified as "BikeComm" vice "BikerCom", the new BK02 or Group Intercom product is both instantly recognizable while discernibly different…in a good way.
Reflecting the experience gained in marketing the original system and leveraging their technologies and production abilities, the new BikeComm BK02 Group Intercom system is everything the original was and more — far more.
As I noted in my article entitled "The Future of Motorcycle Bluetooth", time and technology continues to march on and typically systems that do not evolve or which are not replaced by something better either sit on vendor shelves or collect dust on owners' shelves.
The Editor's comment in Part 1 of the Sena SR10 evaluation that reads, "Someday, perhaps (and perhaps soon), all of these features will be built right into a tiny motorcycle intercom unit…" was bang on, although I think that ultimately solutions may be both headset and hub or controller-based.
But as we all work towards the "ultimate" solution, systems like the Sena SR10 and the BikeComm BK02 (and others), which are based on traditional but proven designs, still provide tangible user enhancements in the "now" and positive insights regarding the possibilities.
Future form factors are likely to become even smaller with more portable headsets that are readily adaptable to life in general. This, of course, includes powered and non-powered sports activities; something that the marketing side of this industry segment has already recognized.
Another option that I think may be just as likely (at least for some systems) will be smaller hubs or controllers, used to provide wired-to-wireless interfaces and communications for helmet systems that have cross-platform compatibility and voice recognition capabilities — e.g., the Cardo Scala Rider G9 (First Look) — will provide.
The inclusion of or convergence with wireless power management capabilities, as implemented in the current Dispatch 1 Motorcycle Power Distribution System (review) should arrive only a little later…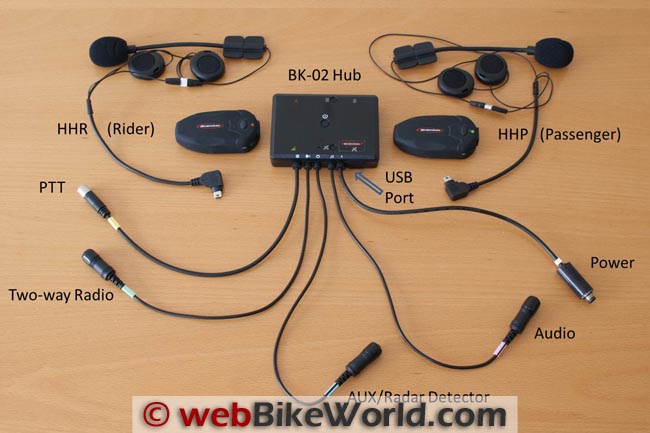 BikeComm Motorcycle Communications Systems
First, here's a rundown of the three BikeComm motorcycle communications systems that are currently available:
BikeComm Hola-S10 Bluetooth Headset
The BikeComm Hola-S10 is the company's basic rider-to-passenger Bluetooth intercom system. It is a stereo headset that provides a hands-free connection to Bluetooth mobile phones and rider-to-passenger intercom communications up to a (claimed) distance of 50 meters. It also provides a connection for stereo music and GPS navigation voice instructions.
The system includes an automatic volume and noise reduction system, one of the BikeComm specialties, which "provides superior sound quality and performance for both headphone and microphone audio", according to the company.
BikeComm Hola-F10 Bluetooth Headset
The Hola-F10 system includes all of the capabilities of the S10 but adds a 900 meter (claimed) line-of-sight range for rider-to-rider communications.
BikeComm BK02 Group Intercom
The BK02 system is the primary subject of this review. It uses a Bluetooth module identical in form to the Hola-S10 and Hola-F10 systems, but with the addition of a Bluetooth hub for wired and wireless connectivity. It can also stream distributed audio in mono or stereo to both the rider and passenger.
The BK02 system includes the ability to connect a two-way radio for rider-to-rider and communications with groups of riders, and that is what really separates the BK02 from its simpler siblings.
In addition to the two-way radio connectivity, it also connects with radar detectors, mobile phones, music players, GPS or other compatible wired and Bluetooth devices.
Important Commonalities and Differences
All three BikeComm systems use the same Bluetooth module chassis and it is hard to tell them apart except for the label on the back. All three use a USB-Mini interface for headset connectivity, charging and soon, firmware upgrades — a feature not yet available from Open Road Solutions, but it is coming.
The rider-to-passenger Hola-S10 and rider-to-rider Hola-F10 systems are cross-compatible, in that they can be paired and used together, but with much reduced intercom ranges. This is due to the differences in the intercom capability; the S10 (rider-to-passenger) system uses the lower Class 2 power specification, as opposed to the higher Class 1 spec of the F10 (rider-to-rider) system.
Neither the Hola-S10 or Hola-F10 systems are compatible with the BK02 system and its rider and passenger headsets.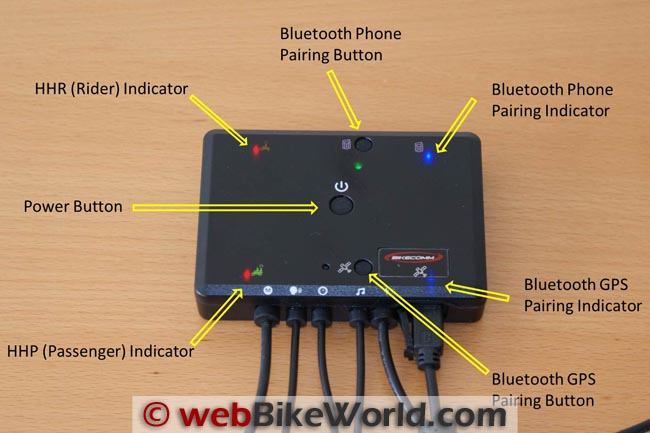 BikeComm BK02: Distributed Audio for Rider and Passenger
So what do we have here? Considering form and fit, the BikeComm BK02 system is a completely new component, different from the other BikeComm systems.
Similar in purpose to the Sena SR10 Hub (review), the BikeComm BK02 system control box incorporates a hub for connecting peripherals by wired connectors, or wirelessly using Bluetooth pairings. As a hub-based integrated system, the BikeComm BK02 is not designed to be used as a stand-alone system in the same manner as the Sena SR10, but as the key component in the overall communications system itself.
But from this point on, the BK02 system provides a capability that the Sena SR10 does not; it can stream distributed audio in mono or stereo to both the rider and passenger, via its proprietary wireless headset link.
The BK02 system also provides system control and monitoring features using just the handlebar PTT (Push-to-Talk) module and its multiple power options provide further placement and portability options for users.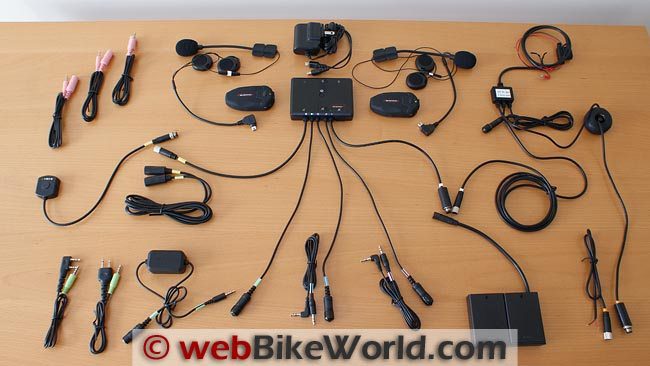 BikeComm BK02 Group Intercom System: Details and Features
Measuring 100 mm x 72 mm x 19 mm (3.94 x 2.84 x 0.8 inches), the small sealed black plastic BK02 control module is less than half the size of the original BK-01.
The small size is partly due to the use of weatherproof 3.5 mm and mini-DIN flying leads, along with one USB-Mini port connector, rather than the five 3.5 mm ports and power connection found on the back of the original BK-01.
Outside of the USB port on the front face, the rest of the BK02 module is sealed, which makes me wonder why the USB feature, whether a late add-on or not, doesn't also use a flying lead with a weather-cap (like the other leads all have), to provide a totally sealed module.
The top has three small-flush mounted buttons for power and pairing purposes along with a series of strategically placed LEDs overlaid with icon for information display purposes
With space, environmental and portability requirements considered, the new BK02 form factor is welcome. A permanent or semi-permanent motorcycle installation is simplified by using the lightweight and well-made included kit components or optional accessory items.
If portability is desired, attaching the BK02 power lead to the supplied (2 x 3 cell module) battery pack provides mounted or dismounted functionality especially if all the peripherals (paired or wired) are portable as well. It's easy to house the module and battery pack in one or two pockets of an outer garment
But no matter how the system is used, it pays to spend time getting familiar with the operational features and how everything connects. Most of the components can or should be readily recognized for what they are, which is good; the Owner's Manual is not well written and the translation to English leaves something to be desired. In addition, the simple illustrations that should aid setup may cause further confusion.
As noted earlier, physical connectivity is provided by five flying lead ("Octopus") connectors: one each for microphone or push-to-talk (PTT), two-way radio, AUX or radar detector (or related device), wired audio and finally, power.
The USB-Mini port with its integrated pliable weather cap sits to the right of the power lead. According to the Open Road Solutions team, this port can be used to power the system, although full functionality is not provided (more on this in Part 2).
Also important for a modern motorcycle communications system is the ability to upgrade the system firmware, something that is not yet possible, but hopefully will be before the longer term Part 2 evaluation is completed.
Wireless capabilities are provided by a combination of Bluetooth pairings, two-way radio communications and the proprietary dedicated wireless link between the control box and the headsets.
The Bluetooth capability provides Class 2 power and supports the Headset and Hands-Free profiles along with the Advanced Audio Distribution Profile (HSP, HFP and A2DP respectively) when connecting compatible mobile phones, smart phones, navigation devices, MP3 players, etc.
The Audio/Video Remote Control Profile, or AVRCP, is not (currently) supported by the BK02 system and based on system architecture, the limitation is recognized. But AVRCP is such a "standard" for systems now that with the new BK02 it is a glaring omission. Hopefully we will get some further input from the BikeComm team by the time Part 2 goes to press
I also suspect that Bluetooth-enabled FRS/GMRS radios may be supported — a fact that I am trying to confirm with the BK02 team. I'm also trying to source a set of Bluetooth-enabled FRS/GMRS radios to use as part of the general test suite; having this functionality can remove another or one of the last wired tethers when used with compatible hub-based or helmet systems.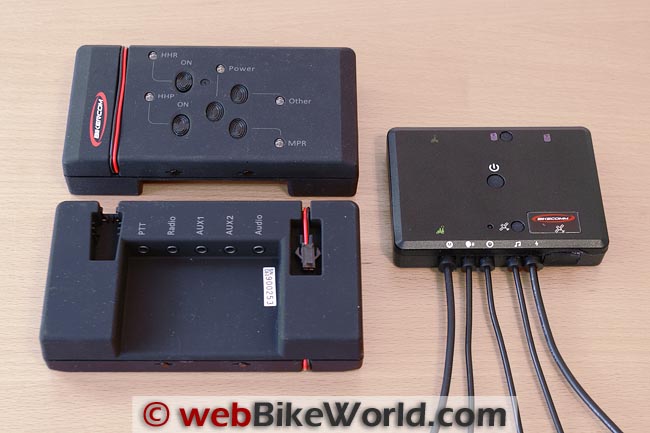 BikeComm BK02 Specifications
The specifications, technical and otherwise, were drawn from the current Owner's Manual and the Open Road Solutions website product pages.
Where differences were noted between the manual, the website and the physical components we received, the actual data is provided for accuracy and relevancy.
Power for the BikeComm BK02 system is 12V DC battery or a switched supply, the battery pack or via the USB-Mini interface. Wired connectivity includes four mini-DIN connectors for PTT (Push-to-Talk); two-way radio; AUX device and audio; one mini-DIN connector for fixed or portable power connection; and one USB-Mini connector for (power) and firmware updates.
Wireless connectivity includes Bluetooth, Class 2 for peripheral pairing and a proprietary 2.4 GHz dedicated link between module and headsets and a two-way radio link.
Connectivity with peripheral devices is via wired connections or wireless connections as identified above. Two-way radios are connected to the dedicated flying lead connector using the appropriate interconnection cable available as optional accessories.
Kit Contents
The BK02 system comes with a fairly extensive list of contents, including the following:
One BikeComm BK02 Control Box (module).
Two headset modules (HHR Rider and HHP Passenger).
Two headset fixture (mounting component) clamp assemblies.
Two speaker/microphone assembly (mini-connector detachable microphone).
Four round adhesive interlocking fastener for speakers.
Eight sponge pads to adjust speaker locator (outwards) inside helmet.
Two rectangular adhesive interlocking fastener for speaker and microphone.
Three 3M Dual-Lock fasteners (alternative mount option for headset fixture).
Two preparation pads for surface cleaning.
One power supply (North American AC/DC) with USB-Mini connector.
Two 3.5 mm audio cables.
Three audio cable extensions.
One power line assembly with in-line fuse.
One PTT control with On/Off button.
One adhesive interlocking fastener for fixed mounting of PTT.
One adhesive interlocking fastener for movable mounting PTT on handlebar.
One PTT extension cable for PTT control.
BikeComm BK02 Features
Features of the BK02 system include:
A group intercom model (using a common radio; e.g., FRS/GMRS or other).
Wireless connectivity from module to rider and passenger using proprietary technology.
Wired or wireless connection to mobile phones, navigation devices, radar detectors or related devices, audio players, etc.
Wireless capabilities utilize Bluetooth, proprietary and two-radio communications.
Two-way radio initiated by PTT wired to control module with virtual zero delay switching.
Voice Integration Technology reduces voice audio loss caused by switching of source radio.
Real-time two-way radio. Proprietary voice detection design delivers minimal delay for incoming audio from two-way radio, navigation devices, detectors, etc.
Switching from music to talk mode typically executed with less than one second delay.
PTT component enables push-to-talk control and system power On/Off via integrated button.
Compatible with virtually all types of FRS, GMRS, CB and other two-way radios with compatible connection cable.
Rider-to-rider communications enabled by two-way (common) radio use.
BikeComm BK02 Observations
Compatibility
While the basic BikeComm rider to rider Hola F-10 and the rider to passenger S-10 Bluetooth modules (separate evaluation pending) are cross-compatible, neither are compatible with the BK02 system.
Ability to Upgrade
What all three systems do or will have in common is the ability to be upgraded using the USB-Mini interface on each Bluetooth module. Open Road Solutions has not yet posted the instructions on how to do this, or any actual PC interface software or firmware updates, but the feature should be available in the near future.
Audio Streaming
Where the Sena SR10 hub streams audio in mono to a single paired headset using the Headset and Hands-free profiles, the BikeComm BK02 control module provides both mono and stereo streaming to both BK02 Rider and Passenger headsets. This capability — having both rider and passenger receive common audio from a hub-based system — is something many motorcyclists have been asking for.
Conclusion: Part 1
Like the Sena SR10, the BikeComm BK02 has the potential to change the way motorcyclists communicate. Open Road Solutions already has two years plus experience gained from consumer use of the original BK-01 system.
But has this time period been put to good use? And how will the BikeComm BK-01 features and capabilities compare to the Sena SR10 (review) that I also now have on hand?
Next: BikeComm BK02 Review Part 2
More wBW: Motorcycle Bluetooth Intercom Page  |  Motorcycle Intercom Page  |  wBW Reviews Home
w

BW

 Review: BikeComm BK02 Group Communications System
Review Date: November 2011
NOTE:
 The webBikeWorld evaluators wear properly fitted ear plugs for intercom evaluations. This is reflected in the opinions on sound quality and speaker volume. Your experience may differ. Always protect your hearing when riding a motorcycle (
more
).
Note:
 For informational use only. All material and photographs are Copyright © webWorld International, LLC since 2000. All rights reserved. See the webBikeWorld® 
Site Info page
. Product specifications, features and details may change or differ from our descriptions. Always check before purchasing. Read the
Terms and Conditions
!
Owner Comments and Feedback