Motorcycle showrooms need to learn from car showrooms with luxury appointments and high customer service, says Victory and Indian Brisbane store new dealer principal Ron Grant.
He should know; he's been in the motorcycle and car industry for more than 30 years, working with brands such as Honda (cars, motorcycles and power equipment), Chrysler/Jeep and setting up the automotive roadside assistance program.
"I'm happy to be back in the motorcycle industry," says Ron who began riding at 16 and didn't have a car licence until he was 23.
"The bike industry can learn from car showrooms about the level of appointment in stores and their commitment to parts, accessories and service.
"The bike industry is headed in that direction. We need to take motorcycles as seriously as cars.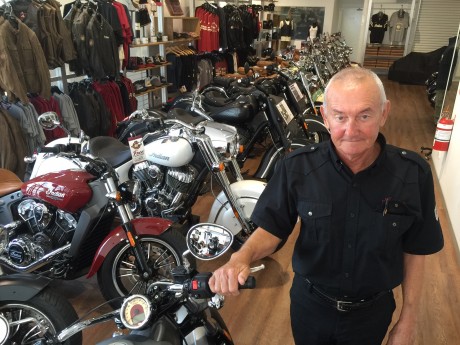 Ron says the plush two-storey showroom, set among luxury car dealers in the trendy part of Brisbane's Fortitude Valley, is "90% better than most car dealerships", but still not "upmarket enough".
He says they plan to move as soon as they can find better premises in the same area.
"It needs to be of equal standard to Melbourne and Sydney. I want this dealership to be the Ferrari of bike dealerships," Ron says.
The three capital city stores, plus a new one opening soon in Perth, are all owned and run by Indian and Victory parent company, Polaris Industries.
There are also five independent dealerships in Australia: Canberra Motorcycle Centre in Fyshwick; Motorcycle Territory in Darwin; Adelaide Motorcycle Centre; Rising Sun in Townsville; and Brisan Motorcycles in Newcastle.
"What is really different now (about the motorcycle industry) is mum and dad dealers with a tin shed and chain-wire fences are gone, but there is still a bit of cottage industry in it," Ron says.
The 59-year-old began work as a technical trainer for outboard marine equipment in Sydney and moved to Brisbane as Honda (cars, motorcycles and power equipment) Queensland service manager for four years before being transferred to Melbourne as national service manager for three years, then national sales manager for cars.
"Honda liked to transfer people every few years, but I was a techy at heart," he says.
So he returned to Brisbane and started up roadside assistance for manufacturers before being snapped up by Chrysler in 1994 when Jeep was relaunched. He remained with the company for 16 years, finishing up as regional general manager for NSW, Queensland and NT.
He spent a brief time as Leo Muller GM sales manager before being poached for the Brisbane Indian and Victory store by industry veteran Ray Scaysbrook.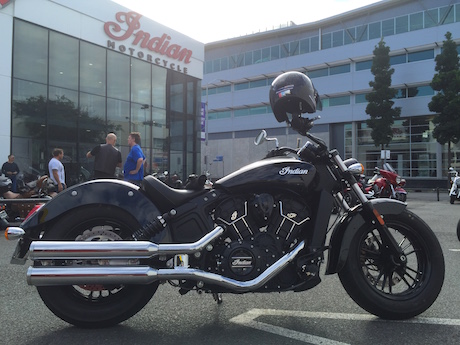 "Three interviews later and I'm here," Ron says.
"This is different from the car industry, but I like motorcycles and I am a bit of a bike tragic."
Ron has mainly owned small-capacity road bikes and had never ridden a cruiser until he started his new job.
"I never got around to riding a cruiser because they used to ride like a pig," he says.
"I've been riding the Scout and Gunner which are great for around town, but I haven't had the time yet to ride the bigger bikes."
"I am amazed by the build quality of these bikes."