Bestem Carbon Fiber Fender
Recently, a confused driver in front of me at a stop sign suddenly decided to try a high-speed reverse fake-out.
The result was that he quickly ran right into the front of my 2007 BMW F 800 S (Blog).
It trapped my front tire and fender under his rear bumper.
Needless to say, it was pretty scary but it happened so fast I didn't have time to react.
Fortunately, the only damage was to the top of the plastic OE fender on the Beemer.
The bike was perfectly functional, but the creased fender was an eyesore.
So I decided it was time to find a new front fender for the bike.
New, Used or Carbon Fiber?
I probably could have used some body filler to fix the dent in the stock BMW fender, then give it a quick rattle-can repaint in some cool color, but I just didn't have the time.
Plan B was to search for a used replacement fender, but I came up empty…although I found a used blue fender on eBay for $149.00.
It would fit, but I'd have to repaint it. And it was used, in an unknown condition.
I then went to Plan C: check with the local BMW dealer and see how much a new BMW OE part cost.
BMW dealers have a parts fiche that shows the drawings and part numbers of replacement parts from just about any model year BMW motorcycle.
(Although I've noticed recently that fewer and fewer older parts are listed as available in BMW stock.)
The older F 800 S/R/ST fenders are still available, with a new BMW part (part number 46 61 7699579) and a list price of $209.15.
But while I was searching around, I realized I could get a new carbon fiber fender for about the same price.
So I figured as long as I was replacing the fender, why not carbon fiber? It would bling up the bike a little.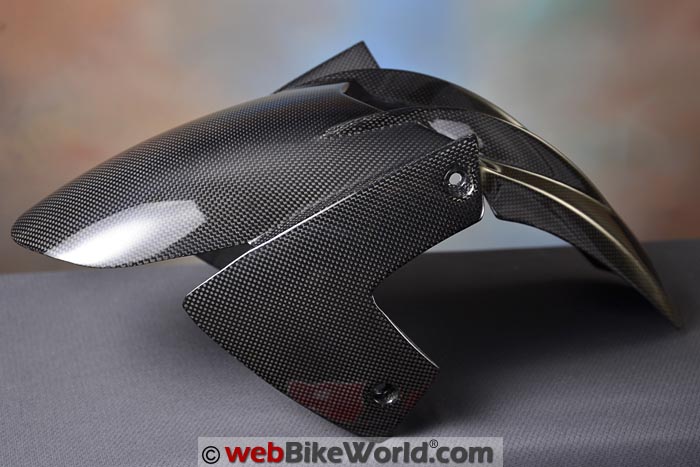 Fender Finding
There are many sources for carbon fiber motorcycle parts, including the usual suspects on eBay, Amazon and various retailers.
But it's not always easy to determine the quality of the carbon fiber you'll get by looking at the cheesy photos most of the sellers use.
I know from experience that carbon fiber can vary greatly in quality, from something that looks like it was made in kindergarten activities class to works of art worthy of the Ducati museum.
It looked like I could find a carbon fiber fender for the Beemer for around the $200.00 mark; in fact, that price seems pretty much standard for this particular part, which is curious.
I'll admit that I didn't spend a heck of a lot of time searching; I'm more of a "find it and buy it" kind of guy, once I see something that looks reasonable.
And if you're searching for carbon fiber motorcycle parts in the U.S.A, you'll probably run into Nicecycle online like I did — they have all sorts of carbon fiber parts for zillions of different motorcycles.
At first, I thought Nicecycle actually made the parts, but it appears that they're a reseller for the Bestem carbon fiber brand (although I didn't realize this until the part arrived).
By the way, I also recently discovered that many of the Bestem carbon fiber parts can be purchased through our affiliate links at Amazon.com.
So I ordered a carbon fiber front fender from Nicecycle for the BMW F 800 S which, by the way, also fits the F 800 R and F800 ST.
It was $199.95 plus $14.77 shipping and I only discovered later I could have bought it directly from Bestem for $186.96 with free shipping. Oh well; live and learn…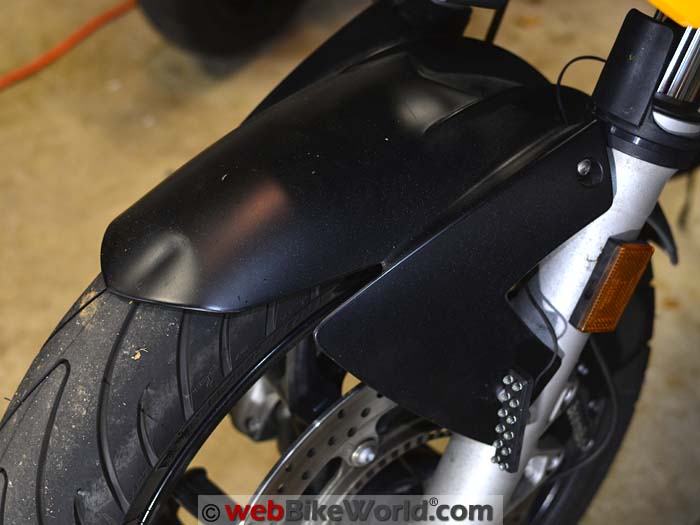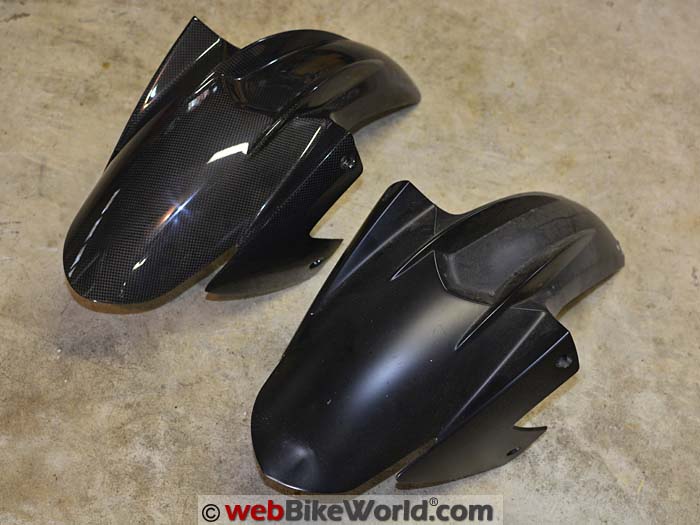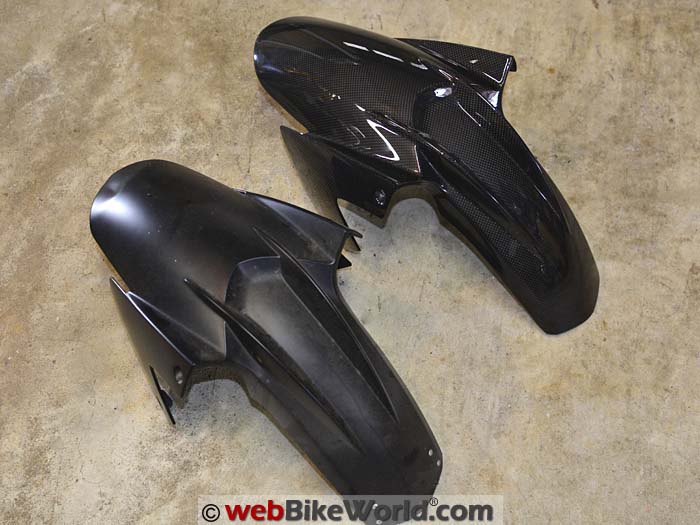 About Bestem
The fender arrived quickly, nicely cradled in foam wrapping and packed inside a large cardboard box, stuffed with paper packing.
As I mentioned above, it wasn't until I opened the box that I saw the Bestem logo.
Now that I look again at the part description on the Nicecycle website, I see that they do mention that it's a Bestem part, so I missed that when I placed the order.
I am a little confused about Bestem, however.
The company has a U.S. address in Georgia, but there's nothing on their website or on the part itself that indicates country of origin, so I suspect the parts are made offshore.
The wording on their website is carefully crafted to sort of lead one to believe that the stuff is made in the U.S.A., but reading between the lines, it appears that the Bestem USA location is a warehouse, distributor and retailer only.
[UPDATE: I received an email from the owner of Bestem USA, the carbon fiber is made in China, see the comments section below.]
What Sucked Me In?
Some of the Bestem marketing bullet points caught my interest, including the following statements:
They claim to use 3K carbon fiber with UV protective coating that's "hand-polished to a perfect finish".
They offer a 6 month limited warranty on the parts.
Bestem says that they "make our own carbon (fiber) from tooling to the final coating process, we also actually purchase the prototype bike and test-install all our parts."
They claim to use an epoxy resin based on their own custom formula that "takes into consideration ambient temperature, humanity and curing process, and the formula is constantly changed according to the seasonal change.""A majority of carbon sold on the internet is made with polyester or vinyl ester, and they all appear to be the same but cost 70% less. However, with these cheaper resins, road vibration will eventually crack the part or it'll crack and cause a shape change."
They state that their parts "are made by a process called "vacuum infusion," which gives a perfect carbon to fabric ratio even compared to vacuum bagging."
Also "We don't skip material quality to reduce cost. Instead, we look into technology advancement to improve efficiency, therefore reducing overall cost.""All our factory workers have had intensive trainings prior to the job and most of them have been with us for more than five years, so our waste percentage is very very low. (Some of the carbon fiber plants can have product waste at as high as 30~40%.)"
And finally, I thought it was interesting that they had what must be a fairly rare 2007 BMW F 800 S fender in stock."With the help from inventory management software developed in-house and our system engineer consultant, we are able to practice lean manufacturing and keep stock levels low."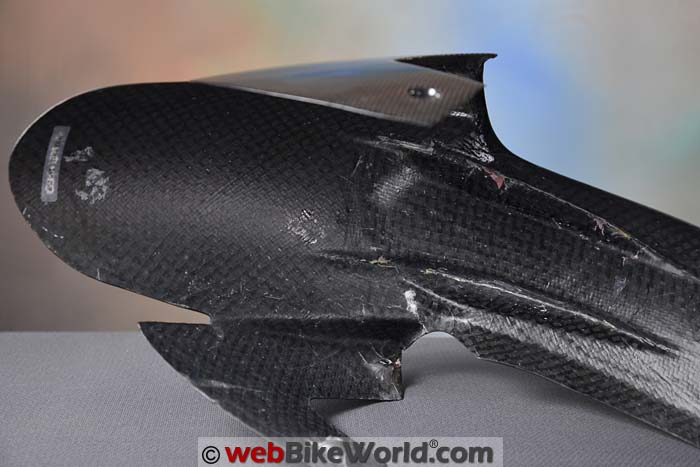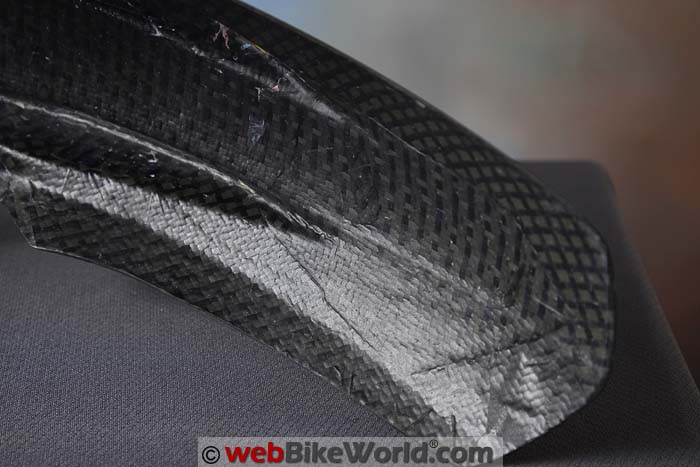 The Fender
I had read some feedback on a couple of motorcycle forums from owners who had good things to say about Bestem carbon fiber parts.
But I still didn't know what to expect. I was pleased when the package arrived, however, because the part appears to be carefully made and it looks really nice.
Otherwise, there's not all that much to say about it.
I can find no flaws in the very highly glossed surface and the carbon fiber weave appears to be molded with care, with no flaws or weird folds that sometimes appear in carbon fiber, especially the cheap varieties.
In fact, it was normal to find broken bits of weave and rough edges in carbon fiber from a decade ago.
But I guess Bestem is pretty good at making quality carbon fiber or carbon fiber manufacturing technology has come a long way since the last time I bought a part. Or both.
I did find a couple of online posts questioning whether the Bestem parts were 100% carbon fiber or if they used fiberglass backing and a thin layer of carbon fiber on top.
But this fender looks to me to be the real thing, despite the roughly finished underside. I don't see where it has anything other than carbon fiber and resin.
Also, the BMW F-series fender from that era is a fairly complex piece, as you can see in the photos, but Bestem definitely captured all the curves and sharp angles.
Best of all, think of all the weight I'm saving — the carbon fiber fender weighs but 305.6 grams, compared to 412 grams for the stock plastic fender!
That has to be good for another 20 MPH on the straight, no?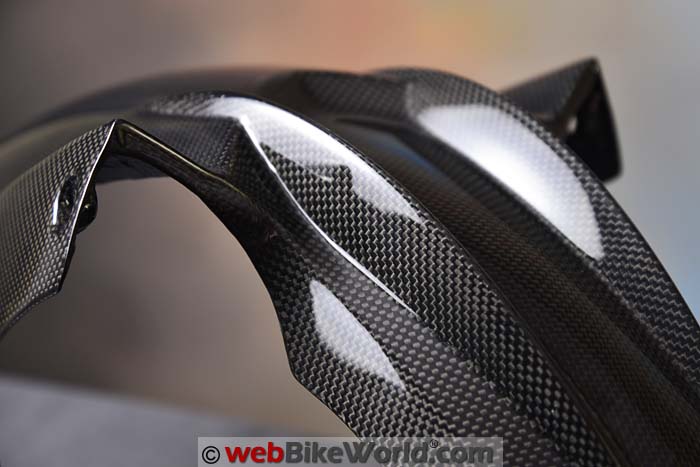 DIY Carbon Fiber?
By the way, you can make carbon fiber parts yourself, believe it or not.
We described that in the excellent webBikeWorld report "How to Make Carbon Fiber Parts" by Vin Heron, way back in 2004. It's both informative and funny, so be sure to give it a read.
Mounting the Fender
Fortunately, mounting the fender on the F 800 S is pretty simple, but this may vary, depending on the bike.
There are two BMW-style special fastener screws on each fork (see photos below). Simply remove them, remove the stock fender and install the new one.
The original screws are T40 Torx, but on this bike the bottom screw is a 5 mm Allen with a standoff and angle bracket, which is needed to mount the Skene Photon Blaster LED lights (review)
There are a couple of tricks to installing the carbon fiber fender, however.
First, the molded bolt recesses in the Bestem fender were too thick on the inside and this made the fender too narrow to fit around the forks without bending the carbon fiber more than I thought was prudent.
So I carefully and slowly filed away some of the carbon fiber on the inside, using a fine-toothed metal file. I removed only the bare minimum to get the fender to fit.
Then, I bought some neoprene washers purchased at the local hardware store to fit under the head of the screws.
You have to be pretty careful with carbon fiber; it can crack easily and quickly with just a bit too much torque or pressure in the wrong location and the neoprene washers act as a cushion between the screw head and the carbon fiber.
I also used some blue Loctite on the screw threads and I didn't overdo it with torque.
There's no reason to use too much torque; use just enough to make sure the fender is snug and hopefully with the addition of the blue Loctite, the fender isn't going anywhere.
And that's it: a nice-looking carbon fiber fender conversion. The entire installation took about 15 minutes, including the back-and-forth with the file.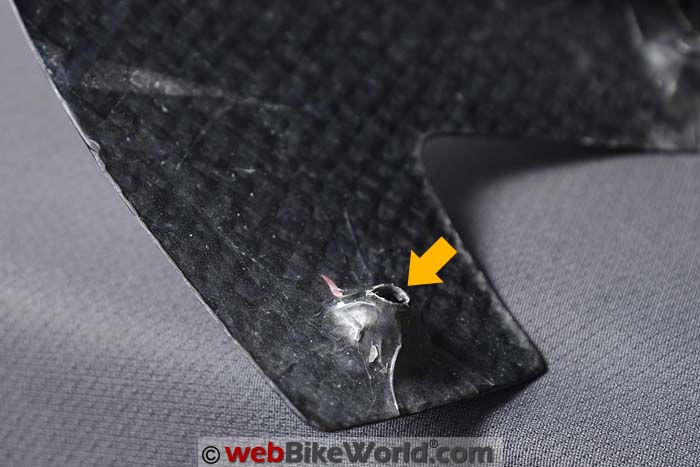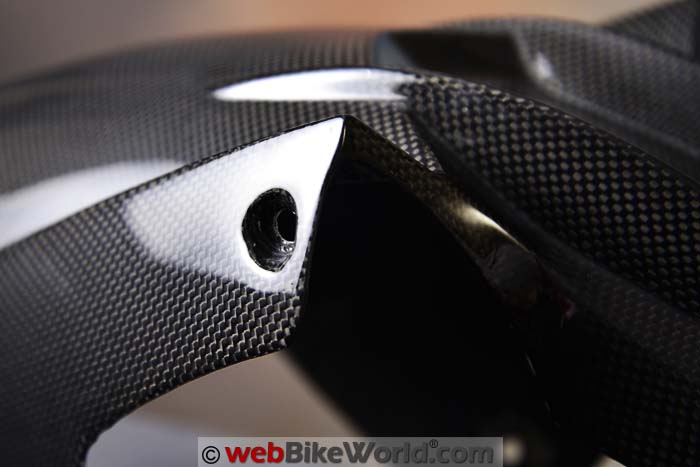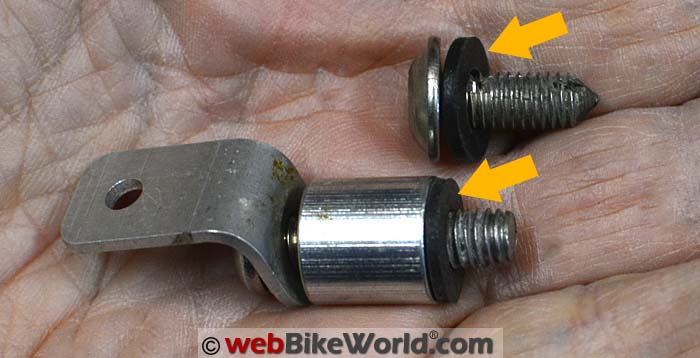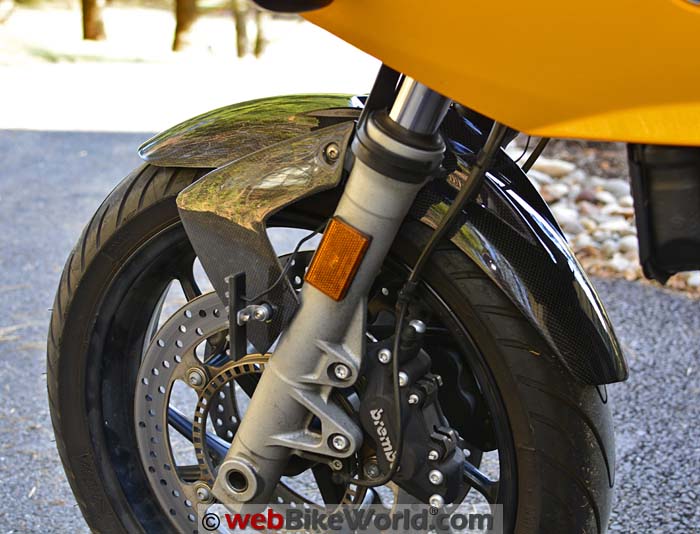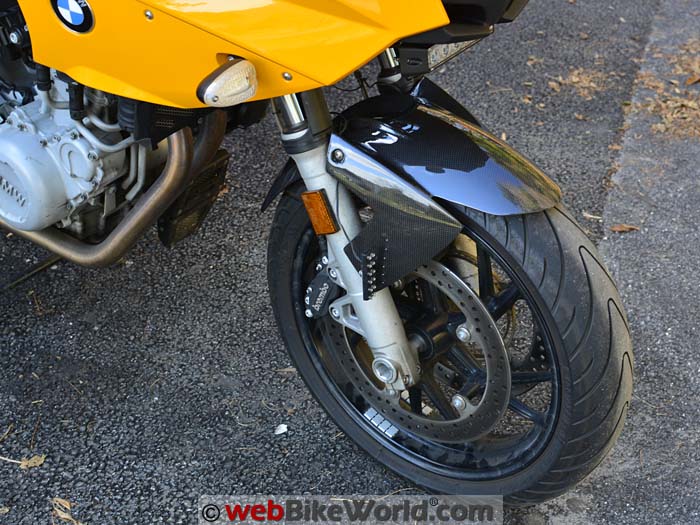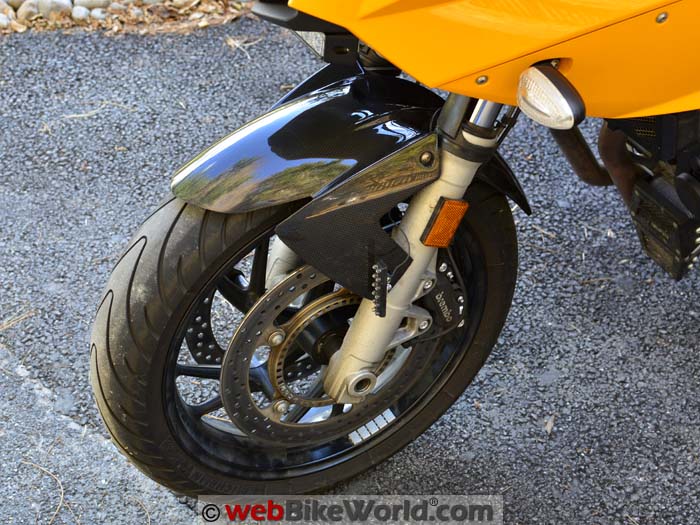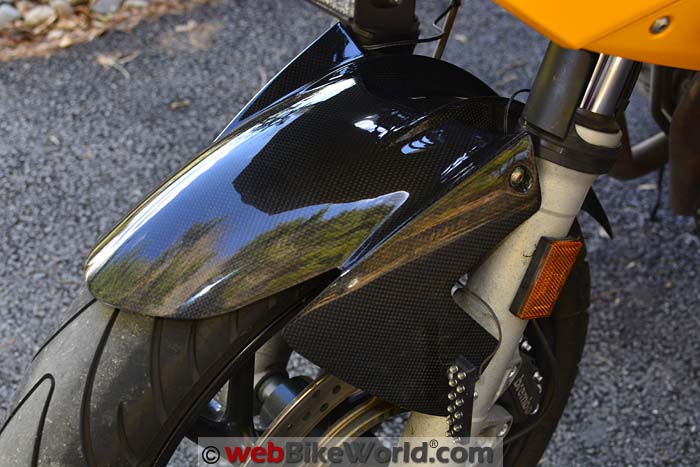 Conclusion
The Bestem carbon fiber fender looks nice and it seems to be a high-quality piece.
There's nothing I can think of that might need changing, other than the slight clearance issue where the molding for the screw recesses needed a touch-up with a file.
The quality of the carbon fiber appears to be very good and the fender has a high-gloss finish.
Bestem actually gives a 6-month limited warranty with their carbon fiber parts.
w

BW

 Review: Bestem Carbon Fiber Fender
Manufacturer: Bestem USA
List Price (2016): $219.95
Colors: Carbon Fiber
Made In: Unknown
Review Date: December 2016
Note:
 For informational use only. All material and photographs are Copyright © webWorld International, LLC since 2000. All rights reserved. See the webBikeWorld® 
Site Info page
. Product specifications, features and details may change or differ from our descriptions. Always check before purchasing. Read the
Terms and Conditions
!
Owner Comments and Feedback
---
From "D.Y." (December 2016): "My name is Daz and I'm the owner of Bestem USA. Thanks for the awesome review on the front fender you got from us, and thanks for the business as well.
I'm really flattered because your website has been a consumer report for me. I had a GT1000 and bought pretty much everything you recommended.
You article also hits us on the head on how we need to make ourselves more visible to riders. We all come from engineering/riding background and doing marketing is dreadful!
We're updating product info as we speak. Here is the "about us" page hidden in the bottom. It explains how our carbon fiber is made.
Making carbon fiber is very labor intensive, I used to make them in my garage in Boca Raton, Florida. Now all production have been sent to China, where they do a fantastic job and all facilities are ISO certified."