MotorbikeWriter invites reader, riders and bloggers to send us their travel stories about interesting roads and exotic locations. This entry is very exotic – the Spanish Island of Tenerife in the Canary Islands off the coast of Morocco. It's written by Hollie Mantle, of London, who has been pillion with her boyfriend all over Europe, and riding a scooter solo in Vietnam and Thailand for the past two years.
Taganana: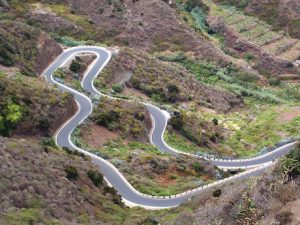 Taganana is a tiny, picturesque village set in the north of the island amid mountainous valleys and peaks. From afar it looks like little white chocolates set into a giant box of green, and gets even prettier when you get up close to those white washed walls.
The road you'll take up to this village is called El Bailadero, and it's a pretty exhilarating ride for even the most experienced of motorcyclists – reaching up to 600km above sea level over just a 6km stretch. This means one thing: up, up and up, until you're among the clouds and mist, which gives it a very magical, otherworldly feel.
The roads, however, aren't the friendliest: they're extremely narrow in places and can make inexperienced motorcyclists very nervous. Although, if you head up there during prime day time hours, you'll be vying for road space with tourist buses, so there won't be a lot of opportunity to tackle bends too quickly.
The Road to Masca: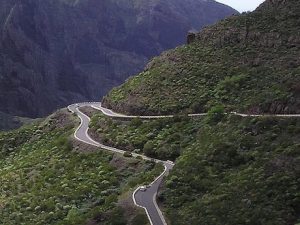 Masca is a small mountain village nestled among the valleys and isn't particularly spectacular in itself, but the road leading up to it can be incredibly exciting for experienced motorcyclists. The tiny roads offer very little protection from the vertical drops down the cliff faces below. But if you enjoy a few hairpin bends and turns to keep your adrenaline rushing, then it's definitely worth tackling. The road has dozens of switch-back turns, and requires ultimate levels of concentration, so there's no chance of getting bored!
Try to avoid going after 11am when the roads tend to get busier if you really want to get that 'open road' feeling. One plus point about the area is that the landscape is relatively barren, which means no overhanging trees to block your view as you attempt to see what kind of bends are coming up ahead.
Teide: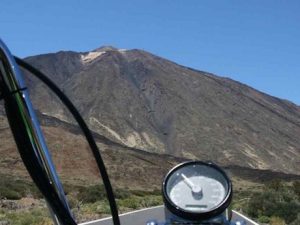 Teide is the third biggest volcano in the world, which last erupted in 1909. Now it's Tenerife's most popular tourist hotspot, and is great for drivers or motorbikers looking for roads in good condition with some great views.
Whilst the road up towards the top of the volcano is well tarmacked for the most part, the landscape surrounding the road is like another world. Picture large and small rocks, jutting out of the ground or scattered loosely in every direction. As part of this drive you'll go through Teide National Park, which is definitely worth a quick stop off. (They even have a cable car if you're sore from the bike and in need of a rest!)
The landscape nearer the top of the volcano is equally lunar-esque and beautifully uneven, so be sure to bring your camera. If you're worried about damage to the bike tyres or your hire deposit, this is the best road for you.
Renting:
Renting a bike on the island isn't too pricy, although don't expect the bikes to be the comfiest you've ever ridden. Prices are around €100-150 ($A146/$US123-$A220/$US185) per day from a decent shop, or €210 ($A307/$US260) if you want to hire a guide to show you around.
The available range of motorcycles is pretty large, depending on where you want to pick up from. In the end we realised it was cheaper to bring our own.
Regulations: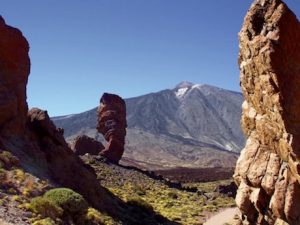 You'll need to be: over 30 years old, in possession of a driving licence that is at least 2 years old, and completely sober – even one pint will send you over the limit here. Not to say that no one risks it! Getting an international licence is also a must. They're cheap to pick up from a post office before you leave.
Where to stay:
The south of the island has more hotels, so will suit you better price-wise because of competition. Costa Adeje is a nice resort, or Playas de las Americas right next to it They also have information about bike tour companies, if you want to take a guided tour, as well as other activities to keep your family entertained. Both of these places are close to Teide and Masca, but a bit further from Taganana. 
Getting there:
To bring your own bike from the UK you'd need to get a ferry from Portsmouth harbour to Santander, then drive down to Portugal and get on another ferry to Santa Cruz. You can work out if this is best for you price-wise depending on the duration of your stay.
Flights with Ryanair for those planning to rent can be as little as £35 ($A65/$US55) during the off-season months.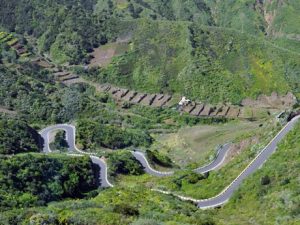 Other things to note:
It rarely rains in the south of the island where Costa Adeje is located, which means no slippery roads. The north is much cloudier and likely to be cursed with unfortunate weather, however the island temperatures are balmy year-round.
To try local food, go for Rancho Canario which is a soup that has everything under the sun thrown in including cabbage, noodles, chicken, chickpeas and pork, or papas arrugadas which is wrinkled potatoes covered in spicy sauce.
The official tourism website will let you know if anything big is coming up in terms of festivals, road closures or weather problems.