The 6th Annual 
web

BikeWorld.com

 Motorcycle Product of the Year Awards

January 1, 2011 – Happy New Year and best wishes to all of our visitors, contributors and affiliates for a happy, healthy, joyous and prosperous 2011!

Our New Year's Day tradition is to announce our favorite motorcycle products and accessories from all of the interesting gear we reviewed in the prior year. The criteria is simple and unchanged: We pick what we like.

This is a completely subjective exercise with no science involved — just emotion.

You may or may not agree, and that's perfectly fine. Opinions are just like noses — everybody has one.

The webBikeWorld.com Motorcycle Product of the Year Awards are designed to give recognition to those products which, in our opinion, combine the most unique, interesting and useful features, along with the best value, to make them leaders in their class.

The categories change from year to year, depending upon the products we've reviewed.
A Brief Look Back at 2010
2010 was a rough year for the motorcycle industry but you wouldn't know that from the number of interesting new products that were released. We're looking forward to the new year and a brighter worldwide economic outlook.
I was also finally able to make it to the fantastic EICMA show in Milan this year, the world's largest motorcycle show. I hope you enjoyed our coverage as much as I enjoyed delivering it!
I plan on attending the 2011 EICMA show in November of 2011. And I also plan on bringing you a live report from the 2011 Powersports Dealer Expo in Indianapolis starting February 19.
As always, webBikeWorld wouldn't be what it is without the many evaluators, contributors and writers who have contributed much of the knowledge and content on the website. The variety of opinions and the excellent communication and photographic skills are what make webBikeWorld.com such a valued resource.
Your excellent and detailed feedback also helps to enhance each webBikeWorld.com product review and article.
My feeling has always been that webBikeWorld visitors provide the best and most insightful feedback that can be found on the web and it is very useful for other riders.
The "old-fashioned" email-based system we use for our Reader Comments and Owner Feedback section in each review may seem clumsy compared to an instant feedback form.
But the system works and it promotes high-quality feedback.
The readers who will take the time necessary to compose and send an email have the motivation and knowledge to provide the excellent insight that helps other motorcyclists.
This year we received nearly 6 million unique visitors, an increase of 1 million from 2009. You came from 232 countries and territories around the world and you read 18.3 million webBikeWorld pages.
Our dedicated server, ably managed by the dedicated engineers and technicians at Liquid Webserved 10.5 terabytes of information in 2010, up from 8.4 terabytes in 2009. That's a lot of data!
Support 
web
BikeWorld
Managing and maintaining webBikeWorld takes a lot of cash and I also would like to thank all of our visitors for supporting the site through your purchases by clicking through these links to RevZilla, Twisted Throttle and Amazon.com.
Please continue to use our affiliate links to purchase your gear through them because this is what maintains the site, buys products for review and keeps us going.
They are highly respected retailers who have liberal return policies, outstanding customer service and international shipments.
web

BikeWorld

 Charitable Support

Your support also means that we can continue to provide funding to our favorite charities.  We're very proud of this program and thankful for our ability to help others.

I'm very pleased to announce that we donated a total of $4,337.00 in 2010 plus £600.00 to UK-based charities.

I am very proud to announce that since 2003 we have donated a total of $34,784.35 to charities around the world, plus £3,225.00 to the Royal Blind Organisation in the UK and we have been continuing our support of Kiva.org!

From all of us to all of you, best wishes for a healthy and prosperous 2011!

Rick Korchak
webBikeWorld.com Editor
web

BikeWorld

 Motorcycle Product of the Year Awards
Helmet of the Year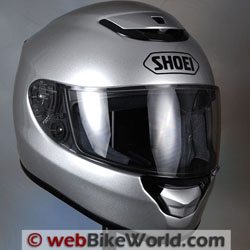 Shoei Qwest

2010 was a banner year for motorcycle helmets but one stood out above the rest.
The Shoei Qwest is comfortable, quiet and good looking. Its overall design, styling and construction is a benchmark. It meets both the DOT and Snell 2010 standards and it received a 5-Star SHARP rating in the UK.
The build quality is superb and it has a 5-year warranty from one of the world's leading motorcycle helmet manufacturers.
For some reason, the liner isn't removable. But when's the last time you took a liner out of a helmet? And too bad Shoei didn't see fit to add a bit of spice to the color palette…
But overall, the Shoei Qwest is a remarkable helmet and the clear standout of 2010.
Flip-Up Helmet of the Year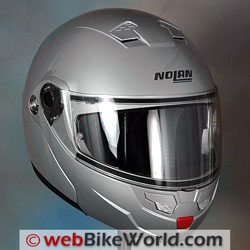 Nolan N90

In a world of uncertainty, you can pretty much count on the fact that when it comes to flip-up helmets, spending more will get you more.
There are some pretty bad flip-up helmets out there — helmets that aren't worth it, no matter how cheap.
Here's a surprise: not only is the Nolan N90 a good value, it it's also one of the best flip-ups we've ever worn.
"It feels solid, it's beautifully finished, it has a few extra touches that belie its lower cost, it looks good and it's comfortable. The aggressive pricing structure and the five year guarantee are icing on the cake", according to the webBikeWorld review.
We also said "it's the flip-up to beat" and so far, no one has, making the N90 the Flip-Up Helmet of the Year for 2010.
Motorcycle Product of the Year: Electronics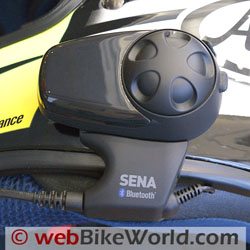 Sena SMH-10

Motorcycle intercoms have come a long way since we first started reviewing them 7 years ago.
Intercom systems still have a way to go. For example, Bluetooth doesn't quite seem to be the standard it should/could be; thin stereo speakers are a must (but should be easily replaceable) and, while we're at it, how about a replaceable battery pack too?
But in the meantime, there's the Sena SMH-10. Sena has a background in Bluetooth and wireless data transmission products for industry and the SMH-10 was their first motorcycle intercom.
They took a new and completely fresh approach to the problem and it worked, with an easy-to-use and reliable intercom.
Excellent sound quality and volume and an ingenious user interface make the Sena SMH-10 an obvious choice for a webBikeWorld 2010 Product of the Year Award.
Motorcycle Product of the Year: Clothing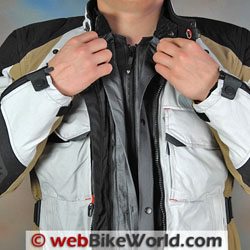 REV'IT! Defender GTX Outfit

Motorcycle clothing has also come a long way since we first started reviewing gear 11 years ago.
There once was a time, believe it or not, when you could be wet, cold, hot and sweaty — during the same ride, no matter the season!
That's all changed with modern technology and top-notch construction techniques.
The Rev'it Defender GTX jacket and pants have it all: lightweight warmth, a waterproof and windproof guarantee and 2011 styling.
While the initial outlay for this outfit is a bit breathtaking, in the end, you'll probably save money with its four-season potential. And you'll look good (and feel good) doing it!
It would be nice to have a decent back protector thrown in at these prices, but nothing else came close to the Defender GTX jacket for utility and style, making it a 2010 webBikeWorld Motorcycle Product of the Year.
Motorcycle Product of the Year: Accessories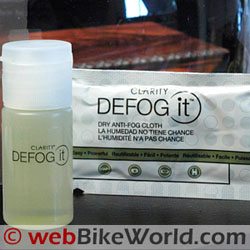 Clarity DeFog It

Motorcycle helmet manufacturers have nearly all given up on trying to coat their face shields with an anti-fog treatment.
With a few notable exceptions, original equipment anti-fog treatments just don't work.
The sign that the manufacturers have thrown in the towel on this issue is the number of helmets that now come with a Pinlock insert as standard equipment.
The Pinlock works, but it's not the most efficient solution.
Neither is a do-it-yourself anti-fog treatment, but if you don't want to install a Pinlock insert on your helmet, there is an answer.
The Clarity DeFog It solution is the only aftermarket anti-fog treatment we've found that actually works.
It's relatively inexpensive, very easy to apply and just a tiny drop does an amazing job, making this a surprise webBikeWorld Product of the Year for 2010
Note:
 For informational use only. All material and photographs are Copyright © webWorld International, LLC since 2000. All rights reserved. See the webBikeWorld® 
Site Info page
. Product specifications, features and details may change or differ from our descriptions. Always check before purchasing. Read the
Terms and Conditions
!
Owner Comments and Feedback
---
From "H.W." (01/11): "I've not had good luck with the Pinlock shield for my Shoe X12. First of all, it wasn't even available when I first got my helmet—last October. When I finally got it in the early spring (2010), It worked fine.
But this fall it would fog up between the shield and the insert, and I couldn't get it to clear, so I ended up having to ride with a fogged shield that was essentially unclearable! Not a good situation.
I installed a FogCity ProShield, earlier this fall, which worked for a few weeks, but now, seems to be permanently fogged and uncleanable.
I just removed it (today) from my helmet's shield and will try to clean it, but if it doesn't get cleaned, I may have to go back to the pin lock shield assuming I can find the directions on how to clean it.
I have a Scorpion EXO 700, and I've been meaning to try it out to see how it's "Ever Clear" shield works, but I never think about doing it when the temperature's low. Eventually I hope to remember."
Master Listing of All wBW Motorcycle Product Reviews