I'm baiting you, of course. A little bit, anyway.
After all, as we've said for many years, there is no such thing as the "best" helmet.
Or jacket. Or gloves, boots, pants, oil, tires…
The fact of the matter is, there are just too many variables involved to pick a "best" of anything.
And — as we've also said many times — the "best" helmet in the world is useless if it doesn't fit you.
But…that said, the HJC CL-16 (review) is the best all-around motorcycle helmet I have found. There — I said it!
Note there's a bit of weasel wording in that carefully crafted sentence though. It's my "out" for those who might not agree. And surely there will be many, I recognize that.
But right now, no one makes motorcycle helmet that is as good as the CL-16 for the money, in my opinion.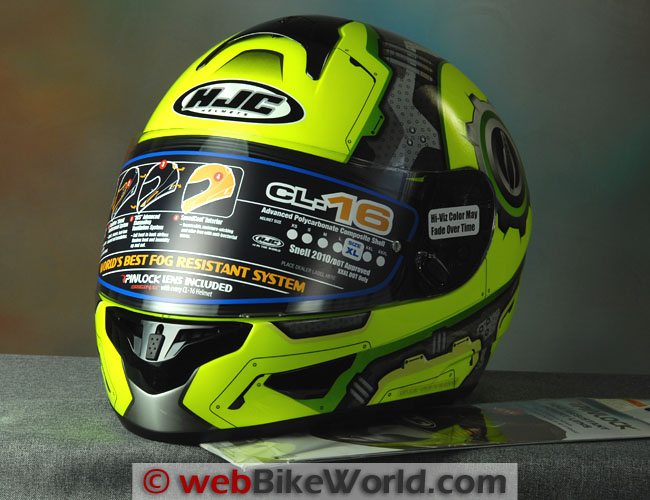 First of all, you can buy a CL-16 for $89.00 on closeout!. With free shipping. And a low price guarantee.
That is absolute chump change compared to, oh, say, the $900.00 SCHUBERTH SR1 (review). You could buy 9 HJC CL-16's for the price of one SR1. Or a CL-16 and a new set of tires. And luggage. And a new jacket, boots and pants (don't forget the gloves)…
But cheap doesn't necessarily mean good; in fact, cheap is usually the antithesis of good.
No worries with the CL-16. They've been making the thing since Ramses first carved his mug in granite. HJC has it down to a science, which is why it's the CL-16 and not the CL-1.
It looks good, works good and fits me like a glove. And get this: the CL-16 not only meets DOT specs (natch), it's also Snell 2010 certified!
They even throw a gen-u-wine Pinlock insert in the box, which fits the Pinlock-ready, 95% UV blocking face shield that also opens just a touch for defogging.
The only thing you don't get is a chin curtain, so pop for the extra 6 bucks when you buy yours and add the HJC CL-16 chin curtain (pic below). It makes a big difference (and should be included with the helmet).
For north country riders, you can even buy an electrically heated visor for the CL-16.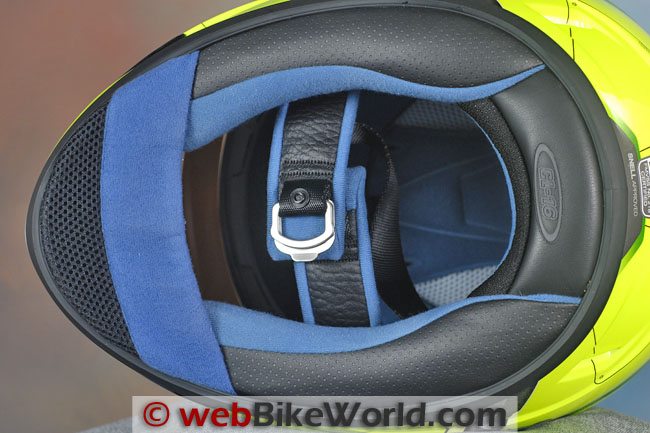 The CL-16 face shield/visor removal mechanism has been revised since we first published our HJC CL-16 review back in 2010. It's now the super-easy to remove HJC "RapidFire" system and it even includes a visor lock.
The soft, comfy and cushy liner is removable and it's a perfect fit for my "Round" head. "Neutral" to "Round" heads should have no problem with the CL-16. Optional cheek pads are also available for a bespoke fit.
My favored double D-ring chin strap system, along with a snap for the loose end is part of the mix.
The CL-16 even has cutouts in the EPS for speakers and cloth speaker "pockets" to hold the speakers and protect the ears from chafing.
It's actually a fairly quiet helmet and — wonder of wonders — the top vent even flows a decent amount of air that can be felt along the top of the head.
The chin vent brings in air along the top of the chin guard and also directly through two ports in the chin bar; a rare feature even on the big-buck helmets.
An optional breath box is also available to fit on to the hook-and-loop on the back of the chin bar if you want it.
Top it all off with a huge assortment of colors, sizes and graphics — like the brand-new HJC CL-16 "Machine" graphics shown here in ultra-high-viz lime yellow for an amazing $109.99 and we have a winnah.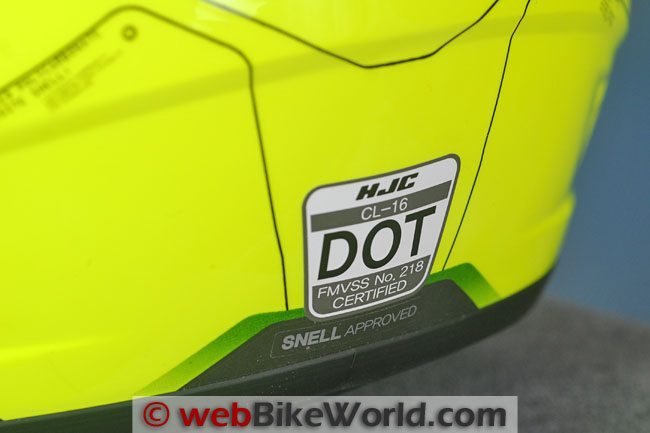 Conclusion
So let's see: at $89.00 for a solid and 10 bucks more for graphics, the HJC CL-16 is one of the least expensive motorcycle helmets you can buy. It meets the DOT standard and it's Snell 2010 certified.
It's as comfortable as a pair of old sweat pants and it has better ventilation than about 90% of the 230+ helmets we've reviewed.
It's also quiet and it's built like a brick Kremlin and — perhaps best of all — it's readily available at every Mom und Pop motorcycle shop in the world.
What's not to like? It's my favorite helmet.
There is nothing else that combines all these features and works as well.
That's why I think that, all things considered, the HJC CL-16 is the "best" motorcycle helmet money can buy. We can't wait for the HJC CL-17 — it's almost here and it has already been Snell certified!
Publication Date: June 2013
Note:
 For informational use only. All material and photographs are Copyright © webWorld International, LLC since 2000. All rights reserved. See the webBikeWorld® 
Site Info page
. Product specifications, features and details may change or differ from our descriptions. Always check before purchasing. Read the
Terms and Conditions
!
Owner 

Comments and Feedback
---
From "G.M." (November 2013): "I've been a big fan of HJC helmets and their CL line, I am currently retiring my CL-15 and had been searching quite a bit.
I stumbled upon your CL-16 is the best page today, the same day as my IS-16 came in. I got it for $95 on closeout.
With the prices being so close at that point, would you still say the CL-16 is a better buy?"
Rick's Reply: The IS-16 has the internal sun shade which I don't like and adds weight and complexity. Also, the addition of the sun shade means that the IS-16 is not Snell certified.
So my feeling is the CL-16 is actually a better helmet, especially since the HJC CL-16 is now $79.00 (here).
By the way, we have a CL-17 here, the replacement for the CL-16. It's nice, but not all that much different from the CL-16 in terms of performance.
---
From "R.C." (July 2013): "I wish I could buy one… But, like most North Americans, I have a long-oval head and the only decent fitting helmet I ever found is the Arai Profile (review) I have now.
Last week I went to a local dealer and tried on the new Signet-Q from Arai (review), and while I liked it, it did not fit as well as my 5 year old Profile – both were XS size.
Do you think HJC will ever be putting out helmets that will fit my misshapen noggin? I couldn't justify the $765.00 the dealer wanted for a new Signet-Q."
Rick's Reply: HJC seems to have a wider range of internal shapes than Shoei or others, have you tried the HJC RPS10 (review)? The CL-16 is definitely a round and fits my round noggin.
---
From "K.H." (July 2013): "Wow! I'm jealous! A sub-$100 Snell FF Helmet with a Pinlock-ready shield AND a Pinlock insert in the box?!
If they're throwing in a $30-plus Pinlock insert, they probably could have sprung for the $6 chin wind guard as well.
I wouldn't feel too bad though:
Both of  my new, much more expensive HJC IS-Max (review) or HJC Symax III Modular Helmets (review) came with the Pinlock-ready shield, but the Pinlock insert was conspicuously missing from the box with both.
So was the chin wind guards.
In addition, my HJC AC-12 Carbon (review), one of the most expensive helmets ever produced by HJC, came with neither a Pinlock-ready shield/insert, nor the chin wind guard!
It did come with a spare replacement shield (dealer throw-in, removable breath shield and a deluxe helmet bag, though!
Looks like a great buy and a real no-brainer. HJC has SHOEI-like shape and sizing, and the Hi-viz/Black helmet in the review is a nice looking piece. I'd buy a couple and stock-up! Thanks for another great review!"
Rick's Reply: Actually, not a Shoei-like fit at all, much more round inside than anything Shoei currently makes…
---
From "A." (June 2013): "Let me first say your website is awesome and I've bought 2 helmets with a lot of your help. Thanks.
I bought this helmet (CL-16) mostly because of the hi-viz graphic.
I was wearing an Arai RX-Q (review). Before that I had an Arai RX-7 Corsair (review). I now don't even bother with the RX-Q. This helmet I feel is lighter and just as comfortable.
The thing I like the most is that it doesn't sit as low on my neck as the Arai.
The RX-Q interferes with my suit and jackets when I'm behind the windscreen and pushes the helmet down and obstructs my view. It is uncomfortable and a major distraction.
Ya'll saved me a punch of money I was going to spend for leather alterations that probably wouldn't of helped.
I agree with all your comments — is it as quiet as or vents better than the Arai? No. But my head isn't all sweaty and ear plugs fixed the noise (what more do you want?).
My RX-Q was around $550.00 I think. It doesn't work $450.00 better that's for sure. hanks again."
Rick's Reply: I find the RX-Q way louder than the CL-16, due to the front-facing top vent scoops on the RX-Q that catch air and whistle like crazy. In fact, most/all Arai helmets with their old-style top vents are very loud.
---
From "D.H." (June 2013): "If HJC made the same model but in a long-oval shape, it'd take tons of business away from Arai. I'd buy 10 of them at that price and put 9 in storage."
---
From "I.B." (June 2013): "Is this model available in UK with a different model designation?"
Rick's Reply: I don't think so, HJC helmets in the UK seem quite different from those sold in the U.S. But, you have the IS-17 and we don't!