Article Contents
Ever seen a motorcycle with an exhaust that looks like it has some cloth wrapped around it? Yep that's and exhaust wrap.
The wrap is a glass fiber or metal material that is wrapped around a motorcycle's exhaust to insulate it and keep the heat of the exhaust fumes inside the exhaust pipe so that it doesn't escape out into the world.
They also look pretty darn cool, and there's a lot of guys out there want to wrap the exhaust on their motorcycles. Below we'll take a look at why you'd want to do this and then take a good look at some of the best wraps out there.
Why Wrap Your Exhaust?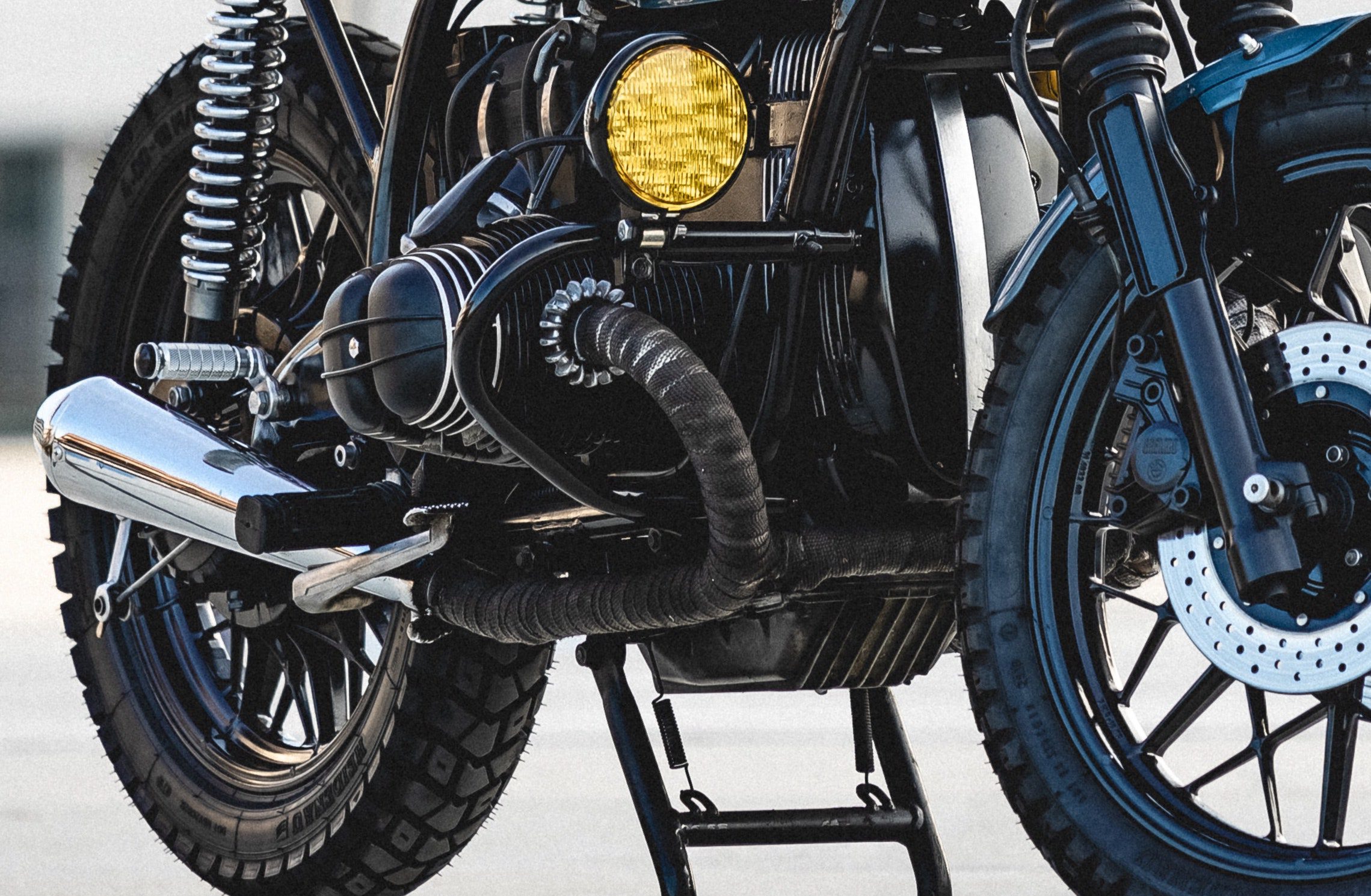 The reason that a lot of people will tell you to wrap your exhaust or why they wrapped their exhaust is because it improves performance. This might have been true on older bikes, but the fact of the matter is that an exhaust wrap probably isn't going to do a wild amount for your bike in terms of performance.
How does it improve performance? Well it will keep the heat of your exhaust high and the pressure wave inside that exhaust will help vacate the cylinder of exhaust fumes better meaning you will be fully utilizing your engine's displacement to its fullest extent. In short it helps with what's known as exhaust scavenging, which is much less of an issue with modern engine design
Here's a good video that gives a detailed explanation of heat wraps and how they're supposed to help improve your bike's performance:
Did you watch the video above? Cool. Yep, the power increases will be negligible at best on a modern bike. According to Cycle World, you shouldn't even wrap a titanium exhaust due to the fact that they already get too darn hot.
That doesn't mean you should forget the wrap. There are benefits when it comes to protecting yourself from an exhaust pipe that's as hot as hell. I've burned myself on hot exhaust pipes more than once, and I've owned a bike with an exhaust wrap on it.
The wrap will help provide some minor protection. For extra protection from the external elements and hazards of the road that can create scratches, consider installing a protective film or coating as well.
The final thing is looks. Some people think they look kind of hokey. Some think they look awesome. I think they look great on the right motorcycle. If you have a classic or vintage bike—or even a bike that pretends to be—then an exhaust wrap can be the visual flair it's missing. It's up to you.
Now, let's look at the options out there at various price points. I've divided this up into three different price points: Wraps under $25, Wraps under $50, and Wraps over $50.
Get the one that works right for your bike, and don't expect the world of a cheap wrap. As with everything in life you get what you pay for. With that said, there are some quality products at every price point. Here are the best options.
Wraps Under $25
SunplusTrade Black Exhaust Heat Wrap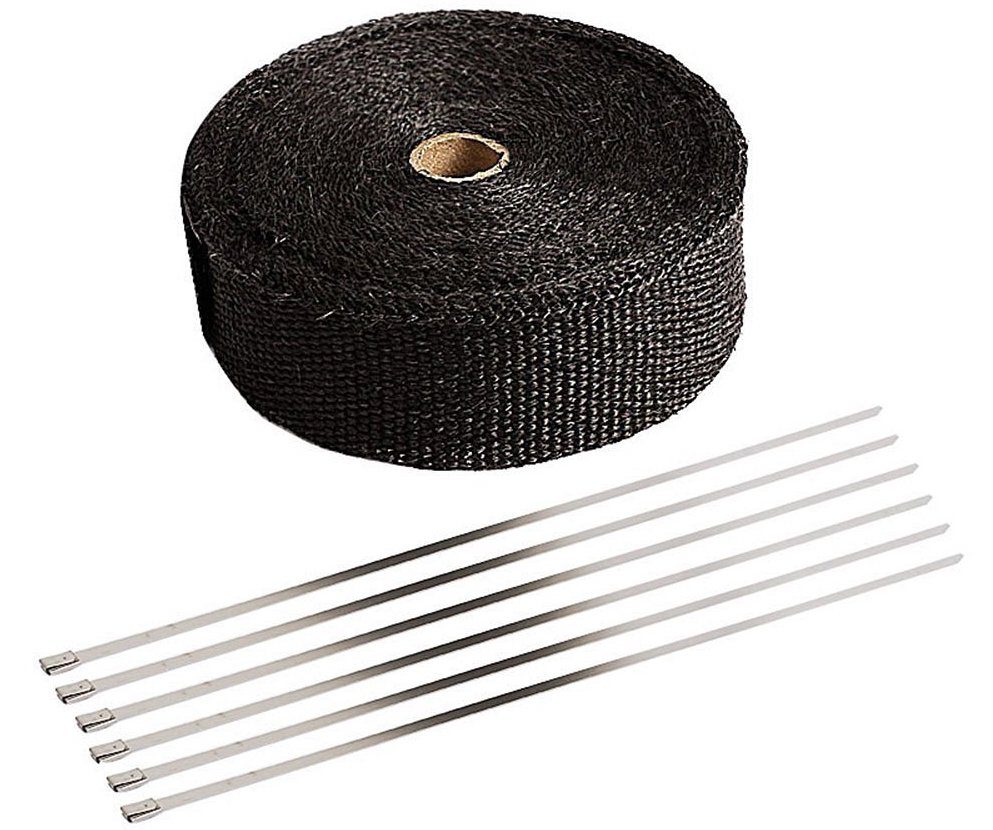 This basic heat wrap from SunplusTrad is made of a black glass fiber material that will insulate your exhaust and provide protection for your boots, ankles, etc.
According to the manufacturer, the wrap can withstand 1400 degrees F direct and 2000 degrees F radiant heat. It comes with several small metal zip ties to help you secure it to your motorcycle. The wrap itself measures 2 inches wide by 50 feet long.
Ledaut Titanium Exhaust Heat Wrap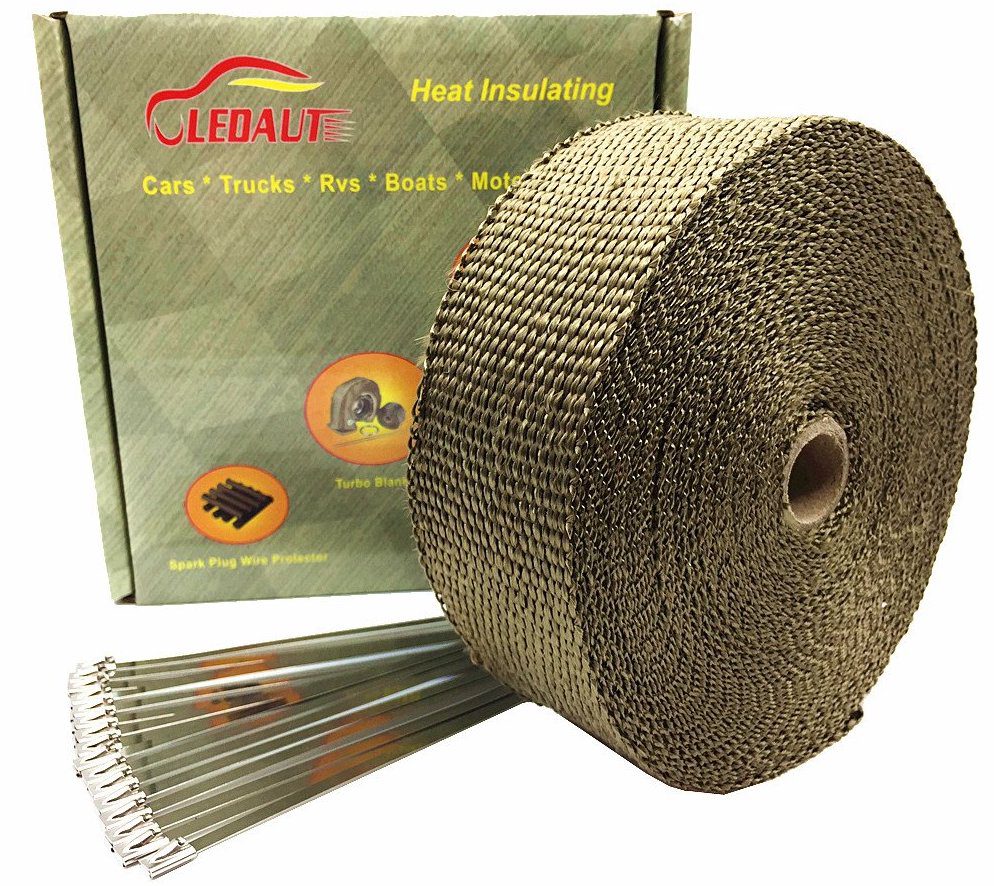 The Ledaut heat wrap's claim to fame is that it's a titanium exhaust heat wrap. It should be one of the longer lasting heat wraps out there at this price point. The wrap comes with 16 different metal locking bands that will hold it in place.
The company sells its heat wrap in various lengths all of which are rated by the manufacturer to 1,400 degrees F of direct heat and up to 2,000 degrees radiant heat. The one shown here is a 50 foot wrap that measures 2 inches wide. The unique color is different from many of the other gray or black wraps out there.
ARTR Titanium Lava Fiber Exhaust Wrap Kit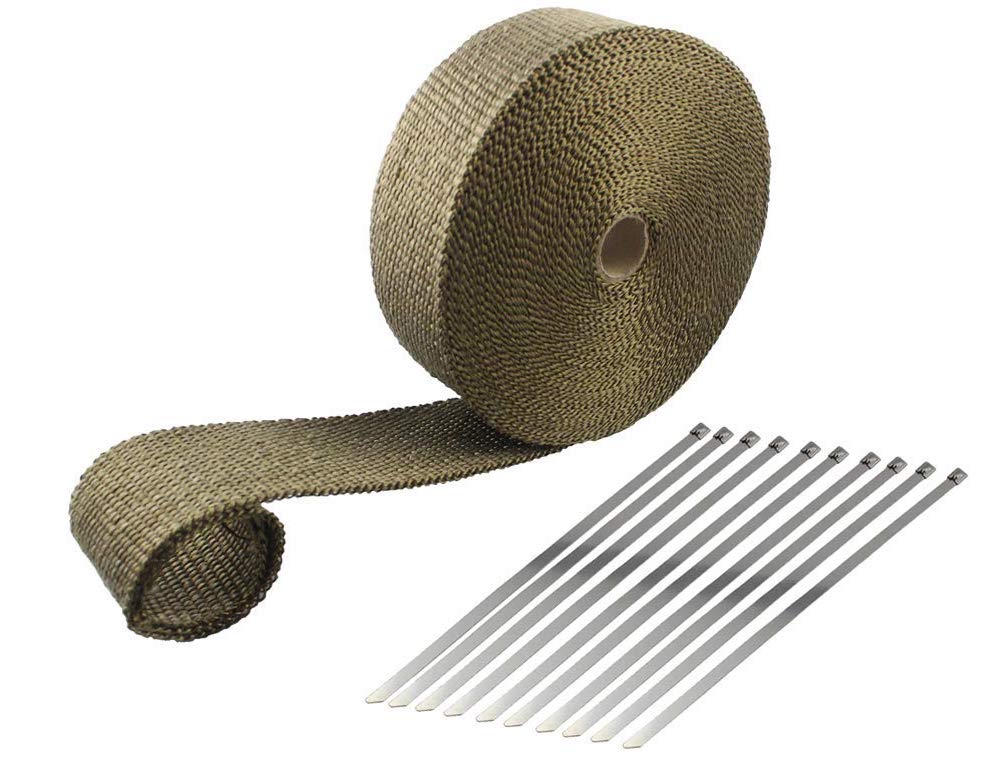 If you're looking for something with even higher heat ratings at this price point then this exhaust wrap from ARTR is the product that you want. It's another titanium heat wrap with laval fiber that offers some small metal locking bands to hold it in place.
What sets it apart from the others at this price point is the fact that it's rated by the manufacturer for up to 1,800 degrees F direct heat and 2,500 degrees F radiant heat. Again the size is 2 inches wide and 50 feet long.
Wraps Under $50
Design Engineering Titanium Exhaust Heat Wrap with LR Technology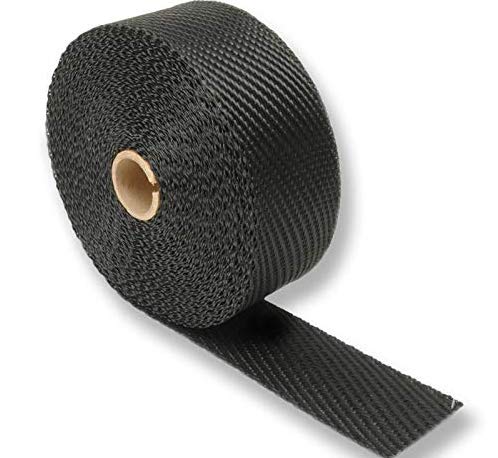 The Design Engineering offers a titanium heat wrap in three different colors and a wide variety of lengths and widths. You can get widths from 1 to 6 inches and lengths range from 15 feet long to 100. It's good for direct heat up to 1,800 degrees F and 2,500 degrees F of radiant heat.
This wrap is also supposed to be more flexible than other wraps meaning it's easier to install than its competitors.
Drag Specialties Exhaust Heat Wrap
The Drag Specialties exhaust wrap comes in 3 different colors and is available in 1-inch wide or 2-inch wide variants.
The wraps are made of fiberglass and measure 25 feet long. They provide heat insulation up to 2,000 degrees F. The wrap comes with some steel zip-tie fasteners so that you can easily secure the wrap to your exhaust pipe or muffler.
TC Bros Header Wrap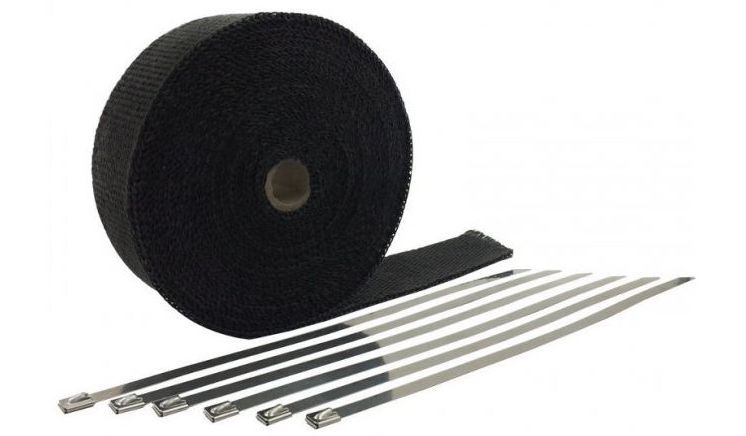 If you like the Drag Specialties wrap shown above, but want something longer, then you should check out the TC Bros Header Wrap. The wrap is 2 inches wide and measures 50 feet in length.
It also comes with stainless steel zip ties used to fasten the wrap around your exhaust. It's good for temperatures of 1,000 degrees F of constant heat and 2,000 degrees F of radiant or intermittent heat.
Wraps $50+
Vance & Hines Black Exhaust Header Wrap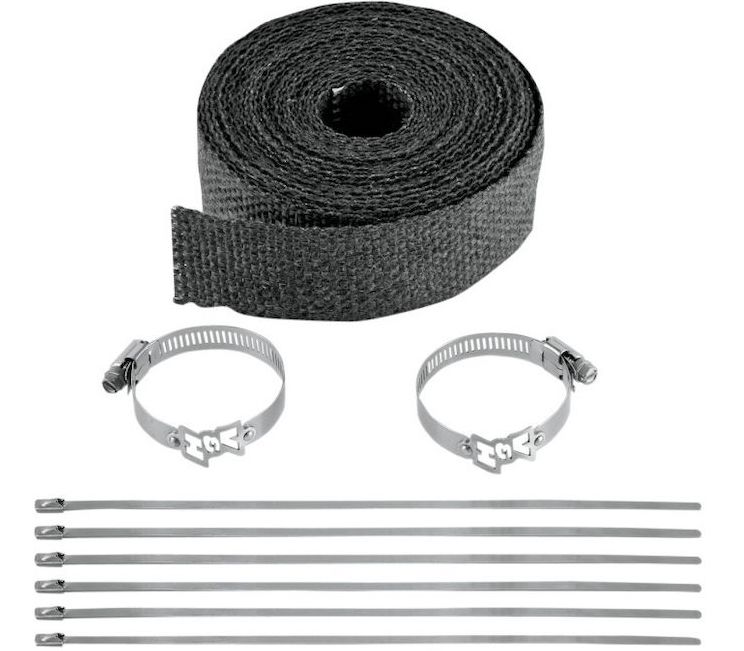 The Vance and Hines black exhaust wrap you see above is the next level in terms of exhaust wraps. The kit features a 25 foot long 2-inch wide wrap and laser-cut clamps and some stainless steel zip ties to hold it all in place.
These wraps are made in the USA and are supposed to reduce the exterior heat of the exhaust by 50 percent. This means if you were to touch your leg to the exhaust that's wrapped, you'll get 50 percent less heat on your leg. This can really help save you some serious burns outside of protective gear that doesn't expose your limbs to the exhaust such as flip-flops and shorts.
Vance and Hines has been making exhausts for years, so you know they know this area of the market well.
Accel High-Temperature Exhaust Wrap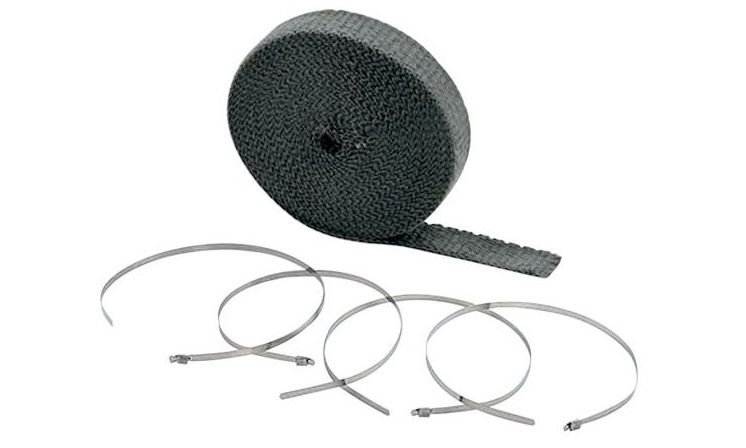 The Accel high temp exhaust wrap is rated for 1,200 degree F direct heat and 2,000 degree F of intermittent or radiant heat. The wrap is available in 3 colors and is made of premium fiberglass material. The wrap comes in either a 1-inch wide by 50 foot long section or a two-inch wide and 25 foot long section.
The black and tan color versions come with four metal zip ties, and the olive version doesn't come with zip ties, so you'll need to get some metal zip ties of your own or some metal hose clamps. No matter what you choose, you should find this wrap to perform well.
Design Engineering Inc. EXO Exhaust Heat Wrap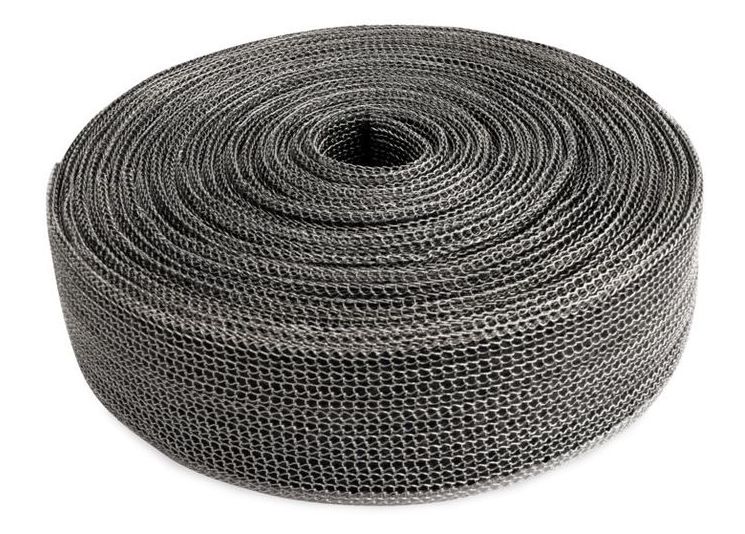 The Design Engineering Inc. EXO exhaust wrap is different than the others wraps on this list.
It features a fiberglass material like the others, but it's a two-layer constructed wrap. The outer layer features 304-grade stainless steel exoskeleton. This improves its performance even more and it also improves durability.
The wrap comes in 2 colors and measures about 1 ½-inch wide and 20 feet long. Designed for heavy use and extreme situations, this is the wrap you get if you want the very best.