Article Contents:
The days of motorcycles having few electrical components are far behind us. These days, even the most basic of machines have at least some electronics on them and that means essentially every motorcycle on the road has a battery.
Batteries are great when they work, but like everything else on your bike, they don't last forever. You'll want to do a couple of pre-ride checks to see if it's time for a replacement. So when the time comes for you to replace your battery, you can take your bike into the dealer to be serviced, or you can search for one to install yourself.
With shop fees being what they are these days, I would highly recommend purchasing the battery online and installing it in your bike on your own. It takes only a couple of minutes.
With all that in mind, you might be thinking, "Okay, that all sounds good, but now what battery do I buy?" Well, there are a lot of options for motorcycle batteries—as a quick Google search will show. You'll also notice that there are many different types of batteries out there, further complicating the problem.
I'm here to cut through all the BS out there and show you exactly what you need to know about when it comes to motorcycle batteries. I'll discuss the types of batteries and then list some of the best out there in each category.
What Types of Batteries Are There?
It used to be that you went out and bought a basic lead-acid battery that fit your bike and went on your way. Now there are a few other options. Here are your choices: lead-acid, AGM, Gel, and Lithium.
What is a Lead-Acid Battery?
Lead-acid batteries are commonly known as conventional batteries. They basically soak lead plates with acid. Its technology has been used, improved, and proven for over a century. It works and is often the cheapest option.
Lead-acid batteries aren't perfect. They don't tend to hold up over time as well as other batteries, especially if you neglect them. You also might need an additional battery tender if your bike is left in hibernation for long periods of time. If you're looking for a maintenance-free battery, this ain't it. Also, you have to mount them in a specific orientation and they're heavy.
What is an AGM Battery?
An AGM (absorbed glass mat) battery takes the principles of a lead-acid battery to new levels by sandwiching sheets of fiberglass together and flooding them with acid. The battery is sealed inside and this makes the battery safer in many cases and requires little to no maintenance beyond keeping it properly charged.
What are the downsides here? Well, these batteries are going to be pretty heavy like a lead-acid and they cost more money.
What is a Gel Battery?
As you might have expected, gel batteries use a special gel version of the battery acid. This makes the battery operate cooler than an AGM or lead-acid battery. These batteries are also sealed from the factory and require very little maintenance.
The downside? These batteries are often heavier than AGM batteries and they cost more.
What is a Lithium Battery?
The biggest benefit to a fancy new lithium battery is weight. These things are a heck of a lot smaller and can be as much as five times lighter as a conventional battery or the other options out there. They're also totally maintenance-free and can be mounted in any position, which can be advantageous for custom bike builders.
The downside? These batteries are freaking expensive. You're talking three times the price of the other guys in some cases if not more. Also, if these batteries were to fully discharge they would be hard to bring back to life.
You need to keep them properly charged, but on the bright side, it takes six months or more for them to fully do so. If convenience and lack of added weight are worth it to you, then a lithium battery is a good choice.
What Type is Best?
The answer to this question varies from person to person. It comes down to what you want. Do you have a lot of money to spend? Then a Lithium is a good option. On a budget? Consider a conventional or an AGM battery. Think about your needs and your bike and go from there.
Best Lead Acid Batteries
ACDelco Specialty Conventional Powersports JIS Battery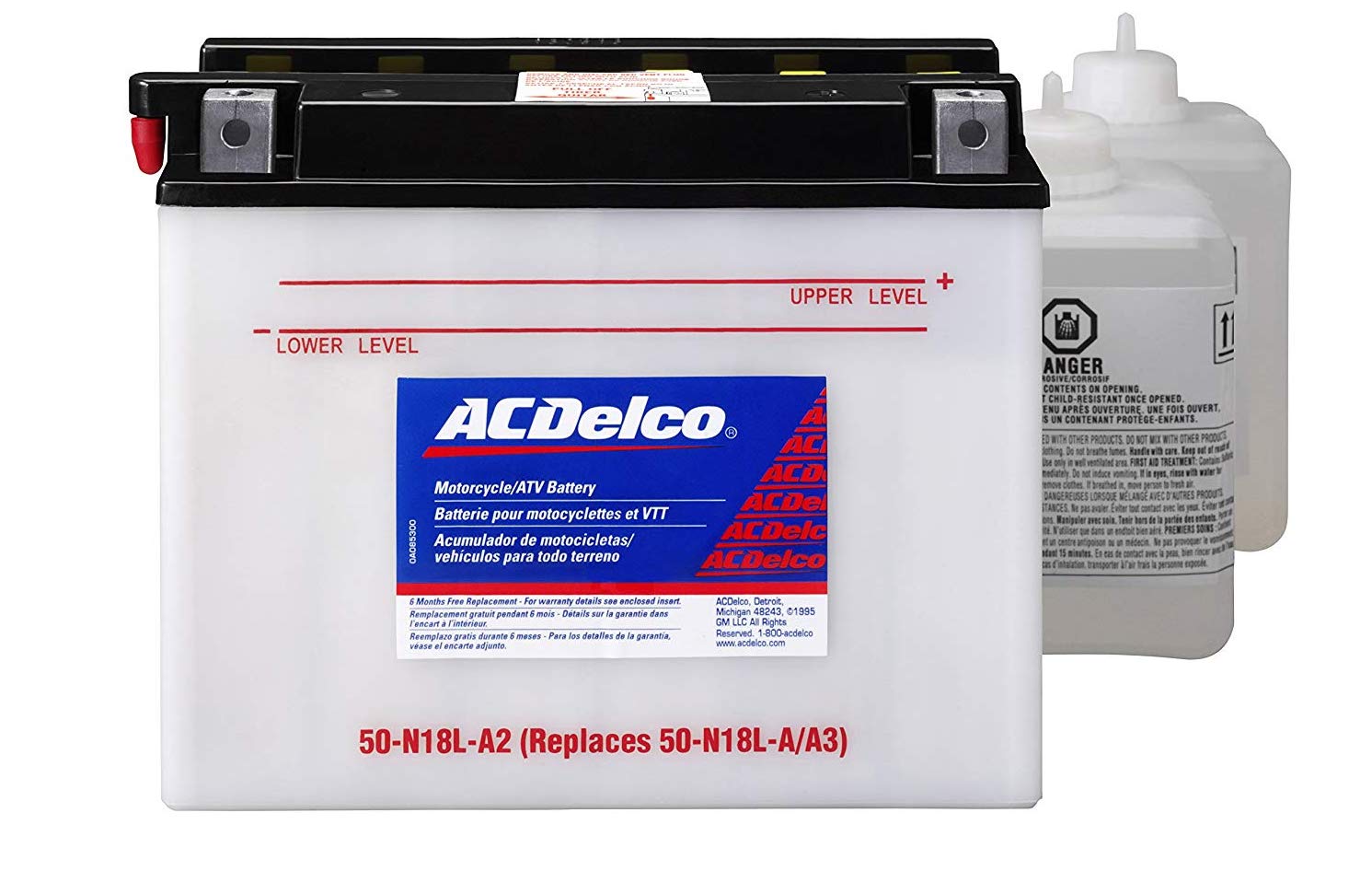 ACDelco is a trusted name in any kind of powersports or automotive electrical technology. Known for all kinds of car and motorcycle components, many of us have purchased ACDelco batteries for our cars and trucks.
Why should your motorcycle be any different? The battery comes with its own acid bottle with the correct amount of acid, so you don't have to dispose of any dangerous chemicals. There's also exhaust vent caps and vent tubes included, which all lead-acid batteries need.
EverLast Conventional Battery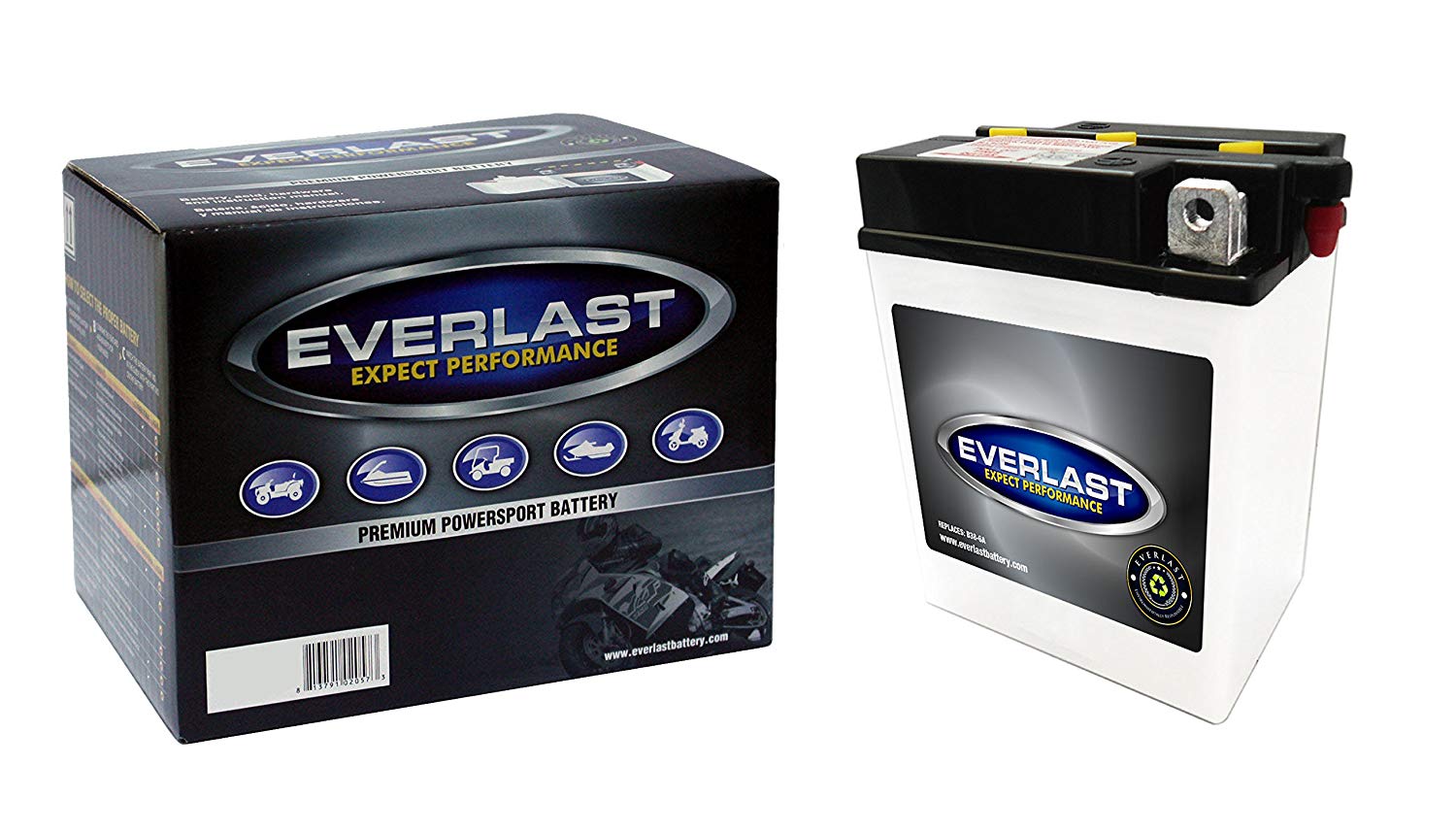 Another well-known name in battery technology is EverLast. The battery brand makes all sorts of batteries but this premium powersport battery is the one to get for your motorcycle.
EverLast puts heavy-duty alloy grids in the unit to boost cranking power, which helps make starting your bike a cinch. The battery comes with an acid back. The battery features sealed terminals and head sealed covers so that seepage of acid doesn't happen and corrosion is minimized.
Chrome Battery Conventional Battery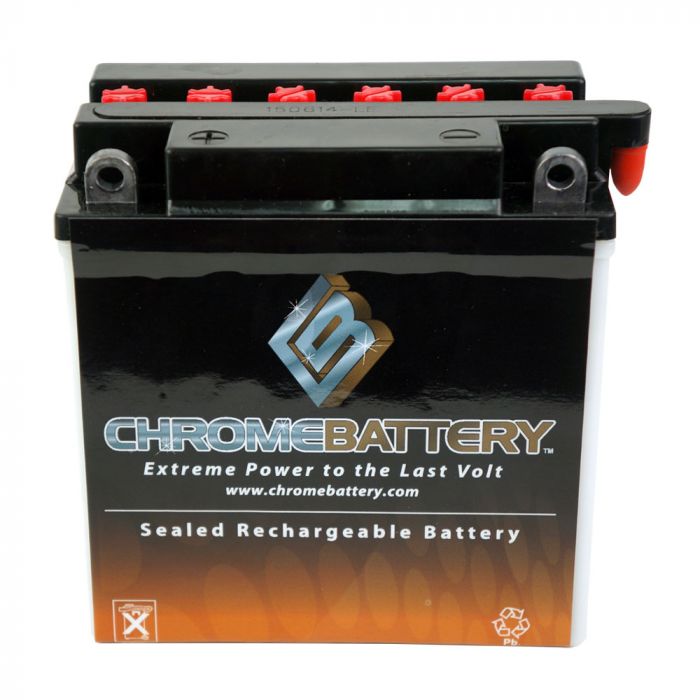 Chrome Battery prides itself on offering a conventional battery that's durable and vibration resistant. It's a battery that's well-constructed and ready for pretty much anything.
Chrome Batteries also sells the battery with everything you need to get it going—extra acid, vent caps, exhaust vent tube, etc. It's also ready to be recharged at any time should you run it all the way down.
Best AGM Batteries
Yuasa AGM Battery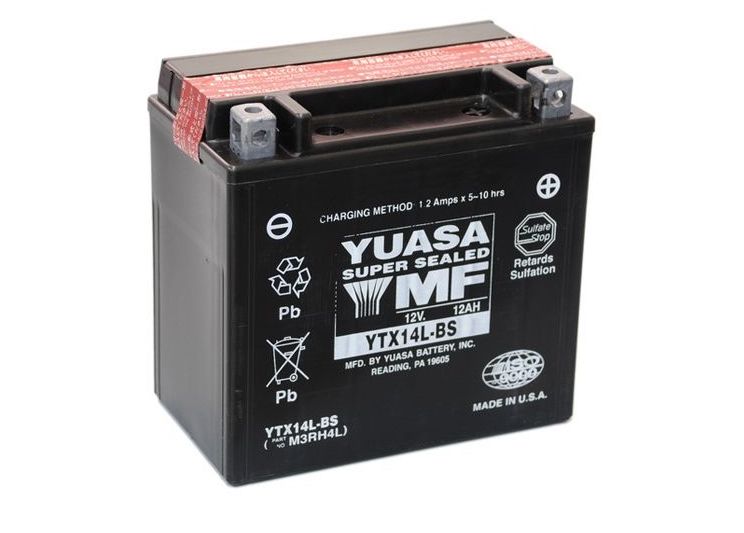 Yuasa might not be a brand name that you recognize (or maybe you do!), but that doesn't mean the company is passing off a poor-quality battery onto unsuspecting riders.
On the contrary, this AGM battery is one of the better ones out there it has a spill-proof design, comes with a one-year manufacturer's warranty, and is made in the USA.
Chrome Battery AGM Battery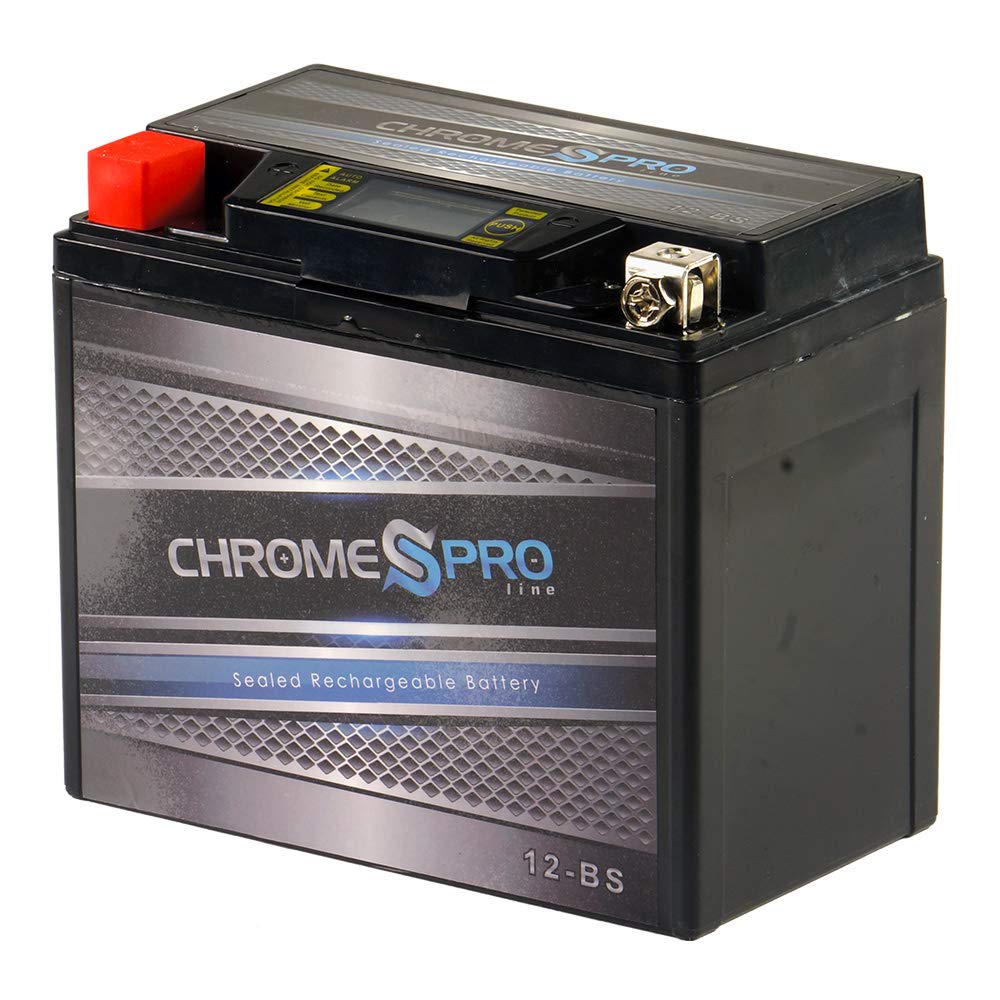 Chrome Battery builds great batteries and this is true outside of the conventional battery, too. This AGM version of the battery is a fantastic example of what the company has available.
This battery has a sealed design and comes ready to go. I should know. I actually just bought one of these for my Honda and it works fantastic. I especially like the little LED digital display screen that shows the alternator voltage and battery status.
ThrottleX Batteries AGM Battery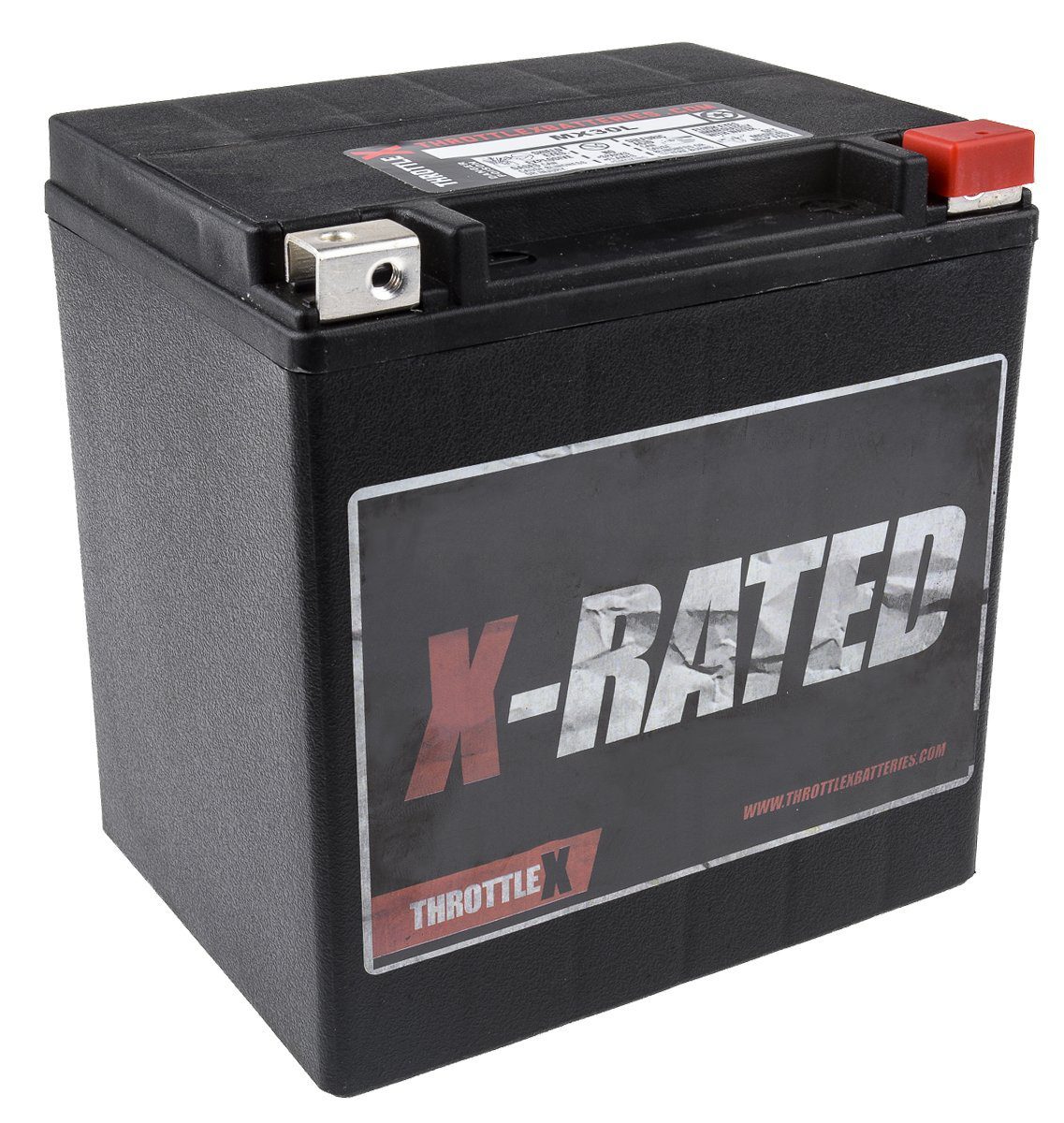 ThrottleX Batteries make sure that all of its batteries meet or exceed the original battery specifications on your bike. Buy the right size battery from ThrottleX and you can be sure that your bike is going to start faster and run better than ever before.
The battery comes with a one-year warranty and a 30-day money-back guarantee. The fact that ThrottleX stands behind its product like that is something that should speak for itself.
Best Gel Batteries
Mighty Max Battery Gel Battery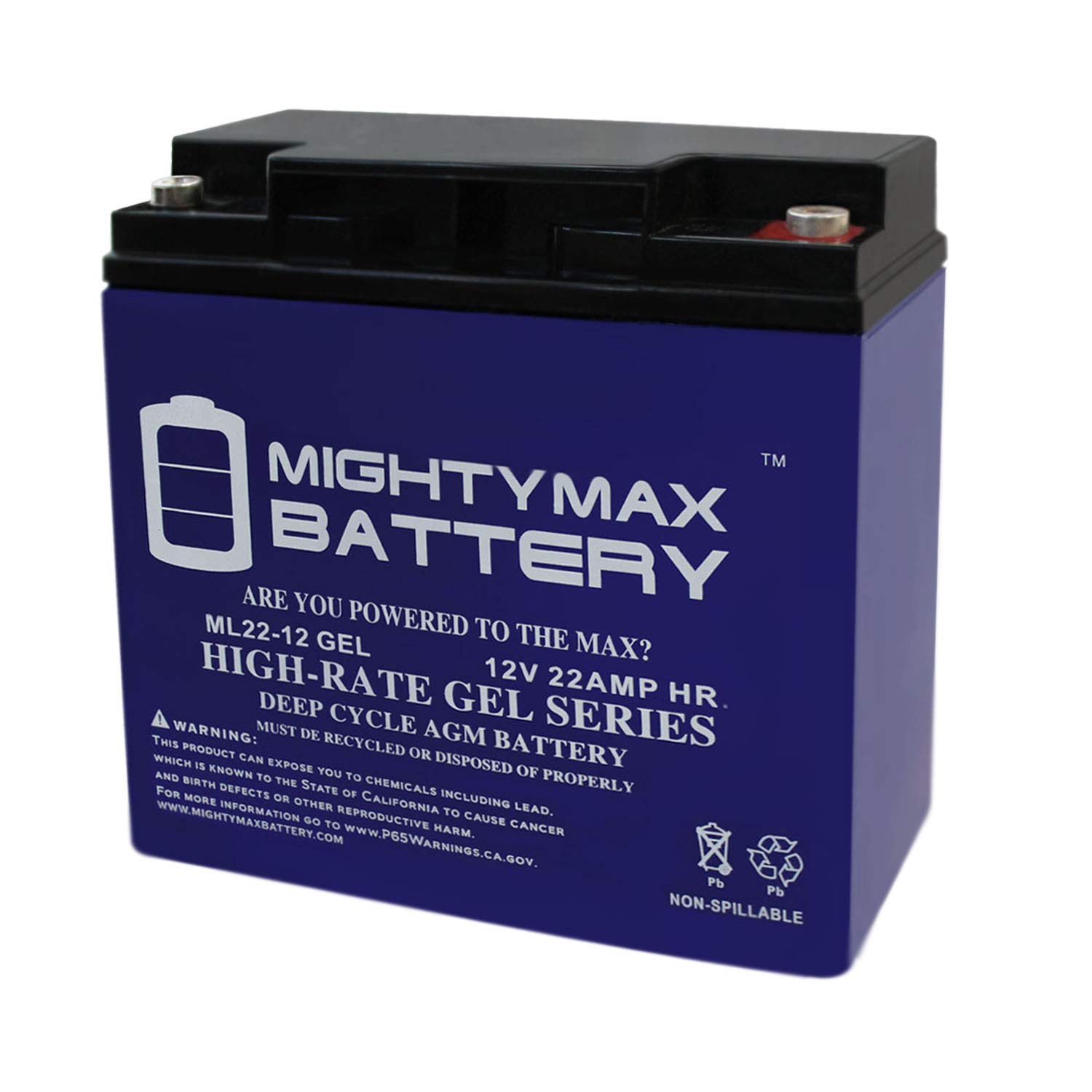 The Mighty Max Battery company is aptly named. Its products are some of the best out there, especially when it comes to gel batteries. This factory activated gel battery is maintenance-free and ready-to-go right out of the box.
Simply take it out, wire it up to your bike and you're good to go for quite a long time. This battery is backed by a 30-day refund policy and has a one-year warranty.
Neptune Moto Sport Gel Battery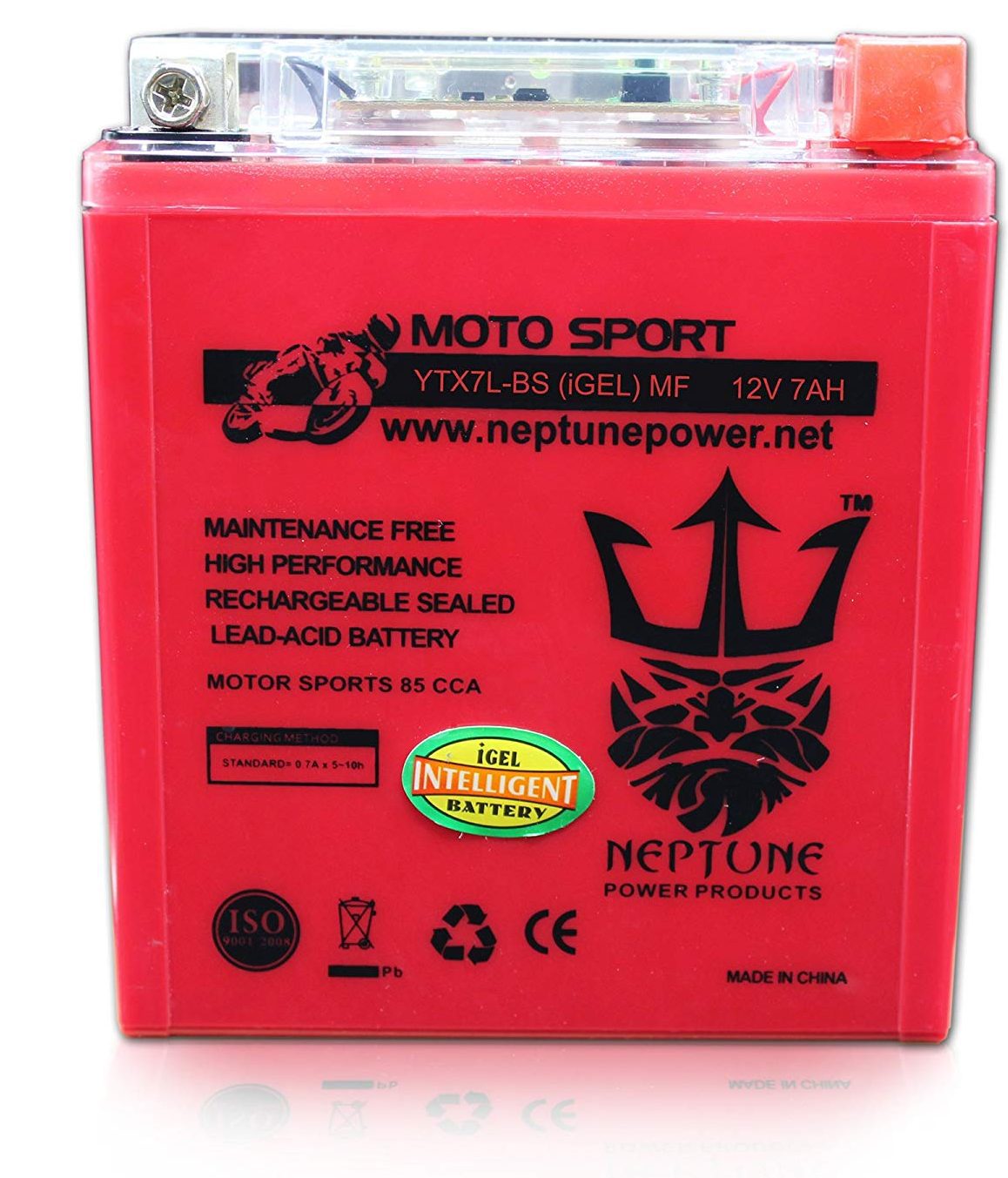 This gel battery by Neptune Power Products is designed for motorsport applications and will work wonderfully on a motorcycle. The factory activated high-performance gel battery will be ready-to-go when you get it in the mail and you can pop it right on your bike and go.
The battery comes with a one-year warranty and a 30-day money-back guarantee. There's an internal tester on the top of the battery that lets you test its status, which is a nice touch, too.
MMG Gel Cell Motorcycle Battery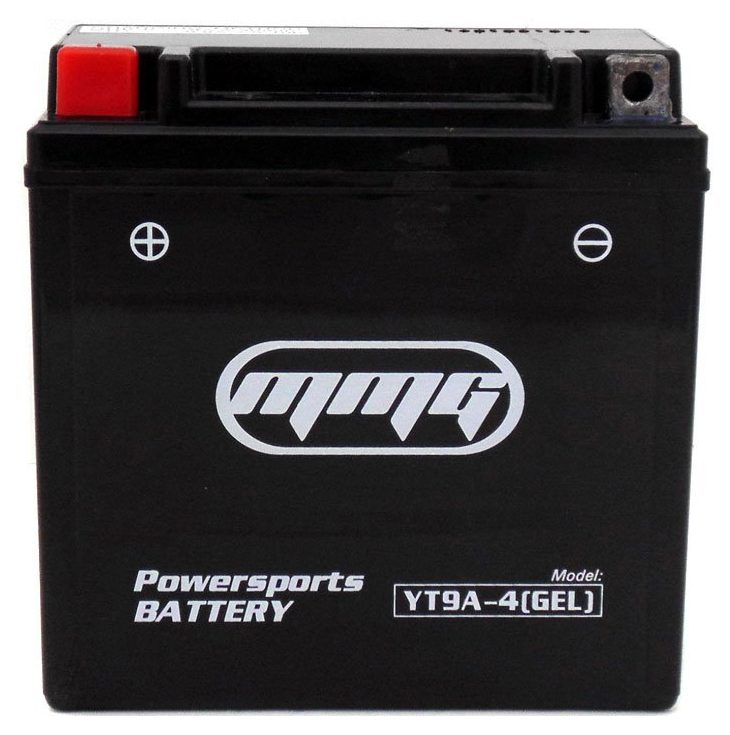 MMG is a good name in powersports battery technology. The company offers various types of batteries all of which are high quality and well-liked by consumers.
This particular gel battery offers a maintenance-free solution. It comes factory sealed and fully charged, so you can take it out of the box, put it on your motorcycle, and be on your way.
Best Lithium Batteries
Shorai Lithium Battery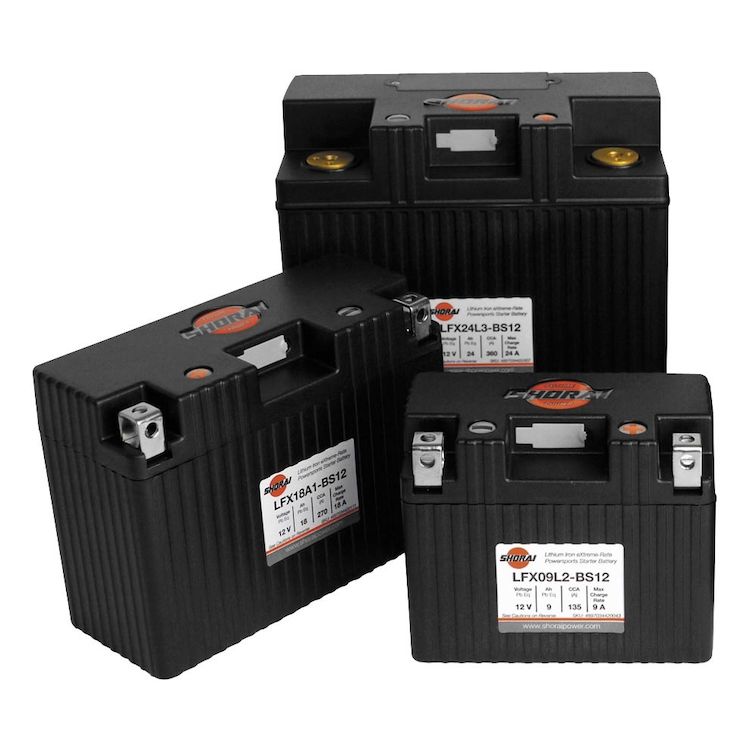 Shorai's line of lithium batteries for your motorcycle are some of the best you're going to find anywhere. The perks of lithium are real. These batteries are lightweight and offer more power in such a small package.
They closely match manufacturer specs, so you can be sure you're not going to damage your motorcycle and there's little need to charge these bad boys because of the lithium-ion construction.
Shorai batteries come with a two-year warranty, and the battery comes with a military-spec carbon composite case and adhesive back foam sheets.
BikeMaster Lithium-Ion Battery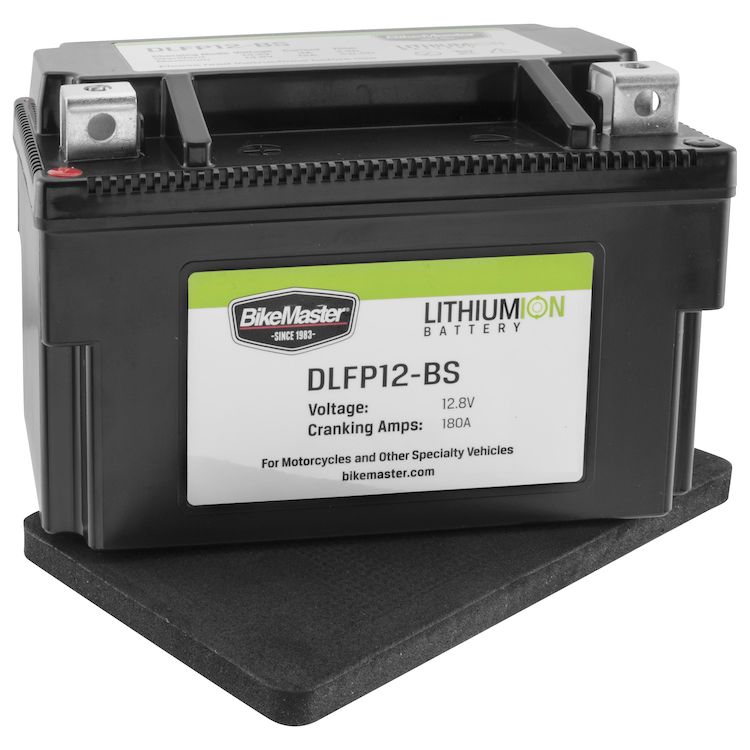 BikeMaster is a trusted name in all kinds of motorcycle parts and these batteries are no exception to that. The recharge rate on these batteries is lightning fast. It can be recharged with a conventional battery charger without damaging the battery, too.
The batteries are also suitable for low temperatures, so if you live somewhere that gets super cold, you should instead trust your bike to BikeMaster.
The company also includes foam mats to fill in space inside your old battery box due to the fact that these batteries are far smaller than your old conventional, AGM, or gel battery.
Antigravity ReStart Lithium-Ion Battery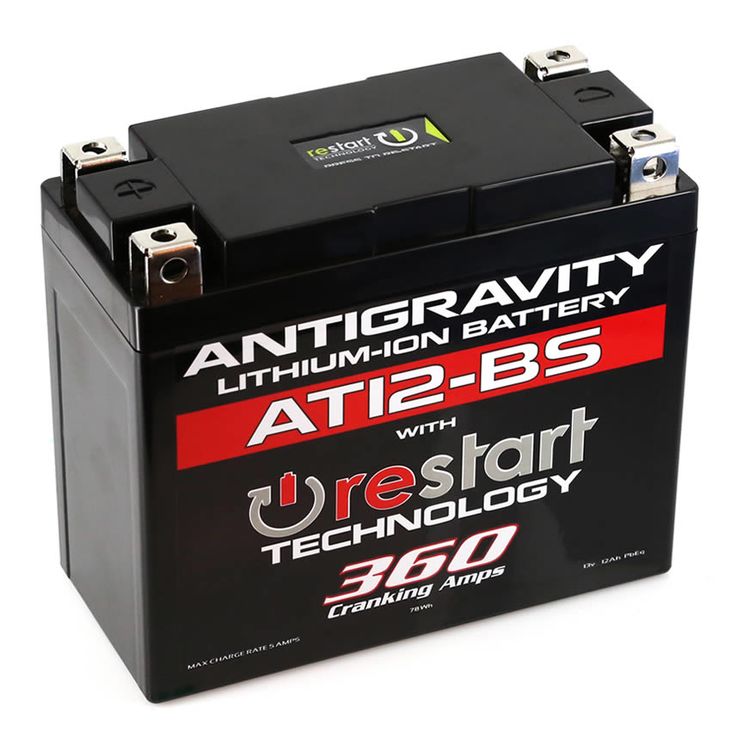 Antigravity is an excellent company for a lithium-ion battery. The company's ReStart line of batteries offers a special feature—built-in jump-starting technology, which is a world first. Basically, it doesn't let the voltage drop too low if you leave the lights on or something. So, this lets you start your motorcycle no matter what.
These batteries have a full battery management system. This means the battery won't over-charge and offer over twice the life and two-times the cranking power. There's also a four-terminal design that allows you to mount the battery in any position and still be able to reach it with your bike's cables.
All told, this is the best lithium-ion battery out there.