ATVs stand for "all-terrain vehicles." Defined as motorized vehicles, these models are by nature, designed to travel on low-pressure/non-pneumatic tires. They should also include a seat straddle and handlebars.
Depending on your local legislation, they are not meant for use on high-speed roads such as highways, remaining restricted to roads and paths. Read through our guide to U.S. PLEV law to better understand this topic. Today, the term 'ATV' is loosely applied to UTVs (Utility Terrain Vehicles) and even dirt bikes. However, for this list, we are focusing solely on purpose-built ATVs.
ATVs are not immune to the electrification drive sweeping through the automobile industry. The quest for a cleaner environment has forced manufacturers to look beyond traditionally gas-powered ATVs. Now, the market has opened up to include several eco-friendly all-terrain vehicle alternatives fitted with electric powertrains. Here, we have identified a few options that offer the best return on your investment should you ever be in the market for an electric ATV.
Eco Charger Lithium Prestige
Price
~$27,400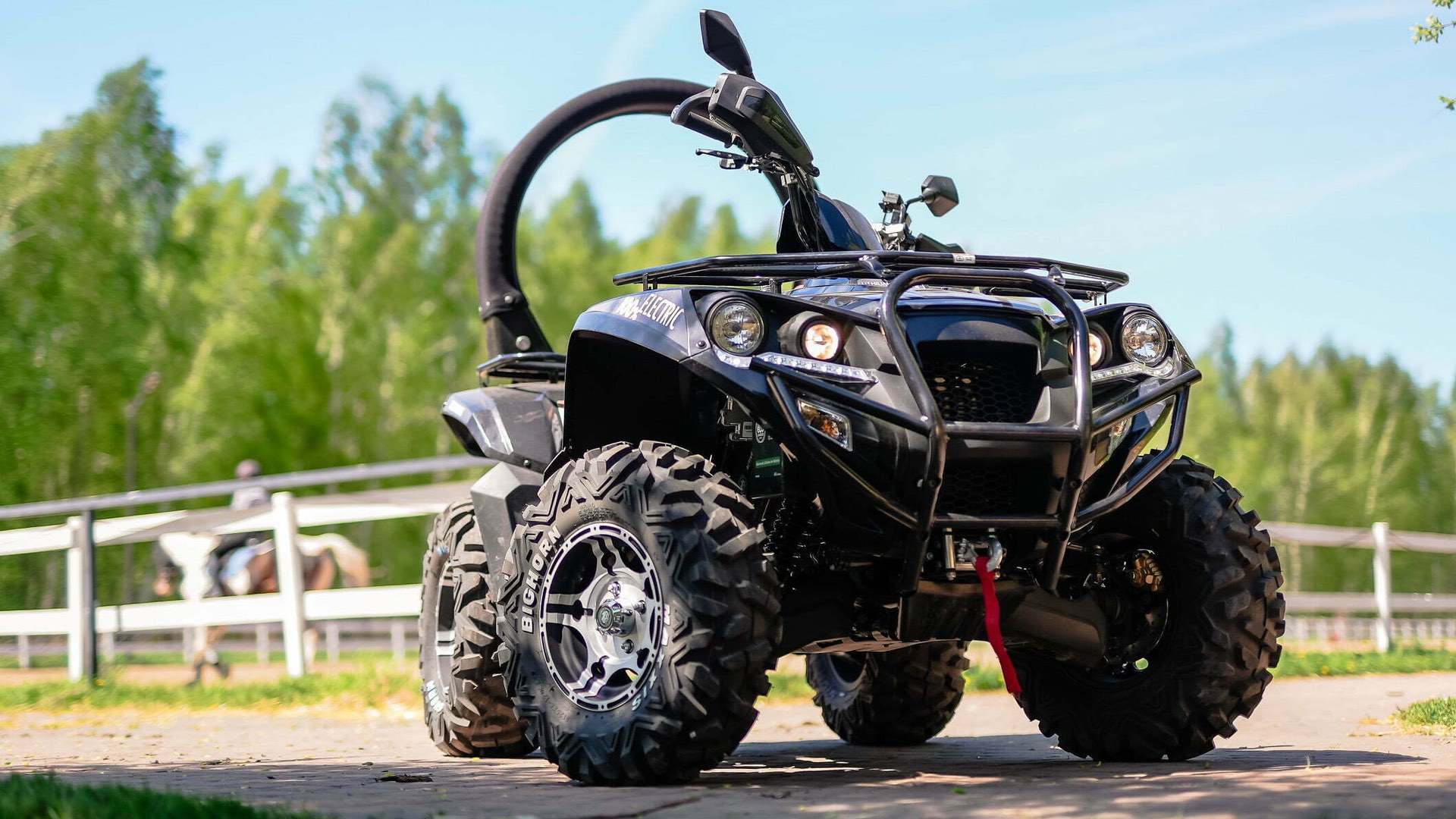 Key Features
Top speed: 31 mp/h (50 km/h)
Range: ~62 miles (110 km)
Weight of ~770 lbs (349 kg)
Front & rear lighting with indicators
6x 72V/27Ah Li-ion batteries
Front & rear disc brakes
Dual A-arm suspension
Regenerative braking
Made in the U.K.
Power steering
2/4WD
Description
It is one of the most expensive ATVs on the market, but the Lithium Prestige offers real value for money performance-wise and overall build quality. Eco Charger is a world-leading manufacturer of electric ATVs and the Lithium Prestige upholds that reputation in terms of speed, power, and build quality.
Eco Charger Eliminator 4WD
Price
~$20,500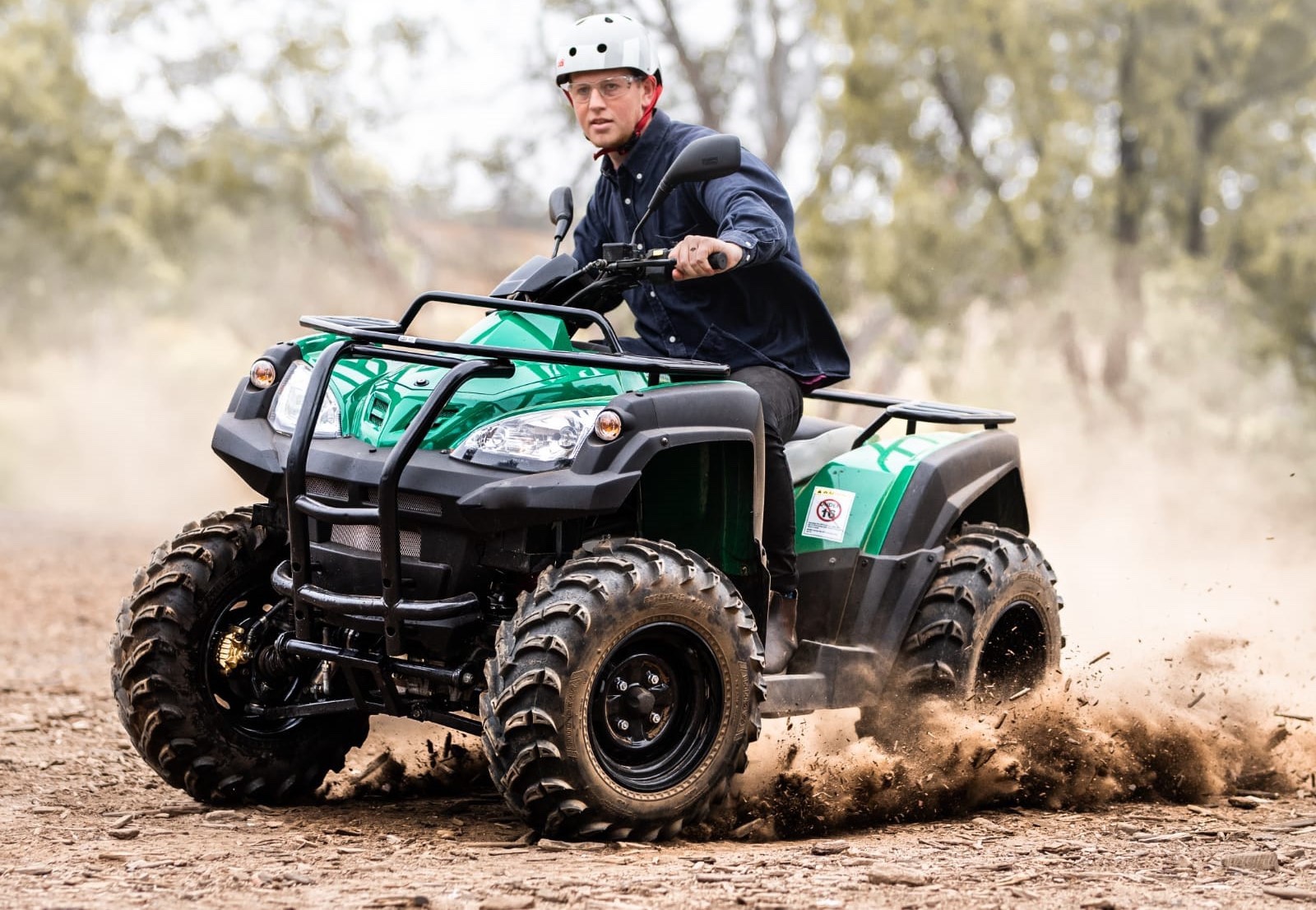 Key Features
Top speed: 35 mp/h (~55 km/h)
Range: ~30 miles (terrain dependant)
Weight of ~385kg (848 lbs)
Front & rear lighting with indicators
72V/100Ah AGM battery
Front & rear disc brakes
Dual A-arm suspension
Regenerative braking
Very expensive
Made in the U.K.
Power steering
2/4WD
Description
The Eco Charger Eliminator makes this list due to its versatility and performance. It's a more cost-effective yet downgraded model of the Lithium Prestige but still packs a formidable punch with its 72V Li-ion battery. The inclusion of regenerative braking, 2/4WD options and brilliant build quality are other strong positives of the Eliminator 4WD.
DRR EV Safari 4×4
Price
~$15,000
Key Features
Top speed: 45 mp/h (72 km/h)
Range: 35 miles (56 km)
Front & rear lighting with indicators
Tow capacity of 362 kg (798 lbs)
Max. payload of 204 kg (450 lbs)
Dual A-arm suspension
Charges in 4–6 hours
Integrated 72V Li-ion battery
Dual front & rear disc brakes
7.5 kW motor
2/4WD
Description
Designed for snow, trail riding, off-roading and hauling, the American-made DRR EV Safari is built tough. Capable of towing up to 362 kg, this electric ATV boasts marginally better performance than the Eco Charger Eliminator, even if it has fewer features. Then, there is the fact that it is also about $5,000 cheaper than the Eliminator ATV.
Eco-Rider Explorer G.T.
Price
~$6,700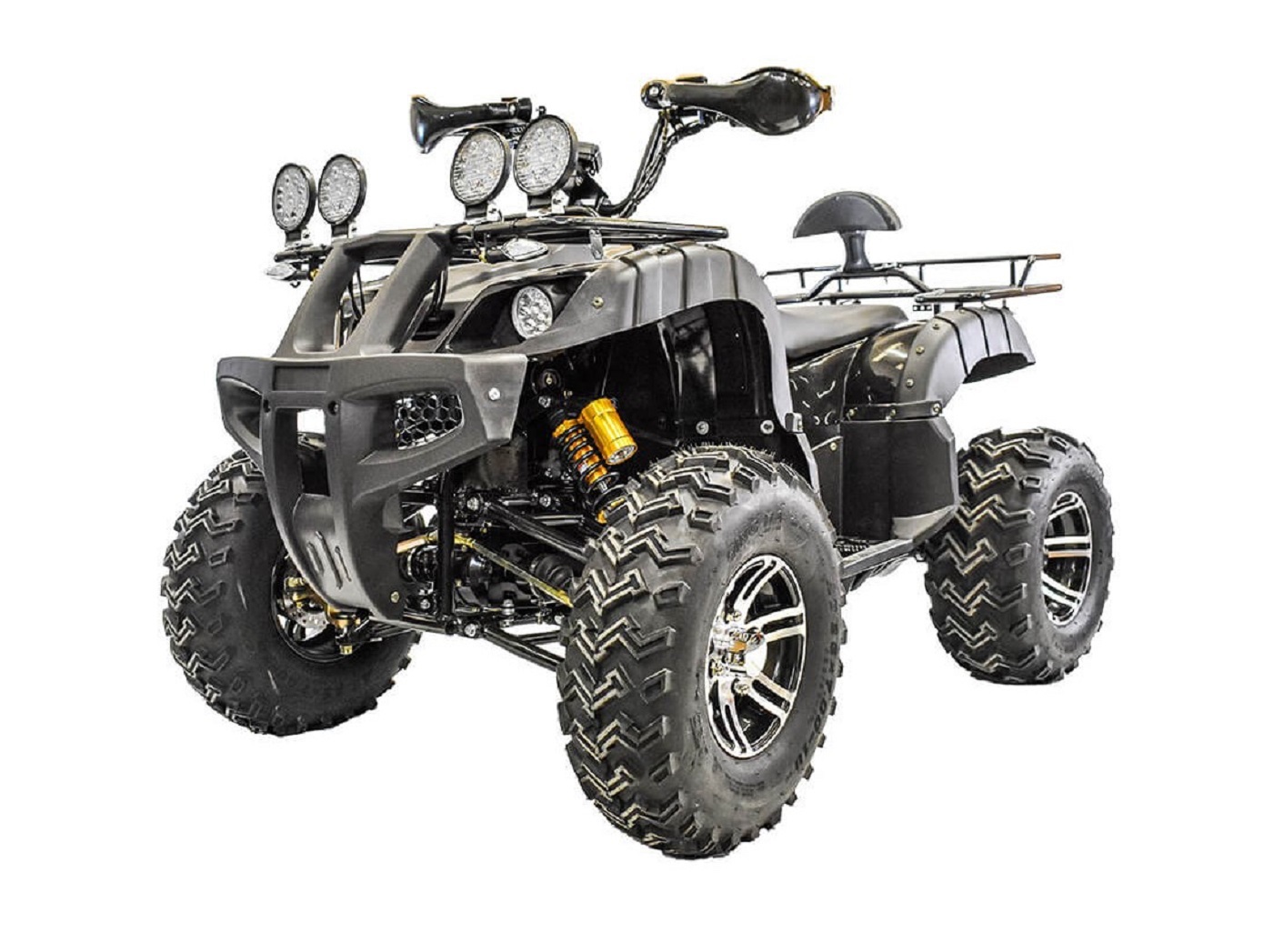 Key Features
Top speed: 25 mp/h (40 km/h)
Range: Approx. 25–31 miles (40–50 km)
Weighs 245 kg (540 lbs)
Front & rear lighting with indicators
Charge time of 8–10 hours
Dual hydraulic disc brakes
Dual spring suspension
Parental speed controls
Max payload of 150 kg (330 lbs)
Backlit digital display
60V 50aH battery
2/4WD
Description
The Eco-Rider Explorer G.T. is hard to beat when it comes to value for money. The performance offered is almost on-par with other much more expensive electric ATVs. Among other things, the ATV comes equipped with a 4WD Direct Drive that pairs well with the 60 V 50aH battery. A very nifty feature is the ability to switch to 2WD where possible to conserve battery power.
Tesla CyberQuad
Price
~$1,900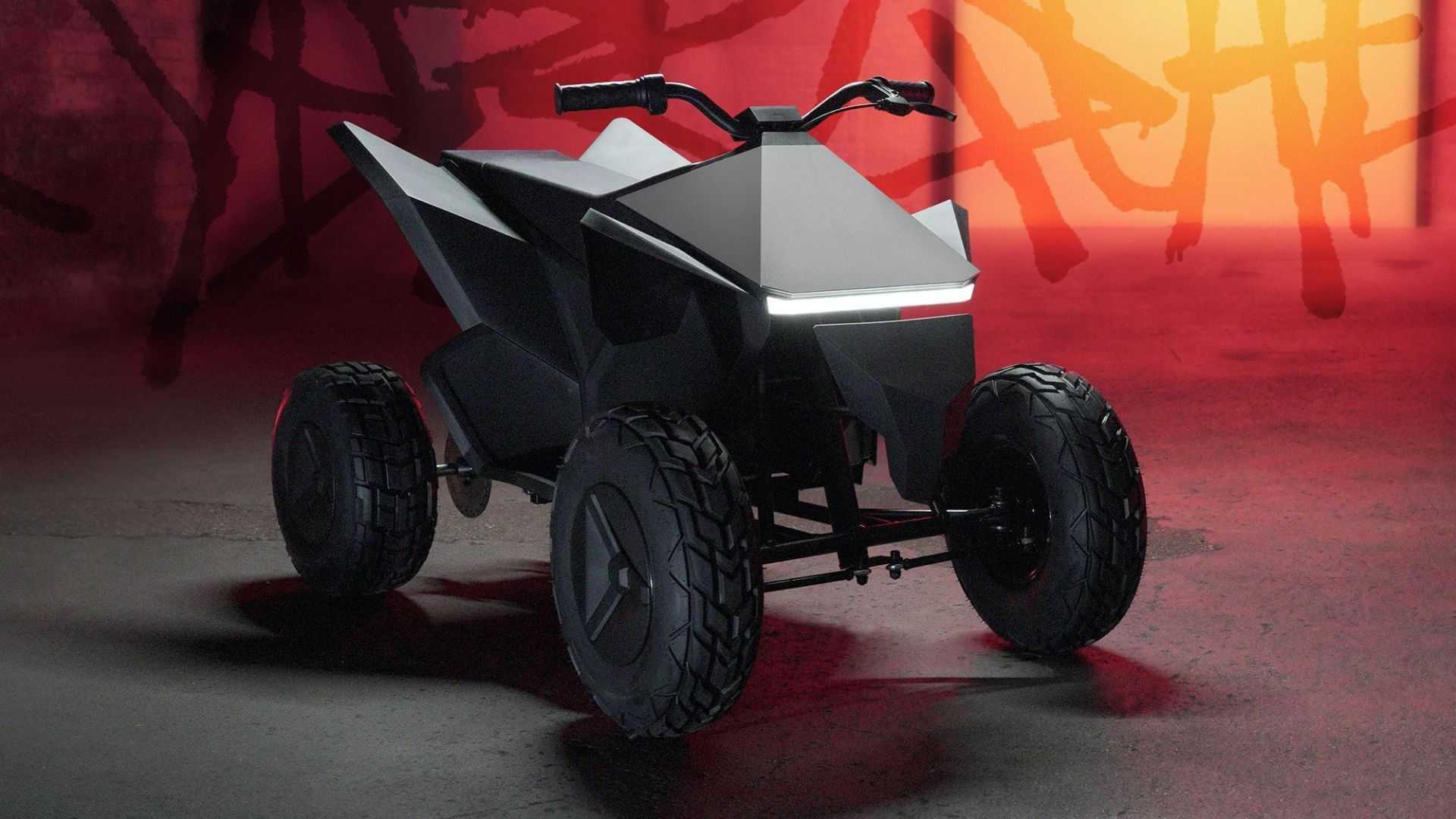 Key Features
Top speed: 5-10 mp/h (16 km/h)
Range: ~15 miles (24 km)
Weighs 55 kg (122 lbs)
Adjustable suspension
Charges in ~5 hours
Designed for kids
Unique design
Rear disc brakes
Li-ion battery
LED lighting
Description
The CyberQuad makes an excellent choice for a kids ATV/quad bike and is full of features. The geometric design language—which echoes that of the upcoming Cybertruck—is one of its stand-outs, but there are plenty of other features to keep kids (and we daresay, adults) engaged.
Daymak Beast ATV Ultimate
Price
Starts at ~$10,000 but goes up to $23,999 for the longest-range option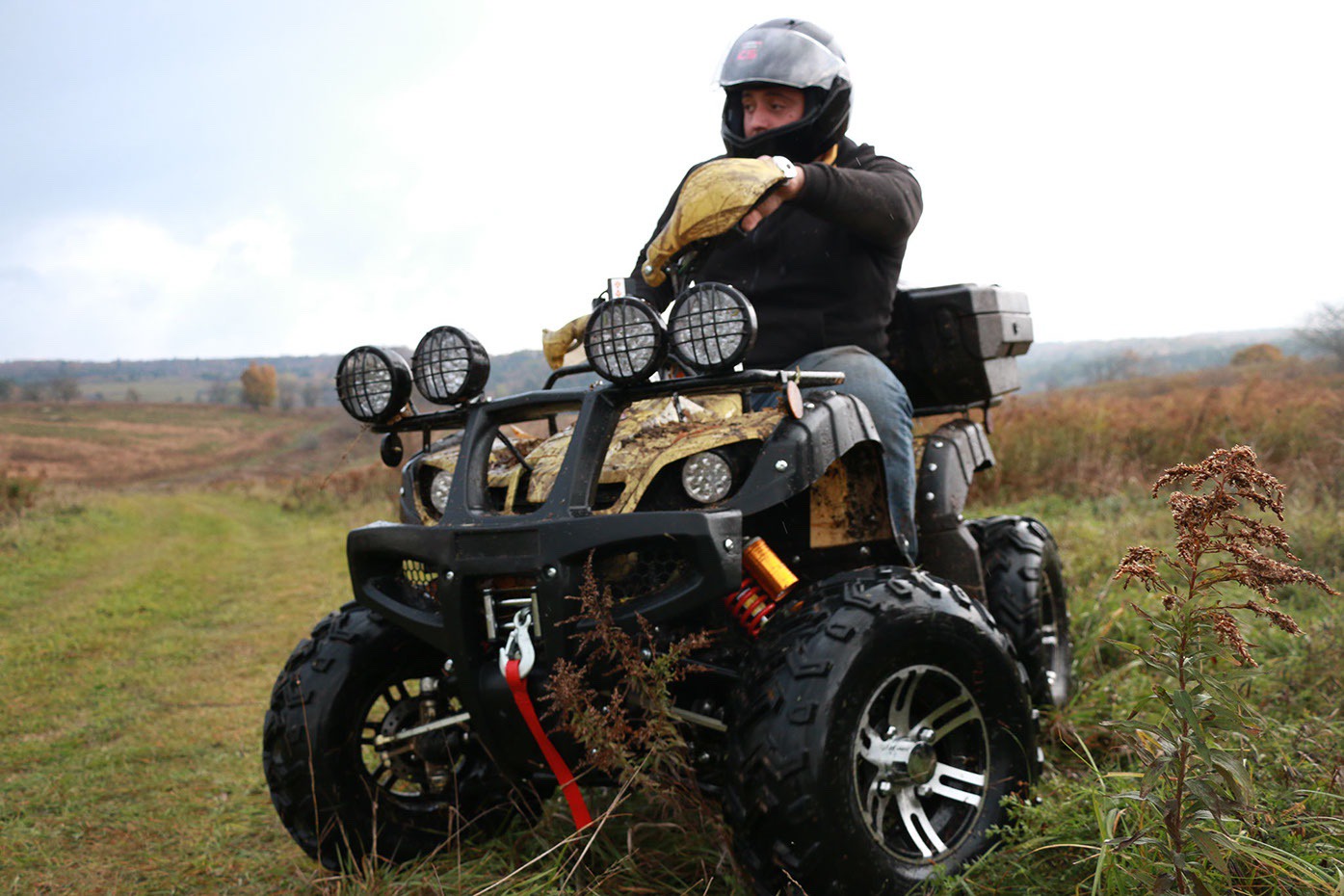 Key Features
Top speed: 5-10 mp/h (16 km/h)
Range: 225 miles (362 km)
1000W Dual Motor
[1 to 8] x 60V 40AH Lithium Ion and 60V 50AH Lead Acid Battery
Weighs 275 lbs (125 kg)
Hydraulic disc brakes
Charges in 4–8 hours
Bluetooth speakers
Built-in inverter
LED lighting
Description
With a whopping 225 miles on a single charge, the Dayak Beast ATV Ultimate ranks among the longest-range electric ATVs you can buy today. It draws its strength from a 60-V, 40-Ah lithium-ion battery, with a 60-V, 50 Ah lead acid battery as backup. The Canada-made ATV also boasts features like heated hand-grips for additional comfort, stereo speakers and a winch.
DRR EV Lightning ATV 2×4 ATV
Price
~$9,000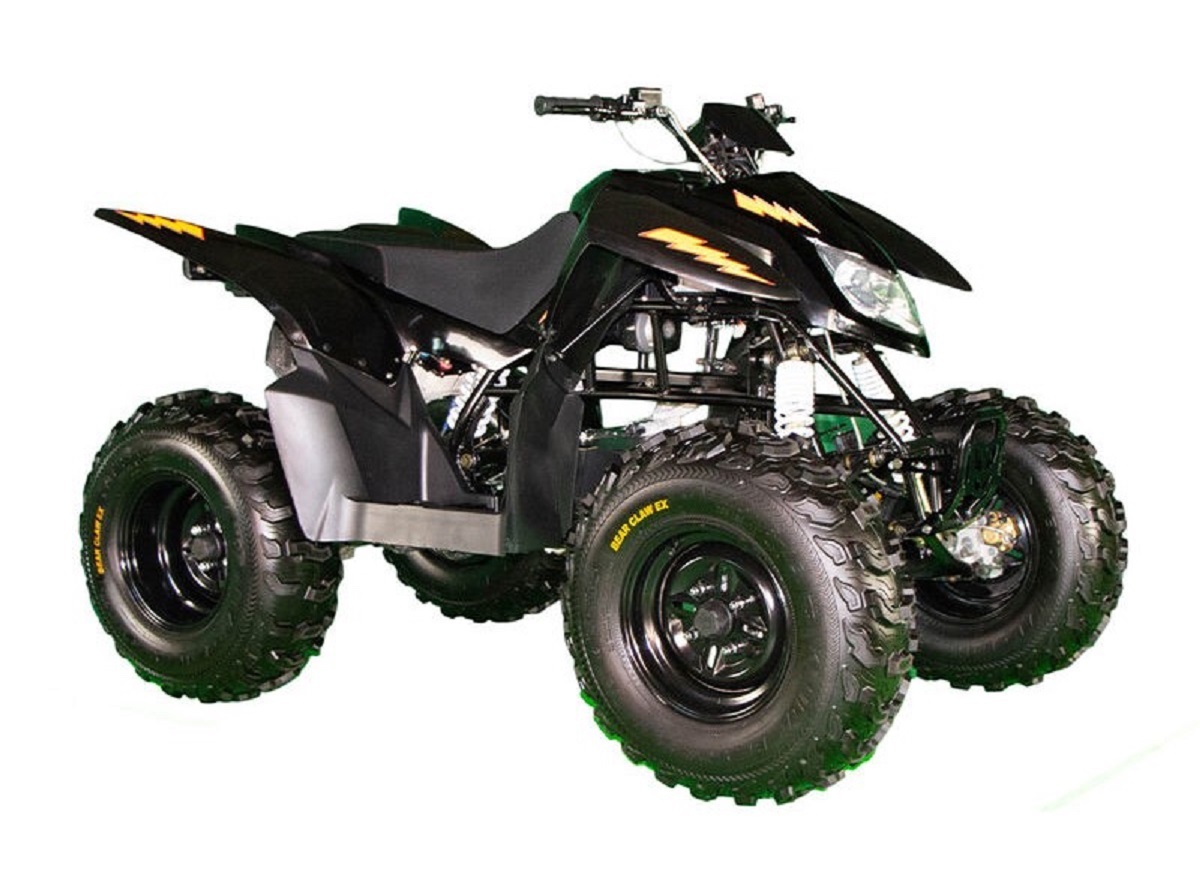 Key Features
Top speed: 40 mph (64 km/h)
Range: Up to 50 miles (81 km)
Weighs 780 lbs (353 kg)
Dual A Arm Independent suspension
Charge time is 4–8 hours
5 kW motor with 21.5hp
72V Li-ion battery
Description
The DRR EV Lightning ATV is the second all-electric ATV in DRR's lineup and is billed as the industry's first full-size electric sport ATV. It is based on DRR's gasoline-powered 450cc ATV and shares the same chassis and suspension components. However, instead of a combustion engine, the Lightning E.V. gets a powerful 5kW motor that generates 21.5 hp. It's enough to get the ATV over moderate inclines, making this well-suited for adventures like eco-friendly tours in the backcountry.
Razor Dirt Quad
Price
~$750.00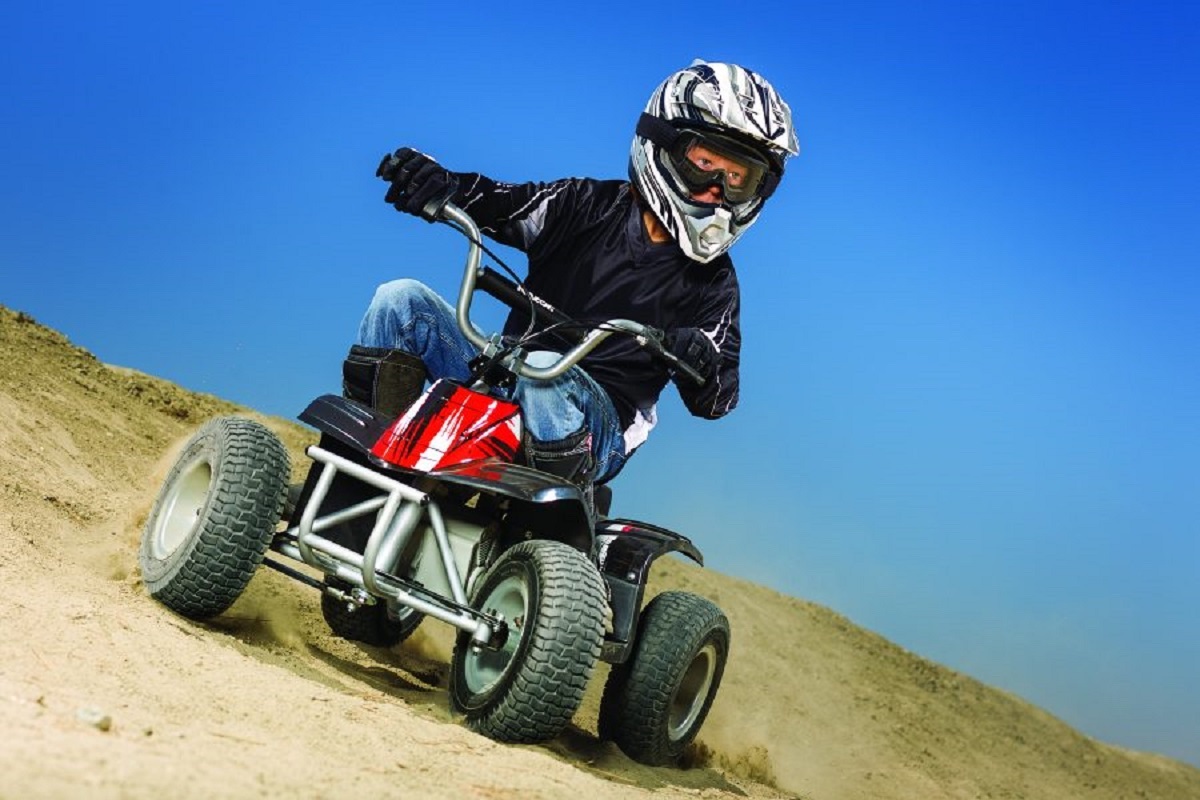 Key Features
Top speed: 8 mp/h (13 km/h)
Battery Life: 40 Mins
Battery: 24V (two 12V) sealed lead-acid, rechargeable
Weighs 75 lbs (34 Kg)
Shatter-resistant plastic
Handlebars: adjustable-height, riser-style
Designed for kids
120 lbs (54 Kg) weight limit
13-inch pneumatic knobby tires
Suspension: rear droop travel with coil shock
Description
Like the Tesla CyberQuad, the Razor Dirt Quad is designed for kids and is perfect for when you want your children to follow you for a ride in the countryside. The ATV benefits from a well-balanced suspension setup that comes in handy for tackling small bumps and uneven surfaces. Acceleration and braking are controlled by the handlebars, which are also completely adjustable depending on the rider's height.
EZRaider HD4
Price
Starts from ~$19,200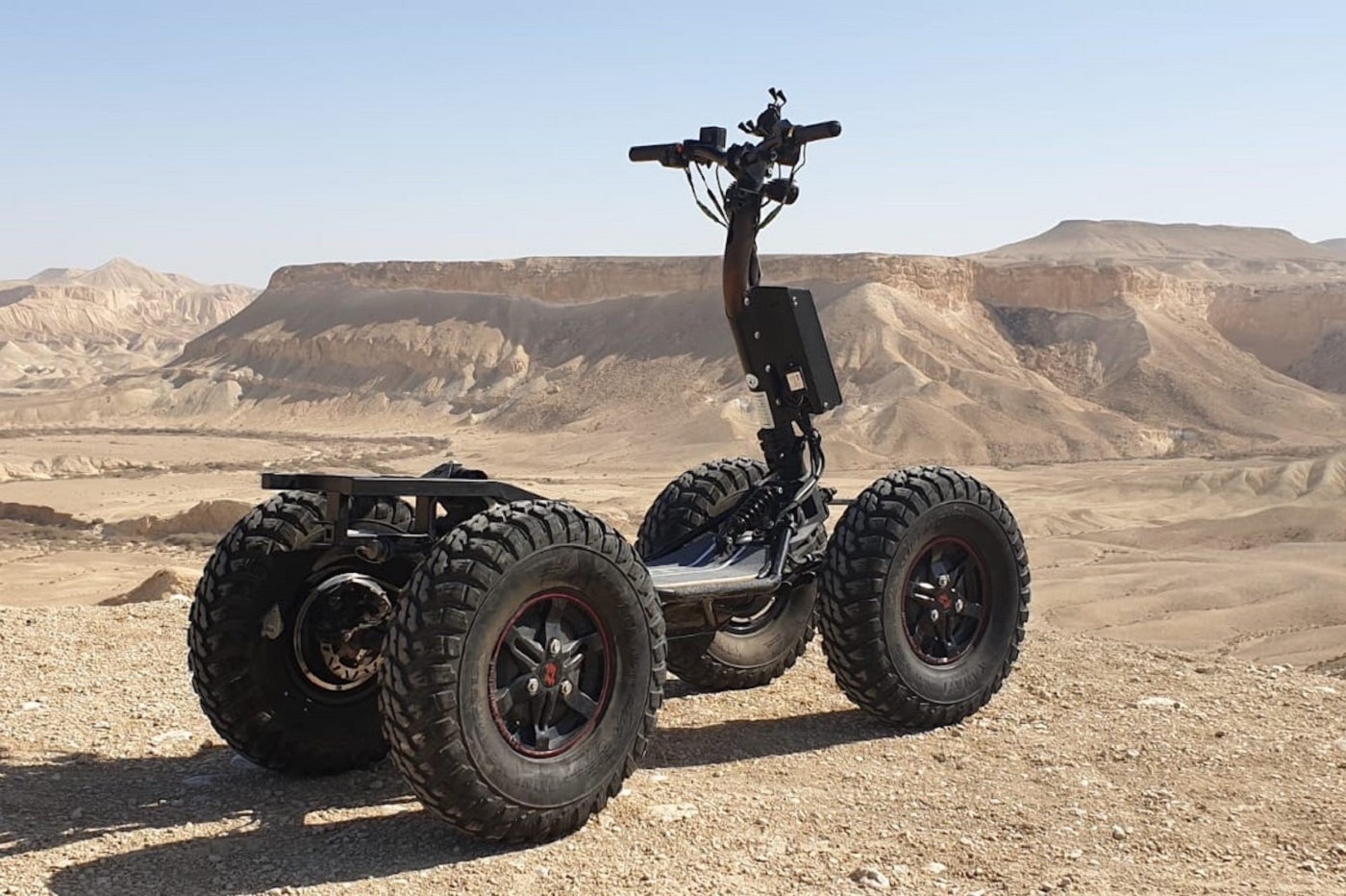 Key Features
Top speed: 28 mph (45 km/h)
Range: Up to 50 miles (81 km)
Weighs 280 lbs (130 kg)
4 x 1,200W motors
Hydraulic brake system
440 lbs (200 kg) payload
Regenerative braking
Li-Ion 60-volt battery
Folding steering column
Patent protected, steering/suspension system
Description
The EZRaider introduces a refreshing take on ATV design with its simplistic and functional looks. Innovative features include an all-wheel-drive system with 1200W wheel hub motors that independently feed direct torque to each wheel as needed. The HD4 can also be fitted with accessories such as a skid plate, luggage carrier, removable seat upgrade and an external battery pack for a complete experience.
Outrider Coyote 4WD ATV
Price
Starts at ~$13,980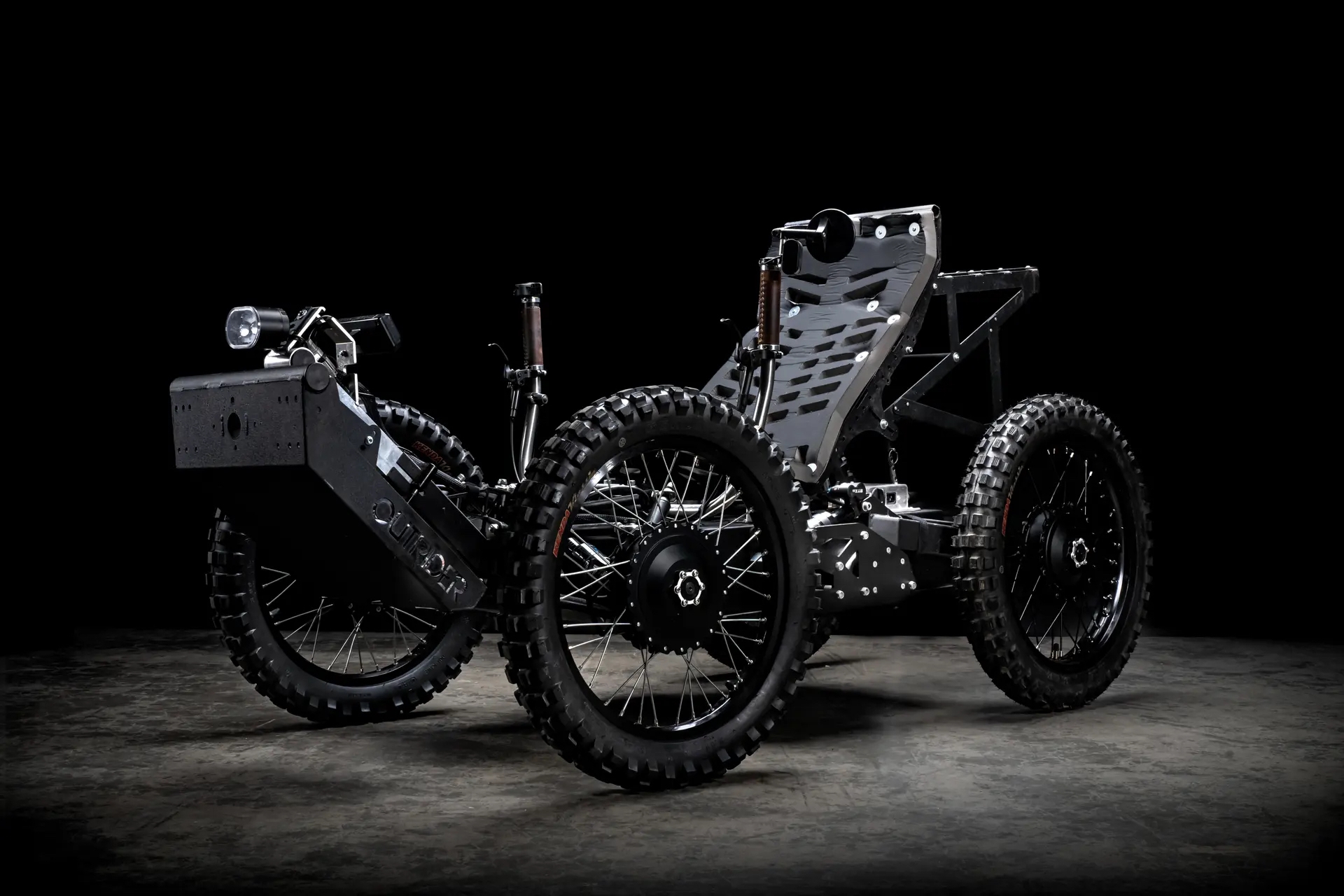 Key Features
Top speed: 22 mp/h (35 km/h)
Range: 20 to 140 miles (32–225 km) depending on the battery pack
Weighs 150–250 lbs (68–113 kg)
1,500–6,000 Wh Lithium battery
3 Powertrain options topped by a 5,000 watt, 4WD variant with independent suspension
High-strength aluminum monocoque chassis
RWD, 2WD or 4WD setups are available
Dual Magura Hydraulic brakes
Optional pedals, LED lighting
Description
The Coyote 4WD is another ATV that takes a minimalistic approach to its design. One of the major highlights is that its design and layout allow it to be used by individuals with a wide range of accessibility needs. According to Outrider USA, the company behind the coyote, the plan was to build an ATV 'that packs as much off-road capability as possible into the most compact package.' The coyote certainly fits the bill with its lightweight construction and outdoor capabilities.