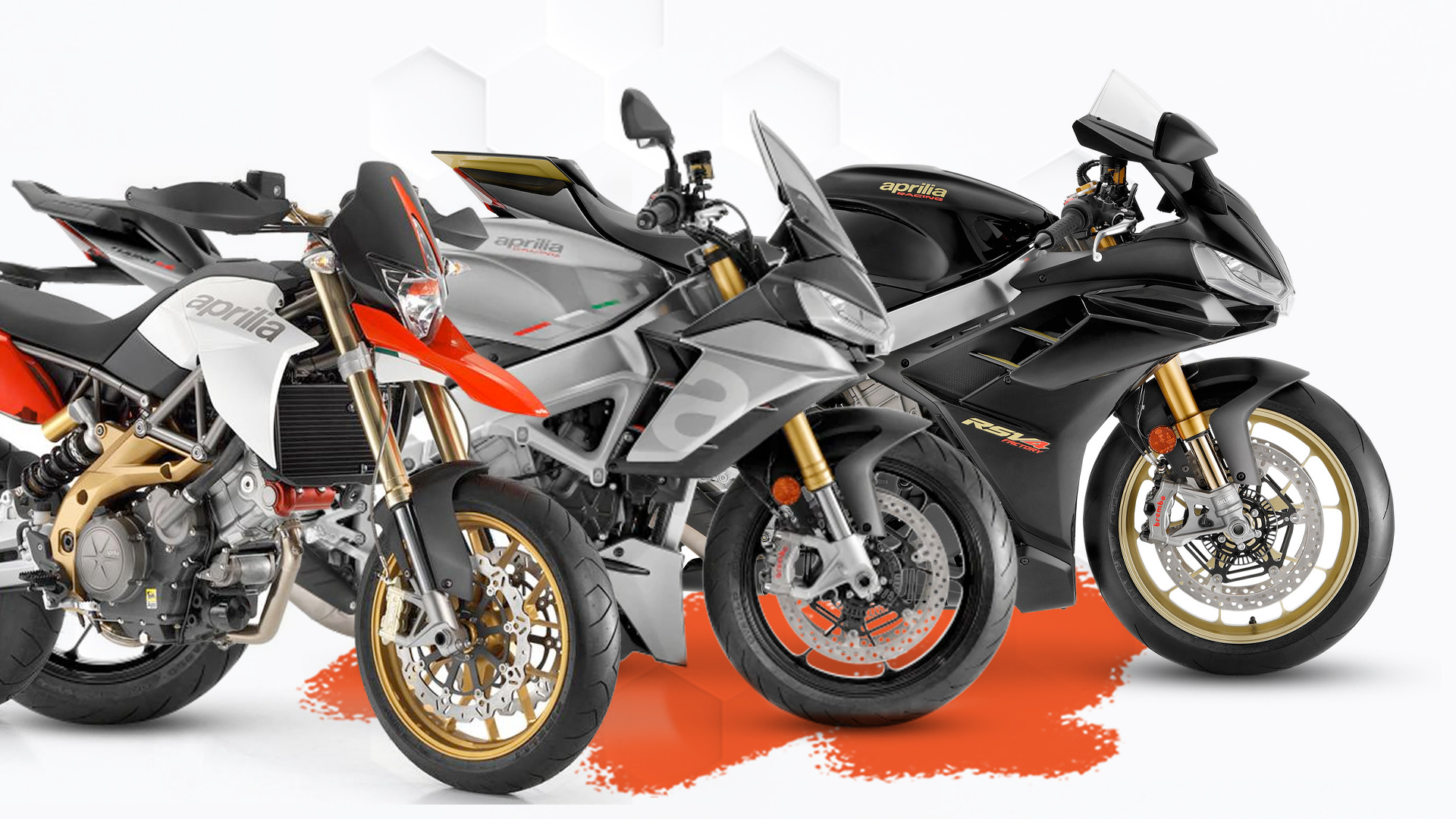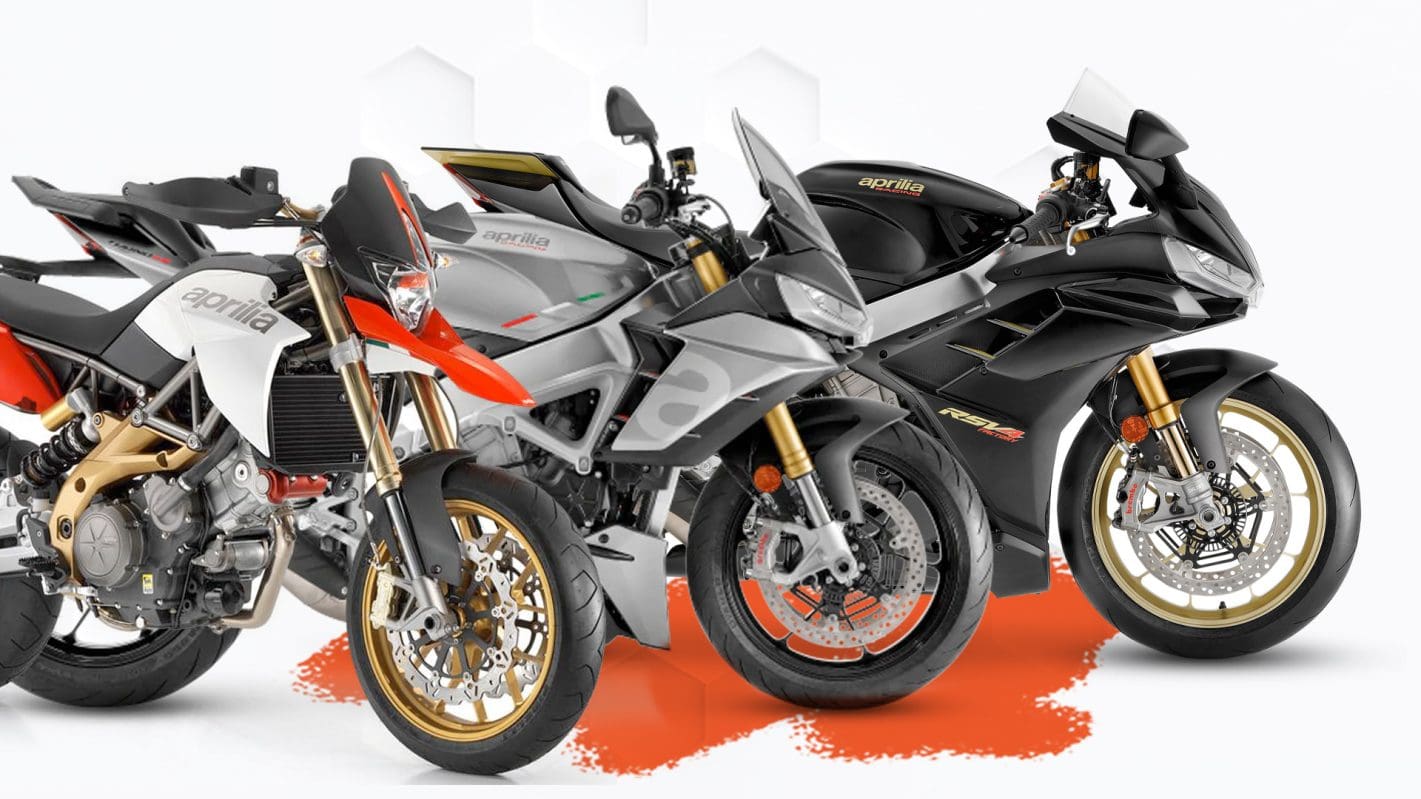 Revving Through History With Aprilia!
Article Quick Nav
These are the best Aprilia motorcycles of all time:
Founded in post-World War II Italy by Alberto Beggio, Aprilia began as a bicycle maker in Noale, eventually transitioning to scooters and motorcycles. The brand ventured into motocross and road racing, achieving numerous championships and introducing iconic models like the RSV Mille and the V4 RSV4. The 1990s and 2000s marked significant milestones with their entry into the scooter market and joined the Piaggio Group in 2004.
Today, with over 270 racing victories, Aprilia stands as a testament to innovation, performance, and racing prowess.
About Our Selections
When choosing the "best" Aprilia motorcycles, I considered looks, performance and general awesomeness!
Why We Picked It:
The Aprilia RS250 was a tribute to Aprilia's championship-winning GP250 bike. Under its hood, it boasts a Suzuki RGV250 engine, tweaked by Aprilia with enhancements like a cutting edge ECU and custom expansion chambers. Its sleek frame, made of a unique aluminum/magnesium alloy, is crafted by Benelli for Aprilia. The distinctive banana swingarm, designed for better ground clearance during turns, matches the frame's polished finish.
On the road, the RS250 got as smooth a ride as a race bike could being equipped with adjustable Showa forks and a Sachs mono-shock. It had top of the line Brembo brakes and the bike was clearly made for racing as shown by the inclusion of lightweight wheels and other weight saving measures. Riders got a digital dashboard with a range of data. The RS250 is a blend of history, performance, and modern tech, perfect for motorcycle enthusiasts.
Specifications:
Price: N/a

Engine: 249 cc 2-stroke, liquid cooled, 90-degree V-Twin

Power: 55 HP




Torque: 26 lbs-ft

Transmission: 6 Speed Manual

Curb Weight: 310 lbs
Strengths:
Unique design

Rich racing history
Learn More:
Sleek and unique, the best Triumph sport-bike
Why We Picked It:
The Aprilia Tuono V4 Factory is a motorcycle enthusiast's dream. This powerhouse boasts a whopping 175 horsepower but with its Öhlins electronic suspension and capable electronics, it becomes a controllable and streetable machine.
The bike's design is rooted in its race heritage, featuring a sturdy aluminum Deltabox chassis and a plethora of modern riding aids like cornering ABS, traction control, and even a bi-directional quickshifter. Originating in 2002, the Tuono has evolved over the years, but its essence remains unchanged. Its current design is a perfect blend of a streetfighter look with top-notch electronic aids, ensuring safety and performance.
With its iconic LED lights and revolutionary chassis, the Tuono V4 Factory is not just a bike; it's an experience, promising adrenaline-packed adventures on both the road and track. Whether you're seeking thrill or comfort, this bike has got you covered.
Specifications:
Price: $20,099

Engine: 1077 cc 4 cylinder, 4-stroke, liquid cooled, double overhead camshafts (DOHC),

Power: 175 HP




Torque: 89 lbs-ft

Transmission: 6 Speed Manual

Curb Weight: 460 lbs
Strengths:
Massive Power

Electronic Suspension

Every electronic enhancement a street rider could need




Learn More:
A standout supermoto taken from us too soon
Why We Picked It:
The Aprilia Dorsoduro represents innovative motorcycle engineering and stunning design from a respected manufacturer. Aprilia made three models but I fell in love with the 749 cc. This V-twin supermotard draws its name from Venice's "hard ridge" region, Dorsoduro. Introduced in 2008 and no longer produced as of 2015, the Dorsoduro 750 marked a significant shift in Aprilia's design approach, blending the agility of supermotos with the features of standard touring bikes.
This capable 750 offered smooth performance, while its competitive pricing and advanced features, such as radial Brembo brakes and a comprehensive display with multiple riding modes, set it apart in the market.
Specifications:
Price: $NA

Engine: 749 cc, 90 degree, 8 valve V-twin

Power: 92 HP




Torque: 60 lbs-ft

Transmission: 6 Speed Manual

Curb Weight: 409lbs
Strengths:
Stunning looks

Endless Torque
Learn More:
A beast of a bike with the latest tech to satisfy any track day enthusiast or canyon carver
Why We Picked It:
For enthusiasts of Aprilia, the RSV4 Factory is the top of the food chain. The 1099cc inline-four engine delivers an 217 horsepower and 92 lbs-ft of torque in a manageable 445 lbs package. This evolution of a superbike includes MotoGP-inspired aerodynamic features, top spec electronics and suspension. A TFT dashboard interfaces with Aprilia's Performance Ride Control system and is powered by a state-of-the-art Marelli ECU. The Factory edition also features lightweight forged aluminum wheels, the advanced Ohlins Smart EC 2.0 suspension, and premium Brembo Stylema brakes.
Priced at $25,999 the Aprilia RSV4 Factory is not a cheap ride by any means but like most superbikes, once you get going you quickly forget the costs and concentrate on the the thrill of top speeds, carving corners and reaching max speed on the track.
Specifications:
Price: $25,999

Engine: 1,099cc 65-degree V4

Power: 217 HP




Torque: 92 lbs-ft

Transmission: 6 Speed Manual

Curb Weight: 445 lbs
Strengths:
Massive power at a flick of the wrist

Moto GP inspired handling and electronics
Learn More: