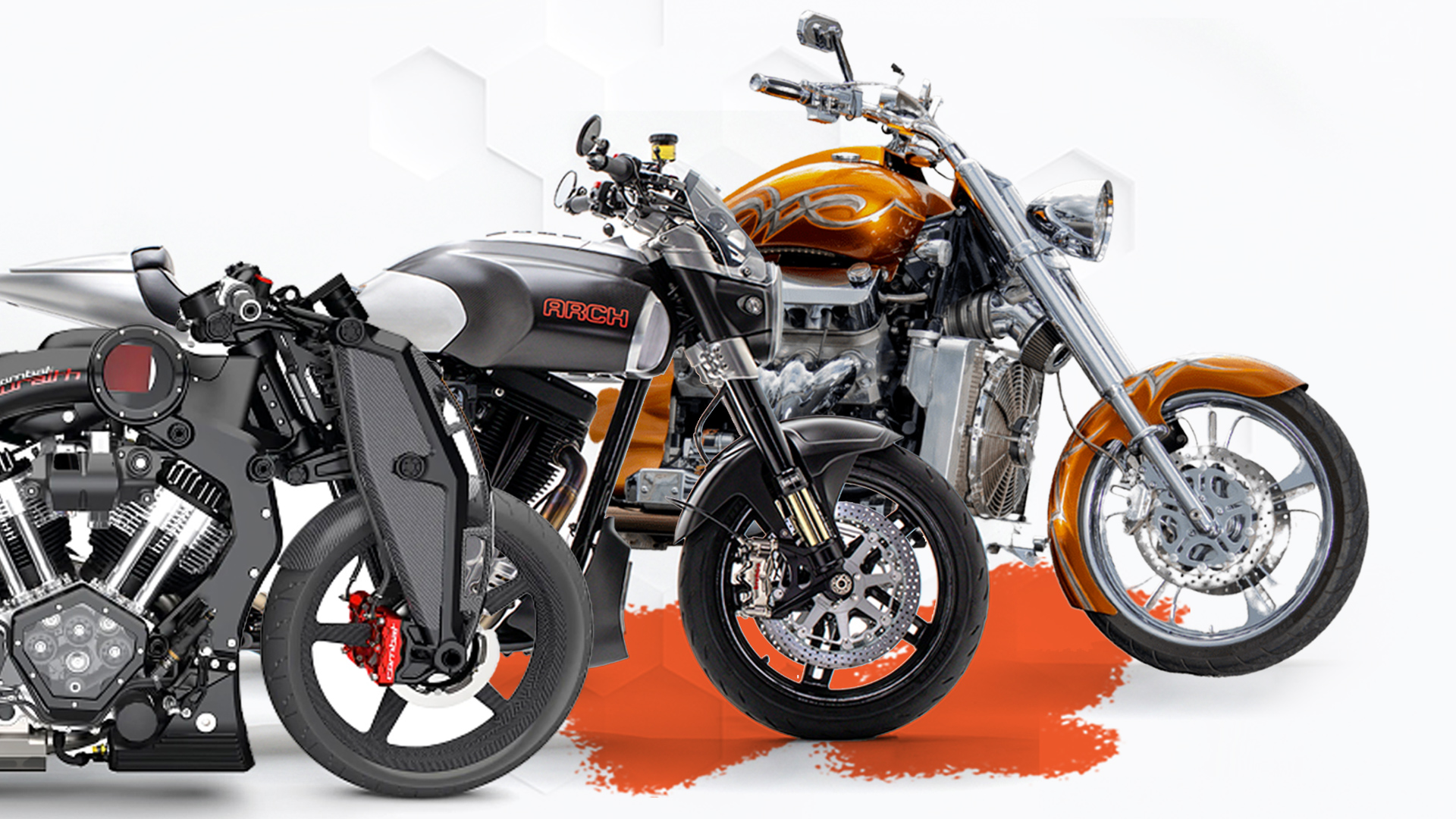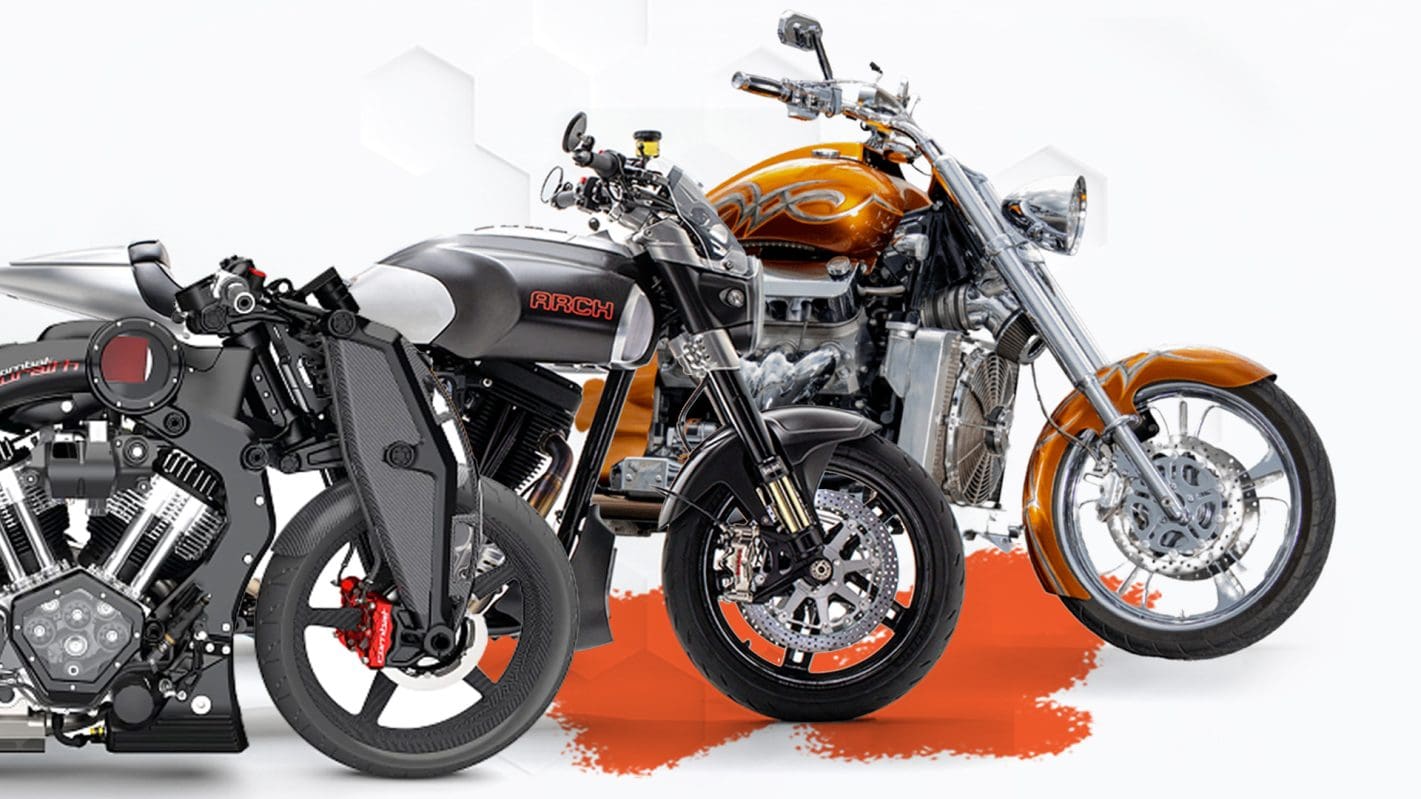 Kick-Ass bikes Made in America
Article Quick Nav
These are the best American motorcycles of all time:
These American manufacturers showcase their ability to do more. In true American spirit, these bikes have gritty, interesting, and "you are what you make of it" backhrounds that make them special and unlike anything to come from overseas.
And while the best European motorcycles are indeed amazing, there's just something about American muscle and style that sets these bikes apart from their European or Japanese peers.
When choosing the "best" American made motorcycles, I considered looks, performance, history and unique qualities that can only be found in the USA!
About Our Selections
These picks consist of cool and interesting American made bikes that push the envelope of design, power and common sense. I'm talking about the Boss Hoss on that last one!
Keanu does it all including make awesome motorcycles
Why We Picked It:
The ARCH 1s is a masterpiece crafted by ARCH Motorcycle, a company co-founded by the renowned actor and motorcycle enthusiast, Keanu Reeves! This machine is not just a motorcycle; it's a customized work of art and engineering design, that blends the torque of a cruiser with the agility of a street bike. The ARCH 1s shows off its race-inspired design, featuring a single-sided billet aluminum swingarm showcasing both aesthetic appeal and functional brilliance.
The heart of the ARCH 1s roars with a 124ci, high-torque ARCH / S&S V-twin engine, complemented by an ARCH-designed exhaust system, providing performance and breathtaking design. The extensive use of carbon fiber throughout the 1s doesn't just elevate its visual appeal but also provides a lighter, more agile riding experience. The team at ARCH Motorcycle have redefined the American Sport Cruiser and created a stunning motorcycling experience for the owner.
Specifications:
Price: $128,000

Engine: 2032 cc, high-torque ARCH / S&S V-twin

Power: 122 HP




Torque: 122 lbs-ft

Transmission: 6 Speed Manual

Curb Weight: 563 lbs
Strengths:
Made by John Wick!

Bespoke designs

Top spec Ohlins suspension
Learn More:
Buell Hammerhead 1190 Freedom Edition
Buell is back with a patriotic powerhouse!
Why We Picked It:
The 2023 Buell Hammerhead 1190 is a remarkable motorcycle from Erik Buell that has over 30 years of racing and engineering expertise built in. This American-made sport-bike is a blend of power and precision, and comes with with a special Freedom Edition available to celebrate Buell's 40th anniversary.
The Freedom Edition, starting at $24,990, features a patriotic paint scheme, and the first 40 units offer a unique four-year warranty and autographs from the Buell factory family, Team Buell. With 185 hp , a lightweight aluminum frame, and a specialized braking system, the Hammerhead 1190 promises an amazing ride. The Freedom Edition isn't just a visual variant but comes with Buell's black-out kit, a custom embroidered seat, and an Öhlins steering stabilizer.
Specifications:
Price: $24,990

Engine: 1190 cc ET-V2: 72° V-Twin, Liquid Cooled, Four-stroke

Power: 185 HP




Torque: 101 lbs-ft

Transmission: 6 Speed Manual

Curb Weight: 419 lbs
Strengths:
Power for days

Made in America and shows it
Learn more:
Big, brash design and power for days!
Why We Picked It:
Boss Hoss Cycles, Inc. was founded by Monte Warne in 1990 and revolutionized the motorcycle industry by introducing the first Chevy V-8 powered motorcycle, blending traditional cruiser aesthetics with innovative engineering. Over the past three decades, the company has expanded its product line and introduced numerous innovations such as a 2-speed transmission with reverse, inverted front suspension, and vacuum-formed body panels. The Boss Hoss Super Sport model, launched in 2012, brought a fresh design to the market, offering a lower seat height, shorter wheelbase, and increased suspension travel, ensuring riders feel a part of the machine while enjoying a thrilling and smooth riding experience.
Specifications:
Price: $69,173

Engine: GM LS 3

Power: 445 HP




Torque: 445 lbs-ft

Transmission: 2-Speed Semi-Auto with reverse

Curb Weight: 1100 lbs
Strengths:
Stunning looks

Endless Torque
Learn More:
A beast of a bike with the latest tech to satisfy any track day enthusiast or canyon carver
Why We Picked It:
Harley-Davidson started producing the WLA for the U.S. Army in 1940, shortly before the U.S. entered World War II. It is basically a militarized version of the WL model. There were several differences from the civilian model. All painted surfaces were olive drab or black, and all chrome or polished surfaces were blued or Parkerized. The fenders were modified by having the sides removed to reduce clogging from mud. Leg guards and windshields were installed on some models. The engine crankcase breather was modified to reduce the risk of water entering during fording. Blackout lights were installed.
Many accessories were available, including leather scabbards for Thompson submachine guns, cargo racks for radio equipment, and skid-plates.
Specifications:
Price: $N/A

Engine: 739 cc air-cooled, sid-valve, 45-degree V-twin

Power: 25 HP




Torque: N/A

Transmission: 6 Speed Manual

Curb Weight: 576 lbs
Strengths:
Massive power at a flick of the wrist

Moto GP inspired handling and electronics
Learn More: