Just because you want to take the adventurous route doesn't mean you have to suffer an ugly bike.
The Benelli 1130 Tre-K and Tre-K Amazonas not only tackle the rougher stuff, but also do it with Italian flair and pinache (or the Italian equivalent).
It doesn't have the electronic trickery of the BMW R 1200 GS, Ducati Multistrada, Moto Guzzi Stelvio or Triumph Explorer, but it also doesn't cost near as much.
The Tre-K starts at a low $16,990 ($18,490 ride away) and the Amazonas adds a bash plate, wave discs, longer and more adjustable suspension and handguards. It costs $17,590 ($19,390 ride away).
Ok, they don't have ABS, traction control and electronically adjustable suspension, but it's a lot prettier than the Ducati. in the fashion stakes, the Stelvio wins hands down, but the Guzzi starts at $20,990.
The Tre-K features the same 1131cc three-cylinder engine found in all other Benellis except for the entry level Tornado Naked Tre TnT 899 Century Racer.
It's made in their Italian factory at Pesaro.
The engine is detuned in power from 118kW to 94kW and the torque is reduced from 120Nm to 112Nm, but the power and torque curves give more emphasis to the low to midrange revs with the maximum torque coming on song at 5000rpm.
This gives it a more tractable feel on dodgy back roads and makes touring that much more comfortable and stress-free.
There is also a power control button which is a feature of all Benellis. In standard mode it provides smooth acceleration response without any loss of peak power, while performance mode livens up the throttle response. You can switch between the two on the fly and it defaults to the last position when you next start the bike.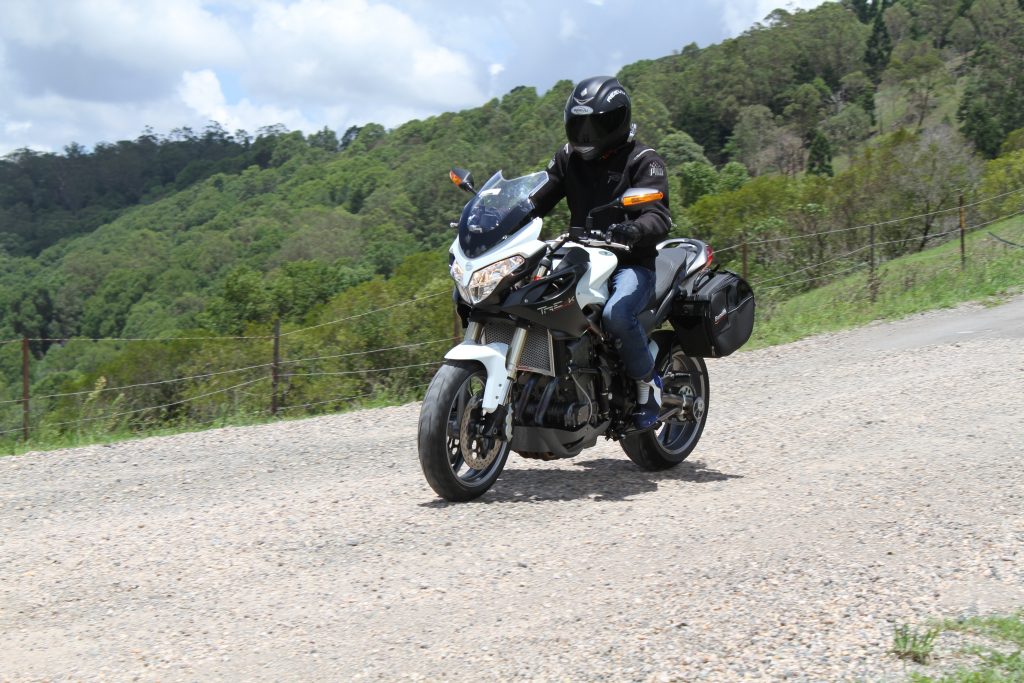 Like most adventure bikes, you sit high (850mm and 880mm for the Amazonas), but the seat is narrow and at 182cm tall I had no problem getting both feet flat on the ground.
There is a handsome beak with an instrument pod way out in front so you get good vision of the LCD screen and dials.
On top is perched a stylish windscreen that can be adjusted to three positions with the turn of some knobs. You have to stop to make the adjustments, but it's quick and easy.
I preferred it in the lower position where it directed clean air past my neck with no buffeting.
Up high, it protects from the rain, but creates some buffeting.
The seat is well contoured with firm but fair cushion for the sit-up-and-beg riding position. However, the saddle shape limits room to move forward and back which is a must to stay comfortable on long trips.
The wide bars were adjusted to their highest point yet could still be easily reached. They also feel comfortable while standing without the need of bar risers.
Not that you'll be standing all that often as the footpegs are very narrow pieces of metal, like arrow heads. This bike is quite capable of tackling good quality dirt roads where you may want to stand, but you'll need to fit other footpegs as these are too uncomfortable.
The suspension features non-adjustable Marzocchi forks on the TRe-K, but adjustable on the Amazonas, while the Sachs rear shock is adjustable for pre-load and rebound on both.
It feels plush and will tackle quite big hits such as potholes and occasional rocks so long as you get the settings right.
The limiting factor for off-road riding will be the rubber. Up front it has only a17-inch wheel with road-oriented rubber, while the rear has a 180 section. It's no different from the Multistrada, except that the Ducati has electronic wizardry to help overcome traction and suspension issues and take the bike further into the rough than this will go.
Still, it's a good most-roads tourer with a 22-litre tank just like the GS, optional panniers and comfortable pillion seat.
It's just right for long days in the saddle. However, in summer the heat on the backs of your legs from under the seat may be a problem.
The soft yet rigid panniers easily clip into discreet pannier racks. They are expandable and will fit any full-size helmet except those with peaks. The panniers will also unclip quickly with the touch of a button and can't be locked in place so security is a problem. Once off, you can carry them with the convenient handle or attach a shoulder strap so it becomes a handy carry bag.
Despite wide handlebars, the turning circle is not great for this type of bike and u-turns on narrow back roads will become a feet-down three-point-turn affair.
However, those bars give you a good feel for flicking around obstacle and holding the bike stable on bumpy roads at a cracking pace.
The optional bash plate still leaves a lot of exposed engine parts and the front-facing radiator will need a stone guard for gravel roads. It will also have to be removed to get at the oil filter, but it's not a difficult job.
At low revs the bike stutters a little and conked out a few times, then became difficult to start when hot. However, its midrange punch is a delight and there is a delightful bark from the exhaust to soundtrack your ride.
This is an ideal bike for Australia's poor-quality roads. It's also got a commanding riding position for commuting, a comfortable cockpit for touring and a style that will turn heads.
Benelli 1130 Tre-K and Tre-K Amazonas
Price: Tre-K $16,990 ($18,490 ride away), Amazonas $17,590 ($19,390 ride away)
Engine: 1131cc 3-cylinder
Power: 94kW
Torque: 112Nm
Transmission: 6-speed, chain drive
Suspension: USD forks, Sachs shock
Brakes: 320/240mm wave discs, Brembo calipers
Seat: 850mm (880mm Amazonas)
Wheelbase: 1515mm
Dry weight: 208kg
Fuel: 22-litre tank
Available: Motolife, Caloundra