Belstaff Trialmaster Jacket Review Summary
Review Summary
The Belstaff Trialmaster is in class all by itself, and its long history speaks volumes. If you own a vintage British or European motorcycle that's the same vintage as the Belstaff jacket in its heyday, you owe it to yourself to get one and feel the vibe.
This is it, folks – get 'em while you can. It's the end of the ride for the very famous Belstaff Trialmaster jacket (which is also sometimes erroneously referred to as the Belstaff Trailmaster). We've been told that Belstaff has discontinued the manufacture of the Trialmaster waxed cotton jacket and pants and they are in the process of selling off the remaining worldwide stocks.
[UPDATE: The Trialmaster is now back in production as the Belstaff Tourist Trophy (review) jacket!]
Manhattanites tell me these things are hotter than Kanye West with the fashionistas, and they are selling for $500 to $600…that is, when one can be found. Nothing like the end of an era to bring awareness to the masses! Motorcycling is filled with icons, and many of them are what draws people to the sport. If there was a Motorcycle Clothing (and Accessories) Hall of Fame (not a bad idea, that…) there are two jackets that would be on display at the front door.
One of them is the Schott Perfecto, the first — and some say the only — leather motorcycle jacket, designed in 1928 (when it sold for $5.50 in a local Harley dealership) and still made today by Union workers in the good ol' U.S. of A. And the other? You're looking at it, no question.
This jacket was worn by everyone from Sammy Miller to Che Guevara to Phil Reed, who, Belstaff claims, wore it during wet weather motorcycle Grands Prix.
The Belstaff Trialmaster Jacket
My Mom had an intense phobia about what she called "The Greasers" back in the '50's. She would just about cover my eyes when — heaven forbid — we drove by a hoodlum in a black leather motorcycle jacket.
Somehow it worked; I never did adopt their style of slicked back hair, skin-tight pants and pointy shoes.
I secretly coveted old Brit bikes though and the Belstaff jacket was one of the first motorcycle related items I just had to own.
Let's see — that was nearly 50 years ago?  And here we are, and I finally got my wish. Who said motorcycling isn't magical?
That said, I'll have to admit that the reality is slightly different than the fantasy, as occasionally happens when a long-term jones is finally satisfied.
The Belstaff jacket is still as cool-looking as ever, and it's just the ticket for vintage British or European motorcycle owners, along with a replica Davida pudding-bowl.
Don't expect any type of modern protection at all; the only thing between you and the road is a thin layer of waxed cotton and the famous plaid lining.
But that doesn't bother me, and I can always wear some Bohn armored underwear underneath the Belstaff if I really wanted, which I don't.
The biggest disappointment with this legend is how extraordinarily hot it is to wear.
I should have known; after all, I own another jacket icon, a Barbour waxed cotton jacket, and although it's cooler than the Belstaff, I'll never understand how Britain ruled the world wearing these things.
The Belstaff has but one way of getting air in and out — a couple of tiny brass-grommeted holes under each arm.
Put on the Trialmaster and prepare to get sweaty, because the combination of the waxed fabric and the somewhat closely styled fit seems to lock in the moisture as if it were Saran Wrap.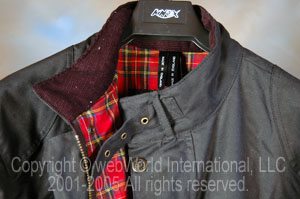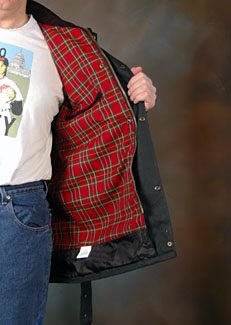 The other problem is lint. The black waxed cotton attracts lint like a Neodymium magnet, and if you have any cats or dogs around, you'll end up looking like you slept in the kennel.
I made the mistake of dropping mine on the carpet and it has yet to recover.
I'm guessing that this effect will dissipate over time, as the initially sticky coating of wax wears off, but I never had this problem with my Barbour. Perhaps it's the black fabric that makes the lint seem more apparent.
If you can live with all that, there are a few redeeming features other than the styling.
The collar is a nice corduroy on the inside, and closes with a brass snap and a short belt with brass grommets, although I doubt most owners will fuss with it. All of the hardware, including the hefty zipper, is real brass.
The cuffs have a two-snap adjustable closure. In addition to the nice plaid lining, the sleeves are lined in nylon.
I'm assuming there's an optional insulated liner than can be purchased for the Belstaff, although I've never seen one listed. The Trialmaster has fittings inside that appear to be designed for a plug-in extra liner.
The Belstaff Trialmaster's styling is strongly influenced by its pockets and the waist belt.
The four big cargo pockets were one of the main features that made this jacket the ultra-cool must-have back in its time.
These were cargo pockets way, way before cargo pockets were the thing.
They made the Trialmaster wearer look and feel like they just rode in from the wilds with names like Ardanaiseig or Polokwane or wherever the Queen directed them to maintain order.
The hip pockets measure about 9″ by 9″ and they close with metal snaps and the two chest pockets measure about 8" deep and wide and also close via snaps.
An internal zipper pocket lives inside the left breast and is lined with some type of taffeta.
The belt has a simple metal buckle and metal grommets along its length, but very few if any jackets use an external belt nowadays, so this is an anachronism that may or may not work for you.
Conclusion
The Belstaff Trialmaster is in class all by itself, and its long history speaks volumes.
If you've lusted after one, better get it now, because when they're gone, they're gone forever — although retro madness may someday resurrect the line.
If you own a vintage British or European motorcycle that's the same vintage as the Belstaff jacket in its heyday, you owe it to yourself to get one and feel the vibe.
By the way, if you're interested in the Trialmaster, you may also want to check out two more classic waxed cotton jackets, the Barbour International (review) or the Filson Tin Cloth jacket.
w

BW

 Review: Belstaff Trialmaster Jacket
Available From: British Motorcycle Gear
List Price (2014): $825.00 (Was $379.00 in 2005)
Colors: Black waxed cotton
Made In: England
Sizes: S-3XL
Review Date: December 2005
Note:
 For informational use only. All material and photographs are Copyright © webWorld International, LLC since 2000. All rights reserved. See the webBikeWorld® 
Site Info page
. Product specifications, features and details may change or differ from our descriptions. Always check before purchasing. Read the
Terms and Conditions
!
Owner Comments and Feedback