I've always fitted Barkbusters to my adventure bikes for protection of my hands and levers from bushes and in crashes.
But now I've ridden with the new Barkbusters BBZ-01 shrouds ($119.95) I won't ever leave home in winter without them to protect my hands from the cold.
Grip warmers only warm the inside of your hands. Your fingertips, knuckles and the backs of your hands are still exposed to the wind. However, BBZ hand guards, which can even go over the top of the standard Barkbusters, provide an effective windshield against the cold.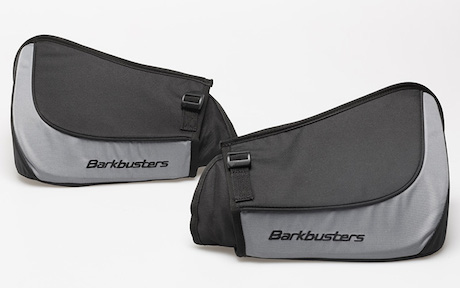 I've recently returned from an 1800km bush bash with a couple of mates on BMWs with grip warmers. My Tenere test bike didn't have grip warmers, but it had the BBZ windshields. On one morning we rode in -0.5 degrees on the highway and the guys complained that their fingertips and the backs of the hands were freezing despite having their grip warmers on full bore. While my hands were also cold, they weren't any colder than theirs and I can only imagine how comfortable I would have been if I also had grip warmers.
These guards mainly protect against wind chill which is the perceived decrease in temperature caused by wind. Estimating wind chill is a complex calculation involving ambient temperature and wind speed. I use this easy online wind chill calculator.
It shows that at 0 degrees ambient temperature, travelling at 100km/h on the highway, our hands were in -17.4 degrees. By shielding my hands from that 100km/h wind, my hands were still cold, but certainly not -17.4!
The BBZ hand guards are also claimed to offer protection from the rain so you don't have to wear those big, cumbersome wet weather gloves. That means your hands have more feel of the throttle and levers, which is safer.
As Barkbusters points out, there are many motorcycles that are not able to accommodate their protectors. However, the BBZ gets around this through its flexible design. 
It is made of a windproof and waterproof material that is strong enough to be self-supporting under wind pressure, yet soft enough to flex against fairings and screens without leaving a mark.
Barkbusters claims it can be fitted to most motorcycle makes and models without interfering with clutch and brake levers, or reducing handlebar lock.
Installation is quick and easy and they can go over existing aluminium hand guards without any drilling or customisation. And when the winter chill abates, they are even easier to remove.