Australia's Barkbusters has released the AERO-GP handguard especially for naked, streetfighter and sports bikes to protect them while lane filtering, road riding or on track days.
They call it a lever protector and anyone whose bike has fallen off its side stand or had a low-speed drop and broken their levers will appreciate it.
They will also protect your hands from hitting car mirrors while lane filtering.
The Aussie company will unveil the new product at the Intermot show in Cologne on Tuesday after more than a year of research and development.
Barkbusters GM Robert Veljanoski says the AERO-GP guards will cost $139.95.
"The final production versions are only just starting to ship out of our factory this week, and I'll be in Cologne for Intermot next week with the first of them," he says".
AERO-GP details
Barkbusters says the new AERO-GP lever guards are aerodynamically designed.
"The innovative design will complement the look of today's street bike aesthetics while providing the essential protection needed to prevent accidental activation of the brake or clutch lever during close quarters racing on the track," they say.
"For street riders the same safety elements are evident for those riding in large groups, tight spaces and during lane filtering on congested urban roads."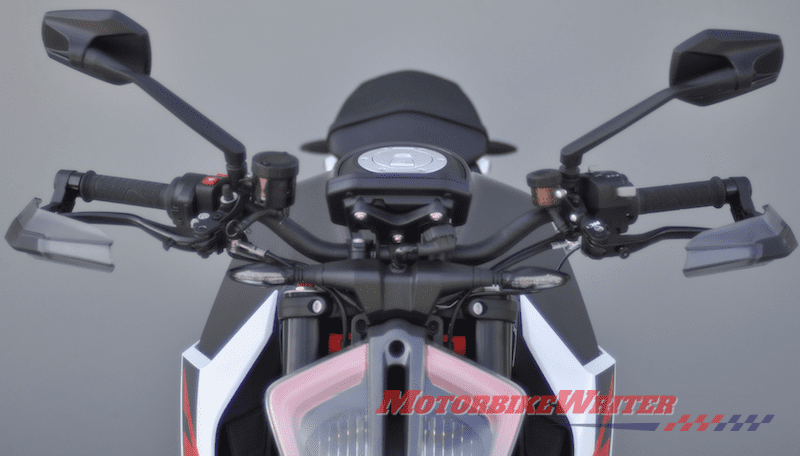 The AERO-GP guards are suitable for most makes and models, including fully-faired sports bikes, tourers and scooters. 
They are made from injection-moulded nylon composite and mount to a single point on the handlebar end.
I'd love to fit a set to our Triumph Street Scrambler, but we already have bar-end mirrors on the handlebars and you can't have both!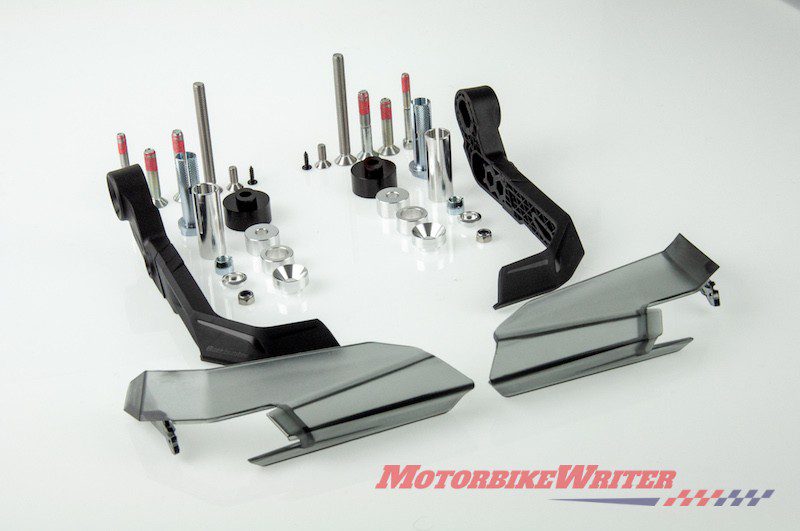 AERO-GP will fit to a 6mm of 8mm internal thread handlebar and have a "unique locking system" for hollow handlebars.
They are adjustable to allow for extra lever clearance.
Barkbusters has long been world renowned for their adventure motorcycle handguards.
However, Robert says since they launched their Storm handguards for street bikes in 2008 they have seen demand "explode".
"With so many riders now enjoying the thrill of racing and track days we have found a unique way to offer a stylish and functional solution to their safety requirements for lever protection," he says.
Barkbusters history
Barkbusters began in 1983 when Ted Goddard was asked by a rider to make some crash protection.
Ted registered the Barkbusters trademark in 1984 and in 1998 the brand was bought by Matthew Phillpott, owner of Rideworx Pty Ltd.
The Aussie company is constantly researching and developing handguards for the plethora of new motorcycles that hit the market each year. They also continue to tweak current product to improve comfort and protection with new and improved materials and designs.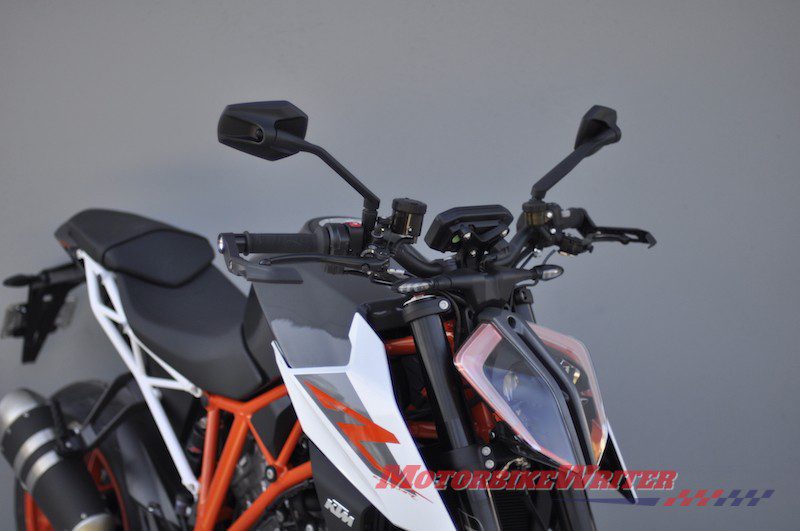 Their model list has specific fitment for more than 300 models across over 24 motorcycle manufacturers making them the most comprehensive handguard on the market.
Several motorcycle manufacturers use Barkbusters as original equipment including Honda, Yamaha, KTM and Kawasaki.
Barkbusters also make the backbones and fitting kits for all SW-Motech Handguard products.
Rideworx continue to manufacture Barkbusters Handguards in Australia employing 10 people in their Unanderra factory in New South Wales. They also outsource work to other Australian businesses.