Motorcycles should be fitted with automatic crash call technology to reduce emergency response times which are more lethal in Australia's rural and remote areas, an Austroads report has found.
The Guide to Road Safety Part 5: Road Safety for Rural and Remote Areas also suggests compulsory first-aid training for learners and those renewing licences in rural and remote areas.
It points out that motorcyclist deaths have remained stable in major cities over the past decade, but increased in regional and remote Australia by up to almost 50% in recent years.
Slow response times
Delays in reaching crash victims in rural and remote areas include difficulties in locating crash sites and a lack of mobile phone reception, according to emergency organisations and motorcycle rider groups.
The report found the average time for a first responder to arrive at a motorcycle crash in rural and remote areas was 55 minutes compared with 18 minutes in urban areas.
Remote crash victims also took an average of 11.6 hours to arrive at a hospital emergency department compared with 59 minutes in urban areas.
"Retrieval time subsequently impacts on crash outcomes with delays until discovery or delays in accessing the trauma system increasing the risk of mortality following major trauma," the repot finds.
The probability of a rider dying increased by 2.7% for every 100km from a hospital.
It's a worrying statistic for adventure riders heading out into the Outback.
As a more rural example, the report says more than half of all Victorian motorcycle crashes occur in the Gippsland region where ambulance response times are 29.9 minutes compared with metropolitan times of 12.7-17.2 minutes.
South Australia and NSW are the only states with post-crash emergency response in their road safety strategy and action plans.
Auto emergency call tech
Austroads claims automatic collision notification (ACN) would reduce crash fatalities by up to 3.8% and calls for the systems in all vehicles, including motorcycles.
These emergency call systems have been available in cars for some time and are now mandated throughout Europe with motorcycles expected to be included in the future.
BMW Motorrad is the first motorcycle company to offer an SOS button in Europe.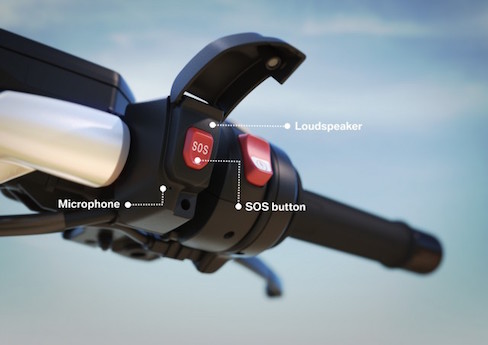 It is not yet available in Australia because of an eCall hardware update and the lack of a nationwide rollout.
The button alerts the emergency services and provides GPS co-ordinates of the rider's position.
It is also connected to various sensors on the bike to detect whether the rider has crashed.
However, the report notes that problem with these systems in Australia is the lack of mobile phone coverage in rural areas.
Riders can also use an EPIRB, download an emergency app or try this Aussie-made Sentinel device.
Austroads suggests compulsory first-aid education for all motorists, especially learner riders and those renewing licences in rural and remote areas.
However, Queensland has already rejected this proposal because of the difficulties of supplying training in regional communities.