A Sydney engineering company has developed a new two-stroke engine that they believe could be used in motorcycles.
It's called Crankcase Independent Two-Stroke (CITS) and was invented by former South African motorsport engineer Basil van Rooyen, Director of CITS Engineering, St Ives.
He says advantages over four-stroke are that the CITS engine is more powerful, lighter, smaller, cheaper, more economical and with lower emissions.
Two-stroke motorcycles have been phased out in recent years by tough pollution laws and fuel economy targets.
However, KTM has released a raft of new direct-injection two-strokers and Honda recently registered patents for direct-injection two-stroke engines, so they look like making a comeback.
Basil's CITS also uses direct injection, but has a by-pass valve that replaces the throttle and provides progressive cylinder deactivation ensuring minimised pumping losses.
It also uses a typical four-stroke's oil sump and does not mix the oil with the fuel in the combustion chamber like normal two-stroke engines. CITS therefore eliminates total-loss lubrication of a typical two-stroke.
"CITS technology is applicable to any engine application from V-twins of 25 to 125kW up to V12s of over 1000kW for hospital generators etc," he says.
The prototype was built on an 800cc V-twin Suzuki Boulevard crankcase, to which were adapted Rotax 800 Etec parallel twin cylinder-jackets and heads, cut into two to make this adaption possible and to fast-forward the proof-of-concept stage, confirming five major predictions and secure patents.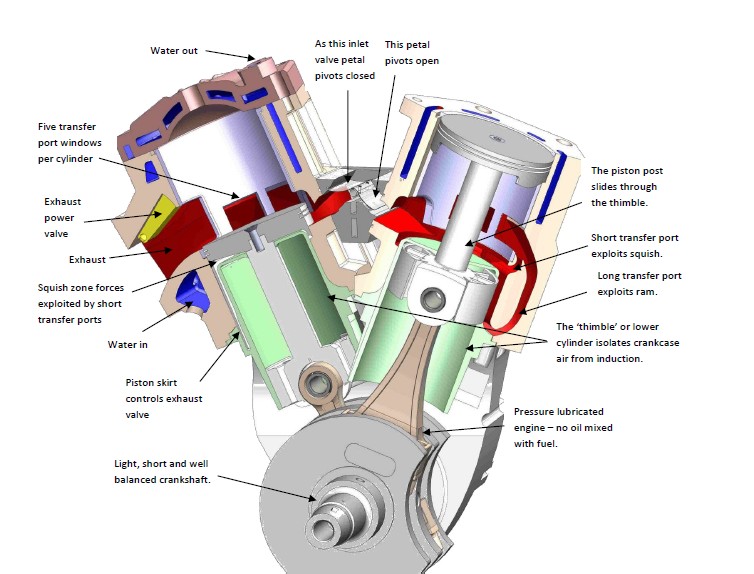 They are:
It runs under load without thermal or lubrication issues on clean petrol;

the novel pivoting inlet valve can pivot at 7000rpm;

the by-pass valve replaces the need for a throttle, and the pumping losses throttling causes;

the engine runs smoothly; and

that the three-times-higher primary compression ratio becomes a three-times-more-powerful de-compression ratio on induction.
Basil hopes to sell the royalties to his invention to engine manufacturers, rather than making any engines himself.
He is currently seeking an investor or a motor manufacturer as a partner for the final stage to commercialisation. He can be contacted via Linked In or email.
Basil says the cost and weight per kilowatt with CITS engine technology can be less than half that of popular three- and four-cylinder four-stroke engines.
The prototype Rotax 800cc Etec two-stroke produces 148hp (110kW) compared with the Suzuki Boulevard 800 which makes 66hp (50kW).
The Rotax with CITS has three times higher decompression, runs on pure fuel and has 70% reduced vibrations.
Basil says he envisages a lower rpm version with about 90hp (67kW) at 5500rpm would be suitable for most applications.
The CITS concept needs no changes in today's production methods, but grasping the fluid dynamic advantages is complicated and mechanics and engineers are advised to check out the CITS Engineering website for further details.
It also shows this video of the unique self-driven inlet valve and the by-pass valve in action.