A brilliant Australian-designed two-stroke engine that meets tough emissions requirements and eliminates total-loss lubrication may fail for a lack of investment.
The Crankcase Independent Two-Stroke (CITS) was invented by former South African motorsport engineer Basil van Rooyen, Director of CITS Engineering, St Ives, who says it would be ideal for motorcycles.
Tough pollution laws have forced two-stroke motorcycles out of the market in recent years in favour of four-strokes.
However, Basil says their CIT engine has 10 advantages over four-stroke including being more powerful, lighter, smaller, cheaper, more economical as well as lower emissions.
Click here for more technical details.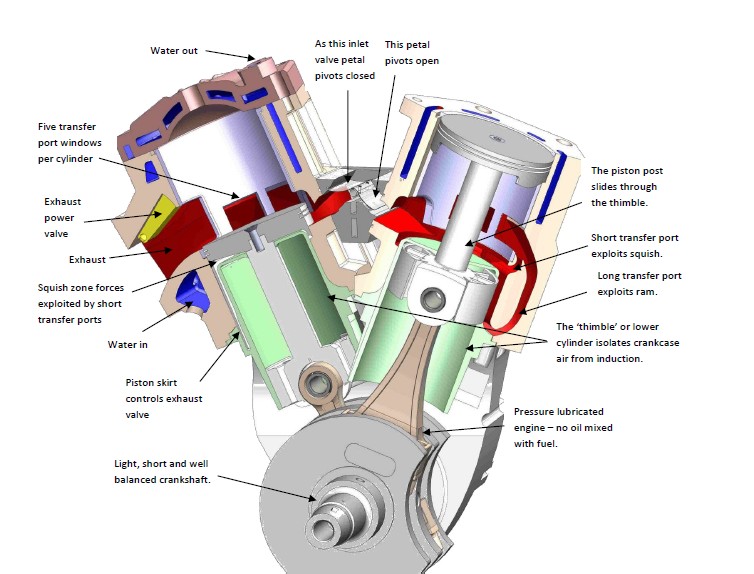 Doomed to fail?
"Despite the appraisals and irrefutable 10 achievements with CITS, an investor for our capital raising has not emerged," Basil says.
"We no longer have funding for the patents fees in 40 countries, so must pull the plug shortly before they lapse in four months' time."
Basil says he is looking for a wealthy individual investor, group of investors or a major manufacturer to take a stake in his company or buy the intellectual property and prototype.
Our article about the CIT engine was the third most popular of 2017.
Two-stroke future
Despite the Aussie two-stroke setback, several companies are forging ahead wth modern variants.
Last year, KTM has released a raft of new direct-injection two-strokers and Honda recently registered patents for direct-injection two-stroke engines, so they look like making a comeback.
There are also several small manufacturers making exotic and expensive track-only two-stroke motorcycles such as Ronax and Suter.
Vins Motor stroker
The latest is Italian company Vins Motors with their ultralight Vins Duecinquanta (250) which weighs just 95kg.
It uses a lot of carbon fibre and billet aluminium, so it costs €40,000 ($A 62,000, $US47,780), including Value Added Tax.
CEO Vincenzo Mattia says they plan to distribute the motorcycle in USA, UK and Australia from June 2018.
"We are actually selecting the dealers for each country (and consequently the final price to the customer)," he told us.
"The price depends on what the customers want about customization."
There is no detailed technical information about emissions or lubrication of the electronically injected 90-degree V-twin engine.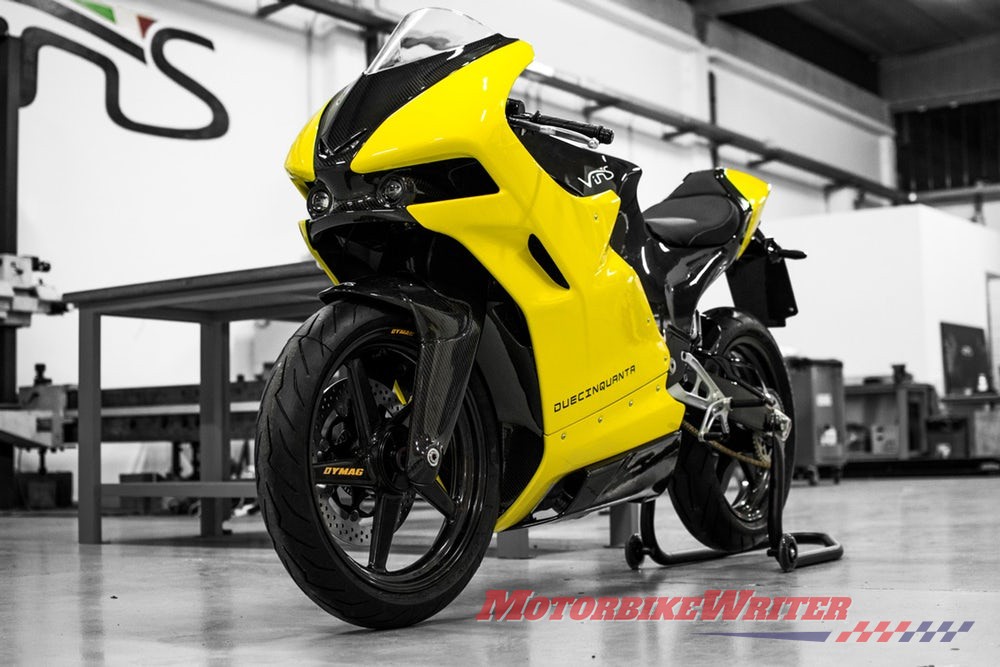 However, they say it meets Euro 4 emissions standards and will have a top speed of 200km/h.
Vins Motors have also built a track-only 85kg Duecinquanta Competizione version with a 288cc, 60kW engine, and a top speed of 240km/h.
It will cost €50,000 ($A77,000, $US59,720) .