The best motorcycle rain suit is one that is not only waterproof, but also easy to put on and take off at the side of the road without having to remove your boots.
One-piece rain suits can often be the most most waterproof, but they can be a nuisance to put on and take off. Two-piece suits are much more versatile and easier to use, but not always 100% waterproof.
While we haven't tested the new Nelson-Rigg two-piece Aston rain suit, it looks like pretty good and they guarantee it is 100% waterproof.
It is made by American rainwear manufacturer, Nelson-Rigg, and is distributed in Australia by Link International at $139.95.
Our Aldi rain suit cost about half that price and does a perfectly good job, but there are also more expensive suits on the market that don't have as many features as this.
While Nelson-Rigg claim it is 100% waterproof, we are skeptical. There is always somewhere that water will sneak in.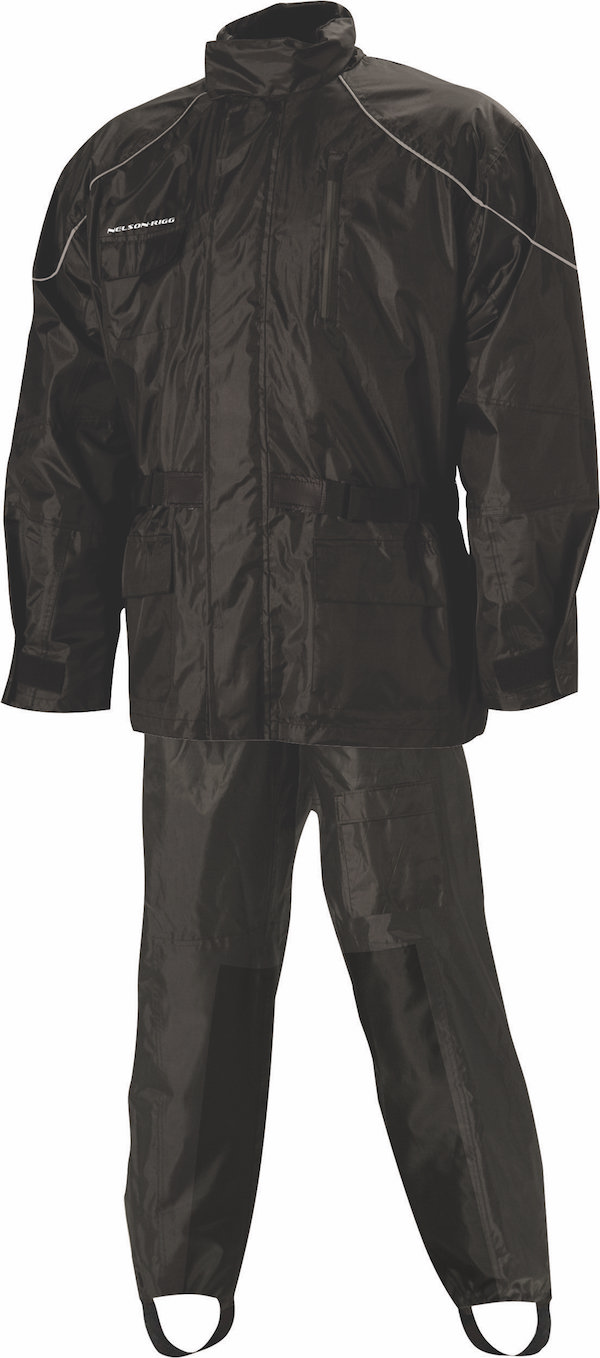 To ensure a two-piece suit is waterproof, the jacket needs to sit much further down than the top of the pants with a waist belt adjuster, like this one, to make a good seal.
However, in torrential rain, the water will still find its way into the crotch of your trousers.
One of the problems with waterproof rain suits is that you get really hot in them in summer rain because they seal in the sweat.
The Aston rain suit is made of polyester with PVC backing but has a mesh lining that is claimed to be "breathable".
Many rain suits now have this mesh lining which doesn't necessarily make them cooler, but it does prevent the plastic material from sticking to you. That makes the suit easier to put on and pull off.
But the Aston rain suit also has a full-length adjustable vent in the back so in light rain you can leave it open and not get too hot. There is also a waterproof zippered meshed pocket that can be used as a vent.
The suit comes with three large waterproof pockets plus a thigh pocket which is handy so you don't have to open the suit to get to pockets inside your jacket.
So you can get the suit on without having to take off your boots, there are oversized zipper gussets on the pants which have elasticised "stirrups" to keep the bottom of the pants down over your boots.
Some rain suits melt on exhaust pipes, but this one has a special heat-resistant panel on the legs.
We've ripped rain suits in the backside before through wear. However, this has a double-layer panel in the seat for extra strength and to avoid slipping in the saddle.
Other features include a soft corduroy collar with hood, velcro adjustable cuffs and reflective piping on both jacket and pants for night visibility.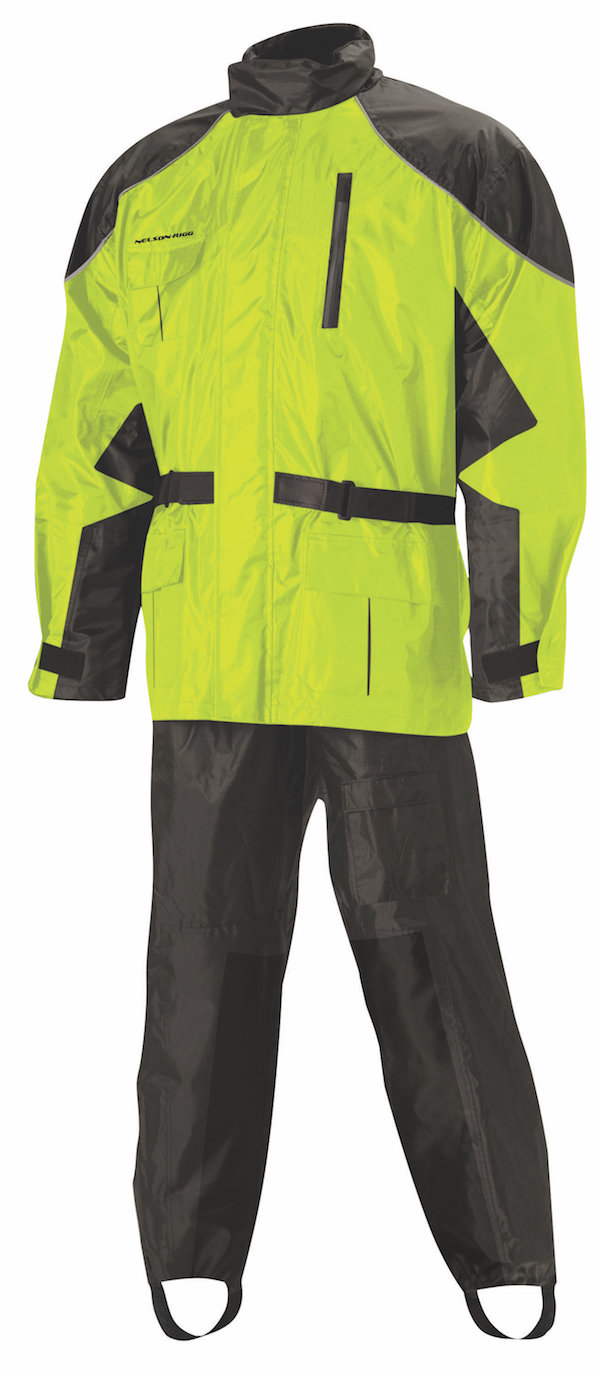 It comes in black, or black with a hi-vis yellow jacket from small to XL with a two-year warranty.
What is the best rain suit you have worn? Leave your comments below.