The Army veteran at the centre of a controversy in which police allegedly harassed participants in a charity ride has rejected a police response to his formal complaint and plans to sue for assault.
"Magic", 58, of Brisbane, of the Veterans Motorcycle Club of Australia, Brisbane Chapter, says he was assaulted by Senior Constable Murphy of the NSW Police Strike Force Raptor.
This video shows the moment the 58-year-old Army veteran is pushed by the officer.
The 26th annual Good as Gold ride last Saturday (March 3, 2018) was organised by the Hells Angels Brisbane Chapter.
Of the 97 participants, the only member of a declared "outlaw motorcycle gang" (OMCG) was one Hells Angel member who organised the event. Others were club and non-club members, including Magic who asked for his full name to be withheld for fear of police intimidation.
Ride organiser and Hells Angels MC Brisbane Chapter member Jeff Ehlers claims Magic's allegation is one of three assaults and many other incidents of harassment during the aborted ride.
Click here to read more harassment claims. Click there to read about the resultant charges.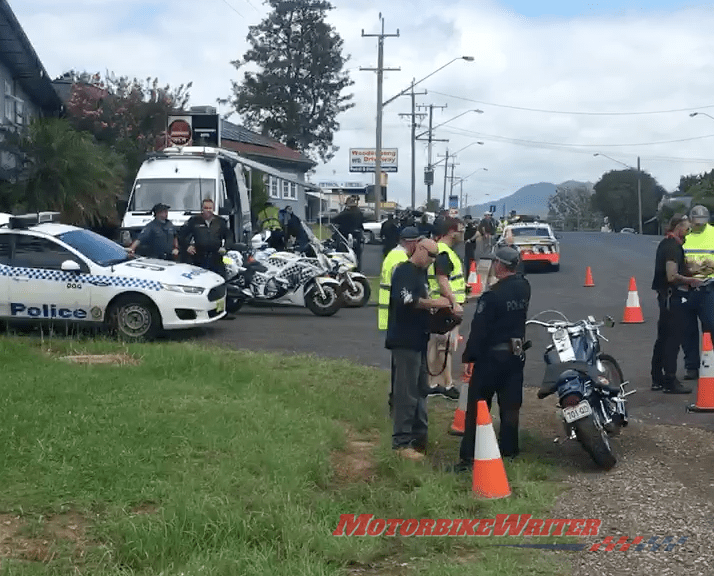 Assault claim
Despite the alleged heavy handed policing, Magic was only given a defect notice on his motorcycle.
"I was red-stickered because they said my handle bars were too high, which is bullshit," he says.
"Also, part of the letter Q was touching the number plate surround. Again, it never stops GoVia or the police sending me stuff."
He says the alleged assault occurred after his 2013 Harley-Davidson Street Bob was checked and he was asked to move the bike.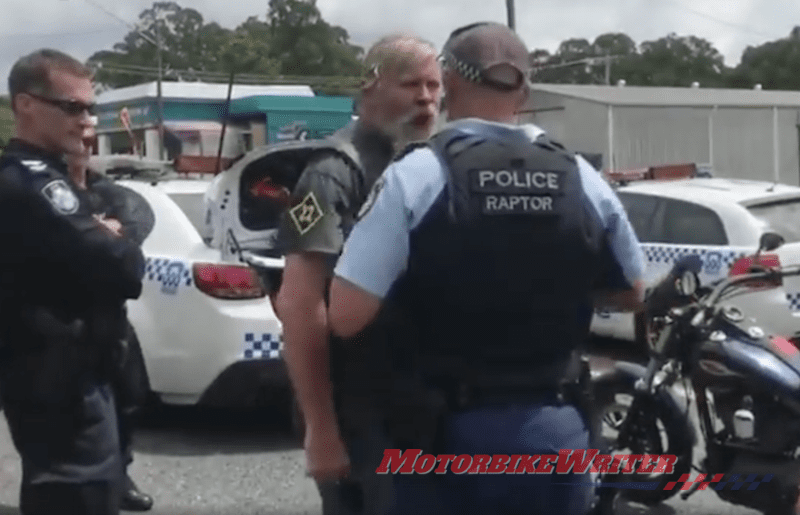 "I asked where they wanted me to move it and they became aggressive and belligerent," Magic says.
"I said 'You will not disrespect me' and that's when I was shoved and he moved in on me in a threatening manner.
"I usually find police very courteous and have never been hassled before, but this was a whole different breed. They were like the Brown Shirts in Nazi Germany.
"This operation was just to intimidate the motorcycle community into not riding with any 1%ers."
Magic claims two other riders were also assaulted by police and says they are now considering their legal options.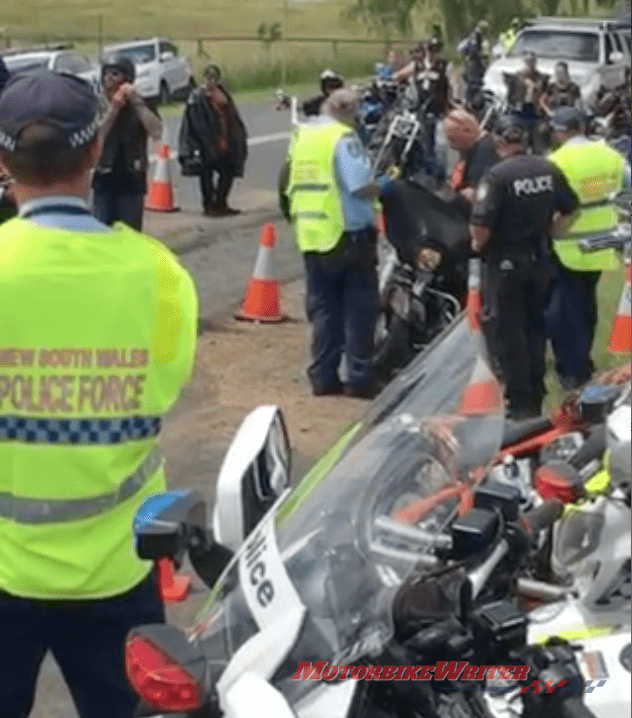 "We're getting all the information together and will either target individual officers, the NSW Police or NSW Police Commissioner who ordered the operation and possibly Queensland Police," he says.
Michael made a formal complaint to police about the alleged unlawful assault and received the following response from NSW Police Force Professional Standards Unit Detective Sergeant T. Chalkias:
I have viewed related footage and note the SO responded with a single approved check drill in accordance with his training after you positioned yourself in such a manner that an officer could reasonably believe posed a threat to his safety. I appreciate that you may have done so inadvertently during your interaction with the Senior Constable. However, as you would understand as a former ADF member, officer safety is taken very seriously.

I am satisfied the subject office Senior Constable Murphy acted appropriately in dealing with this matter. Further, I am of the view Officers were acting in accordance with their duties and within Police guidelines in accordance with Section 132 of the Police Set 1990. I now intend to close this matter. Whilst I understand you may be disappointed with this decision, I hope you may appreciate the reasons for the determination.
Magic says their definition of the incident is "unacceptable".
"They're saying police can shove you at any time," he says.
Combined police operation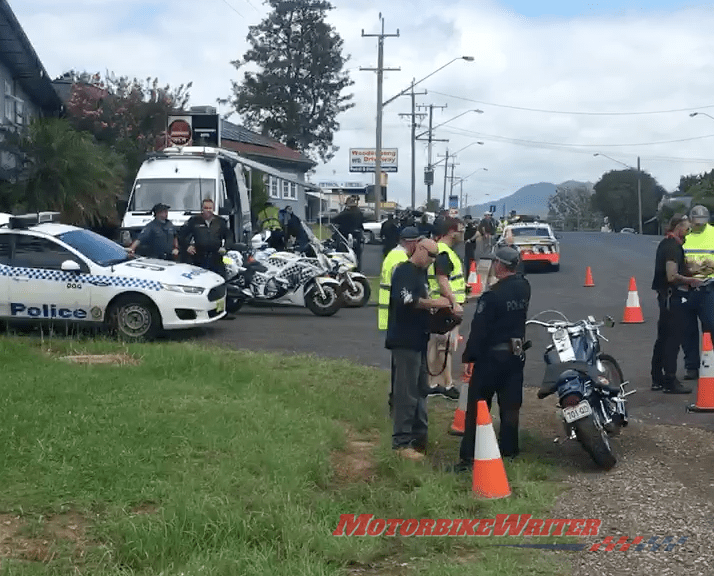 The operation comprised almost 50 officers from Queensland Police Task Force Maxima, Nsw Police Strike Force Raptor, National Anti-Gangs Squad, NSW Traffic and Highway Patrol and Tweed/Byron and Richmond Police Districts.
Detective Chief Inspector Brendon Cullen, Crime Manager for Tweed/Byron Local Area Command said the joint operation was aimed to disrupt any potential criminal activity on the cross-border run.
He issued the following statement:
The NSW Police Force will remain vigilant when it comes to the behaviour and activities of Outlaw Motorcycle Gangs, particularly when the safety of the community is at risk. Illegal activity will not be tolerated, and we will continue to work with our partner agencies when necessary to target all levels of criminal activity.

These guys aren't just misunderstood blokes who like to ride bikes together and raise money for charity. They're often involved in serious criminal activity. Any time OMCGs (Outlaw Motorcycle Gangs) conduct these runs across the border they can expect this sort of reception.
Jeff says "a lot of taxpayers' money was spent and wasted for some very very minor offences".
"It was total abuse of police powers and responsibilities," he says. 
Preparations are under way for a legal challenge and Magic has asked for anyone who witnessed what they believe is unacceptable behaviour from police in relation to the Good As Gold Charity Ride to send an email with contact details to Chris Main of Alibi Legal or Magic at Biker Events Calendar.
"This means any driving behaviour which you felt put your safety at risk, instances of deliberate obstruction, cases of offensive language, etc," Magic says.