Arboreal Systems Neutrino Motorcycle Power Distribution System Image Gallery
Part 3: Conclusion
It is truly early days for the Arboreal Systems Neutrino.
But in using two of them on two different motorcycles the issues have been truly minor in nature and all resolved locally or through interaction with the manufacturer.
Vibration and strain is a minor issue resolved by adding Posi-Twist connectors to pair up ground wires.
This is an issue that can arise when needing to connect six individual ground leads to three ground terminals.
Vibration issues can also be resolved by dribbling small drops of medium thread locking compound down around each of the connection strip screws on the Neutrino and finally, better securing the wire runs with hook-and-loop strips.
Regarding ground plane connections, everyone has a differing opinion on what is the best solution.
But real-world design constraints must be appreciated and this is how I categorize the presence of just three ground connections on the Neutrino.
Utilizing Posi-Twist connectors and/or small multi-connector buss strips provide simple and tidy workarounds.
The smartphone app seems to get more responsive and faster with each update.
Even after my iPhone 4S took it upon itself to install iOS 8, no shortcomings or control issues were observed.
In providing this feedback to Arboreal Systems, they were a bit surprised, but happy that the app transitioned so well.
A small scaling issue with the voltage and temperature displays appeared in an early beta release but after making this observation, the glitch was exorcised out with an update to the beta app being run at the time.
The latest v1.03 app is optimized for iOS 8 and the new 6/6+ phones.
As an early adopter, subsequent interaction with Arboreal Systems resulted in updated firmware modules being offered in exchange for the earlier units.
And in having progressed from the original (v1.40) build to the current v1.64 firmware each subsequent build showed the positive progression that one always hopes for.
In purposefully trying to confuse the controller, I turned on both motorcycles, the iPhone Bluetooth and then launched the Neutrino Cockpit app.
Result: no confusion per se, just execution of the well-known "last-in, first-out" connection protocol, with the last Neutrino module being connected first…and when system is powered off, connection to the other one is made almost instantly.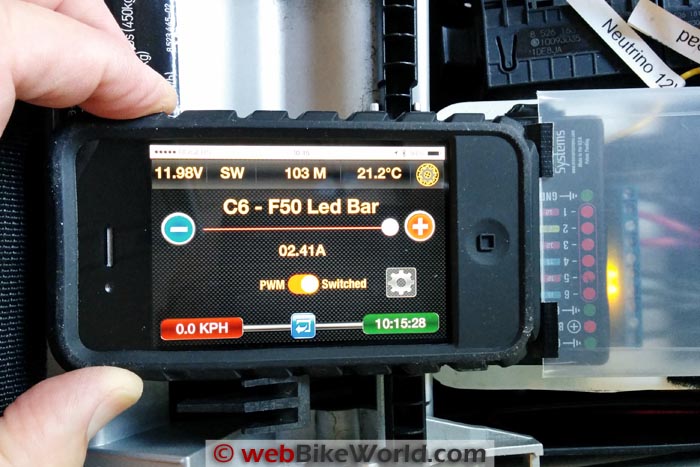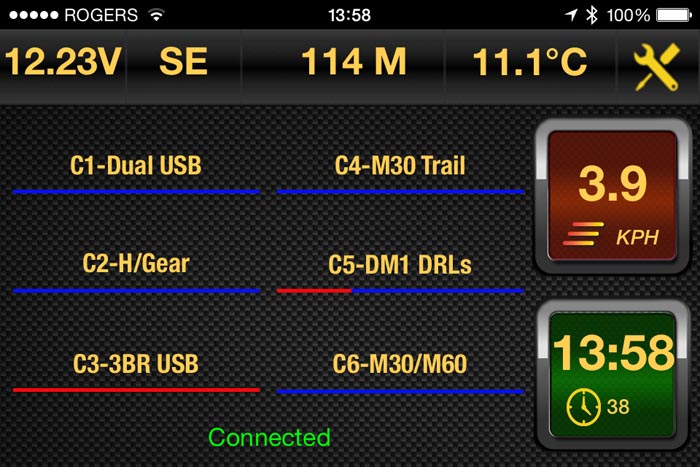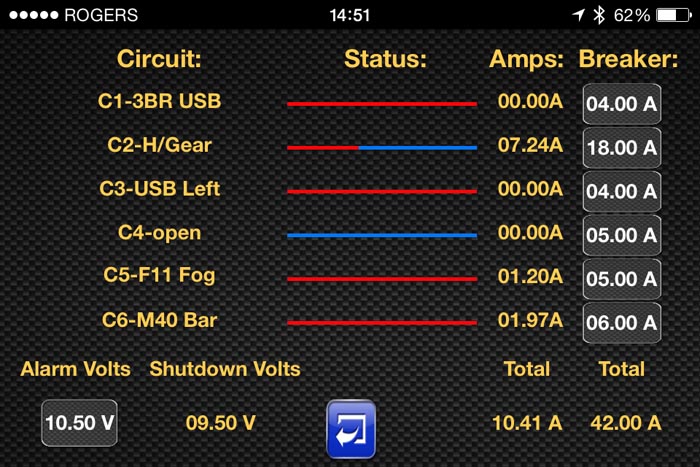 Conclusion
I have not regretted buying two of the first Neutrino units available; quite the opposite, in fact.
The decision to jump in and make the leap ahead has been a very positive experience.
Being able to assist in troubleshooting issues, as done with other new products, just helps improve the ownership experience, at least for me.
With a smartphone of some sort already a constant companion on rides and used for all the things they do so well, being able to manage the Neutrino system from the smartphone adds yet more justification, and value, in using one.
And yes, the system can be used without the constant presence of a smartphone. Pre-programming or configuration as a stand-alone system (without the smartphone along for the ride or perhaps tucked away) works just fine.
Accordingly, no matter if interaction with the Neutrino is limited or ongoing it is hard to ignore just how simple, efficient, effective and flexible the system really is; with all its capability delivered courtesy of one small module and a simple app on a smartphone — this is good.
And like the Dispatch 1, each Neutrino module maintains its own settings so one smartphone with app can manage multiple Neutrino systems on different platforms, albeit one at a time….perhaps this will change down the road.
And speaking of the road ahead, Arboreal Systems deems the current firmware build to be a good one.
So their immediate focus is now on refining and adding subtle enhancements via the controlling app including a possible ambient temperature sensor switching setting — you know, somewhat related to winter, cold and heated gear things.
Also on the table (mine at least) is something that many of us see as another highly desirable capability: the ability to get firmware updates via a downloadable file…only time and (demand) will tell.
And next on my wish list is the ability to manage Neutrino via voice commands…
Power distribution systems oriented for motorcycle applications have proliferated and evolved a great deal.
And while one or two other competitive systems offer some software-based configuration ability, the Neutrino — like the Dispatch 1 before it — takes everything related to a higher level.
The Neutrino is well priced, especially considering its competition and its current capabilities, making it a smart investment…even if one has to purchase a smartphone!
NEW! The Arboreal Systems Neutrino is a 2014 webBikeWorld Motorcycle Product of the Year!
w

BW

 Review: Arboreal Systems Neutrino
List Price (2015): $299.00
Review Date: November 2014
Note:
 For informational use only. All material and photographs are Copyright © webWorld International, LLC since 2000. All rights reserved. See the webBikeWorld® 
Site Info page
. Product specifications, features and details may change or differ from our descriptions. Always check before purchasing. Read the
Terms and Conditions
!
Owner Comments and Feedback
---
From "K.H." (December 2014): "I've had a Neutrino since October and as per your review, it really has been great.
In my case its being used for powering accessories on a dual sport build of a Husqvarna TE630 enduro.
And unsurprisingly, the physical dimensions, number of connection points and overall power scheme flexibility (selectable PWM/switched 12v per circuit for the win!) were the determining factors in why I chose it for my build.
I do have some criticisms though, and my two major ones are that the unit:
Should have an equal number of grounding points compared to +12v supplies.
Lacks a main inline fuse on the 12v (battery connected) supply wire leading to the Neutrino (This should have an inline fuse very close to the battery in my view — just in case the main feed wire's insulation is worn down and starts shorting to ground.
Depending on the space on the bike the 'on terminal' fuse block (Blue Sea Systems 5191 fuse block terminal) might be an ideal option.
Going back to the first issue though, in my view the unit should do be shipped either with:
A thick wire gauge (12 or 14 AWG or so, depending on length) main line connecting a remote negative bus bar back to Neutrino, thus using the Neutrinos single return line to the battery ground as the earth; or
Integrating a negative bus bar into the Neutrino so there is an equal number of grounds to 12v supplies on the unit, and the Neutrino's main return line to the battery is used for all circuits.
The issue of sorting out ground connections aside (I refuse to use chassis grounds, they just equal long term gremlins!), the unit is excellent.
There are ways around the current earth issue: chassis grounds (the horror!) or soldering/Posi-Tapping multiple negative lines to a single ground wire connected to one of the ground points on the Neutrino etc.
Oh, just as FYI I ended up using one of these Narva Plastic Automatic units to fuse the main line from the battery to the Neutrino. It only does 50A but that was enough for my needs and it's relatively compact and rests automatically.
It also provided a nice way of extending the Neutrino's ring terminated main 12v line without having to cut and solder (I mounted the Neutrino at the very front of the bike, up near the headlight housing).
If you look around you can get nice little pre shaped rubber covers for these as well (not weather/waterproof — just for insulating purposes).
One last note: Be aware the Android App requires android 4.4 or newer. This will bite anyone (like me) that uses an international (i.e. not US) variant of the Samsung Galaxy S3 which will never be upgraded to 4.4 according to Samsung."
---
From "P.L." (November 2014): "Thanks for good review on the Neutrino, I want to get one. But, wondering how do you connect the hot wire (switched third wire) that triggers horn, lights, etc.?
For my lights, the hot switch wire goes into relay, triggers relay when high beams turned on.
If you don't need relay with Neutrino (built into it) then where do you attach the hot wire from the high beam that tells it to switch the lights on?"
H.B.C.'s Reply: Your question wasn't altogether unexpected. So without getting any other specifics from you, my response is based on the information provided.
For starters, Neutrino can't provide a solution directly, at least not yet, although it can of course provide the necessary power.
And just to clarify, the third (yellow) lead from the Neutrino module provides the 12V DC switched 'trigger' needed to activate Neutrino. This wire cannot be used for any other purpose.
So back to your question: There are varying solutions to your requirement, with two relatively simple ones identified below.
Either of these should address your requirement to have the (auxiliary lights or whatever) triggered with the high beam:
1. Use or continue to use a small four connector relay to act as the 'trigger' to turn the auxiliary lights or whatever on whenever high beam is activated (a small sample diagram is attached to show this possible solution).
The Neutrino or another switched/fused source still provides the main power, with the tap from the high beam lead triggering the relay to switch the auxiliary lights on at the same time.
This basic configuration will not provide continuous power to the auxiliary lights unless a separate switch is added.
2. Another popular and simpler alternative is to use a small dimmer control. Basic dimmers have two wires in: positive and negative, both of which can come from the Neutrino; and three wires out: the red (or white) and black leads will be for the auxiliary lights while the third lead is the tap into the high beam lead.
---
From "A" (November 2014): "I noted that in every photo, the user is bare handed and not wearing gloves as one normally would when riding a motorcycle.
So how does one switch a set of driving lights on and off while riding with gloves on?
I know my Samsung smartphone does not react to any screen inputs when wearing my Held gloves.
And you can't pull off to the side of the road to take your gloves off to turn your driving lights out for oncoming traffic…not practical.
The manufacturer conveniently states that it does away with the clutter of wiring, switches, etc. That is certainly not the case since you still need wiring and in the case I just provided, a switch to activate your driving lights.
And that is one example of many. Did you mention that in your review?"
H.B.C.'s Reply:
"I noted that in every photo, the user is bare handed and not wearing gloves as one normally would when riding a motorcycle. So how does one switch a set of driving lights on and off while riding with gloves on?"
The photos for the most part, due to safety issues, are done while stopped — garage or outside. I, like other wBW evaluators, are pretty much ATGATT riders, including gloves.
As detailed in the article, the Neutrino is configured and managed/controlled through user interaction with the smartphone app.
So yes, interactive input with even the best touch-sensitive screens is or can be anywhere from viable to frustrating to impossible.
Newer devices can actually work relatively well with lighter gloves or touch-smart gloves.
Medium- to heavy-weight gloves however, if not specifically designed for touch activities, require add-on finger tip or paint-on products of some type.
The 'touch' issue was mentioned in the article, although perhaps not to the degree it should have been — there is a presumption made that smartphone users who ride will be more than familiar with this issue. No excuse, just a statement of fact.
And except for some of the newest screens (with or without Gorilla glass), the next best screen I have used is the Nexus 7, although heavyweight gloves don't provide much tactile input.
The beta Android app, although not yet fully functional, can be manipulated to the extent possible on the Nexus 7 screen with my usual winter gloves — but this is my own situation.
This very real input issue is not likely to be addressed in whole by the device industry, so we can only hope that more accessory product manufacturers will step up to the plate in marketing a larger and easily accessible line of touch-friendly products.
"The manufacturer conveniently states that it does away with the clutter of wiring, switches, etc. That is certainly not the case since you still need wiring and in the case I just provided, a switch to activate your driving lights. And that is one example of many."
We still haven't moved beyond the need for most wiring, that is acknowledged. But the Neutrino, depending on the motorcycle and configuration desired will do away with much of the typical wiring needed with bulky harnesses, relays and switches.
As discovered when doing the Dispatch 1 installations, the Neutrino, again depending on requirements, can probably reduce wiring and components needed by at least 50 to 75 percent or more. But no, it doesn't 'do away' completely.
In scenarios where an accessory –say a set of auxiliary lights that the users wants to have switched with the high beam — then the Neutrino can provide the power to a small relay for high beam control as desired.
Even with another small component perhaps needed, power can still be supplied and controlled via the Neutrino by the user; my Circuit 6 configuration does require a small solid state dimmer, but this is the only accessory needing anything else.
A typical example of what can done is the current configuration on my 2014 BMW F800GS Adventure, the full detail of which wasn't provided in the article:
Circuit 1: Burns Moto dual-outlet USB port, wired directly to the Neutrino.
Circuit 2: Coaxial connector outlet for heated gear, wired directly to the Neutrino, 20A setting allows multiple gear to be interconnected and managed via the Neutrino or separate controller.
Circuit 3: 3BR 2.1A USB outlet, wired directly to the Neutrino.
Circuit 4: ADVmonster M30 LED, Spot Beam, left fork for trail use, wired directly to Neutrino.
Circuit 5: Denali DM1 DRLs, wired directly to Neutrino.
Circuit 6: ADVmonster M30 Spot/M60 Wide, wired to ADVmonster dimmer to provide Hi-Beam switching, power and circuit control from Neutrino.
Except for Circuit 6, which is a special configuration for test purposes, everything else is managed by the Neutrino app.
Acknowledging that interaction while on the move can be or is difficult, I pre-set as much as possible — setting the DM1 LEDs to the desired output for continued DRL use, the USB circuits activated so they can be used anytime — all of this was identified in my review.
The configuration powered by Circuit 6 is representative of a requirement identified by other users: power and high beam switch control of auxiliary lights.
So for an ongoing test, I do have one additional device installed, a small ADVmonster Rotary LED Dimmer with Hi-Beam bypass.
This small solid state device is powered from Circuit 6 of the Neutrino, but with the M30/M60 LED combination set up as my high-output auxiliary lighting, the rotary on the Dimmer allows me to directly control output even with heavyweight gloves.