Now is a good time to grab a few Aprilia and Moto Guzzi bargains from Australian importer John Sample Group which has released its new retail price list effective from the start of this month. It includes a discontinued model and some old plated stock which are offered at attractive discount prices.
The 2013 Aprilia Dorsoduro 750 ABS, which is being phased out for Australia, is a bargain at the moment with the price down $1700 to $11,990.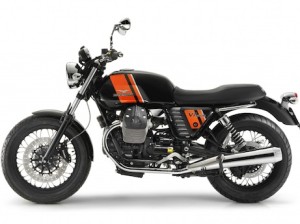 Buying a 2013 Moto Guzzi V7 Special will cost just $12,990 which will save you $1300 and beats the $500 price rise for the 2014 model. The 2014 V7s get a new, wet flywheel to replace the dry alternator which slightly modifies the front of the 90-degree V-twin. They also gets some new colours and trim.
Similarly, a 2012 Stelvio V8 NTX ABS has been discounted $1000 to $19,990 before a $2400 price rise for the much-improved new models. The 2014 Stelvio gets a more aerodynamic shape for less buffeting, engine crash bars, larger fuel tank, more rider comfort, and a quieter, smoother and powerful engine. They also feature a new dashboard with more information, a 12V power outlet and traction control as standard.
While most Aprilia motorcycle prices remain the same, some have risen between $700 and $1000, while some Aprilia scooters are up between $140 and $800 and Moto Guzzi prices on some models have increased between $500 and $2400.
JSA boss Kris Matich says they have not had a price rise for Aprilia and Moto Guzzi for more than five years. " We put through a very small increase in December and now again in March which is based upon increased costs from the factory and the sliding Australian dollar.  When combined these two elements meant that we simply could not hold or absorb these increases any longer and therefore had to put through these price increases," he says.
2013 Motor Guzzi retail prices
V7 Special (red/white) $12,990
V7 Racer SE (chrome) $16,490
Sport 1200 4V SE ABS (red corsa) $19,990
2014 Moto Guzzi
V7 Stone, (black, red), $13,990
V7 Special (black/orange, silver/black) $14,790
Griso 1200 8V SE (black devil) $21,990
Stelvio 1200 8V NTX ABS (matt black) $19,990
Stelvio 1200 8V NTX ABS (tenni green) $23,390
California Custom ABS (black, grey) $23,490
California Touring ABS (black, white) $26,490
2013 Aprilia Motorcycles
Dorsoduro 750 ABS (black, white) $11,990
SRV 850 ATC ABS (black, white) $14,990
Dorsoduro 1200 ATC/ABS (red, white) $16,990
2014 Aprilia Motorcycles
Shiver Sport 750 ABS (black, white) $13,990
Caponord ATC/ABS (red, grey, black) $23,390
Tuono V4 R APRC ABS (black, white) $21,990
RSV4 R APRC ABS (matt black, red) $23,490
RSV4 Factory APRC ABS (matt black) $29,990
2013 Aprilia Scooters
SR Max 300 (red, white) $6490
SRV 850 ATC ABS (black, white) $14,990
2014 Aprilia Scooters
SR50R Carb (black, white, SBK replica) $3990
SR MT 50 2T (black, white, orange) $2450
SR MT 125 4T (black, white) $3290
Scarabeo 200 i.e. (black, white, blue) $4990
SR Max 300 (red, white) $7290