Queensland riders have expressed dissatisfaction with the 50km limit on travel from tomorrow (2 May 2020), as an anomaly has surfaced with boaties given free rein.
Under the new rule, boaties can tow their boat to a 50km radius from home and then put their boat in the water and travel as far as they like … "within reason", whatever that means.
Similarly, the anomaly extends to cyclists who can take their bike 50km from home and then go cycling.
So presumably motorcyclists can trailer their bike to an off-road park 50km from home and go riding.
However, you won't be able to trailer your road bike 50km and then ride further as you would be more than 50km from home.
It's yet another strange anomaly that has surfaced as the travel restrictions are hastily drafted and amended.
Rule anomaly
It seems strange that we should be thankful we are allowed to exercise our basic right to go where we want.
But worrying about a rule anomaly won't get us any more leeway on travel.
Of more concern is that some riders this weekend may not act responsibly.
If there is a resultant spike in infections in the next two weeks, restrictions could tighten again.
Remember how Sydney beaches opened up last week only to be quickly closed again when they became crowded.
So, if you stop for coffee or fuel, maintain social distance.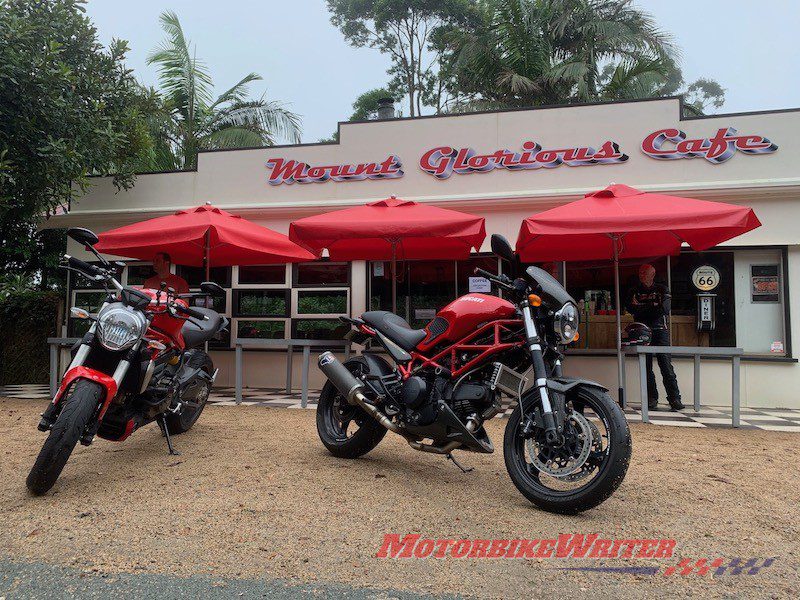 Also, consider alternatives to the usual routes which could become quite crowded.
Riders should also carry disposable gloves to use at the bowser, hand sanitiser and a credit card rather than cash.
You can expect a large police presence on the roads this weekend and remember that random speed cameras are back in use.
50km limit
The 50km limit is fairly restrictive and for some country riders it may not get you to the next town. 
For some Brisbane riders, that would mean they would get to Mt Glorious before having to turn back.
Gold Coast riders would get to Beechmont for a coffee before turning around while Sunshine Coast riders would be able to explore the Blackall Ranges.
Of course, you still can't cross the border and come back without a special permit and 14 days of isolation!
For a rough guide to a 50km radius from your house, click here.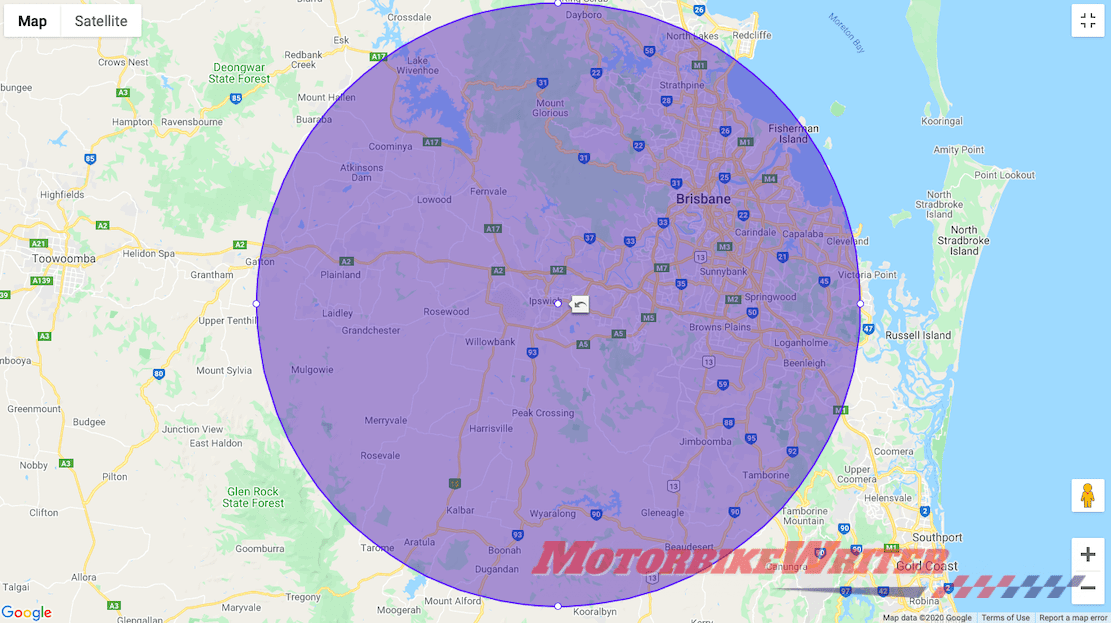 Queensland Health and police confirm we can ride with a pillion, or with one other rider or several members of the same household.
Adventure riders will also be allowed to ride through some national parks so long as they are within 50km of home.
Flagrant breaches
State Disaster Co-ordinator Steve Gollschewski says police will "assist people to understand the new rules but will still enforce flagrant breaches".
"Police will be understanding but this isn't an invitation for people to undo everyone's hard work," he says.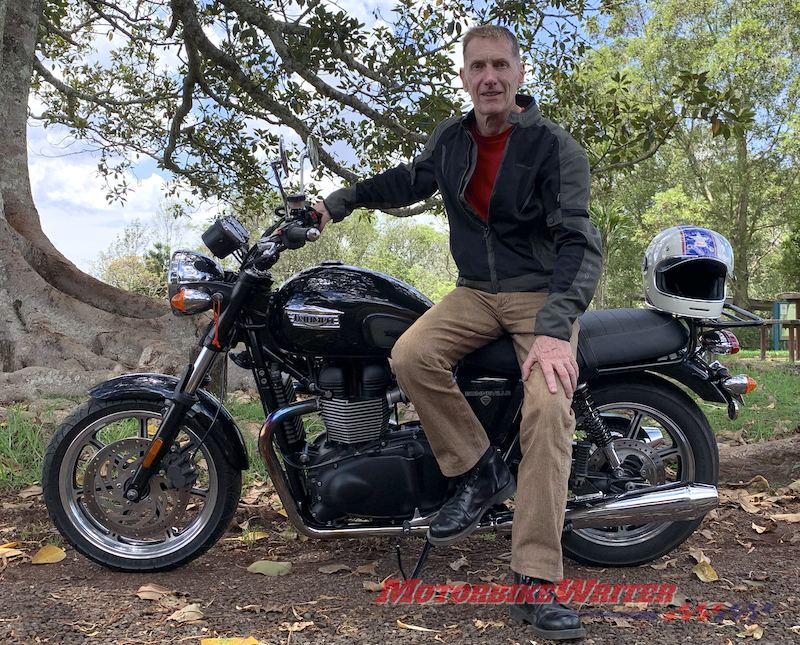 RACQ safety officer and Triumph Bonneville rider Steve Spalding has welcomed the move.
"It's a good start," says Steve who is hoping to get away for a three-day ride in June if restrictions are further eased.
"At least it will give riders the opportunity to get some fresh air and ride for enjoyment."
However, he warns that if your bike has been parked or stored since mid-March, you should check it before heading out.
"Riders can make sure their bike is ready by checking basic safety and maintenance items such as tyre pressures, chain adjustment, oil level and that all controls operate smoothly," he says.
"Always check tyre pressures when the tyres are cold and follow manufacturer's recommendations on pressure, while the air available in servos is convenient, buying a reliable pressure gauge is a worthwhile investment and will give piece of mind that you are setting the tyres at the correct pressure.
"Similarly with engine oil, check it's level according the manufacturer's recommended procedure, which is also usually when the engine is cold. You might need to call on the help of another person if the bike needs to be kept upright and doesn't have a centre stand.
"Basic checks such as making sure the brakes and clutch are working smoothly and not grabbing or sticking are essential to safe operation and should be part of any preparation before riding."
Further easing?
Further loosening of travel restrictions will be subject to flattening the curve and that may only happen if motorists obey these eased restrictions.
There is no change yet in other states, but we will keep an eye on developments.
Easing of restrictions in Victoria may depend on how well Queensland goes.
In Tasmania you can visit a family member and in the ACT you can visit anyone so long as there are not more than two of you visiting at the one time.
ACT Police are not yet issuing COVID-19 infringement notices as they are prioritising public education over coercive sanctions.
In South Australia and Northern Territory there are no fines for leaving the house for non-essential reasons, however unnecessary socialisation is discouraged.
West Australian riders can ride within nine zones, but not cross from one to the other.
Official sites
These are the official rules for your state or territory: