After reopening in 2018, famous Australian motorcycle stand business Anderson Stands has been struggling to keep up with the strong demand from customers.
New owner Michael Jeffery has replied to several of our readers who have expressed concern that they cannot contact the company and feared they had gone out of business again.
"We are still in business and the business of Anderson Stands is growing from its new start up quicker than I have been able to keep up with," says Michael, a passionate Sydney-based motorcycle racer.
The mechanical engineer, fitter, machinist, best multiprocess welder and fabricator bought Anderson Stands more than a year ago after founder Chris Anderson decided to wind up the business.
Michael says he wanted to keep alive the iconic Australian brand and its quality product line.
"These are a quality made stands and a staple in the Australian marketplace," he told us.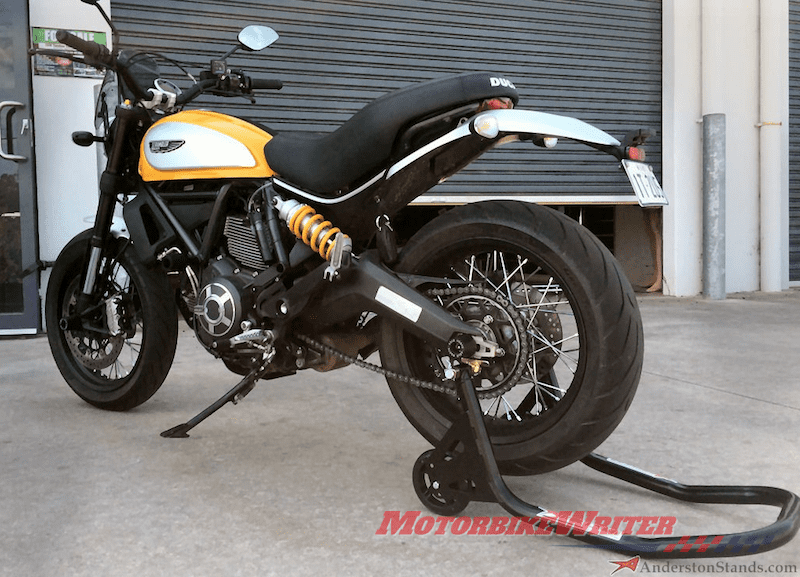 Struggling to keep up
However, it has been hard work and the company is struggling to keep up with the flood of orders.
"The unfortunate result of this is we have not yet been able to get ahead in our manufacturing and the stands are selling quicker than we can produce them," Michael says.
"The fallout from this is we have been unable to engage with every customer enquiry as we look to find the balance between the manufacturing and our customer service.
"Please let people know that we are working day and night to get ahead and re-establish Anderson Stands back into the motorcycle market place.
"I had intended to re-establish Anderson Stands initially with a low profile so that I could get some products into productions.
"The unfortunate result has been our low profile has only generated more interest towards Anderson Stands and everyone is chasing to have one."
Anderson Stands
Bright red powder-coated Anderson Stands have been used by road riders, professional racers and race teams for more than 30 years.
They have an enviable reputation for quality and performance.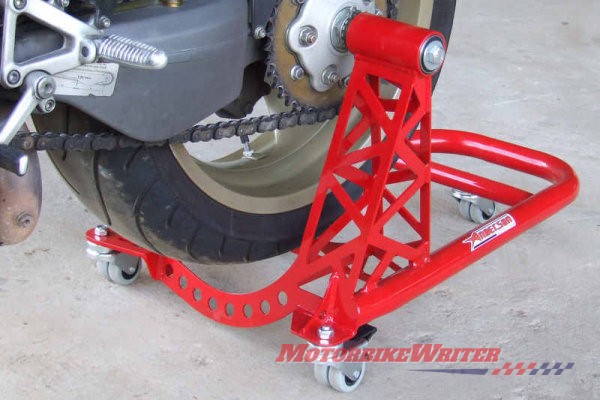 The original stands claim several firsts: adjustable width and interchangeable attachments; Big Wheel design; height adjustment; Castor stands (dubbed the Spacesavers); and a front Under Fork stand.
"They are Australian made with Australian steel and Australian quality and manufactured right here in Sydney," Michael told us last year when the company relaunched.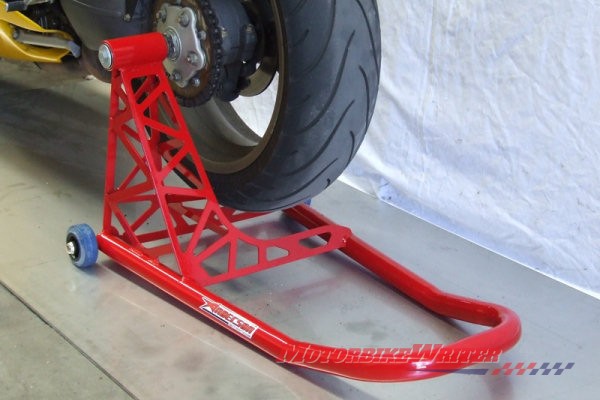 "Chris designed, fabricated and manufactured these stands to be functional and lifelong, with no compromises and we will continue to manufacture Anderson Stands true to these values.
"We are not going to compete against the Chinese market, we do not build Flat-Pack stands."
All their stands are fully seam-welded and powered-coated.
Click here to see their product list and prices.
And please be patient!