American Made Boots Review Summary
American Made Boots Image Gallery
These Thorogood American Heritage Signature series hiking boots are not motorcycle boots.
They are, however, extremely comfortable, with soft "broken-in" leather and a cushy sole.
The surprise is that they are also Union-made in the U.S.A.
I frequently get emails from webBikeWorld visitors asking if I know of any motorcycle gear that is made in the U.S.A.
Without delving too deeply into the politics of the situation, I can say that it's always nice to buy a product that has been made by your fellow citizens — no matter which country you call home.
But for much of the industrialized world, that's not an easy task, what with the overall drive towards globalization and outsourcing during the last 50 years or so.
Actually, there are quite a few motorcycle-related products that are still made in the U.S.A.
Those include items like the Happy Trails Imnaha panniers (review) I installed on the DR650 and the Roadgear Sport Touring Tool Pouch (review) (and other Roadgear luggage).
Also, the very waterproof Treds Motorcycle Rain Boots (review).
There are many more, of course, including Victory and Harley-Davidson motorcycles.
If you've never visited a manufacturing plant (and, unfortunately, too many people have not), then I can highly recommend visiting the Harley plant in York, Pennsylvania.
They put on a great tour and I've taken groups of "civilians" through there many times and always get the same looks of amazement afterwards.
Most people seem to think a manufacturing plant is a greasy hellhole, filled with Neanderthal-looking workers.
But just the opposite is true.
In fact, successful modern manufacturing facilities today are run by highly trained, highly skilled employees using the latest in high-tech computer-controlled equipment.
My background is in manufacturing, and I spent 20 years visiting every state in the U.S. — multiple times — helping to teach small manufacturers about new and advanced technologies, strategies and techniques.
I've been in more manufacturing plants than you can count, and I've seen them all, from coffin to candy makers.
Thus, I have a natural soft-spot for the "Made in the U.S.A." label. So when it came time for new boots, I wanted to see if I could find an American-made pair that met my needs at a reasonable cost, and this is my story.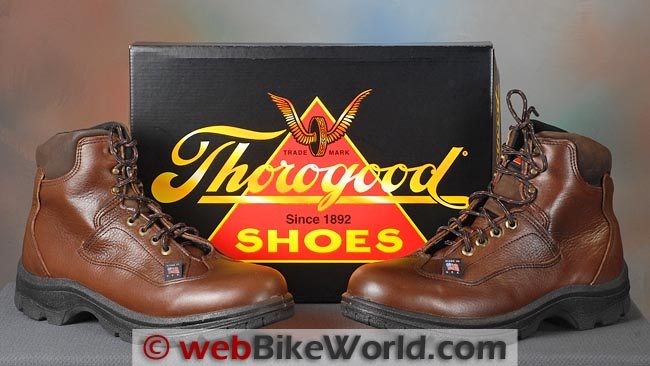 Buying American Made Boots
My continual visits to manufacturing facilities gave me a habit of wearing steel-toed work boots from dawn to dusk, no matter what's on the schedule. I've even worn them with a three-piece business suit!
But, I never thought much about where the boots came from, as they were either supplied by or purchased through my employer as part of the safety equipment needed for the job.
Now that I'm involved only in running webBikeWorld, I was looking for a new pair, but without the steel.
And since many motorcyclists do not wear motorcycle-specific boots, either because they don't like the styling or they need a pair that can be worn to work, I thought I'd jot down some thoughts for this review.
I had a vague notion that there were still some work boots made in the U.S.A., and I discovered quite a few different brands that are indeed made here.
I also discovered that when you're looking for a "Made in the U.S.A." product, you have to be careful.
Competition being what it is, many of the boot manufacturers will supplement their product line with imported boots which can be sold at lower prices, while their American-made choices may be limited.
Also, it sometimes takes a bit of investigative work to determine if the boots are "made in" or "assembled in" the U.S.A., and this information can be difficult to find.
To the rescue are the boot retailers who specialize in American-made products.
They carry products made by the manufacturers who are still making boots in the U.S.A. include a few familiar names like Carolina, Chippewa, Justin and Wolverine.
There are others, including a few custom boot makers, along with some specialty boot manufacturers like Corcoran and Matterhorn, who make a brutal-looking "Tiger Toe" boot type designed for miners and boots for the military and police.
Or Belleville, who makes most of the boots for the U.S. military and whose products are also available to civilians.
And, while we're at it, how about some kudos to Knapp, now known as KB Footwear?
A long time ago, in another life that involved extracting calcium-enriched liquids twice a day from various species of Bos taurus, I wore the famous Knapp 6″ farmer boots, purchased through local Knapp "Counselor" representatives.
The company has gone through a few iterations but they are now employee-owned and they have brought some of the production back to the U.S.A. once once again (more about "inshoring" inthis Atlantic magazine article).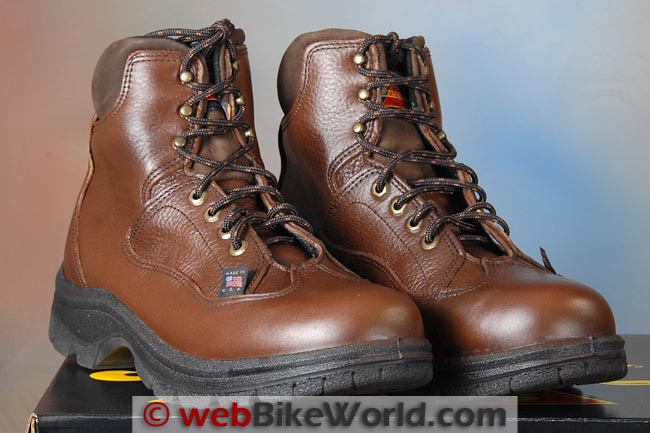 Thorogood American Made Work Boots
Which brings us to Thorogood… It's not always easy to untangle the relationships among shoe and boot companies, because the businesses seem to trade hands at a pretty good clip.
It's no different for Thorogood, which is one of the brands owned by the Weinbrenner Shoe Company, who claims to have been making shoes and boots since 1892.
Not all of the Thorogood boots are made in the U.S.A, so you have to be careful about what you buy (here's a list of their American made boots).
The Thorogood "American Heritage" series of boots, however, are not only made in the U.S.A. (Wisconsin), they're made by a Union shop (UFCW Locals 688 and 717).
That was enough for me — as a Union member myself (National Writers Union Local 1981, UAW AFL-CIO), I was sold! And besides — the boots looked pretty good too!
I decided on a pair of the Thorogood "American Heritage Signature Series".
These are the "SoftStreets", a 6″ Sport Hiker (style 814-4960, without the steel toe). These are not motorcycle-specific boots, but I'll admit that I often wear "work" boots when riding a motorcycle to a destination where I'll have to walk any distance.
Let's face it — most motorcycle boots are simply not designed for walking, so I'll occasionally forgo the added ankle protection to wear a pair of comfortable boots when necessary.
I'm not sure why these are called "hiking" boots, although the line between hiking boots and work boots is usually pretty fuzzy.
Perhaps the softer leather and the fact that these are one of the few American made Thorogood boots without steel toes makes them "hiking" rather than "work" boots.
All I can say is that I have worn these for couple-mile walks with the dog, on both blacktop and backwoods trails.
I have also been wearing them in the garage and for the daily runaround, and they perform admirably for both tasks.
I ordered my Thorogood boots through the Union Boot Pro, who carry a variety of American made boots of all types for men and women. They have a wide variety of sizes in several widths, and they'll even take custom orders.
I used the Union Boot Pro as my retailer because they offer a discount to Union members, which amounts to a hefty 27% off the list price (the current sale price one these is $138.95).
I paid a total of $121.91, an excellent bargain for a high-quality, American-made work boot.
Sizing Your Work Boots
It can be a bit tricky to order boots or shoes online, sight unseen.
But I followed the Union Boot Pro boot sizing guidelines and I downloaded and printed their handy foot sizing template to check my foot measurements.
It confirmed what I thought — I take a size 10.5 US in a medium width, so that's what I ordered.
Bottom line? It worked perfectly. The boots arrived soon after and — drum roll — they fit perfectly!
They have just a touch of room to accommodate a pair of heavier type hiking socks (after all, these are "hiking" boots) and they are exactly the right length and width with enough room for movement and the normal foot size variances that occur during the course of the day.
The boots have plenty of room in the toes, both for width and length. The soles have a slight cushy feel with excellent shock absorption, and the footbed inserts add to the comfort.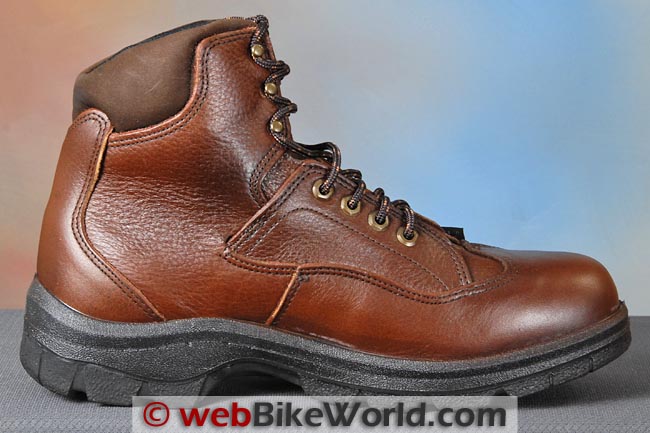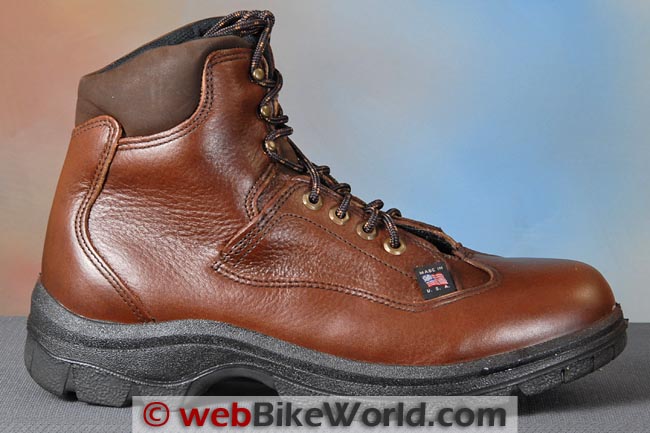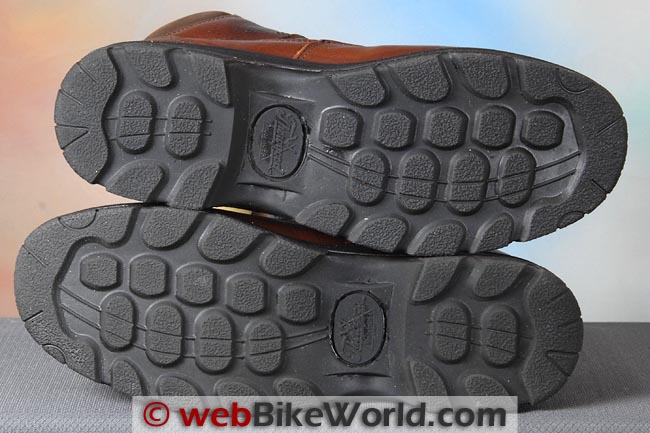 Wearing the Thorogood Boots
In fact, I'd have to say these are probably the most comfortable work boots I've ever owned, and doubly so because they felt that way right out of the box, with zero break-in required (very unusual for work boots!).
The leather is very soft and pliable with a supple feel. I also specifically wanted the 6″ height and the speed lacers up at the top, although I prefer rings rather than hooks.
This makes it easy to quickly slip the feet into the boots and they're just as quick to lace, yet with the needed adjustments over the instep.
The soles have outstanding traction and grip — better than most motorcycle boots. This subtle feature makes a real difference when riding a motorcycle, especially for someone like me with a 30″ inseam.
Good grip provides security at stop lights, when stopped on an incline or when "paddling" the bike backwards into a parking space.
And, don't forget that it takes a lot of traction to push a bike up on to a center stand…
Conclusion
I'm completely satisfied with these Thorogood work boots. They're very comfortable, they look great and the fact that they're made in the U.S.A. is a bonus.
It's a very good feeling to know I'm helping to support my fellow citizens — and I'll bet more than one Thorogood employee is also a webBikeWorld visitor!
Yes, you're going to pay a bit more for the privilege. But in this case, spending more also buys top quality and comfort, and when it comes to footwear, that counts for just about everything.
w

BW

 Review: Thorogood American Made Work Boots
Manufacturer: Weinbrenner Shoe Company
List Price: $167.00. Sale price $138.95. With Union discount $121.91.
Colors: Brown.
Made In: U.S.A.
Sizes: 7-14 (U.S.) in medium or wide widths.
Review Date: February 2012
Note:
 For informational use only. All material and photographs are Copyright © webWorld International, LLC since 2000. All rights reserved. See the webBikeWorld® 
Site Info page
. Product specifications, features and details may change or differ from our descriptions. Always check before purchasing. Read the
Terms and Conditions
!
Owner Comments and Feedback
---
From "L" (February 2012):  "I thought that I would drop you this link since you mentioned Justin Boots (American Made Collection).  I don't do track days so racing boots are a bit much for my riding style.
I got two pairs of Justin boots when I was in Dallas visiting family over Thanksgiving and I wear them all the time.
Super comfortable and look good enough to wear just about anywhere. I might get a pair of (Aged Bark Gore-Tex) since they come with Gore-Tex. Just thought you might want to drop these links in for another made in the USA option."
---
From "S.S." (February 2012):  "I have a pair of Russell boots for hunting that I purchased many years ago from the Russell Moccasin company. They were custom made for my individual feet, and still look like new after many miles.
Russell does have motorcycle specific boots of a very old school design. While I cannot speak directly to the comfort or longevity of the motorcycle boots, if my hunting boots are any indicator, they will last a lifetime."
---
From "D.H." (February 2012): "Thanks for the review. I'm a little leery about wearing hiking boots on long rides, especially "cushy" ones.
My main problem is getting a shank and forefoot stiff enough that a long day on the pegs doesn't cause an aching foot. I learned about this with my Merrell hikers on a long tour this summer.
This is similar to wearing sneakers on a bicycle on a long ride…you need the stiffness to insulate the soles of your feet from the metal of the pedal, so to speak. How do these boots work in that respect?"
Rick's Reply: I guess I don't put enough weight on the pegs to notice any difference in the sole stiffness, in fact, I hadn't really thought about that as an issue.
But on the other hand, most of my rides are two hours or less, for equipment evaluations, so I haven't really noticed this issue.
When we ride off road, I'm standing on the pegs quite a bit, but if I'm doing that, I'm wearing off-road boots.
---
From "S.H." (February 2012): "Nice review, the only issue I have is that these are lace up style boots.
A few years back I tried to use my hiking boots and almost tipped the bike over at a light as the bow loop hooked my left foot peg shift side and would not let my foot get to the asphalt.
I was able to jerk my foot back up then out quickly freeing my 29 inch inseam on a BMW RT and making my "touch down".
I use a nice pair of Sidi Canyon boots and had a cobbler install a 1/2″ spacer front to back, helps quite a bit and the latching is on the outside of the boot where it belongs.
Hope this is understood as a comment and that you write great reviews….Thanks again."
---
From "M.S." (February 2012):  "Thanks for your usual great review, I need a new pair of boots soon. I am glad to find 'US Made' products still available."