AltRider Crash Bars Image Gallery
I've installed my fair share of accessories on numerous motorcycles over the years (decades).
Without a doubt, the AltRider Crash Bar kit for the BMW F800GS is at or near the top of my list regarding quality, production and fit.
They have a unique open form but they address most of the requirements critical for a good crash bar in providing protection.
This includes protection not only for engine side-cases but other sensitive and critical components, like the flex-mounted radiators on the F650/800GS motorcycles.
My foray into exploring the many AltRider goodies for the F 800 GS test mule was long overdue, so when the opportunity presented itself to update some of the original accessories installed three years ago on the then-new smaller GS I didn't hesitate.
Seattle, Washington based AltRider is a well-known and well-respected member of the adventure touring industry and rider community.
Focusing on bringing to market made-in-America products for most popular adventure touring motorcycles, they also offer up proven products from other manufactures, enhancing their product lines and promoting the adventure touring spirit.
What really seems to set AltRider apart from other manufacturers and suppliers is their craftsmanship, attention to detail and customer support.
These are all accurately detailed through their website, product descriptions and installation videos. Any and all of these are positive incentives to try their products.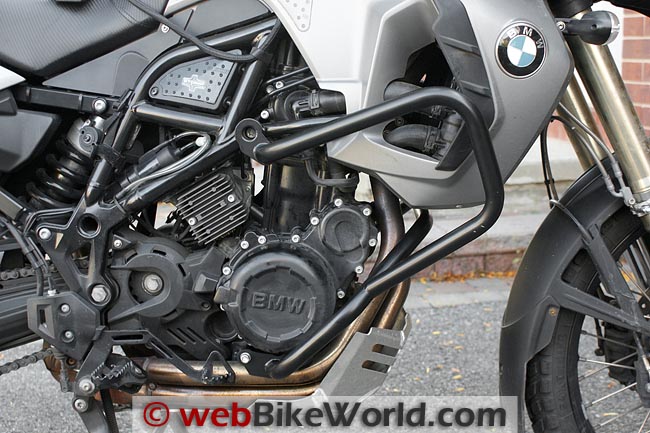 In the Package
Special mention needs to be made of the packaging for the AltRider Crash Bars I purchased.
The components were shipped from the vendor in a large cardboard box and inside of that one large sealed industrial strength plastic bag and inside of that two slightly two smaller bags each holding a bubble-wrapped left and right piece respectively.
A small bag holding the instructions and a sealed hardware bag was enclosed in the left component bag.
This protective packaging is impressive, but a little wasteful.
Unless you live by the "Reduce, Reuse and Recycle" philosophy — all of the large bags were re-used to enclose various hardware pieces sitting on the shelves of my garage; the cardboard was recycled; and some of the bubble wrap now protects a set of surplus handlebars.
AltRider Crash Bars – Details
Hmmm, what to say here? "Simple", "Open" and "Stylish" are words that work…but they don't seem to exactly describe the AltRider crash bars.
This product is different and very much minimalist in appearance, while still providing the needed protection of the critical engine components.
While other types of crash bars or engine guards might have more complex shapes with multiple tube configurations (and welds), the AltRider system is comprised of an upside-down U-shaped front piece with elongated U-shaped pieces on each side.
Compared to the companion product for the R 1200 GS, the AltRider Crash Bars for the F 800 GS don't pretend to (and don't need to) provide engine cylinder protection.
This is due to the narrow and well-recessed engine side pieces of the F 800 GS.
But they are designed to provide initial frontal and extended vertical side protection up into radiator territory.
The AltRider Crash Bars are made from AltRider's signature 25 mm (1″) stainless steel tubing that is flawlessly TIG-welded by hand and finished in your choice of bead-blasted satin metal or black powder-coated paint (which is what I purchased).
A literal strength of the AltRider Crash Bars is the engine mounts.
Rather than consisting of separate adapter plates and spacers, the mounts are precision-welded to the crash bars, forming a strong single piece component for each side with the billet aluminum insert securing the front cross-over.
This integrated approach to mounting also provides for an exact fit.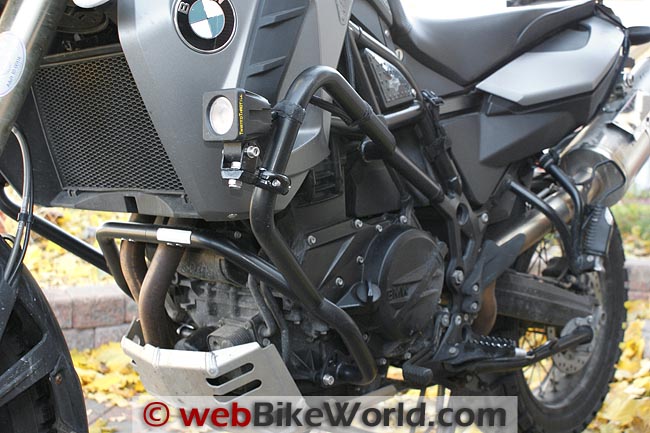 Installing the AltRider Crash Bars
The five page AltRider Installation Instruction guide is complete.
It includes a brief introduction, two lists (one for the supplied parts and another for the recommended tools), followed by two pages that visually and textually step through the installation process.
The last page provides good to have contact information and the usual terms of use, warranty and liability waiver statements.
I make specific reference of this simple document for a reason — it is one of the best accessory installation guides I have seen in a long (long) time.
The installation is straightforward and described in the documentation. Coat all the screw tips with medium-strength thread locking compound and just start them on their journey into the thread inserts.
Remember to use caution — if there is any resistance, remove the screws, clean the holes and try again.
All four of the screws on this kit went in without any resistance.
When tightening the bolts, I did the left and right top mounts first, following by the right and left bottom mounts.
Progress checks revealed nothing out of alignment because the fit is so precise that finishing up was effortless.
Finally, some good advice from the instructions: "Check all bolts after a 100 miles (160 km) or so".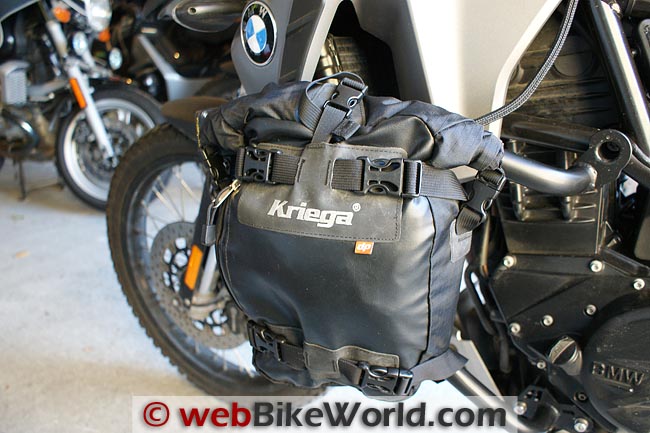 Riding With the AltRider Crash Bars
I haven't purposefully tested how effective the AltRider Crash Bars will be by actually dumping the bike, although this will probably occur when least expected, on or off road. But I have confidence that they will perform as advertised.
Testimonials from other users seem to back up the claims, which enhances that confidence.
Aesthetically, the bars look quite at home on the F 800 GS and while their angularity is as distinctive as their host, mounting my low set of  Denali D1 LED (review) auxiliary lights on the front tubing was pretty simple.
To do this, I used a set of the versatile Techmount Light Mounts (PN 3-50125) that accommodate 7/8″ to 1-1/4″ round tubing (more on these in a pending F 800 GS update).
My custom-fitted FAMSA Tank Panniers (review) work fine as well with the new Crash Bars.
The upper front of the Crash Bar side section supports the forward edge of the panniers while the rear portion of the side section provides a mounting point for the bottom strap mount of the pannier.
Conclusion
My first foray in using an AltRider product, I consider this purchase to be a complete success and it certainly won't be my last.
Outside of the mix of Allen-head vs. Torx screws used to mount the bars and one small scratch in the powder-coating found when removing the sticky bubble wrap, I don't have any other observations that might warrant an "Opinionator" table and this product easily gets five stars in my book.
For their shape and simplicity, the AltRider Crash Bars protect the essential portions of the real estate on the BMW F 800 GS that might get damaged in the event of an impact, slide or tip-over.
What more could I ask for?
More: AltRider Headlight Guard  |  BMW F800GS Review  |  BMW F800GS Accessories
Master Listing of All wBW Motorcycle Product Reviews
w

BW

 Review: AltRider Crash Bars
List Price (2011): $296.37 for Black, $276.37 for Silver.
Made In: U.S.A.
Colors: Silver or Black
Sizes: Fits various makes and models.
Review Date: December 2011
Note:
 For informational use only. All material and photographs are Copyright © webWorld International, LLC since 2000. All rights reserved. See the webBikeWorld® 
Site Info page
. Product specifications, features and details may change or differ from our descriptions. Always check before purchasing. Read the
Terms and Conditions
!
Owner Comments and Feedback