Alpinestars T-Stunt 2 Jacket Review Summary
Review Summary
The Alpinestars T-Stunt 2 fits me perfectly and is very comfortable to wear when the weather is too hot for anything else. My biggest gripe is with the solid-fabric covered sleeves, which make my arms feel sweaty. Other than that, I like the jacket and, by the way, the bright yellow and silver color that provides (in theory) good visibility against the green summer foliage.
Pros
Lightweight
comfortable
lots of airflow
Cons
Solid-fabric covered sleeves
Stunt 2 Jacket Image Gallery
It must be summer in the Northern Hemisphere. How can we tell? The volume of email requesting reviews of mesh jackets and other hot-weather riding apparel has been on the rise. Just for the record, we've reviewed tons of hot weather motorcycle riding apparel over the years.
So if you're looking to stay cool, check out the right-hand column on this page for links to some of our articles. But many of the emails we've received lately have been specific about the brand of the mesh clothing to review. That brand is Alpinestars, which is rather strange, because when I think of Alpinestars, mesh clothing doesn't come to mind. This is confirmed by a visit to their website, which doesn't list all that many mesh choices.
To make matters slightly more confusing, the Alpinestars website doesn't seem to list some of their new-for-2006 styles. Either that or the jackets are buried in there somewhere and I simply can't find them. Also, Alpinestars has also changed the design of the T-Stunt 2 jacket either before or after their website photos were taken. I say that because although the jacket shown here is a 2006 T-Stunt 2 model, it looks different than the photos of said jacket on the Alpinestars website (more later).
Alpinestars Reviews
In any case, we have a gaggle of Alpinestars reviews coming your way over the next several days, including the T-Stunt 2 jacket shown here, which is new for 2006.
We've also featured another Alpinestars mesh product, the ACR Air-Flo jacket (review) (I had the definition of "ACR" written down somewhere and now I can't find it, can anyone help?).
Then in addition to these Alpinestars Air-Flo mesh pants (review), the Alpinestars ERGO Painter pants (with the help of webBikeWorlder E.M.) and finally, the Alpinestars Street Cargo pants.
The combination of one of these jackets and a pair of their pants should, in theory, satisfy anyone looking for an All-Alpinestars hot-weather riding combo.
Alpinestars T-Stunt 2 Jacket
The T-Stunt 2 jacket is apparently an updated version of the original Stunt jacket.
That one was sort of a breakthrough design for Alpinestars, cashing in on the unique styles of motorcycle clothing worn (or not) by riders in both the legal and outlaw stunt scene.
I am usually more confident when buying an updated version of any product because it tells me that it was successful enough to deserve an update.
I have a thing about a manufacturer who spends a lot of time and money trying to convince me to buy a product and then abandons it after the first manufacturing run.
Since we never had one of the original Stunt jackets in the inventory, I don't know what changes have been made to create the T-Stunt 2 jacket.
We will compare the ACR Air-Flo jacket, whose review is coming up soon, to the T-Stunt 2 and note the differences.
By the way, the "T" in T-Stunt 2 means "textile". The original Stunt jacket is leather. Just some Alpinestars trivia to pass your way…
Let's get right to the bottom line on this jacket:
I like it a lot, but there are two issues I have with it that I'll describe shortly. I think the jacket has great styling; after all, a jacket that can make Bill look like he's lost 10 lbs. (see photo at top of page) has to be something special.
But the best feature is that the T-Stunt 2 also has a different type of tailoring than most/all of the mesh jackets we've worn.
This may be an artifact of the stunt scene, where loose and comfortable clothing is the watchword.
The jacket is cut and sewn in a way that just seems to feel more like a street jacket than a confining motorcycle jacket, yet it's not so loose (at least on my size large frame) that it feels sloppy.
The sleeves are pre-curved, which also helps.
I've offered this jacket to several riders and without any prompting, they've all commented on its comfortable fit.
Even a size XXL friend who didn't fit into the jacket shown here but still said it was comfortable, even though it was obviously two sizes too small!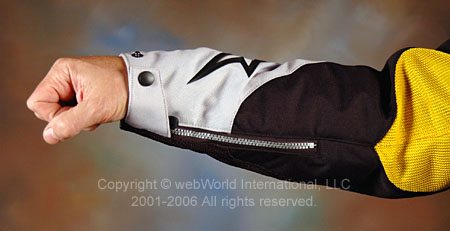 Warm Weather Riding
A by-product of the uniquely styled tailoring is comfort in warm weather — for the most part.
Which brings me to issue #1: the sleeves.
The T-Stunt 2 has plenty of air flow, once the windproof liner is removed, everywhere except under the solid fabric that runs across the top of the back and down each arm.
I can really notice the lack of air flow over my arms, and this is an area that should be receiving excellent flow because the rider's arms are right out there in the airstream.
Alpinestars uses a 600 Denier Nylon-type fabric for the main body of the jacket.
For the most part, the mesh allows lots of air through, but since the jacket also has removable CE-approved shoulder and elbow armor, these are a couple of spots where the air flow is minimal.
The jacket also has a relatively large back pad that can be replaced with an optional CE-approved back protector at extra cost (not included in the jacket shown here).
Issue #2 has to do with safety features. The T-Stunt 2 does not have an attachment zipper inside, so it can not be mated to a pair of riding pants.
This seems very strange, considering Alpinestars often trades on its racing heritage to sell product.
And that's not all — the Alpinestars Air-Flo Mesh Pants (review), which are a perfect match for the T-Stunt 2 jacket, also don't have an attachment zipper, so they can't be attached to a jacket either!
Nevertheless, I'm still taken with the T-Stunt 2 jacket simply because of its comfort and also, I think, because of its simplicity.
For example, the jacket has a simple but hefty YKK zipper up the front without any extra flaps that aren't needed on a mesh jacket. Zip it up using the big plastic-covered tabs and you're ready to go.
Pockets and Sleeves
One snap at the neck secures the top, which also follows the theme of simplicity, but which may be a problem in this case if the neck doesn't fit.
No extra snaps or Velcro on the neck; just a microfiber covered short stand-up collar does the job.
The sleeve cuffs also have a simple uncovered zipper and two-snap adjustment.
Wearing mesh is definitely a compromise and in this case, the compromise means that the types of safety features found on a full-race leather jacket are definitely missing — the price of comfort in hot weather?
The T-Stunt 2 includes plenty of pockets also — two outside slash pockets close with zippers and there are two zipper-covered pockets just inside the placket, one on each side.
These are very handy for holding a wallet or other thin (and preferably soft) item.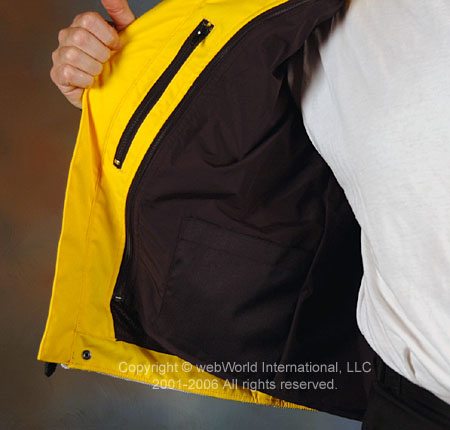 Liner and Zippers
The liner has a single pocket on the right and two pockets on the left, each with a Velcro closure. These are duplicated on the inside of the jacket when the liner is removed.
Since the jacket is designed to be worn in warm weather, the liner probably won't see much use, although I guess it could be carried in the back of the jacket, underneath the back padding.
There's a zipper along the bottom hem of the jacket that allows the owner to remove or replace the padding, and I found that the liner can also be stored there if necessary, although it's not designed for this use.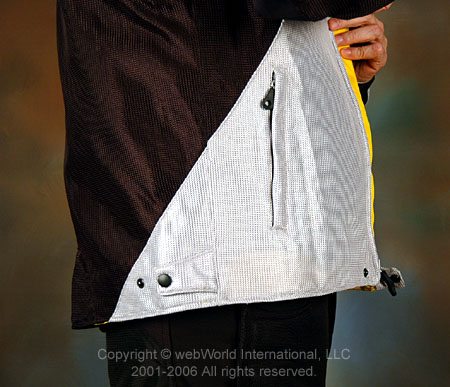 Jacket Adjusters
The T-Stunt 2 also has a two-button waist adjuster under each arm but no elastic in the waist or anywhere else, as near as I can tell.
I think potential owners with, shall we say, unique body shapes that may be the result of too much Newcastle Brown may want to try this one on first to make sure it fits.
It just doesn't have the range of adjustment of some other jackets, but if it fits, it fits well. And it does come in an expanded range of sizes, from XS up to XXXL.
Conclusion
I'm actually surprised at myself — I usually come down pretty hard on jackets that compromise safety. But the weather has been so hot and sticky here lately that I've seen the light and realized that sometimes a compromise is better than not riding at all.
The Alpinestars T-Stunt 2 fits me perfectly and is very comfortable to wear when the weather is too hot for anything else. My biggest gripe is with the solid-fabric covered sleeves, which make my arms feel sweaty.
Bt other than that, I like the jacket and, by the way, the bright yellow and silver color that provides (in theory) good visibility against the green summer foliage.
Also see the Alpinestars Air-Flo mesh pants review, and our review of the Alpinestars ACR Air-Flo mesh jacket.
w

BW

 Review: Alpinestars T-Stunt 2 Jacket
Manufacturer:  Alpinestars.
List Price:  $199.95
Colors: Gray, Red, Orange, Yellow, Green, Blue.
Made In: China
Sizes:  XS-3XL
Review Date: June 2006
Note:
 For informational use only. All material and photographs are Copyright © webWorld International, LLC since 2000. All rights reserved. See the webBikeWorld® 
Site Info page
. Product specifications, features and details may change or differ from our descriptions. Always check before purchasing. Read the
Terms and Conditions
!
Owner Comments and Feedback
---
From "J" (04/11): "I am 5'10", 150 lbs and very skinny. I wear waist size 30″ pants. After trying on a Fieldsheer mesh jacket and a Tourmaster mesh jacket, I was disappointed with the cut sizes.
A medium in these jackets would be perfect for my arms, but the abdomen area was way too loose.
With the waist adjustment straps pulled to their tightest, I still felt like I could comfortably fit a football under the jacket in front of my stomach. This is with the liners.
Trying on a small Fieldsheer and Tourmaster, the abdomen fit better, but the shoulders were tight and the cuffs were too short on my arm.
So I resolved to find a mesh jacket that wasn't tailored for beer-bellies. I ended up with the Alpinestars T-Stunt Air-Flo in size medium.
I still have to adjust the waist straps to their smallest setting, but the jacket fits me pretty well.
There is enough room for 4 more layers of clothing beneath the liner, and if I am only wearing the shell, I still feel like I have a jacket that fits.
The design of the T-Stunt Air-Flo is somewhat unique. Instead of a 100% mesh shell with liner, only certain portions of the jacket have flow-through mesh.
These areas include a vertical 8×3″ strip on each side of the front of the chest, 5×3″ strips along each forearm, and a large mesh area at the top of the back.
The rest of the jacket is water-tight polyester weave. I think, because of this heavier, tighter weave, the shell feels much more like a real jacket, instead of a jacket-shaped mesh bag.
I also feel like I have more road-rash protection than other mesh jackets, though luckily I haven't had a chance to test that. There is removable armor in the elbows, shoulders, and back.
One thing that would improve the design would be to add upper-arm adjustment capability. The jacket does get warm in 80+ degrees at a stop light, but there is enough air-flow to cool you off quickly once you start moving.
While I wouldn't say this is a good cold-weather jacket, I have been able to ride comfortably with 3 layers of clothing + liner + shell in 40 degree(F) weather at 50mph.
There is no wind-protection for the neck (not even a collar to snap at the front) so you'll need a thick gaiter for cold-weather riding.
There are five inner pockets with Velcro tabs, and one more with a zipper. There are two zipper pockets on the outside. The jacket includes a zipped-pants-attachment.
The quality of the jacket is decent. I've had no loose threads, rips, or separations in the year+ that I've ben riding with it.
I do wish the pocket zippers would loosen up a bit, because they are difficult to operate with one-hand while riding.
On the other hand, I suppose that means they surely won't open on their own.
The waterproof rain-liner is rather flimsy and not very comfortable to have against bare skin, though it does its job well-enough.
I paid $170 for this jacket in June of '09. Overall, I would give the T-Stunt Air-Flo an 8 out of 10.
Pros: Finally, a mesh jacket for slim folks; the shape is more flattering than other jackets. Better cold-weather protection than most mesh jackets. High quality stitching. Confidence in safety.
Cons: No neck protection. No upper arm adjustability. Inner rain-proof liner is rough against bare skin. Slightly more expensive than comparable mesh jackets."