Alpinestars Stella SMX Air Women's Jacket Review Summary
Review Summary
Although Alpinestars has created the Stella Air Jackets for Women for years, in 2023 they came out with the new Stella SMX Air Women's Jacket. Alpinestars' newest jacket for the summer provides a new take on their ever-popular Stella Air Jacket, with a couple of design upgrades and a new color variation. This jacket is functional and yet still very stylish, perfect for the urban rider who wants to look good and still be protected from a fall.
Pros
Comfortable and lightweight
Wind liner included for varying temperatures
Option for chest protector
Sleek and fitted design
Cons
Limited color options
Color traps in heat
Moderate airflow
Loose on elbows
Alpinestars Stella SMX Air Women's Jacket Image Gallery
Review Summary
The Alpinestars Stella SMX Air Lady Jacket is a new take on a classic jacket, with added features such as a wind liner, option for chest protector, and stretch inserts for optimum comfort.
Protection is limited with only CE-1 armor and no back protector, but this provides ultimate flexibility and additional armor can be purchased.
Ventilation is good for hot days but it would have been nice to have other, more sun-reflecting colors than just black.
First Impressions
Living in a warm climate, a summer motorcycle jacket with great ventilation is ESSENTIAL.
The Stella SMX Air Women's Jacket seems fairly lightweight and comfortable. The first thing I notice is that what seemed yellow and pink on the website is actually a bit more of an orange, which I like a lot more. You can see the mesh and air holes throughout the jacket, so I'm excited to try it out on the road and see how much airflow I'm actually getting.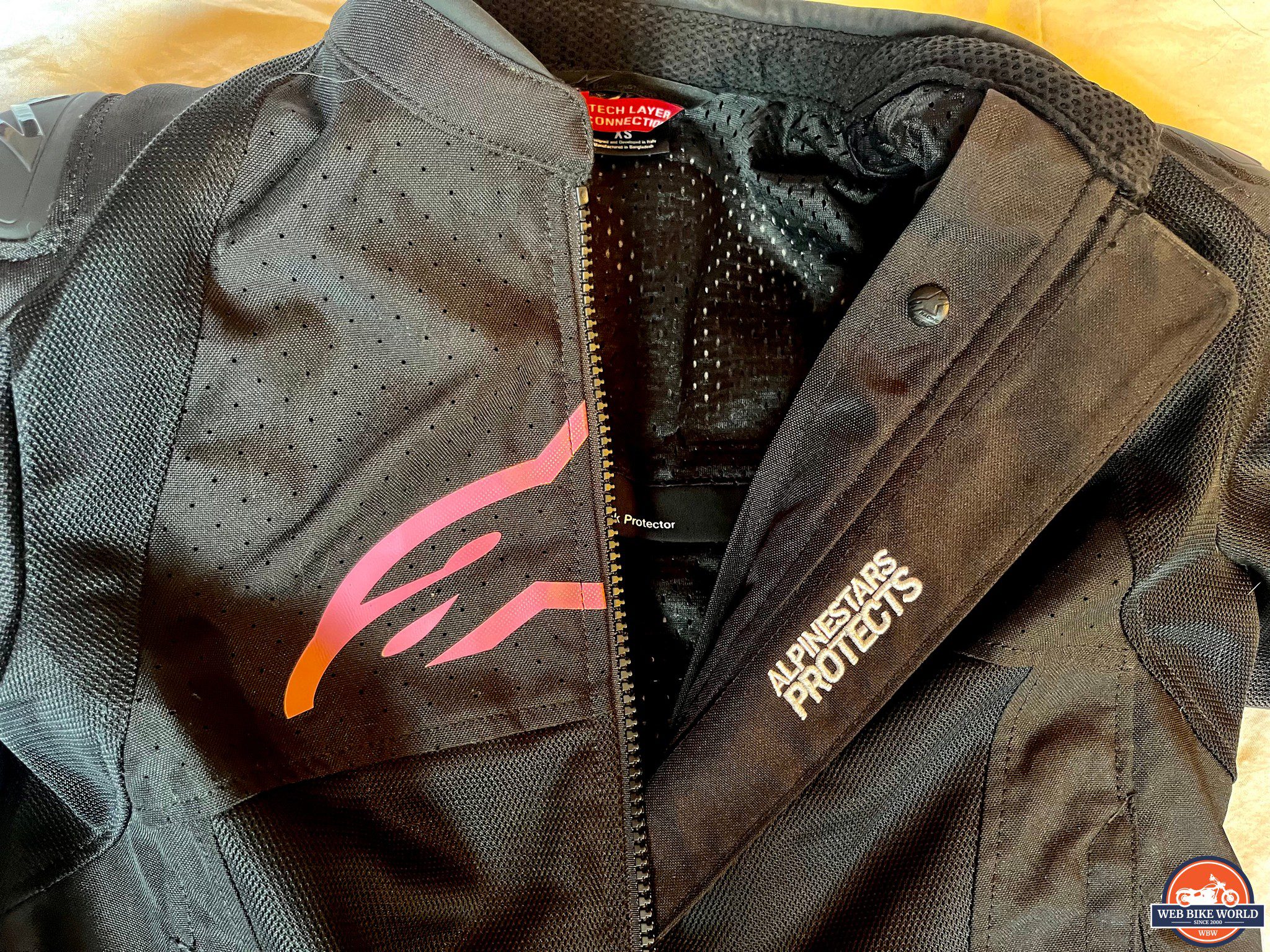 I went with an XS in the jacket, as I wanted it to be as form fitting as possible and I always seem to be a size smaller in motorcycle jackets.
Cut & Detailing
I'm obsessed with the design of this jacket. The jacket is form-fitting, without being uncomfortable or suffocating. It is also fairly lightweight, so I love that I can easily carry it around or throw it into a backpack/top case on the bike.
I found the fit on the elbows to be a bit odd, as they stick out a bit like wings on the side. I own another Stella Air Jacket that doesn't have elbows shaped like this, so I'm not sure why they designed them differently for this version. My guess is that it was made more for riding position, so you have ample elbow room to stretch out when actually on the bike, which I support 100%.
Colors
The jacket comes in two colors: Black with white detailing or black with pink and yellow. In person though, the yellow is definitely more of an orange color.
I really like the color combination as I feel that the black with pink and orange detailing gives a feminine look, without being over-the-top. I would have LOVED another option though, such as turquoise blue with green, as I know many of my fellow biker ladies are sick and tired of pink in all our gear.
It is also a summer jacket, so a lighter color that deflects the heat more than full black could have been a nice option available. I'm a black lover myself, but it isn't always the most practical for the scorching heat, and I would love to have a few more practical options, especially considering the men's version of the jacket comes in four different colors, whereas the women's version only comes in two.
Interior
The first thing I noticed when trying on this jacket, is that Alpinestars has added in a removable windproof liner, which adds some extra protection from the wind for when you need it. It attaches via snap buttons in the middle part of the jacket, which is really convenient to take on and off while still holding the liner in place.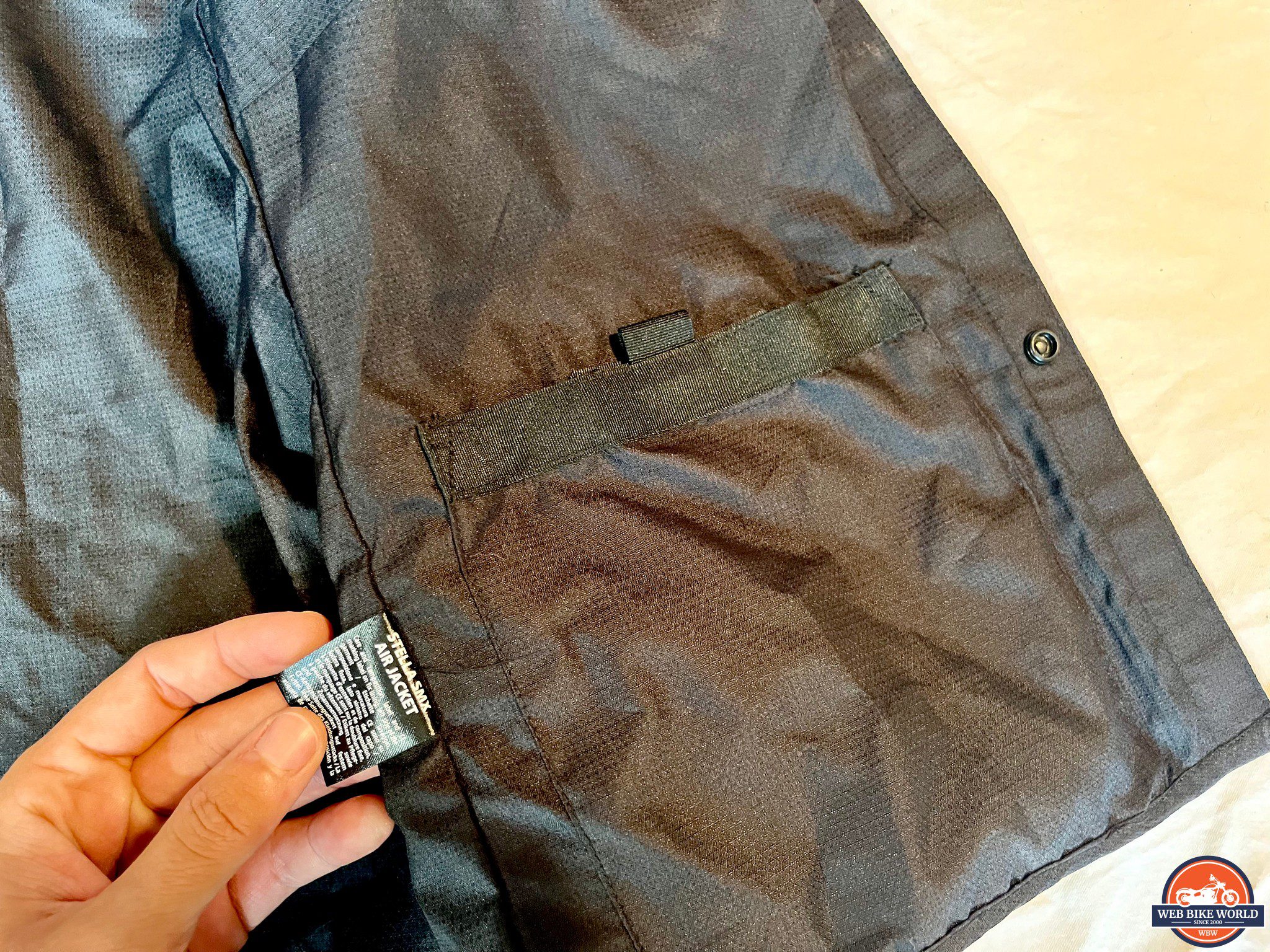 One small detail I also love is that the loops inside the sleeve are color coded, so you know which loop hooks to which button. No more having your liner twisted because you attached the wrong one!
Alpinestars Stella SMX Air Jacket Sizing, Fit, & Comfort
Personally, I've never had an issue with sizing for Alpinestars, other than the fact that I have to go a size down. If you've never tried an Alpinestars jacket, maybe go for your regular size (XS, S, M, L, XL, XXL, etc.). A small could definitely fit me, but I prefer my jacket to be more fitted, which is why I size down.
Sleeves
The sleeves are slightly short which always happens on motorcycle jackets for me, but that is easily fixed by the gloves and doesn't matter very much in a summer jacket anyway.
I did find the elbow part of the sleeves to be a bit weirdly shaped. They're loose around my elbow and stick out a bit when I'm just standing. When my arms are straight, I feel a bit as if I have wings like a flying squirrel. However, in riding position it is perfect because I have plenty of space to bend my elbows to reach the handlebars and not feel restricted.
Shape & Size
I think the styling of the jacket provides protection, without giving me massive shoulders. It fits comfortably and has some stretch to it in order to accommodate varying sizes.
Adjustable Waist
For this version of the jacket, Alpinestars has added stretch panel inserts around the waist in order to ensure the best fit possible.
I love how this jacket flows with the curves of my body and the stretch panel inserts make it comfortable and adjustable for different shapes and sizes. There is an adjustable waist at the bottom of the jacket (really more of an adjustable hip), which is always helpful as well.
The waist is a bit short, which wasn't a problem for me in this case, but I could definitely foresee problems for other women.
At the bottom of the jacket there is also a loop, which I assume is to attach pants to the jacket
Comfort
I found the Alpinestars Stella SMX Air Jacket to be incredibly comfortable! I don't feel restricted when moving around in this jacket thanks to the mesh and the stretch inserts on the torso, and the protection fit me perfectly, which is rare in jackets.
Functionality of the Stella SMX Air Lady Jacket
Storage
There are pockets on the outside of the jacket for quick storage and a couple pockets on the inside, including a waterproof compartment in case you're caught in the rain. It's just big enough for your phone or to carry some credit cards with you.
Ventilation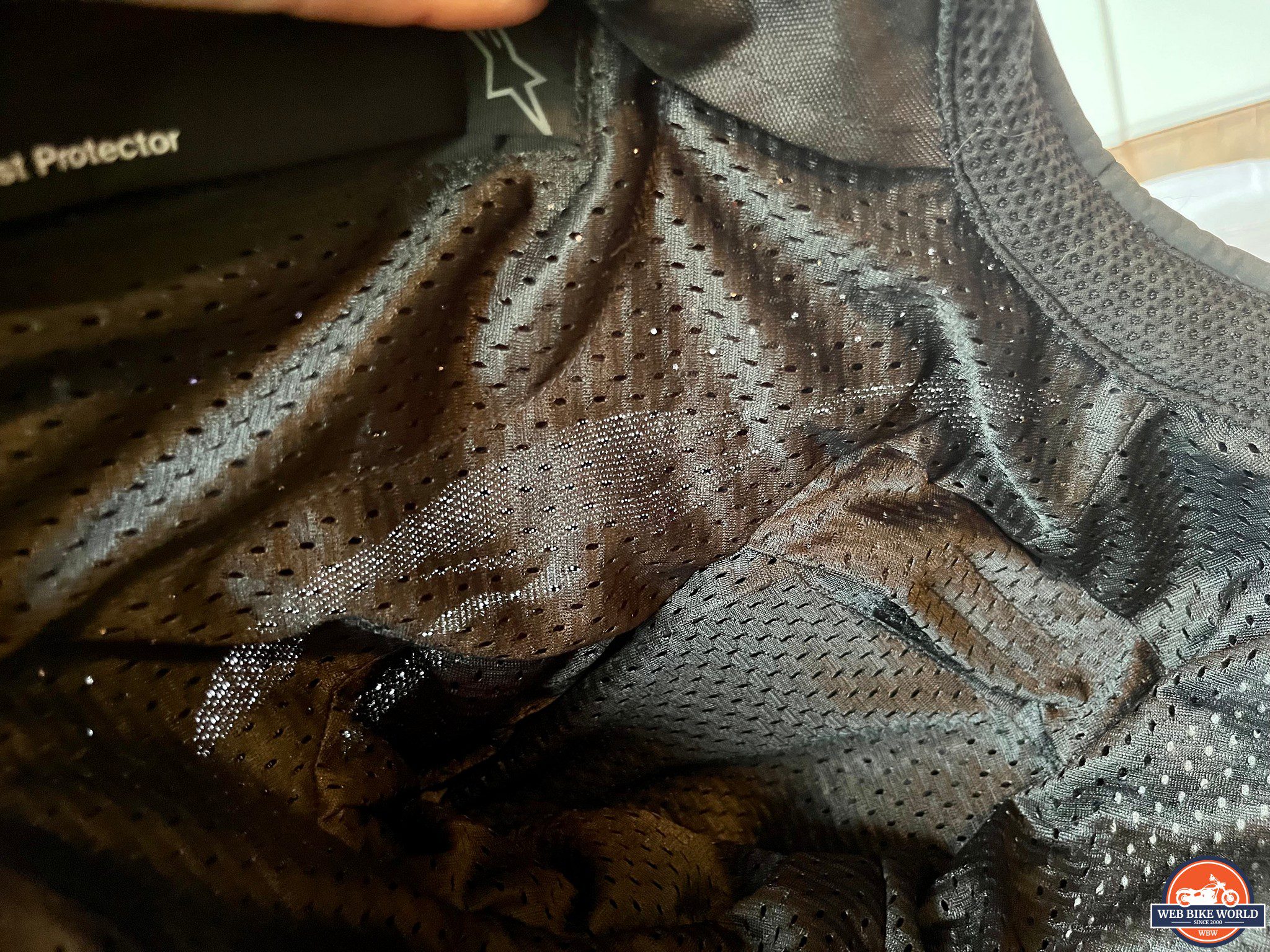 I tested the jacket with and without base layers.  Without base layers, I have to admit that I wasn't completely impressed with the ventilation in the jacket. The inside of the arms, back, and lower body are completely mesh, which is where you get the majority of airflow. As usual though, if you add a back protector a lot of the ventilation is blocked through the back.
You can also unzip the sleeves to give you more air on your arms. However, there isn't anything at the end of the sleeve to hold the sleeve in place, so the sides of the sleeve end up just flying in the wind and bothering my skin a bit.
The upper part of the jacket isn't full mesh, which I suppose is more for the look of the jacket than the functionality. There are holes in the upper part to allow airflow, but it isn't the same as having full mesh. I have another Alpinestars Stella Air Jacket that I feel gets slightly better ventilation than this one.
Once I was actually wearing base layers and a cooling vest, I was able to survive in 105 degree (41 C) heat with this jacket. The sleeves zipped up didn't bother me anymore and it felt that I was getting a lot of airflow, otherwise the cooling vest wouldn't work!
Overall, I think the jacket does pretty well, considering its all-black color.
Protection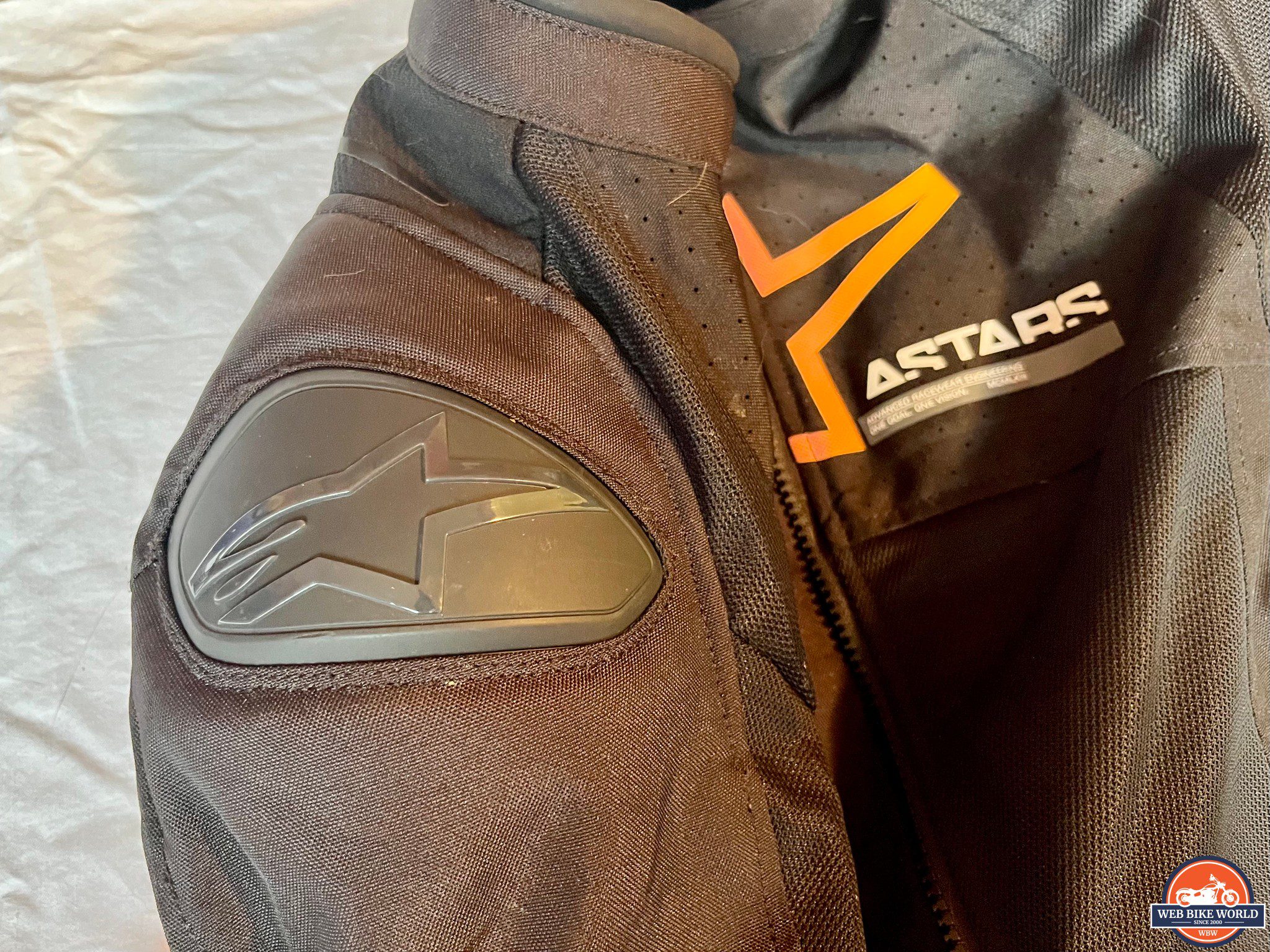 The jacket comes with the standard elbow pads and shoulder pads, which are very comfortable and not very heavy. Sometimes I find shoulder pads to feel bulky or misshaped, but the jacket does a great job of providing protection without compromising the fitted design of the jacket.
The protections seem a bit flimsy, but they're kept lightweight in order to make the jacket as breathable and flowing as possible.
There is also the pocket in the back to add in a back protector. I tested the jacket out with my back protector and it didn't add all that much weight to the jacket, although it did have some impact on airflow.
I was impressed that Alpinestars included a pocket for a chest protector. You don't see that in many women's jackets so I love this inclusion.
All of the armor included is CE-1, which is basic protection, but also keeps the padding very flexible and the jacket lightweight. If you want another form of protection, you can insert CE-2 into the protector pockets.
Visibility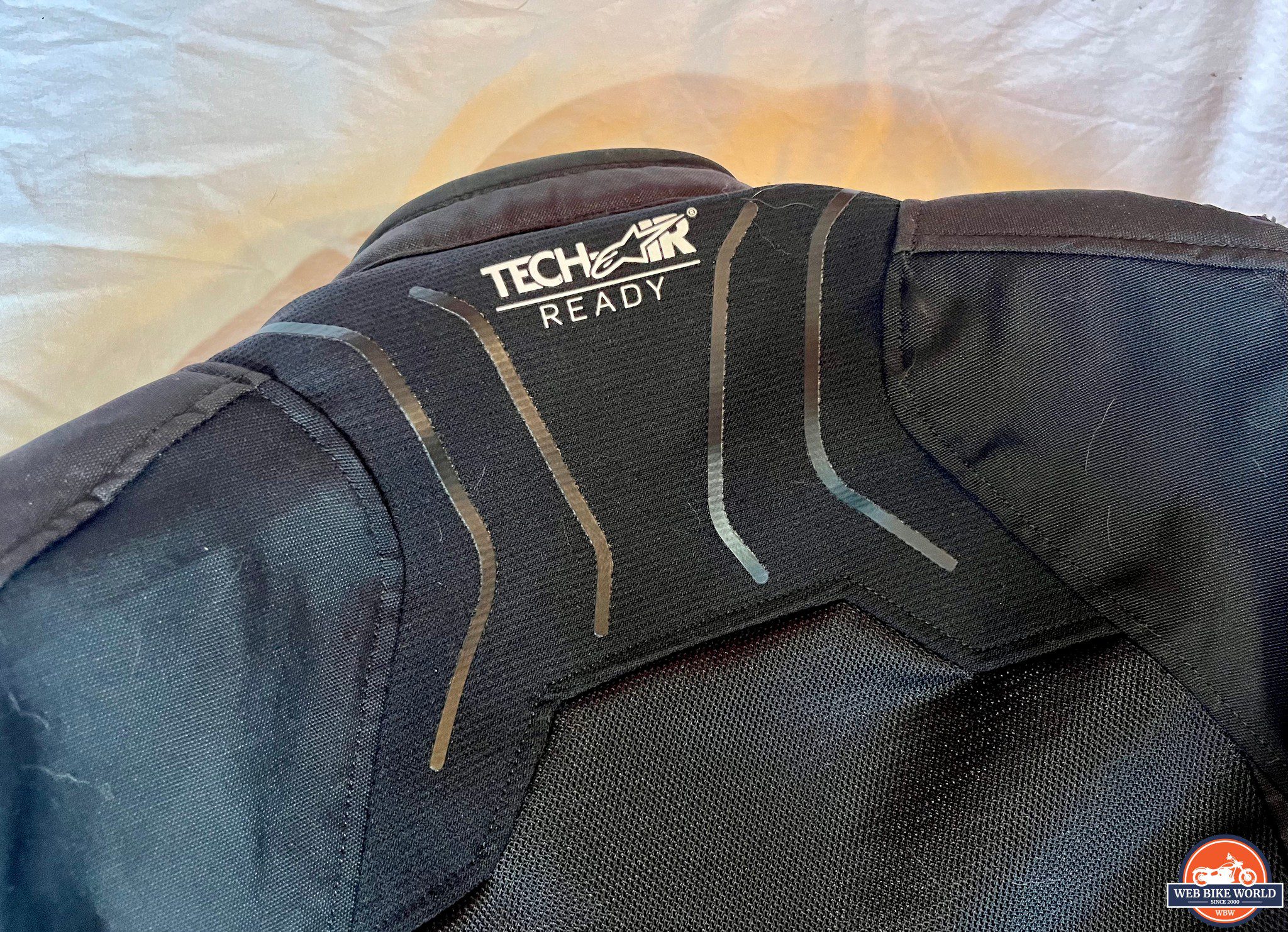 Again, having an all-black jacket may be super stylish, but not the best for visibility. There is some small detailing on the back that is reflective, but that's pretty much it. The pink and yellow colors are very bright, but as far as I can tell there is no reflective element to them.
I'm not overly concerned by this, but if you tend to gravitate towards high-visibility jackets, this may not be the best one for you.
Value for Money
I'm really happy with some of the upgrades to this version of the Stella jacket. I think that the jacket is really comfortable, lightweight, with the added liner and other design elements.
Alpinestars could have included a back protector with the jacket, but unfortunately it seems very common these days for brands not to.
How Much Does It Cost?
The retail price for this jacket is $259.99 USD, which I find reasonable. Extra costs could be back protection and chest protection, but for this price I think it's definitely worth it, especially since it's cheaper and with more color options than the previous Alpinestars Stella jacket.
Final Verdict: I Really Like This Jacket
I love the styling of this jacket and I love how comfortable it is. It's a great jacket for warmer temperatures and was definitely designed for the optimum riding position. Overall, a great jacket, with my only real complaint being that there were more color options.
Pros:
Comfortable and lightweight
Wind liner included for varying temperatures
Option for chest protector
Sleek and fitted design
Cons:
Limited color options
Color traps in heat
Moderate airflow
Loose on elbows
Specs:
Manufacturer: Alpinestars
Price: $259.99 USD
Made In: Italy/Bangladesh
Colors: Black and white/Black, pink, and yellow
Sizes Available: XS – 2XL
Review Period: Summer 2023
Important Links / Where to Buy: