Roam Boots Review Summary
Waterproof for sure, but not the easiest boot to live with.
In the past I have extolled the virtues of Alpinestars boots, in particular the Alpinestars Recon Boots (review).
As good as those boots are, they are not ideal for cold-weather riding.
The problem — if you want to call it that — is that the Recon boots breathe rather well, which means my feet become frozen after 20 minutes or so in cold weather.
And since I try to ride all year long, I needed to find a boot that is geared toward inclement weather.
The boots would have to provide water resistance while also insulating my feet from the cold winter wind.
Of course, they needed to be comfortable also and offer protection as well — so basically I wanted it all! Oh yes — and they needed to be a reasonable price.
This is not an easy set of criteria to meet for any manufacturer, but I had hopes that Alpinestars would have that "extra something" that would check all the boxes.
Their boots have fit me well and have lasted a long time in the past, so I figured a pair Alpinestars would be a natural "shoe-in" (couldn't help myself!).
NOTE: The Alpinestars Roam waterproof boots reviewed here are from the first generation.
Apparently, Alpinestars recently (and quietly) made some minor changes to the Roam waterproof boots, involving the second fastening strap and some cosmetic changes.
The specifications have remained the same, however, and the newer generation has an identical fit; I tried on a newer pair to make sure.
So I feel that this review is still very relevant to both versions of the Roam boots. I will do my best to point out differences between the two versions along the way.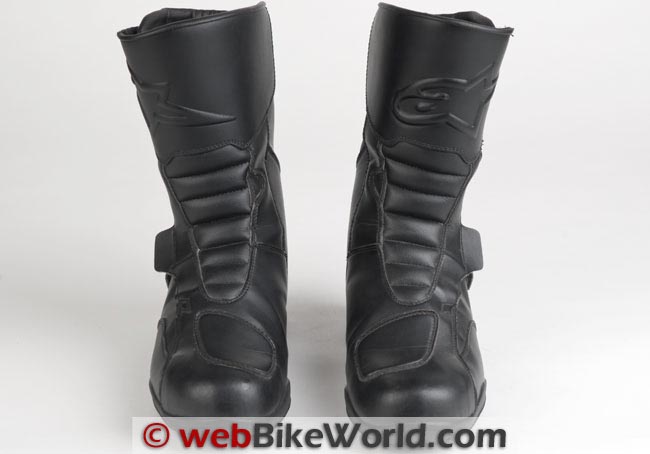 Alpinestars Roam Waterproof boots
The Roam boots have a "tall-ish" profile, measuring 11 inches (28 cm) from the ground to the top of the boot and that puts them smack in to the touring category.
The styling is reserved and simple and you can have them in any color you want…as long as it's black.
For their size, the Roam boots are lightweight but have a solid feel at the same time. The boots don't use zippers to fasten; instead they have hook-and-loop fasteners in three locations on the outside of the boot.
This may be a good or bad thing, depending on how flexible the wearer is; we'll get to that a little later.
The tread of the vulcanized rubber compound soles feature a block pattern and a section of finer angled treads for a good grip on most road surfaces, both wet and dry.
Note that the tread pattern is different on the newer version of the Roam boots, with varying sizes of blocks and a unique inset dot tread pattern towards the front of the foot.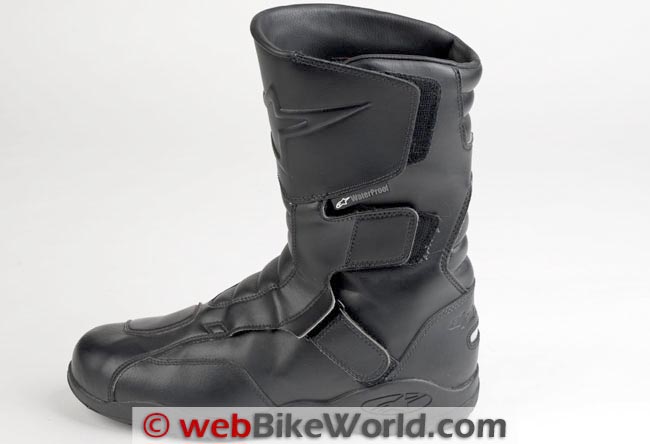 Alpinestars Roam Boots – Construction
The Roam boots are not made of leather. Instead they use synthetic leather for the upper portions of the boot. In my opinion, this also has its pros and cons.
The price can be kept down using synthetics in many cases, but synthetics tend not to "break-in" the way real leather does. I'll explain that in more detail in the Fit and Comfort section…
Actually, Alpinestars uses the true Velcro brand of hook-and-loop so I'll refer to it as such for the remainder of the review.
On these particular boots there are two flaps of Velcro and then one belt style fastener at the bottom in front of the ankle.
The newer version of the Roam boots use the belt style for both of the lower Velcro sections and then just the flap arrangement for the large patch at the top of the boot.
Getting the Roam boots on and off should be easy and slipping into and out of them also is not a problem. But fastening the straps is more trouble than it should be.
Placing the straps and flaps on the lateral (or outside facing) portion of the boot makes it a bit awkward to reach down and get the bottom strap fastened and unfastened.
Part of the problem is that the lower strap (both lower straps on the newer Roam boot) can easily slip out of the metal loop it fastens around; I often found I had to contort myself a bit on a chair or bench to reach down and sort out getting the strap in place.
If the placement was reversed so that the straps were on the medial side of the boot, it would be easier for the wearer to get their hands (both of them) where they needed to be to fasten the straps.
Despite the shortcomings I have experienced with this design, once the boots are fastened they feel very secure and I never have had an issue with the Velcro straps separating while riding or walking.
I think that the design is actually as strong as, if not stronger than a zipper, but is also less prone to fail than a zipper.
I will say though that in comparison, I have been evaluating another pair of boots of a similar style. Those boots have a zipper on the side and it makes the entry and exit much easier.
Back to the Roam boots: On top of the toe box is an extra patch of material that acts as the shift lever wear protector.
This patch is present on both the left and right boots which is pretty common nowadays, but still seems a bit unnecessary.
I realize that there are some bikes still on the road with right-hand shifters but they're rare. I'm guessing it has more to do with style and symmetry that the right side patch is there.
My problem with it is that the extra stitching is another potential point of entry for water.
Speaking of water resistance, the "Drystar" waterproof and breathable inner material that lines the interior of the boot only comes up to the height of the second strap.
As such, the waterproof area stops 7.5 inches (19 cm) from the ground, leaving the top 4 inches (10 cm) unprotected from water.
In most cases your pant legs will cover the top of the boots, but it would be nice to see the waterproof liner reach up a bit higher towards the top.
Safety and Protection in the Roam Boots
The protection afforded by the Roam boots is rather comprehensive for a touring boot and goes largely unnoticed as it is not outwardly visible, nor is it a source of any discomfort.
In fact, the Roam boots offer CE rated protection (report) (EN13634), so the protection is both tested and certified.
This includes ankle cups for both the lateral and medial positions and both the heel and the toe have counters to protect these areas.
The counters are raised areas of thick material that offer impact and crush protection and both are hidden within the synthetic leather. You can't see it but you can feel it if the area on the outside of the boot is pressed.
Overall, the construction of the Alpinestars Roam boots is very solid. The synthetic leather used is very thick and double stitching is used nearly everywhere except inside the flex areas on the front and rear.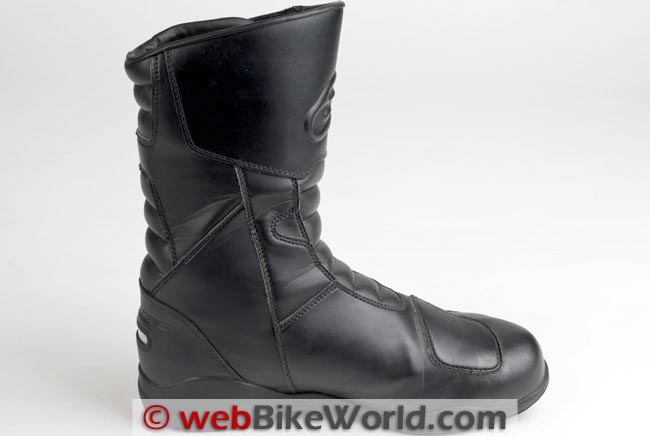 Alpinestars Roam Boots Sizing
Fit is always going to be a subjective thing, but any uncertainty can be mitigated by simply trying on boots. There will always be a bit of variance from manufacturer to manufacturer or even for different series from the same manufacturer.
This isn't news.
But what surprised me was that Alpinestars seems to have a bit of confusion as to which Euro size equals what US size.
I typically wear size 10.5 US shoes and boots. My previous Alpinestars Recon boots are clearly marked inside as being size 44 Euro and size 11 US.
The Roam boots are also marked as 44 Euro, but the US size on the tag is stated as 9.5. That's quite a difference!
I did some research and found the recognized international sizing comparison, according to several clothing and apparel manufacturers.
Size 44 in Euro should equal a size 10.5 US, so actually neither of the US sizes indicated in these boots is correct.
All said and done however, my size 10.5 American feet fit very well in both the Recon and Roam boots, if perhaps a bit snug in the Roam boots.
I'm definitely a size 44 in Euro but I'm not sure what to think of the 1.5 size discrepancy on the US numbers. Are my feet larger in the USA or wait.. does that mean they're getting smaller..or…wait — I'm going cross-eyed.
So the size 44 Roam boots do fit my foot correctly as far as length, but they feel a little narrow — and my feet typically don't require wide shoes or boots.
Also a "little" narrow is usually fine, but there are two other problems I ran into.
One is that the mission for these boots is to provide comfort in cold and/or wet weather riding, and when it's cold I usually reach for the thick and warm socks.
Stuffing my average width feet into these boots is not easy or particularly comfortable.
I felt though, that as the boots become broken in, this would be less of a problem and eventually would right itself as it had with many of my other leather boots in the past.
Leather boots are typically a bit stiff when new but eventually break in and can end up being very comfortable.
That brings us to problem two: the Roam boots are not made from leather. The synthetic leather looks and feels like leather but it doesn't break in like real leather.
After weeks of wearing them I noticed little to no difference in the fit, and the boots still seemed about as stiff overall as they did when brand new.
So as far as fit goes, despite the numbers game going on with the US versus Euro sizes, the actual fit is good although a bit narrow.
If you have a wider foot and/or plans on wearing thick socks for cold weather riding, then the Roam boots might be too narrow for you.
As I said earlier, sizing is going to be subjective so it is always best to try them on before purchasing or at least make sure the shop has a good exchange/return policy.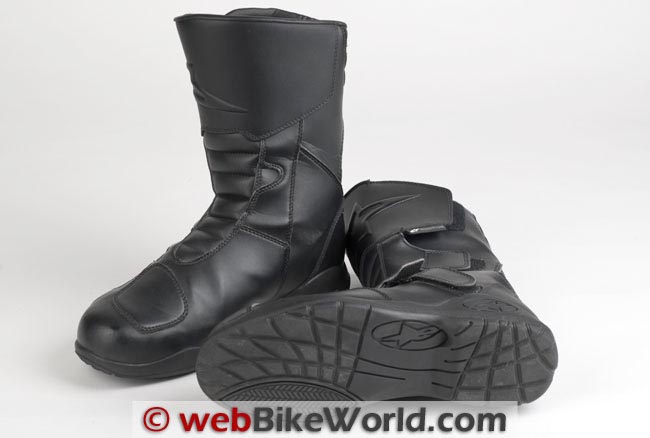 Alpinestars Roam Boots Water Resistance
The Alpinestars Roam waterproof boots definitely live up to their name, with excellent water resisting capabilities. To test this, I submerged the boots in a deep sink to just about one half inch (just over 1 cm) from the top of the Drystar layer.
With my hands in the boots, I held them down in the water for a full five minutes. No water made its way inside and they remained completely dry.
When I removed the boots from the water, I also noticed no difference in weight. Unlike most other boots I've tried, the material didn't soak in much, if any, water. The synthetic shrugs off water, unlike most of the genuine leather (or textile) boots.
Riding in a downpour isn't something that I look forward to, but in cases where the rain is really coming down, I feel confident my feet will remain dry.
There may also be times where you will have to walk around in the rain and knowing this even deep puddles pose no threat of dampening your toes is comforting.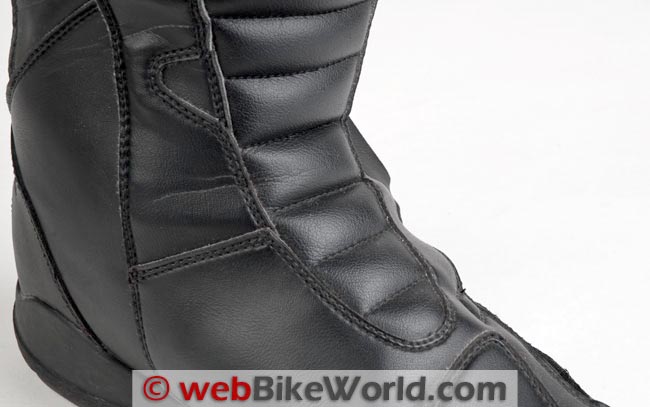 Conclusion
The Alpinestars Roam waterproof boots are a very well made, solid, pair of touring motorcycle boots. They deliver on the protection and waterproof fronts without a doubt.
After owning these boots for nearly one year (but wearing them only on cold or rainy days), they still look very fresh and the soles have worn very little.
The synthetic leather has stood up very well with no cracking and little to no signs of abrasion from normal use.
The same material that is doing so well at looking good can also be the source of irritation for those of us who like our boots to break in and conform to our feet.
Also, the material doesn't lose much stiffness over time so they still awkward to walk around in.
The stiffness isn't a problem during riding, however, and the boots are actually very supportive on long rides.
Despite the issues I've mentioned, I don't find anything that is a "deal breaker". And for the $159.95 price, the Alpinestars Roam boots stand well against the competition.
If the fit works for you and you can deal with the somewhat awkward fastening procedure, the Roam boots should serve well for a long time.
w

BW

 Review: Alpinestars Roam Boots
List Price (2012): $159.95
Made In: Thailand
Colors: Black
Sizes: 38-48 (U.S. 6-12.5)
Review Date: January 2012
Note:
 For informational use only. All material and photographs are Copyright © webWorld International, LLC since 2000. All rights reserved. See the webBikeWorld® 
Site Info page
. Product specifications, features and details may change or differ from our descriptions. Always check before purchasing. Read the
Terms and Conditions
!
Owner Comments and Feedback
---
From "T.J." (June 2012): "I bought these boots last summer specifically for their weather protection. First the "good": They are definitely waterproof. I have been caught in the rain a number of times and haven't gotten wet at all.
I can't comment much about the cold weather protection as I don't ride very often below 50 degrees.
However, I completed a 500 mile round trip to Barber Motorsports Park in 100 degree weather and my feet were as comfortable as you could expect considering the weather and waterproof boots.
Overall I have found the boots to be very comfortable. They are a touring boot, however, which took some getting used to. They do not fit as snug or give you as much feel as a sport bike boot.
I like the Velcro closure system, but it seems they make it for very large calves. Mine are by no means small, but I am tightening them up almost beyond the range of the Velcro.
Maybe they aren't designed to be snug on the calves?
Now the "bad". I had a low speed (15 mph) fall while wearing these boots. My heel smacked something on the bike and my outer ankle bone contacted the pavement.
Luckily I did not break anything, but I was severely bruised on both my heel and ankle and limped for a couple of weeks afterwards. Do not buy these if you are looking for any significant impact protection in your boots."
---
From "E.L." (January 2012):  "I appreciated the article. I also wear a 10.5 US shoe and have owned several pairs of Alpinestars.
They are tight. Even with thin socks. I'd appreciate being able to buy a EEE width, especially since I prefer to wear wool socks when touring.
Waterproof experience has been good. They don't leak of themselves, but do seem to wick up rain at speed between the boot and my fabric Tourmaster trousers, so eventually my feet will get some moisture.
That's why I wear the wool socks.
My first pair of Alpinestars (can't recall the model, but they looked similar to the Roams) fell apart at the "puffy" section on the top of the foot. But this took five years, so I wasn't really bothered.
Perhaps there were problems with the differences in flex between the several types of man-made "pleather"."