Ergo Painter Denim Pants Review Summary
As much as we go on about high-quality leather or textile pants for motorcycle riding, there's no getting around the popularity of jeans.
They're comfy, they don't look goofy off-bike and they can help make summer riding more comfortable.
But please – if you have to wear jeans, at least wear something more than off-the-rack department store brands.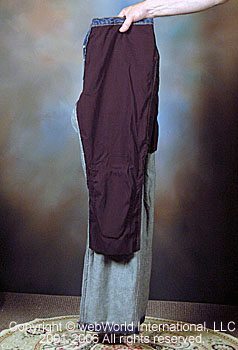 We've reviewed a few types specifically designed for motorcycle riding, including Diamond Gusset Jeans(albeit without armor or anti-abrasion lining) the ever-popular Draggin Jeans, a comparison review entitledJoe Rocket Steel vs. Sliders Kevlar Jeans and even a pair for winter in our Flannel Lined Jeans Review.
If you're convinced that jeans are the only way to go, don't forget to also take a peek at our reviews of Bohn Underwear Body Armor and Knox Cross Sport Shorts.  Both of these work great under jeans or other motorcycle pants that don't have their own built-in armor.
I'll admit to two things: first, I feel naked if I'm not wearing leather or at the very least, high-quality textile gear when I'm riding.  But I'll also admit that — so far — there's nothing like jeans for comfort and coolness in hot weather.
So I'll turn it over to Mr. Markham for his impression of the Alpinestars Ergo Painter Denim Pants…
I had been looking for a pair of jeans to wear when riding that would increase my protection level over plain old Levi's, but would be less noticeable than some of the textile pants and armored jeans already on the market.
Since I live and ride in a coastal area along the Gulf of Mexico, which has a tropical/semi-tropical climate, overpants weren't a consideration.  With the temperatures and humidity levels well over 80 degrees and 80 percent for a large part of the year, I wanted something that would be comfortable and would not require layering.  A lot of the existing armored jeans look a bit too "Power Rangerish" for my taste.
In the spring I saw an ad for the Alpinestars Black Label Ergo Painter Denim pants and their Black Label Street Cargo pants.  Unfortunately, when I begin trying to research them, no one, including their distribution center, could give me much info.  That's when I contacted Rick at webBikeWorld and suggested a review, and here we are!
A few weeks later I received a pair of the Black Label Ergo Painter Denim jeans as a gift for my birthday.  I have now worn these jeans on numerous rides with temperatures and humidity levels both over 90 and here are my initial impressions.
The jeans are made of medium weight pre-washed denim and they are partially lined with a black polyester lining.
The lining is incorporated through most of the chassis of the jeans, being sewn into the seams, with the exception of the diamond shaped gusset area and parts of the legs.  The lining is suspended down through the legs, stopping at mid thigh on the back of the leg and below the knees on the front (see photo above).
The front side lining provides a hook and loop secured pocket that holds the supplied removable CE-certified knee protectors.  The knee protectors are prevented from moving around a lot be the lining being sewn directly to the leg seams.
This makes them somewhat awkward-feeling when walking or standing, and the act of sitting on a bike brings the knee protectors up and into place over the knees.
The Alpinestars Ergo Painter Denim Pants also offer limited protection through the use of CE armor for the knees.  I am unsure of how much additional abrasion protection the polyester lining offers over heavier denim, although Alpinestars claims that the lining is "abrasion resistant".  The pants have no additional armor or padding.
The jeans are a loose fit, with a slightly flared leg, which was very easy to wear over my riding boots.
Incorporating a button fly (a feature you either hate or don't mind) with metal buttons, a traditional painter jeans style with a total of 8 pockets, plus a hammer loop on the left leg, these jeans don't scream "Ricky Racer-boy" and can be easily worn in a casual setting.  They do have a faded Alpinestars "A" logo painted on the right-hand leg and on a single enlarged belt loop in the back, plus "Alpinestars" sewn on the hammer loop.
However the style is just a bit too loose for my personal taste, I would prefer a more traditional fit.  The jeans seem to run a bit large compared to Levi's 505s or 501s.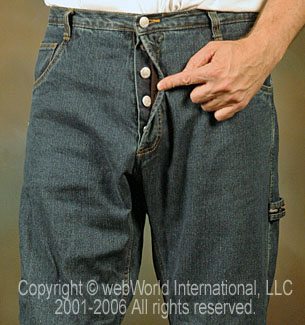 Made in Macau the jeans appear well constructed, although I'd like to see the hammer loop secured with a hook and loop fastener on one end, instead of securely stitched into the leg and rear pocket seams as it currently is, should it get hung up on something on the bike in a get-off.
The comfort level is high with these jeans, although no jeans are comfortable when the humidity is high enough to make them stick to your skin, the polyester lining provides some help, allowing them to move fairly easily as you do.
All in all I am favorably impressed with the Alpinestars Black Label Ergo Painter Denim jeans. Retailing for less than $100.00 in most places they offer an alternative to other riding jeans.
Some have better abrasion protection and others incorporate additional armor, but like most things in life, they are a compromise – less obvious as riding jeans, better protection than regular jeans, less protection than dedicated leather or textile riding pants.
By the way, the Alpinestars Ergo Denim Painter Pants work nicely with the Alpinestars T-Stunt 2 jacket or theACR Air-Flo jacket.
Note:  For informational use only.  All material and photographs are Copyright © webWorld International, LLC – 2000-2011.  All rights reserved.  See the webBikeWorld® Site Info page.  NOTE:  Product specifications, features and details may change or differ from our descriptions.  Always check before purchasing.  Read the Terms and Conditions!
Product Review:  Alpinestars Ergo Painter Denim Pants

Available From:  Alpinestars
Suggested Retail Price:  $99.95
Colors:  Denim blue.  Sizes:  28-38 waist.
Made in:  Macau