Drystar Suit Review Summary
Drystar Suit Image Gallery
There's a strong correlation between my desire to sleep in as late as possible on a work day and a steadily declining regard for wearing proper safety gear on my morning commute.
I have distant memories of having staggered out of bed with enough time to toast a bagel and eat it while grumbling at overly cheery morning show hosts, though I've since given up even trying to get half a bowl of Nutty Nuggets down the hatch before I race out the door.
No, these days, sleep is far too precious for such niceties.  Eventually, though, something had to give.  That third bash on the snooze bar was starting to have consequences.
There was still time for basic hygiene, but my socks no longer matched my shirts, and riding pants were relegated to the pile in the back of the closet "for when it's cold".  One or two rainy afternoons riding home in clammy cotton slacks reminded me that I should cut corners elsewhere.
A riding suit seemed to be just the thing: easy on, easy off, and no way to leave off the weather protection, not to mention the anti-pavement barrier that's only missed when truly needed.  I'd been looking hard at Aerostich suits for some time, but they were expensive, and most of the guys I'd seen wearing them looked like fat astronauts (even the ones who were actually skinny accountants).  Eventually, I discovered the Alpinestars 360 Drystar suit.  I was immediately attracted to its clean, simple lines – similar to the Roadcrafter – and to its somewhat lower price.
Drystar Suit Construction
The suit is constructed of 500 Denier Cordura and is cut loosely enough to allow easy movement on any bike.  A large elastic expanding panel is located on the back and there are also expandable areas at the shoulder joints, crotch and knee.  But the fit is slightly closer than the Roadcrafter, which helps keep fat jokes at bay.
The back panel allows for an unimpeded stretch to the low clip-ons of a Daytona, and the sleeves are plenty long, even for my lanky arms.  Like the Roadcrafter, the suit is designed to be worn over street clothing – perfect for commuting and for retaining some civility when riding out to a fine dinner.
At first glance, the unzipped suit resembles some sort of restraining garment from a mental ward. But once past the confusing array of flaps and zippers, getting in and out is easy, and can be done in less than thirty seconds. Really!
Just stick your right leg in, followed by your right and left arms, zip three times, shoot a mean look to passers-by and roar off on your scoot like you mean it.
The leg zippers are on the outseam, unlike the Aerostich, which may help prevent water from leaking in around the crotch area.  All of the entry zippers are protected with deep rain flaps, and the torso zipper is offset from the leg to keep water out at the waist.
The entire interior is lined with a Drystar polyester waterproof membrane.  I suspect that this reduces manufacturing costs by eliminating the need to tape or otherwise seal external seams.  Naturally, it hasn't rained here in sunny Northern California since I bought the suit, but its anti-weather features should help the Drystar live up to its name.  I'll report back as soon as I receive a thorough soaking…
The suit is only available in one color, dark gray with black abrasion panels, so fans of high-visibility color schemes or flashy graphics may not approve.  In the interest of being seen, however, there are clever and stealthy reflective nylon panels on the shoulders, across the back, and along the ankle.
These appear black until passed in front of a headlight – then they light up bright as day.  Thankfully, the suit is festooned with just one rather small logo, which will likely be hidden by a well-experienced stomach or bulbous fuel tank.
Adjustable belts around the waist and neck help fit the suit to the wearer.  The waist strap did a good job of snugging the suit, but the elastic neck belt caused the collar to fold inward and chafe my neck.  I found that it was best left at its most relaxed position, but geeky, pencil-necked types may feel a bit of a draft.
Jam a scarf or, better yet, an electric vest into the tank bag to compensate when it turns cold.  Additional elastic snaps on the forearms really help snug the armor down – it felt like it would stay put in a crash.  The arm cuffs and ankles secure with the usual Velcro straps, with an additional snap on the ankles to keep everything together.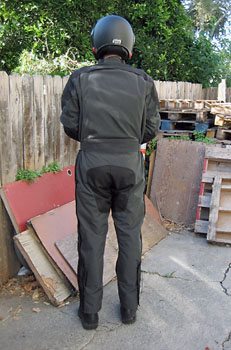 Armor and Padding
Heavy Cordura material covers the shoulders, elbows, knees, lower legs and seat areas of the suit for abrasion resistance.  The shoulder and elbow/forearm armor is CE certified and feels very substantial.  The elbow pieces extend almost to the wrist and can be positioned inside the suit via a zippered access panel.
The back pad is regular foam, but a CE certified replacement is available (all armor is removable).  The knee padding is disappointing – it is rather lightweight foam (no upgrade is available from Alpinestars) and seems to be badly located.  I rode several different bikes while wearing the suit, and the knee sections rotated toward the inside of my leg each time – not the best positioning in case of a crash.
The Drystar falls well short of the benchmark Aerostich in terms of pocket population.  When riding with a tank bag or other luggage, I feel that few pockets are necessary anyway, but those laden with personal digital gadgetry may disagree – just remember that in a fall, you're likely to have a nasty, phone-shaped bruise on your ribcage!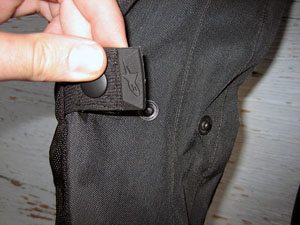 Pockets and Storage
The leg entry zippers go both ways – zipping them partway down while wearing the suit allows easy access to your pants pockets for when you get all suited up and remember the bike key is in your jeans.  All pockets are well placed and work fine, but there is an annoying lack of zipper pulls on all but the vent zippers.
You'll be happy to find those few zipper pulls when it turns hot outside.  Ventilation on the suit consists of two inlets on the upper arm and a large back outlet vent, all of which are easy to open or close while underway.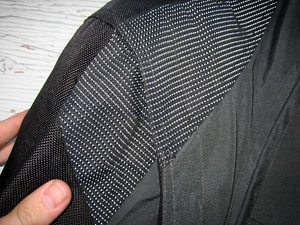 Unfortunately, when wearing a suit designed to keep the rider dry in the winter, there will be some difficulty keeping cool in the summer, and the Drystar is predictably toasty when sitting in stop-and-go traffic, no thanks to the aforementioned polyester membrane.  So split lanes, keep moving, open the chest zipper – moving a bit of air past the suit does keep things bearable.
The expandable material in the crotch and knees also helps in the heat by maintaining some movement when you're sweaty, and goes a long way toward keeping your hands away from the ejection handle, even while baking at a stoplight.
Wearing a wicking microfiber shirt beneath the suit would likely do wonders for its hot-weather usability and might truly turn this into a four-season outfit – naturally, you'll want to bulk up a bit during the winter, making sure you've got gloves that cover the cuffs, some fleece or thermal pants, and that lovely, lovely heated vest.  As is, the suit is miles ahead of my previous jacket in the heat, and that even has a zip-out liner.  It's not as nice as a mesh jacket, but not bad.
The overall look and feel of the suit is one of quality – I found no defects.  Whether it represents a meaningful savings over the Roadcrafter is up to the individual.  Neither suit is a minor investment, and both perform very well.  If the Drystar fits you right off the rack, it's a great choice, but there are plenty of folks who fall a bit outside the norm and may prefer a more custom fit that is available (at extra cost) from Aerostich, who also provide a crash repair service which Alpinestars does not.
Also, Aerostich sells suits via mail order and thus they are not readily accessible for inspection and fitting without making a purchase, which can be slightly off-putting when plonking down this much money.
Conclusion
After a few weeks of use on my short commute and several long day rides, the Drystar remains comfortable (aside from the slightly irritating neck fit) and largely unobtrusive, which is paramount.  A great test of its versatility occurred on a ride from Sacramento to San Francisco on one of our legendary 105º August days.
On the freeway, the vents demonstrated the effectiveness of evaporative cooling (wearing long pants beneath the suit seems to help cooling as it prevents the liner membrane from sticking to sweaty skin), and when the fog and cold began rolling in at the Golden Gate, changing to gauntlet gloves and closing the vents sealed me in a nice weatherproof cocoon, allowing me to enjoy the rest of my ride without adding any layers.
Pretty good for a 55º temperature swing!
Note:  For informational use only.  All material and photographs are Copyright © webWorld International, LLC – 2000-2011.  All rights reserved.  See the webBikeWorld® Site Info page.  NOTE:  Product specifications, features and details may change or differ from our descriptions.  Always check before purchasing.  Read the Terms and Conditions!
Product Review:  Alpinestars 360 Drystar Suit

Available From:  Alpinestars
Suggested Retail Price:  $599.99
Colors:  Black/gray.  Sizes:  S to XXXL
Made in:  Unknown
Product Comments:  500D Cordura with water repelling treatment.  Reinforced shoulders, elbows, knees, legs and back seat.  Claimed waterproof and breathable.  Full-length zipper makes it quick and easy to put on and take off.  Stretch fabric on knee, back and underarms.  Reflective fabric inserts.  Knee padding doesn't fit well.  Velcro-type adjustable CE certified protectors on elbows and shoulders.  Four front pockets and side access to internal pant pockets.  Extra helmet visor pocket.  Adjustable waist, sleeves, cuffs, collar and legs.  Back protector compartment with a foam back pad (CE certified back protector available as accessory).
Owner Comments and Feedback
From "D.":  "I've owned one since last November, and I have been in downpours that forced me to the side of the road.  I ride all year long.  Luckily I live in the (San Francisco) area, and I have a relatively short commute, 30 minutes each way.  This suit fits my needs perfectly.
The only part of my body that got wet are my hands, and that's because water was rolling down my arms into my gloves.  With a pair of Sidi Strada Tempor (boots), apart from my glove dilemma I am nice and dry.
There are a few shortcomings to the suit.  Little – more like no – leg armor, no removable liner (but in my area it isn't needed, most I've needed is a mock turtle neck shirt and a t-shirt under that during 45 degree morning rides), and the horrible green gray color (matches fog very nicely).  I threw in an RC back pad, and I'm now using Icon's leg armor…  I plan to pick up some T-Pro hip and butt shorts to be as protected as can be.
During these crisp morning/warm afternoons, the 360 suit works wonders, even without a liner.  Keeps me warm, and I don't sweat on the way home.  What more can you want?
I did happen to pick this suit up used (and at a great price), so take my praise with a grain of salt.  So I'm a happy camper.  But it is hands down the nicest textile riding suit I've owned (and I've owned a FirstGear Kenya suit, a Frank Thomas Aqua suit and an "off brand" suit).  I'm a self-proclaimed gear-(freak)… and this is the only piece of gear that I've never considered selling/replacing!"