Akuma Electrochromatic Visor Image Gallery
I stopped by the Akuma Helmets booth and what a surprise!
Remember a while back when we reviewed theAkuma/MXL Industries photochromatic visor?  We also imagined the visor of the future with electrochromatic visor tinting?
Guess what?  It's here!
A material with electrochromatic properties is generally defined as something that changes color when an electric current passes through it.
These Akuma guys have figured it out, and there are no wires or anything that I can see in the visor, other than a small lead that plugs in to the existing Akuma IPS (Integrated Power System) that also powers the LED lights in front and back.
Push a small button in back of the chin bar of the helmet and the visor automagically goes from clear to dark tint!  It takes less than a minute to get dark, and much quicker to become clear again.
I took some video and will process it and post it below; I think it captures the electrochromatic visor turning from clear to dark and back again.  Can't wait to get one to try out!
And — best of all — the electrochromatic visor will retrofit any Akuma helmet with the IPS!
More news from Akuma includes new buttons to turn the front and rear LEDs on and off.  The old rocker switches are gone, replaced by very thin and light weight membrane buttons in back of the chin bar.  One for the LED in front; one for the LEDs in the rear (which now also can be set to flash on and off) and the third for the electrochromatic visor.
Note:  See our reviews of the photochromatic visor; the Akuma Stealth and the Akuma Ghost Rider, our 2006 Motorcycle Helmet of the Year.
But wait: that's not all!  The Akuma boffins "have been up to no good", as they say, and that's for sure — they have partnered with Collett (say "Col-LETT") Communications and will be releasing a special Bluetooth intercom that — yes — also plugs in to the IPS!
They claim up to 300 hours standby time and the Collett Bluetooth intercom also has a small antenna attached, with up to a claimed 2 mile bike-to-bike talk distance!
The Collett intercom itself is very lightweight.  But what about speakers?  They're built in to the Akuma helmet, and although I didn't get a chance to inspect them up close, when I ran my fingers up and down inside the ear pocket, I didn't feel a thing.  They're supposed to be some type of special speaker…
So let's see: you can have a very cool helmet with a unique graphic design, with an LED flashlight built in to the front, with red LED on/off and blinking lights in the rear AND an electrochromatic visor AND a Bluetooth intercom, all powered off a single rechargeable on board battery pack!  How cool is that!
But wait — that's not all!  Yep, there's more: Akuma also now has the world's first electroluminescent helmet!  OK, so what's electroluminescence?  It's defined as something that emits light when an electric current passes through it.  Sort of a cousin to the electrochromatic property, I guess.
Also powered by the on-board Akuma IPS, these helmets have unique graphics on the outside that are placed under the clear coat.  Flip the switch and the graphic takes on a ghostly glow!
The Akuma guys said they have much, much more up their sleeve (I'm hoping maybe an electrically heated anti-fog visor that's also powered off the IPS?).  It's hard to believe they're releasing all of this at once, but….
And wait, there's still more!!  They also have a women's flip-up helmet!  I don't know what it will be called, but Akuma called in a group of women and basically told them to help their engineers design a helmet.  Whatever they wanted, they got, with no questions asked.
The photos below in the poor lighting of the Indiana Convention Center certainly don't do any of the products justice, especially the women's flip up.  The graphics are very nice, sort of jewel-like with a 3D look that appears to be tiny jewels embedded under the clear coat.  This should be a big hit.  It also includes the IPS system and a front LED light.
Stay tuned — they promised we'd get some of these cool products for a more detailed review!

wBW Video: Akuma Electrochromatic Visor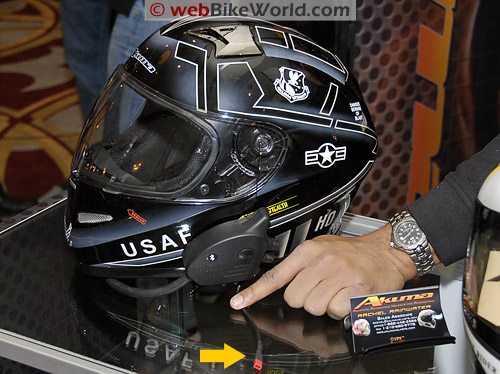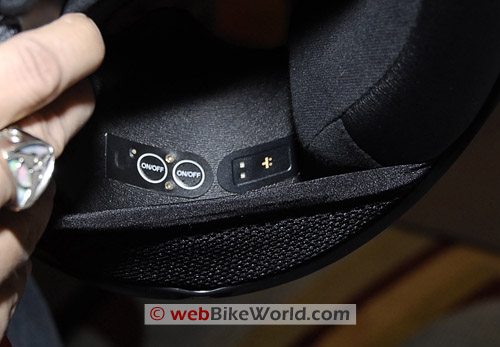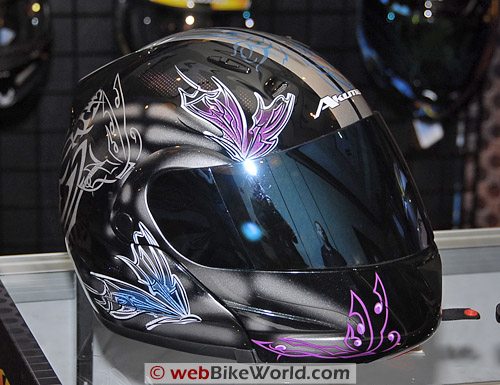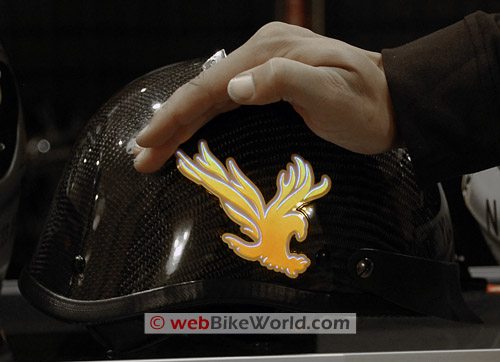 Note:  For informational use only.  All material and photographs are Copyright © webWorld International, LLC – 2000-2011.  All rights reserved.  See the webBikeWorld® Site Info page.  NOTE:  Product specifications, features and details may change or differ from our descriptions.  Always check before purchasing.  Read the Terms and Conditions!