AKE Powercom Intercom Image Gallery
The AKE Electronics PowerCom ROGER One system works, period. It is a pure communications device for those who want or need to stay in touch. If requirements or budget are modest, this is all one might ever really need.
While the wired environment allows for a single radio (FRS/GMRS/CB) or mobile phone device to be connected, exploiting the (optional) Bluetooth capabilities can provide enhanced functionality, and versatility, without significantly increasing the investment.
An important feature is that all PowerCom systems and accessories will work with one another (appreciating that not all features are available on all systems). In researching the PowerCom products, including this system it is clear that AKE really understands the communications market and that it has worked diligently to eliminate compatibility issues.
Thus the unknown has now become the known. If this middle-placed system is any indicator of what can be expected of the upper-end systems, the road ahead is anxiously awaited.
Part One: The PowerCom ROGER One System
An Introduction to AKE PowerCom Motorcycle Intercom Systems
AKE Electronics produces telecommunication and radio technology equipment, and motorcycle communication systems are their primary product. The German company's tagline is "Good things will become even better."
In 2007 the company completely revised its motorbike communication systems with a new range of intercoms and other products. With 25 years of experience in the field, the AKE offerings reflects this experience, resulting in a well thought out, comprehensive lineup.
AKE Electronics is similar to many other manufacturers; they design, build and market an array of individual motorcycle intercom systems, each with their own features and capabilities. What distinguishes the company is the fact that the AKE motorcycle communication systems and accessories all fit, work and play together, and they can even be connected with other equipment as well, providing an integrated system for riders and passengers.
According to company information (some of which was translated from German), the systems manufactured by AKE Electronics are marketed under three major groupings or series: PowerCom Motorbike Communication Systems; "Fit-for-Motorbike" hands-free equipment, identified by the unique '10' designator; and Motorbike Communication Systems FOR 2.
The PowerCom product range is a series of systems that provide full duplex communications (rider to rider or rider to intercom), stereo audio, navigation by voice features, two-way radio and mobile phone hands-free interfaces, driver/rider security settings, priority signal management, and much more.
A host of compatible accessories make up a large part of the comprehensive AKE offering. These include "HighVoice" and "HighSound" helmet kits, helmet accessories, Bluetooth components and PowerCom function devices for PTT, iVOX, MUTE, etc, and control interfaces to connecting portable players (iPod), Sony and Blaupunkt radios, Garmin and TomTom GPS and other devices.
Rounding out the accessory list is a long list of cables and fittings for both system components and to connect peripherals. Between the major components and the accessories, just about any configuration requirements can be met, allowing a very tailored or extremely flexible system to be put into use for two wheels, four wheels or otherwise.
The primary objective of all AKE systems is to provide, "a stress free communications environment". This is done in a variety of ways — hands-free radio communications, access to music and information sources via peripherals, interfaces with voice-capable navigation systems, mobile phone access, and documenting or capturing information by audio or visual means.
As a whole, the PowerCom list of products can be somewhat daunting at first. But in viewing the well-organized information on the website or print media, offerings under the various functional categories can be quickly matched up to user requirements, desires and of course, budget.
Goals for This Review
For this initial review of PowerCom products the goal was to assemble a base set of components that represented the product line.
Another goal is to provide as much functional and technical information as possible, based on published or provided media and as verified from data generated during the evaluation.
AKE products have been available in Europe for some time, directly from their website and from selected dealers in various countries.
But the brand and its products are not well known to many in North America. However, with the establishment of a North American presence (see summary table below), this is bound to change.
Planning and Preparation
After several weeks of coordination were completed with company representatives, a well-wrapped box was received from AKE in Germany. In the box was a ROGER One system kit, along with complementary accessories for use with the ROGER One.
A number of personal devices were used to support this evaluation, all of which are identified in a separate Technical Section at the end of the article.
Other than the requirement to return the equipment, no other conditions were stipulated by AKE. This evaluation is based solely on data produced and information forged during the evaluation activity that took place from mid-December 2007 to mid-March 2008.
An initial inventory check, deemed prudent as the box had obviously been opened at least twice on its journey across the pond, revealed a missing 100-240V AC to DC charger unit, normally part of the Bluetooth kit, needed to charge the Bluetooth module battery. A n email to the AKE contact resulted in a replacement charger being received the following week.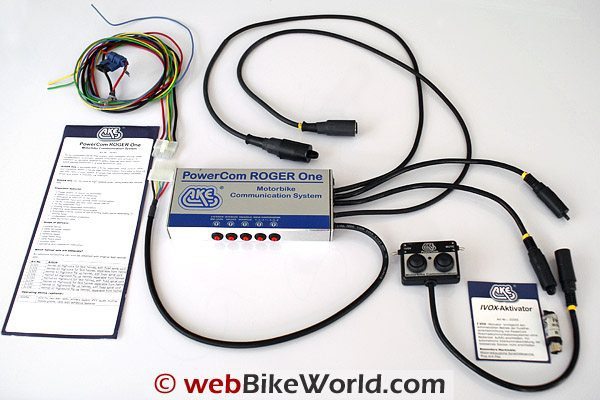 A Component Listing
To help understand how all the evaluated bits-n-pieces fit and work together, a simple bullet view of the supplied components follows:
Control Module Helmet Set PowerCom HighVoice.
Set of high-quality dynamic transducers, 300 to 5,000Hz.
Dynamic transducer microphone, noise compensated Helmet Set PowerCom HighSound.
Set of high-quality dynamic transducers, 30 to 20,000Hz.
Dynamic transducer microphone, noise reduced electret Interface Cables.
Radio adapter cable, PMR/FRS, dual plug, 2.5 mm and 3.5 mm.
Radio adapter cable, Kenwood, single plug, 3.5 mm.
Radio adapter cable, CB, four pin round connector.
PowerCom Operating Device Interface Assembly Helmet Set Bluetooth 101 and PB-HC2 Bundle.
PowerCom Bluetooth Helmet Module.
Rechargeable Li-ion 120mAh, removable/replaceable battery.
Rechargeable Li-ion 750mAh, removable/replaceable battery.
Set of high-quality dynamic transducers, 300 to 5,000Hz.
Dynamic transducer microphone, noise reduced.
Bluetooth Helmet Connector ModulePB-HC2.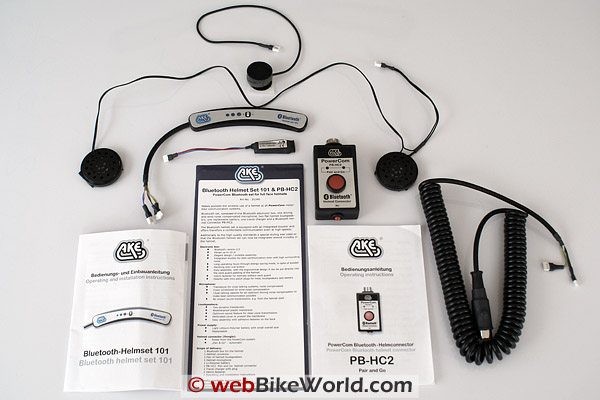 The Heart of the System
The ROGER One control module is the processing and distribution core of the system. As a product offering it sits smack dab in the middle of seven current PowerCom systems. As its focus is on providing basic communications, it is not an all singing, all dancing system. What it does represent is a good middle ground offering, especially for those whose priority is staying in touch.
Specific features allow the ROGER One to automatically recognize activity of a connected two-way radio while also providing automatic volume control (AVC) depending on the noise levels present. Either automatic voice control or manual push-to-talk (PTT) control is possible.
A new feature, the iVOX supplement, previously only available on the top-end INNOVA or ON TOUR systems is now part of the ROGER One system. When used with the bundled iVOX activator plug or with the optional PowerCom operating device, iVOX provides intelligent voice control by its sensing and switching capability.
The simply packaged kit provides the following: control module, a two piece five wire power harness, the iVOX Activator plug, a set of installation and operating instructions in German and English and sundry items for installation (a large pad of Velcro for mounting purposes, two adhesive cable strain reliefs, and five long and two short nylon ties).
All PowerCom modules utilize the same sturdy brushed-aluminum weatherproof housing that measures a svelte 150mm x 70mm x 20mm (6 x 2.5 x ¾ in). Facing up, five connection cable leads exit the right side while five adjustable 'trimmers' or variable controls dominate the front edge. The left end is stamped with brand, plant and serial number information.
The ROGER One Connection Leads
Headset – large DIN plug, marked (D)
Mobile phone or a mobile radio (small DIN plug, marked (F)).
Passenger intercom (large DIN plug, not marked).
Remote – small DIN plug, marked (R), used by:

The iVOX Activator plug.
 The PowerCom Bluetooth Helmet Connector dongle or the PowerCom Operating Device Interface.

Power cable lead/harness assembly.
Getting the ROGER One control module installed on a motorcycle and ready for use was simple. After testing the components on the work bench using a buffered 12V power supply, the harness was installed on a BMW R1200GS Adventure. With the instructions read and the Sargent seat removed for easy access to the battery, the whole installation was done in fifteen minutes.
While the two piece power harness is easy to use and install, the ROGER One system was not permanently mounted during this evaluation and used on multiple motorcycles. In a scenario where a user has multiple motorcycles or platforms, or where portability is desired, using the large weatherproof DIN connectors for the power harness would be ideal.
During this evaluation three platforms were used: the static environment, the R1200GS Adventure, as it regularly gets pulled out on warmer days when the roads are (relatively) clear of snow; and, the Versys as it made the trip (via trailer) to Florida and Daytona for Speed Week.
Three helmets were used for the headsets: the Nolan 102 Flip, the day to day favourite; and, two ARAI units, the Corsair and the XD. As it sits in between the two ARAI in terms of overall comfort and noise levels, the Nolan ended up being the primary headset platform with all three headsets installed in it at various stages of the evaluation.
The Stage is Set
The ROGER One evaluation should have been straight forward. But with further research and in getting more familiar with everything that had been shipped as accessories, there seemed to be merit in seeing just what (else) this basic system could really do.
Accordingly, while much of this evaluation is based on identified features validated by data collected and activities conducted for this evaluation, a few undocumented features were found that just had to be detailed, most of which will be addressed in PART TWO of this submission.
Audio Basics
Without good audio input and output, the best communication systems in the world are at best, just pieces of equipment. AKE has addressed this requirement fully in providing different headsets (all stereo) and high-performance microphones to meet specific user needs.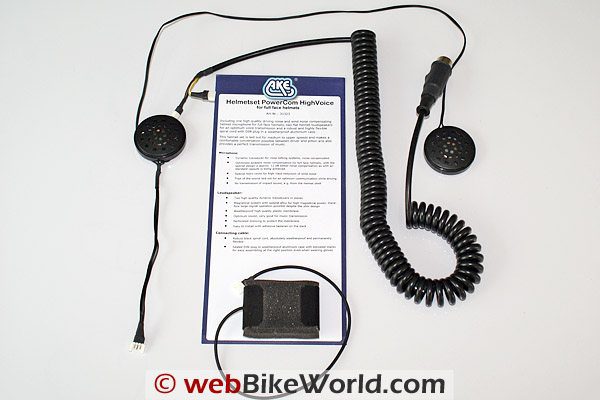 PowerCom HighVoice Headset
This full face helmet headset is intended for use where speech is the dominate audio. As such, a high quality set of loudspeakers (300 to 5,000Hz frequency response) along with a wind noise compensating close-voice microphone are provided, all meant to optimize voice transmissions and provide clear audio.
This kit comprises: a combination connection harness and flex cable connector with a large DIN plug on one end and two flat mini-connectors on the other (three pin for headset and two pin for microphone) and a stereo loudspeaker set with a thin two wire lead between the two speakers.
Rounding out the kit is a dynamic transducer microphone, and mounting items (cable ties, adhesive strain relief pad) and installation/use instructions in German and English.
All kit components are simple in design, well made and weatherproof. The wiring and flat connectors are very thin and lightweight, facilitating helmet installation. When mounted properly, everything is safely tucked away or secured with the strain reliefs.
The robust and flexible spiral headset connection cord provides a sturdy weatherproof connection to the main control module. Elevated alignment marks on each DIN plug make connecting them an easy thing, even with gloves on. Measuring 50 cm (19 in) in relaxed mode, the spiral cable can be stretched out to a generous 200 cm (79 in).
Installing the HighVoice headset into the Nolan revealed just how large the kit microphone is. Measuring 50mm x 40mm (2.0 x 1.5in), the foam and plastic shell takes up a fair amount of real estate, even when compressed together (allowed, per the instructions).
With the Nolan, two options were available to correctly install the microphone component – the optional mini-spiral cord kit or the Boom Microphone (PBM 1) kit. The mini-spiral cord extension was installed first, with the boom microphone setup installed later.
The only issue with the spiral extension cord kit is that there is a fair amount of wire to 'hide' or secure. Unsnapping the inner liner piece allowed wiring to be routed safety out of the way, especially from the side latches. Only the coiled section of the extension cord should be allowed to swing freely — it provides the necessary extension when the front piece is fully opened.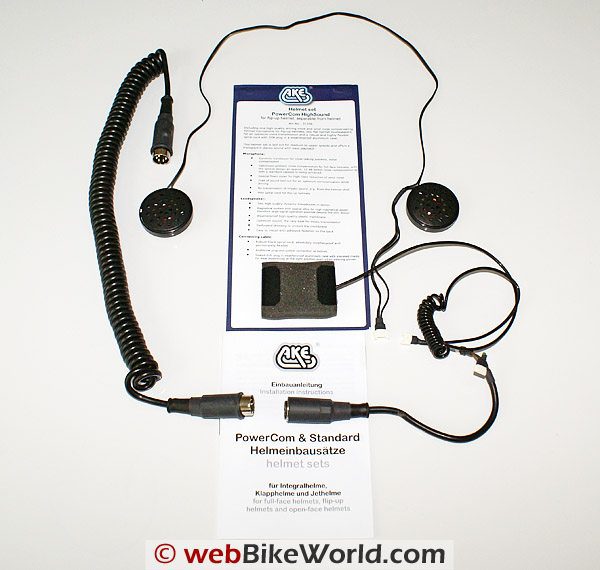 Audio Luxury: HighSound Headset
This headset kit can be used for full face, flip-up or open–face helmets. Designed to provide optimal music and speech audio under all conditions, the HighSound speakers have far more frequency range, 30 to 20,000Hz than the HighVoice set (300 to 5,000Hz).
The speakers are thicker and have additional foam backing as well, providing more 'depth' and thus resonance space for better stereo sound and bass playback. As with all helmet speaker sets, proper location and mounting is important, so that audio output is optimized. The placement test and alignment instructions found in the Operating Instruction, is 'sound' advice.
Packaging of this kit differs from the HighVoice package in that the microphone and headset mini-connectors are mated to a short harness cable measuring 21 cm (8 in). This short helmet harness is then plugged into the provided extension flex cable that can be stretched from 50 to 200 cm (19 to 79 in), to bridge the headset and the control module.
Are We Ready?
With power to the main module, activating the system is simple. The helmet headset spiral cable is connected to the ROGER One control module via the large DIN plugs, marked (D) on both cables. Line up the raised marks on each plug and push them together. If power is good, an audible power click is heard in the headset, verifying that the system is powered up.
For a standard (basic) installation, the control module is automatically powered up when the headset cable is connected, and powered down when it is disconnected.
In the event that none of the other power switching options are active this function prevents the unit from staying on and draining the battery if a direct connection is used to power the system.
AKE clearly states that the best performance is obtained from using a totally wired system; a point well made and acknowledged, even with all the wireless technology advances available to consumers today.
Outside of the initial power click and any clicks generated when devices are connected, the system is virtually silent. There is only the slightest hint of white noise in the headset, whether the system is running off a buffered 12V power supply or on a motorcycle. The active power and noise suppression features really work.
As the ROGER One is the basic communication system, there is no provision for an additional wired plug-in audio (music) source on this model. However, music or other audio could possibly be streamed in via any compatible mobile device connection, wirelessly, right?
Device Connectivity
Accessory interface cables for portable radios and CB units were provided to allow a range of radio devices to be connected:
Double jack cable with 2.5mm (microphone) and 3.5mm (speaker) plugs (both double pole), for use on many LPD (Low Power Devices) and PMR (Personal Mobile Radio) devices used in Europe, some Family Radio Service (FRS) devices found in North America and, many hand-held Citizen Band (CB) transceivers.
Single jack cable with a 2.5mm plug (three pole) – identified for use with a Kenwood two-way (FRS-based) radio, although it should be compatible with other popular FRS radios on the market in North America.
CB Radio cable with 3.5mm (two pole) and four-pin round thread connector as used on many popular desktop or vehicle mount CB units.
Finding compatible radios in the local area proved difficult. To expedite evaluation of the system, a second parcel received from AKE contained a pair of alan456R PMR446 radios, a popular European device, just what was needed to get going.
During the trip to Florida a set of Midland GXT735 X-TRA TALK North American compliant RS/GMRS radios as well as two Radio Shack hand-held CB radios (Cat No. 21-1679) were procured. Both sets were successfully used with the ROGER One using the dual-plug interface cable.

In the Real World
Measuring and assessing how well a system does, or does not perform must ultimately be done in a realistic (live) environment. Due to large amounts of white stuff outside, initial evaluations were done in a controlled environment (inside and outside between snow banks).
The Speed Week sojourn served to generate a large amount of test data for evaluation purposes. Riding and using the system on a daily basis is the only way to really assess reliability and performance of any specific system and peripherals.
Without hesitation it can be stated that the AKE PowerCom ROGER One system and every accessory goes together and works together, period.
The wired world is quiet and secure. System components connect easily as do peripheral devices via the respective interface cable. Whether on iVOX or PTT the switching is fast and clarity remains superb. System performance is optimized as all data is moved through a common switch with attenuation provided by the discrete tunable controls.
iVOX – stands for intelligent VOX-control. This feature provides a continuously compensated response threshold based on sampling of the surrounding noise. Extensive voice recognition distinguishes between surrounding noise and the spoken word, and switching or response delays of the mobile device (i.e., radio) is electronically compensated for by the iVOX.
Bottom line, no words are lost, it just plain works. Static tests with the alan456R devices, and real-world testing using the Midland GMRS/FRS radios or the Radio Shack CB transceivers proved that the system provides fast, crisp and clear communications at any time.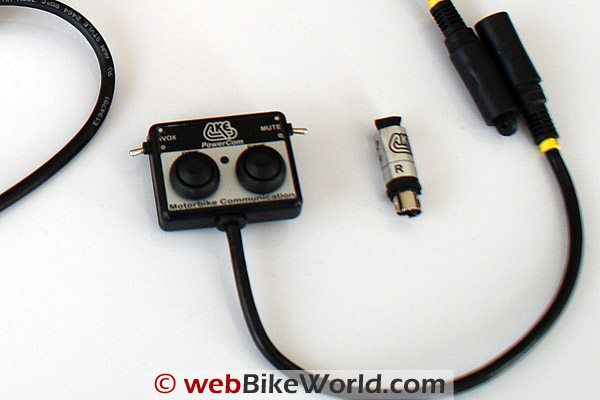 A Little Goodie
Acknowledging that the iVOX function really works well, really well, the optional PowerCom Operating Device was also put through its paces. In essence a mini-control, the module is meant to be installed in an easy to reach and safe spot on the motorcycle (for left-hand control).
Connected to the mini-DIN (R) lead this little black box provides switching for: push-to-talk (PTT) or intelligent voice control (iVOX); muting (MUT) of any stereo audio signal to the rider (but not the passenger); and, enter (ENT), a button to answer and end a call, as allowed with a mobile phone.
Although the iVOX feature is very hard to defeat in any environment, thanks in part to its intelligent switching features and its ability to be adjusted or 'tuned' at the module, for those who want, or need, a positive switched environment, the operating device module is the answer.
Unlike some other control modules found with various accessory kits, the AKE item is small enough to be mounted on or near most left hand control modules and the included 200cm (79in) extension cable can be discretely routed or permanently installed out of the way.
Togetherness
Every PowerCom system includes the Intercom capability. Unlike some other intercom systems that provide limited access, this intercom allows the second individual to initiate external communication sessions as well, all in full duplex mode.
A second Nolan 102 Flip had a HighVoice headset kit installed in it. When the second helmet was connected via its flex cable, a small connection click was heard and the intercom became active. It is also VOX based and extremely fast. Intercom volume and threshold adjustments can be made by using the applicable 'trimmers' on the control module.
With the PowerCom operating device plugged into the DIN 'F", there is no change in the rider and intercom configuration, except that if the PTT mode has been selected, that button has to be pushed before any external sessions can be initiated by the rider or intercom user.
Conclusion: Part One
As supplied and subsequently configured, the system performed without fail. As long as the peripheral radio or mobile phone devices were connected, communications were available under a wide range of riding conditions.
The iVOX feature is amazing — it even coped with the noise levels experienced on Speedway Boulevard at the peak of Bike Week. The discrete trimmer controls allow critical input/output levels to be adjusted quickly.
Components are well made; connectors are simple and appear robust enough to survive the long haul and prolonged use; and, flex and extension cables allow almost any installation configuration on virtually any motorcycle, or other platform.
Outside of a faulty headset flex cable, easily replaced from a spare unit, nothing broke or failed to perform as advertised. Connections are securely made by the DIN plugs, while MOSSCAP end-caps and connection seals keep the elements out.
The ROGER One wired world is good. As a simple and reliable system for rider and intercom user, it is highly recommended. But, if a bit more versatility is desired, venturing into the wireless world is required. Fortunately, that ground has been covered, so stay tuned for Part 2!
In This Series:
Note:
 For informational use only. All material and photographs are Copyright © webWorld International, LLC since 2000. All rights reserved. See the webBikeWorld® 
Site Info page
. Product specifications, features and details may change or differ from our descriptions. Always check before purchasing. Read the
Terms and Conditions
!
Owner Comments and Feedback