AKE BT Multi-Interphone Intercom Image Gallery
Another easy-to-use Bluetooth helmet system; weatherproof and rugged, with very good audio and excellent volume control.
Appearances can be deceiving and generic isn't all bad.
webBikeWorld visitors will remember that the AKE PowerCom INNOVA and Roger One, along with related Bluetooth peripherals, were reviewed in a series of articles published in April 2008.
To say I was impressed with the products would be an understatement.
Since then I have had a hankering to try some more AKE kit, so when the opportunity presented itself to more products, there wasn't much hesitation.
Time and technology marches on and I am always anxious to see what is new on the market and look forward to evaluating as many systems as possible.
AKE Motorbike Communication has an extensive and ever-growing offering of Bluetooth products and peripherals.
Virtually any wired, wireless or hybrid combination is viable and even though most AKE products carry a price premium, they are very much worth it.
AKE wants to have more of a North American presence and to that end there is now a functioning US partner, Cohesive Technologies, that focuses on best of breed products and integration. This relationship allows consumers on this side of the pond to shop for AKE products with US pricing and get support closer to home.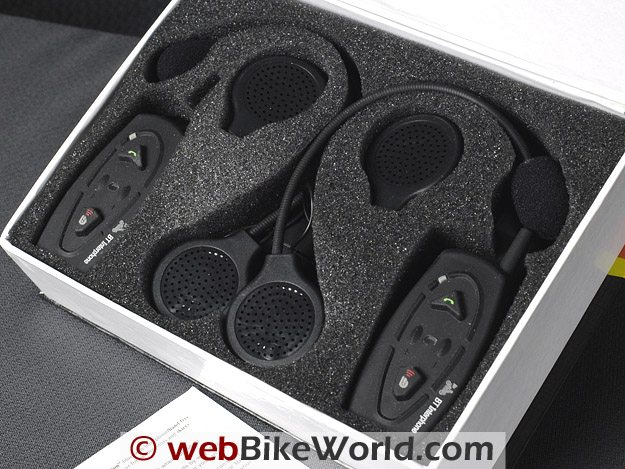 Despite their long list of motorcycle communication products and accessories, AKE did not have a stand-alone Bluetooth helmet system for use as rider-to-passenger or rider-to-rider duties. The consumer base for this type of Bluetooth helmet systems is huge and the menu seems to grow almost daily.
AKE has now entered the fray in tabling the BT Multi-Interphone system. I will state up front that is it not an AKE product, but rather distributed by AKE. A quick search reveals that the system is available from various on-line resellers as well, marketed to motorcyclists, snowmobilers and off-road enthusiasts.
This is a smart marketing move and makes good sense; so many wireless systems, including short and long-range Bluetooth-based products are procured and used for many activities other than just motorcycling.
And if you are wondering about the name, it does identify a key feature. The BT Multi-Interphone allows up to three individual systems to be 'paired' or configured to provide a small-area network of two to three users, even though only two devices can conduct a voice session at any one time.
This multi-user capability, offered up in one form or another by various Bluetooth system manufacturers has not always been heavily touted and limitations still exist. But between evolving Bluetooth standards, chip-set technology and an extremely competitive market, this feature will become more main-stream, with some ingenious implementations. I can't wait.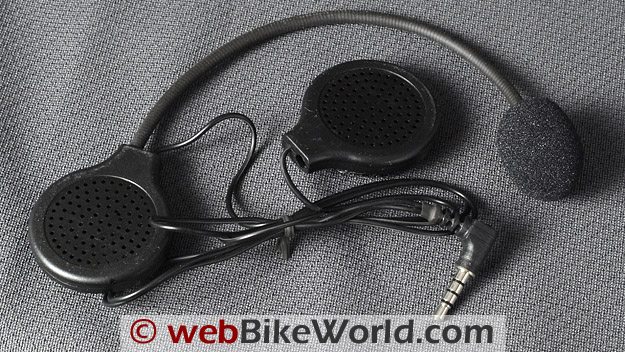 AKE BT Multi-Interphone Intercom – System Overview
As offered up in the Duo Pack, the AKE BT Multi-Interphone contains everything needed to enable rider with passenger or rider to rider communications with wireless Bluetooth support for hands-free devices and A2DP support for stereo music streaming from compatible peripherals.
The generic AKE User Manual identifies this communications system as a 'BIM', which stands for Bluetooth, Intercom and Music. The BIM can connect with four devices: a mobile phone, two other BIM devices and an audio source. The audio source can be Bluetooth capable or be connected via a compatible Bluetooth Adapter (BTA).
Even though no technical specifications are available, based on its features, the system would appear to be based on Bluetooth 2.0 or 2.1 + EDR and supports the following profiles:
Hands Free/Headset – for mobile phone/audio connectivity;

Advanced Audio Distribution or A2DP – for stereo audio streaming from compatible devices; and

Audio/Video Remote Control or AVRCP – allows the Multi-Interphone controls to be used to remotely control a compatible audio player.
The Enhanced Data Rate (EDR) feature provides the fast data transfer capability needed to fully support bandwidth requirements (e.g., for stereo audio streaming). It also facilitates multiple connections and typically reduces power consumption as well given other efficiencies.
With these features, the BT Multi-Interphone is claimed to support virtually any Bluetooth capable mobile phone, music player or GPS. The User Manual specifically identifies that some mono Bluetooth mobile phones (may) function with the BIM as well.
As a Bluetooth Class One powered device, the helmet module claims a wireless communications link range of up to 500 metres or 1640 feet. Two (A – B) or three systems (A – B – C) can be connected; for example, Rider, Passenger and another Rider.
The system is said to provide up to seven hours of talk time, although system life in a mixed use environment (talking and peripheral use) is not identified. The system is also claimed to be water-resistant for all-weather use.
Voice communications are enhanced by use of a digital signal processing (DSP) capability: wind or other ambient noises are minimized, providing clearer voice communications under a wide variety of conditions and at most (sane) road speeds.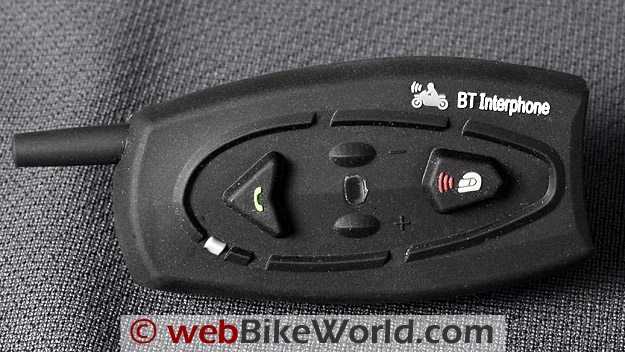 Form and Design
The BT Multi-Interphone module itself is similar in shape and size to other popular systems on the market, but has some unique features that set it apart. Most noticeable is the antenna stub that protrudes rubber-ducky style from the front of the module.
Implementing a larger or external antenna has real benefits and outside of styling concerns, there is no reason why the antenna could not be more external. It is something that I think we will see more of as more advanced wireless systems come to market.
The module is encased completely in a sealed housing that provides the 'weather-proof' feature of the system. There are only two openings, both located on the back edge. One is the mini-USB port for charging, covered by a very tight fitting cap and secondly, a well-recessed 3.5mm stereo jack for the headset or external audio input connection.
Four small pressure-sensitive controls are located on the face of the module. The forward button is the Phone/Play control: the rear button is the Power/Interphone control. A small status LED is centered on the face with two small volume controls located above (-) and below (+). The two large controls each have a distinctive shape that helps from a tactile perspective.
The volume controls are small raised nubs and as the weight of the glove goes up, they will be harder to use. Tactile input is further hampered by a raised line that is seemingly meant to delineate the input control grouping but in reality inhibits more than enhances.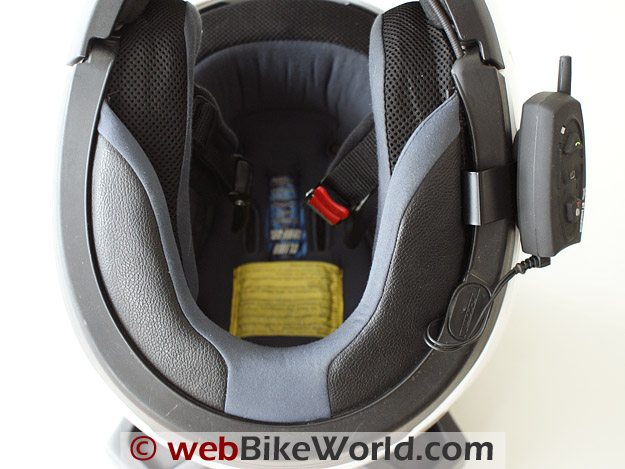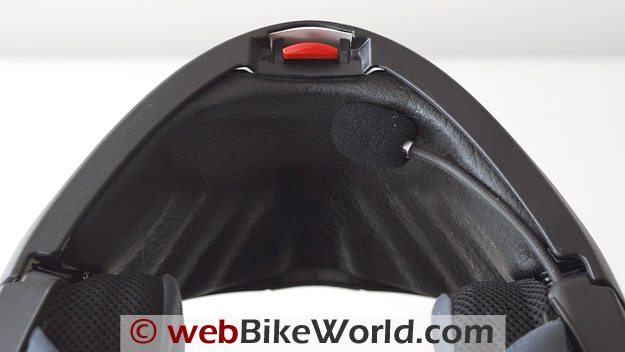 Speaker, Headset and Module Fit
The headset speakers, boom microphone and connector are an integrated harness. The microphone is mounted on a 15cm long boom that fits inside the left-side speaker housing. Combined length of the boom and microphone is 17.5 cm or 6.9 inches.
Long thin wire leads are used for the left and right speakers. The left lead is 34cm (13 in) long and runs to the four-element 3.5 mm audio plug, while the right lead is 54 cm (21.25 in) long and runs from the audio plug to the right-side speaker housing.
The speaker housings are 3.5 cm (1.25 in) in circumference and 7 mm deep (without backing). The speakers are rated at 8Ω and 0.5W. A small foam wind-sock covers the microphone and as there is no orientation mark, I put a small black mark on the silver plastic housing for this purpose.
The one-piece nature of the headset assembly simplifies some things but it can be a challenge to fit inside some helmets. The main culprit is the integrated left earpiece and boom assembly. I managed to get the headset mounted up in the Nolan N-103 largely in part to the small boom channel cast into the outer shell.
Without being able to separate the earpiece and microphone components, headset installation in the Arai XD (review) and Arai Corsair (review) helmets is a bit more problematic. The boom assembly had to be threaded through the strap cut-outs of the liner pieces. This approach works but it also serves to identify an issue common to both installations.
The boom assembly is too short and as part of the left side speaker housing, the ability to adjust placement is very limited. For small or some medium shells, the microphone might sit further out, but for the medium and large Nolan and Arai shells, the boom is about 2.5 to 5cm (1 to 2in) short.
This means that the microphone only reaches to a point adjacent to the left side of the mouth as installed in the Nolan and ARAI helmets. The microphone still works, but it is not positioned for input efficiency. Most headset assemblies found on other Bluetooth systems have separate speaker and microphone (boom or thin-wire) components which provide installation flexibility.
Mounting the system on the ARAI helmets is tool-less and quick: the small metal clip/hanging-hole mount is mounted on the left side of the helmet in the appropriate or dictated position by slipping the inner edge up between the shell and the liner.
A small rubber insert liner, shaped to emulate the hanging-hole mount on the clip, is slipped in between the clip and the outer shell surface to protect and cushion. The module is then slipped through and down into the cut-out of the clip and the 3.5 mm headset connector inserted.
An alternate mounting method is to assemble all three pieces and slip the whole assembly on to the helmet. The components are very simple and light-weight but the whole assembly sits solidly on the side of the helmet. It is not easily dislodged unless a major bump introduces itself.
The Nolan N-103 shell pretty much precludes an easy clip mount so I reverted to my usual strategy of cutting out a double-side industrial hook-n-loop template to mount the BIM (module) directly to the removable N-Com plate that hides the space reserved for Nolan's BT system.
There is a small access port on the bottom lip, again for the N-Com — it is ideally located to run the headset harness from the earpieces out to the BIM. Adjusting the speakers in the Nolan is really simple as there are soft ear cover flaps that lift up, providing direct access to the mounting area.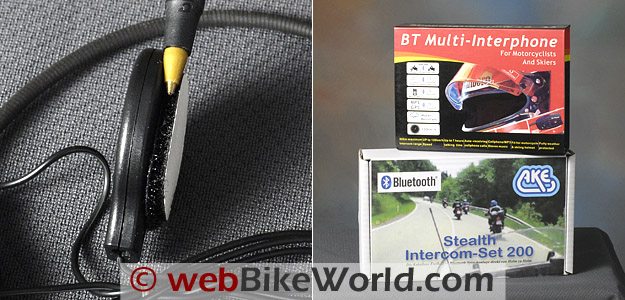 Functionality
The AKE BT Multi-Interphone can be used as a wireless Bluetooth-based helmet system or a simple stereo helmet headset. If the wireless or intercom capabilities are not needed, simply unplug the 3.5 mm headset plug from the module and connect it the audio output jack of an external device.
As with any system initial charging is important. The integral 500 mAh Poly-Li battery is charged by a DC 5V source using the supplied mini-USB to USB cable. This cable can be connected to a compatible USB-2 specification port on a computer or to the supplied AC/DC adapter module.
USB-based chargers are becoming the standard, which provides great flexibility for home or road use. Both chargers in the kit were 220V style, so my North American adapters (available from Radio Shack or the Source) were brought in to play. In response to an email, two North American USB adapter modules were received from Cohesive Technology the same week.
Like other newer Bluetooth systems, using the AKE BT Multi-Interphone intercom module is pretty simple. Turning the system On for Off involves pressing the rear Power/Interphone button for six to seven seconds. The button can be released when the Blue LED lights up. In standard mode the LED will flash every five seconds.
A quick press of the Volume + or Volume – buttons increases or decreases headset volume as desired. Just remember to check or adjust volume settings before testing the system or putting the helmet on for the first time. This system is capable of putting out some serious audio — caution is advised.
Pairing mode is initiated with the system off. Press the Power/Interphone button for close to ten seconds; the Red and Blue LEDs will flash indicating Pairing Mode is active. The system remains in this mode for two minutes at a time.
With the system ready, initiating pairing mode on a Bluetooth compatible device should result in 'Motor Phone' being displayed on the device within a few seconds. Selecting and accepting this connection should lead to the device asking for the password: the default is '0000'. If all is well, the module LED now flashes Blue once every five seconds.
Once paired to the BIM, most devices will reconnect if brought within close proximity. On occasion, however, the peripheral device would ask if the connection could be made. And although I did not experience this, the User Manual states that if a connection is 'lost', pressing the BIM Phone/Play button recovers the connection.
With my configuration, an incoming call is identified by a single vibrate or ring-tone and within 3-5 seconds the call is answered automatically by the intercom module. I had no problems whatsoever with my aging HTC Touch and a newer LG phone as used in phone mode or as an audio player.
Initiating a call from either phone results in audio being transferred to the headset. Redialing the last number works by pressing the Phone/Play button for two to three seconds. The Phone/Play button terminates a call but it is still far better to have the other party hang up.
Using this procedure addresses system connectivity and safety concerns. It is the same reason why I do not initiate a call while riding unless specifically stopping to do so and I always pull over when receiving a call as well.
Helmet audio quality is a very subjective thing but to my still discerning ears, the BT Multi-Interphone stereo headset speakers are very good, but not as good as the Chatterbox Xbi series headsets (review) or especially the AKE High-Sound speakers — my top choice. Audio is very clear and volume is not an issue but dynamic range or 'presence' is not as good as expected.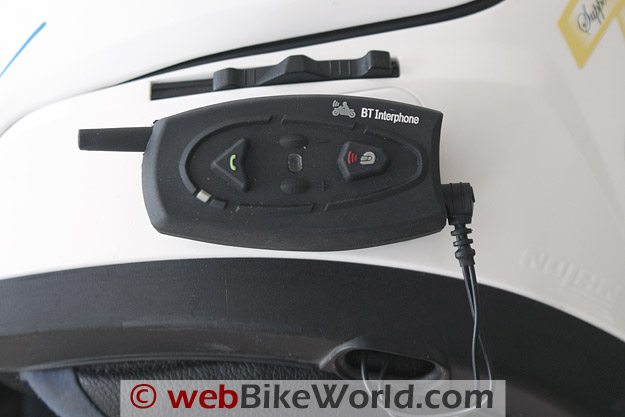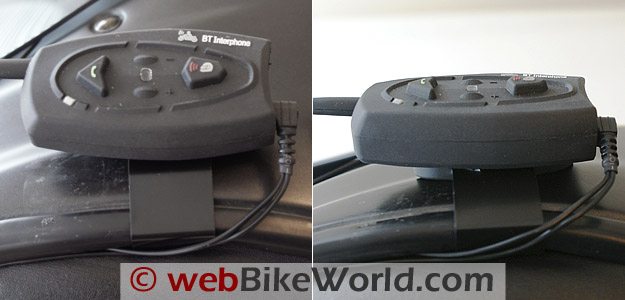 Intercom Functionality
True to its claim, the intercom capability of the AKE BT Multi-Interphone intercom is fully functional in every way. Pairing two or three of the devices differs somewhat from the generic device pairing procedure but it is still a simple procedure.
With the devices off, put the first two, A and B, in pairing mode — hold their Power/Interphone buttons until both enter pairing mode (LED flashing Red and Blue). Give the Power/Interphone control on the 'A' device a quick press.
Within a second or two the Red LED on both devices will quit flashing and the LEDs will flash Blue every 2-4 seconds; A and B are now paired.
To pair a third BIM, turn off device B and pair A and C in the same manner as described above. Once A and C are paired, the 'B' device can be turned back on. A short press of the Power/Interphone control initiates a link between the A and C devices.
Press the same control for 3-4 seconds until a distinctive two-tone beep is heard and release the button. This sequence terminates the A – B link and initiates an A – C link. Any pairing combination can be done between three devices, but don't forget to turn off the third unit while doing any 'pair'.
A point worth repeating here is that the Bluetooth one to one relationship applies whether two or three devices are configured. Accordingly, only two of the three devices can be used for a specific session at any one time.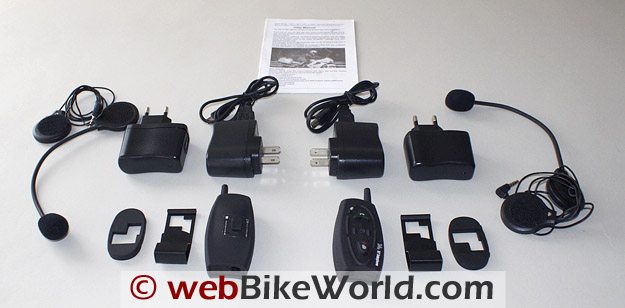 Interaction With Bluetooth Adapters
A number of Bluetooth Adapters or BTAs were tested with the BT Multi-Interphone systems just to see how communal the components would be. I tried four Bluetooth adapters; first up was the AKE BTD 302 Bluetooth Music-Transmitter.
The BTD 302 is simple- in design and use. Pressing the single large button control for five seconds will turn it on, indicated by a small Blue LED residing behind the bottom half of the button. A companion Red LED resides behind the upper half of the button.
With the device turned off, pressing the button for eight seconds initiates Pairing Mode indicated by an alternating Red and Blue LED sequence. After five seconds the BIM and BTA recognize each other and within another five seconds music was being streamed into the helmet.
A noticeable design drawback of the BTD 302 is that the LEDs are behind the button and if said button is covered by a finger when used it can be hard to see either LED. Fortunately they are bright and the peripheral flashes catch the eye.
Functionally the Bluetooth 2.0 based adapter works very well in streaming stereo audio to a headset, but unfortunately it does not support the audio/video remote control profile. As such it may not be the ideal Bluetooth adapter to use with the BT Multi-Interphone or other Bluetooth systems that support this profile.
The other three Bluetooth adapters tried have all been used with previously evaluated Bluetooth systems: the Chatterbox iCombi AG 12 Bluetooth adapter (review), the Rocket Fish RF-MBT30 (iPod/iTouch specific adapter) and an older Albrecht BPA-100 (review).
The iCombi and Rocket Fish adapters, which support the A2DP and AVRCP protocols, worked without a hitch. The older BPA-100 which lacks A2DP or AVRCP support would seemingly pair, but no audio streaming was initiated — a somewhat anticipated result.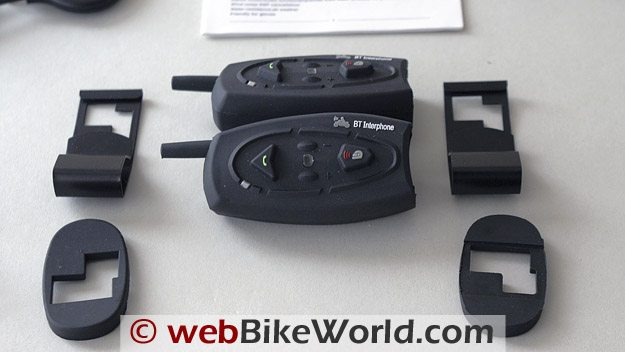 On The Road
An extended December sojourn to Florida allowed full use of the Multi-Interphone system, along with other systems taken along for testing, of course. Outside of some peripheral interference that crept in on the Bluetooth channels periodically and the Garmin zumo 660 (review) dropping its link to my AKE BT Multi-Interphone intercom module now and then, nothing major arose.
Keeping the wireless link terminated when not needed is a great way to reduce power consumption and with careful management, a full day of mixed intercom use and music streaming is possible. Recharging the systems in the evening took less than three hours when using the USB to AC charger configuration.
As validated by our rides, link range between two of the AKE BIM intercom modules is equal or greater than the claimed 500 m or 1640 ft depending on terrain and if in town, on surroundings. Either BIM in a 'pair' can initiate or cancel an intercom session — a one second push of the Power/Intercom button starts or stops a session, although it takes about five seconds for the link to actually open.
Unless the link starts to fall off due to distance or obstructions, working out 600 to 700 metres is possible although at these distances audio can become degraded to a degree. It is rare that the link does not re-establish itself: in these instances a one second push on the Power/Intercom button initiates a new session.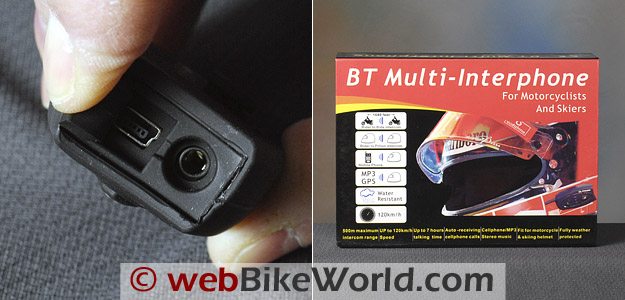 Conclusion
While questions remain about some of the specifications and its manufacturer, and although lacking a clear identity, it is not lacking in performance, less the lacklustre audio from the headset.
I have my own thoughts on who might actually produce the system, especially given its design and communications range…
It is not the best finished or most complete system I have evaluated, but simple construction and robust functionality outweigh any packaging shortfalls.
There is no adhesive mounting solution for use on helmets that cannot use the included clip mount components. This is an important exclusion — virtually every kit evaluated over the last three years or more has had this option.
Intercom range is excellent, right up there with the leaders, which includes the original Cellular Interphone and I suspect the new Interphone F4 system (review) recently evaluated by the Editor.
Battery life meets or exceeds what is claimed in the User Manual and as newer technologies and standards are implemented, communication link ranges will increase and power consumption will decrease — what a deal.
Its ability to function in a three-way configuration, albeit with a limitation, is an indicator of where Bluetooth systems are headed in general.
On a related point, many of the Motorcycle Bluetooth Intercom Wish List items identified by the Editor in the Interphone F4 article are being addressed and I think 2010 is going to be an exciting year for the Bluetooth system market.
w

BW

 Review: AKE BT Intercom
List Price (2010): €299.00
Review Date: February 2010
Note:
 For informational use only. All material and photographs are Copyright © webWorld International, LLC since 2000. All rights reserved. See the webBikeWorld® 
Site Info page
. Product specifications, features and details may change or differ from our descriptions. Always check before purchasing. Read the
Terms and Conditions
!
Owner Comments and Feedback
---
From "D.H." (November 2012): "I just got a set of these. The only problem is that the volume is so low, you can't hear the other rider at speeds over 30 mph due to wind noise in your own helmet.
The line of sight range is about half a mile. We measured. We were seriously disappointed after finding a product with super good range, but audio so weak it made the product useless.
We bumped the audio as high up as it would go and it just wasn't loud enough. In order for this to be a useful product, the volume would need to be about 10 times louder. But because I do love the range, I am currently looking for someone who sells a little inline amplifier that can boost the audio to usable levels. No luck with that yet. If anybody knows of one, please let me know.
Editor's Reply: Several things to note:
1. Motorcycle intercom technology improves at a very rapid rate, so the AKE system you reviewed is probably outdated by now. Some of the newer systems have greatly increased volume.
2. Intercom speakers must be as close as possible to the rider's ears, so you may be able to add some foam backing to push the speakers out from the sides of the helmet to get closer to your ears.
3. Wind noise from helmets, fairings, etc. can interfere with speaker noise from any intercom system. We always use high-quality, correctly inserted ear plugs when riding and when evaluating intercom systems.
4. Amplifiers are available; we have reviewed a couple on webBikeWorld, most recently in the Tork Booster Mini-Amplifier review.
---
From "K" (August 2011):  "I bought a pair of the "2010" units … for myself and my girlfriend in April of 2010. They are basically the same as the units reviewed, but have extended range using a vertical antenna.
We really liked the performance of this "Interphone"; volume, range, and functionality were quite good. I paired my unit with my cellphone to listen to music and take incoming calls, as well as the intercom function. My girlfriend had her unit paired to her iPod Classic using a Rocketfish BT adapter.
Installing the headsets was easy, fitting both her full-face helmet and my flip-up helmet quite well, though the mic boom could be a little longer. Conversations at 50MPH+ are fairly clear, and even better when wearing earplugs. Sound quality, though, is slightly tinny and lacks low-end response. Not surprising, given the price.
I used my unit nearly every day, switching it on and off at least twice daily (once to work and once on the way home), and my girlfriend used hers every couple of weeks (she only used hers when we were riding together).
Our first pair of these units both had the power buttons fail within 4 months. After receiving the warranty replacements, they functioned fine for some time. 8 months later, the power button on my girlfriend's unit failed again. A year after purchase, my girlfriend broke her clip-on mount, so I gave her mine and I used the stick-on mount. 3 or 4 months later, the stick-on mount came off during a 70MPH cruise. The unit blew right off of my helmet and into the tall grass along the highway, never to be found.
The price of these units is very good considering their feature-set, costing about half that of a mainstream intercom, plus you get 2 units instead of just one. However, the (lack of) durability of the buttons, and the weak adhesive of the stick-on mounts, has me convinced that I got what I paid for, which is cheap … construction.
I have contemplated buying the latest version of this Interphone, which supports pairing with up to 5 other riders, but only because the price is low enough to consider them almost disposable in comparison to more mainstream units."
---
From "T.M." (5/10):  "Thanks for the great article on this Bluetooth intercom system. With so many different systems out there and a variety of price range, it helps to have a good review to go by.
I've owned this particular unit for little over 2 months now and functionality is good for the price I paid for them.
The pros:  My unit came with a stick-on holder and a clip-on, I opted to use the stick-on's for the ease of placement. Secondly, actual installation was a breeze, no rocket science degree needed. The actual set-up was kind of tricky due to the unusual way the English language was used, translation problems, it seems.
The cons:  The pairing process was a bit frustrating due to poor English translation but, I eventually figured it out. When we go for our rides, the pairing don't always work automatically upon power-up. We need to momentarily push the "comm" button and wait a few seconds before it establish connection. Even then, we some times have to hit the "reset" button and try several times before they connect.
Although it's supposed to work with GPS system, it failed to connect or be recognized by my Garmin Nuvi 285WT. On one attempt, it showed as "unknown device" and wouldn't connect. In another, it showed a totally unknown model/ID and it too failed to connect. In most part, numerous attempts ended with "no device found/detected" by the GPS.
The interphone works OK for rider to passenger comm, even at 75 MPH. No Hi-Fi system but, we can still hear and communicate. I mostly use the Interphone as music player paired with my cell phones on my daily commute to work.
Sound quality on my 09 Honda VTX 1300R tourer is "tinny" at best, as in old fashioned mono radio set. When I connected my Sony ear buds to the 3.5 mm jack of the Interphone directly, Hi-Fi sound was crystal clear.
I'm looking for a mini head phones now that actually enclose my entire ear and replace the original low quality speaker they came with. Shouldn't be too difficult to cut, strip and solder the wires to the new headsets."
---
From "J.L." (4/10):  "I just want to say how much I appreciate the wBW reviews. wBW is the first place I go when I'm ready to buy new gear.
I purchased a set of the BT Multi-Interphones, the new "2010 model" with the larger removable antennas. I've been using them for about a month with some surprises, both good and bad.
The first surprise is how well the rider to passenger intercom works. The intercom is crystal clear with plenty of volume, even with ear plugs. There is just the slightest bit of white noise that lets you know they're active. It does become difficult to understand at highway speeds due to wind noise, but no more than expected with my noisy THH helmet.
Battery life seems sufficient but I haven't fully tested it, I just charge after every few rides and have not had a problem. They pair easily with everything I've tried, and they always reconnect automatically after powering off/on.
Now for the bad. When paired to my GPS I cannot use the intercom. I need to disconnect from the GPS first by using the GPS Bluetooth menu, then the intercom works.
My passenger's unit has a similar problem. She can start an intercom session, but only if I'm not connected to the GPS, and it disconnects her MP3 player and doesn't reconnect automatically. She must use the MP3 player's Bluetooth menu to reconnect.
All of this is too much to do while riding. we still use them for intercom, or music, but not both on the same trip. I don't know if this is a limitation (or problem) with my BT Multi-Interphones, or with the specific Bluetooth devices we use, or a mistake on my part."
---
From "J.B." (4/10):  "I just purchased a set of these two weeks ago. Item had the "Shark" label, but appears to be the same unit in your review. My primary reason for purchasing is for the phone link via Bluetooth connection. The cost was very reasonable and from everything I have read, it seemed it would meet my needs adequately.
The unit linked up quickly to my Blackberry Pearl after installed in my helmet (Shark RSX) and I was on the way to having a descent headset unit for my riding. So I was ready to go.
But unfortunately, I never made it out of the house to try on my bike. The BT Interphone signal, with my phone, was very poor. I tested both units, linking them to my phone. Each time I spoke a sentence, the other party could only hear about ¾ of my words.
I tried multiple combinations with both headsets and modules. The only way I could get the unit to work well was to hold my phone just next to the module. As I moved the phone away from the module, the signal started cutting out. This started at approximately 6" from the unit. Of course this was only determined after about 3.5 hours of testing, off of the helmet. I really wanted these to work out, given the reasonable price.
I spoke with an IT professional at work about the issue. He stated it is quite odd for this to occur with Bluetooth and it could have been due to the shielding of the unit, not the Bluetooth itself that is contained in the unit.
Unit has been returned to the vendor, without testing the intercom capabilities or the sound quality. I believe I will opt for the Scala Rider G4 (review) or the Sena SMH10 (review) this go-round. I'm not quite sure which one just yet.
I've always heard, "you get what you pay for". I don't know how many times I have found myself completely dissatisfied by trying to save a buck, or two, or a hundred. Now I find myself adding the BT Multi-Interphone Intercom to my mental book of disappointments.
I thought this information might be good for you to put out to your readers as I haven't read anything negative about this particular intercom. I do appreciate your website, the reviews and reader feedback are great resource…keep up the good work guys!"
---
UPDATE From "K.B." (See Below) (3/10):  "I wrote to you about a week ago regarding our experiences with the AKE interphones we have been using.
I want to emphasise again that the latest set we have bought are distinctly different from the previous two sets, instead of an antenna stub protruding from the front of the casing there is a screw on connection there instead. A new detachable antenna screws onto the coupling and sticks up vertically. The new antenna is about the same length as the casing.
Apart from that though, the rest of the casing, mounts and headsets look exactly the same as the previous BT multi-interphone sets we purchased before.
The new units were listed on the web as "new 2010 versions" with claimed 1000 m range, the box and instructions are still the same though and only claim 500 m range.
Today we actually used the newest set for the first time on the road. We used a simple test to try and determine max range. We stopped at the side of the road and reset trip meters, then my wife rode away. We did voice checks until the comms broke up and then she stopped. I then rode to her position. We did this several times.
Our trip meters indicate that useable range was about 400 meters, and absolute signal loss at about 500 m. The road we used was a straight and flat country road (Western Australia has many straight flat country roads) and the weather fine. There were power lines running parallel to the road.
We then rode on and tested communication clarity at 80, 90, 100, 110, and 120 km/h increments.  Clarity with these sets was better than the previous sets with a lower level of background static. At 80 and 90 km/h communication was very clear, at 100 it was clear but with increasing background noise.
At 110 km/h it was still understandable but not really pleasant and at 120 it was barely readable, basically unusable except to alert the other rider that communication was desired and to slow down a bit to enable easier communication. The distance between the bikes for this test was about 10 – 20 metres.
Perhaps rider-to-pillion users will experience clarity at higher speeds given that both units would be closer together and would be filtering the same engine and road noise. This is not something we have tested yet but will another time.
So in our experience the "2010" versions have an increase in useable range of 50-100% (400 m versus 200-300 m) and an increase in useable speed from 90 km/h to 110km/h over the previous A2DP versions (ones with grey reset button). There is less static and background noise at all speeds (we used to experience some "hum" even at rest with the old ones).
Lastly we also hooked up on of the old sets into a helmet we use to pillion our kids, and tried out the functionality of the third channel. It worked as described in the manual. It was interesting to hear the increase in background hum when connected to the old unit.
The system works by having two units (say unit A and unit B) acting as masters and linked, and one unit (say unit C) as slave and not linked. At any time either of the two masters (A or B) can initiate a channel change and link to the other (C). Then the new pairing (say A and C) will act as masters and the other (B) is the new slave. This is important because the slave unit cannot initiate comms with either of the other two, it must wait until it is elevated to master status by having one of the other two select it.
We have not tested this on the road yet but envision that the pillion will normally be the slave station and will initiate a comms request through a physical signal to the rider who will then initiate a channel change. The rider will switch back to rider to rider comms after the rider to pillion exchange is finished (Remember my wife is on her own bike and my pillion will be my child – this may not be the preferred option for those whose pillion is their wife).
Most of the time though we actually ride with the comms circuit on standby and with our I-pods supplying music to the headsets through a Bluetooth adapter (iBluon TD02). This works well with good music volume and clarity. The iPod batteries will last 4-5 hours while supplying the power for the iBluon adapters. I have set up a USB charging station in my topbox to recharge iPod and BT batteries during breaks on our longer rides.
Anyhow that is our experience and I hope you can use some of it. I found your website to be very useful and informative, I will be recommending it to other people who show interest in setting up bike to bike comms systems.
From "K.B." (3/10):  "My wife and I have been using AKE BT multi-interphone system for the last 6 months. We looked at various options to satisfy our wish to pass basic messages whilst riding our separate bikes when going on tour rides with our local branch of the Ulysses club.
Our experiences are as follows: initial pairing up took us a couple of tries, but this was due to the BT's being the first Bluetooth devices I had ever worked with. Now that we know what we are doing pairing up has become a quick and easy affair.
At first our impressions of audio quality were that the music from our I-pods (via a Bluetooth adapter that plugs into the iPods) was excellent, and the intercoms were reasonably good up to about 90km/h (55mph) – beyond 90km/h comms are still possible but wind, bike and road noise make understanding the message more difficult.
We have checked the phone systems work but have never used them on the road. Generally we found the intercom range to be several hundred metres – sufficient to satisfy the rule of thumb "If you can see 'em you can talk to 'em"
After a few months though my wife's set became flooded with static whilst in intercom mode (but not in music mode). After some fault investigation we found that the wire for the headset had split where it enters the plug.
So we ordered a second pair. This is where it gets interesting. The second set was different from the first set. Some of the differences were:
Mounts – first set were plastic mounts with screw fasteners, 2nd set metal clips (as per your pics) with rubber pads
Casings – first set 5mm shorter in length with Gray reset button and logo, 2nd set longer with white button and logo, also 2nd set mounting lug not as firmly attached as first set.
Headsets – first set has longer and thicker microphone boom, but thinner wires leading to speakers.
Operation – second set took longer to initiate comms than first set and also dropped link with Bluetooth adapter from ipods more often, shorter mic booms meant that microphone no longer in front of mouths and comms not as clear as before.
Between the time we ordered the second set and their arrival we discovered that an extended range version had been released for 2010. After some pondering we decided that the extra range was important to us – and so we ordered a set, the earlier sets would be used to extend our comms network to our kids helmets when we are pillioning them.
The third set (2010) have the same casing, mount and headset as the first set we purchased, which supports our impression that the second set were probably an earlier version. The biggest visible change in the 2010 set is the new detachable antenna which has grown in size and changed from horizontal to vertical orientation. So far we have fitted the third set and "bench tested" them but not done a ride yet. First impressions is that they initiate comms quickly and there is less static on the line.
We initially bought the BT's because they had a wireless link, had stereo music, were reasonably compact and came at a very competitive price. Apart from the broken wire – which could have been caused by anything – the units have been reliable.
I suspect the broken wire was caused by the way that the plug hangs down beyond the rim of the helmet when the BTMs are mounted using the plastic screw-on mounts. I have mounted our new sets higher up the side of the helmet using a metal bracket from the second set for one helmet and a stick-on mount with the other helmet.
---
From "J.E." (2/10):  "These Bluetooth Interphones are available in North America from a few different sources … comes with two USB and North American plug powercube chargers.
We purchased a pair last summer (when they were $132.00) and used them for several extended rides. I would agree with the reviewer on all points except we had no problems mounting them in Scorpion or HJC helmets.
Useable range is easily 500 m and they paired easily with our cell-phones and GPS. Talk time with intermittent use was well over 5 hours. They use the same CSR Bluetooth chipset as some of the "name brand" much more expensive Interphones.
All in all they are great and I'm not sure why anyone would have to spend any more on an intercom system."