AGV Ti-Tech Front Vents
The front vents on the Ti-Tech are unusual because they open directly through the chin and allow the air to flow on to the rider's face.  The back of the vents inside the helmet are covered with cloth.
Air vents normally direct the air flow up on to the back of the visor and do not open directly through the chin section of the helmet.  The plate marked "Open – Close" seen below the number 46 shows the direction for the vent on/off switch, which is located just inside the bottom of the chin.  The switch is balky on our example.  It slides a door open or closed behind the screened vents.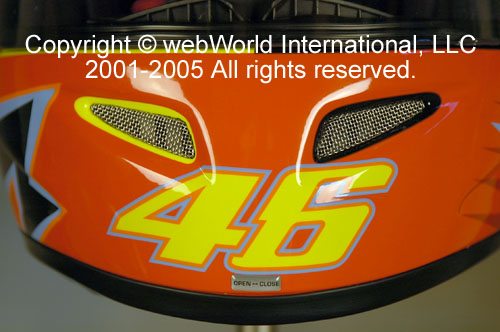 AGV Ti-Tech Top Vents
AGV claims "titanium technology" in their description of the helmet shell for the Ti-Tech helmet line.  I'm not sure where the titanium is used, other than as decorative items on the top vents, the top rear exhaust vents and on the two exhaust vents on the lower rear section of the helmet.  The use of titanium for these parts must be a marketing gimmick — we can see no other purpose for it, because surely a plastic part would be just as light weight in this application.
The titanium "scoops" have a positive acting lever on top that swing a cover over a hole in the helmet to allow air to flow.  The levers are shown in the open position in this photograph.  The air is directed in to the top of the helmet through channels in the foam lining and down to the rider's head through the mesh fabric in the top of the liner.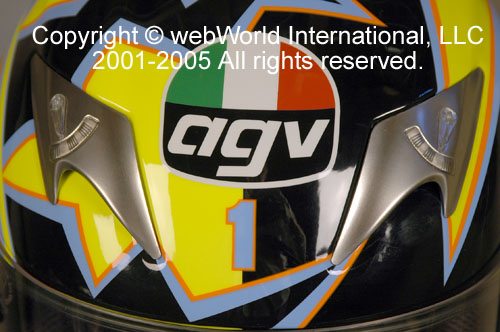 AGV Ti-Tech Side Vents
These titanium side vent covers are located on the lower rear section of the helmet, below and behind the rider's ear.  They cover a simple hole that supposedly helps to exhaust air from inside the helmet, powered by the negative pressure behind the helmet and the vent cover.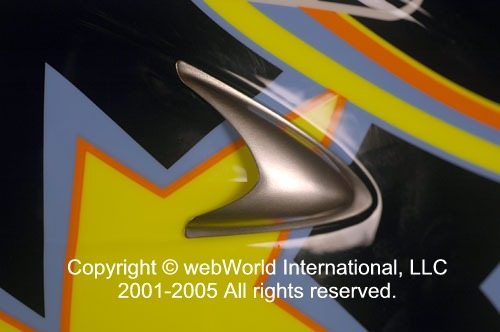 AGV Ti-Tech Rear Vents
The top rear vents are also covered with titanium.  The vents have a mesh opening and are always open — they cannot be closed.  A channel inside the helmet, molded into the foam liner, directs air from the front vent, down on to the rider's head and out the back.
That's the theory; in practice, however, the vents flow a decent amount of air, but not as much as the best helmets for air flow, the Shoei X-11 and the OGK FF-4, in our opinion.