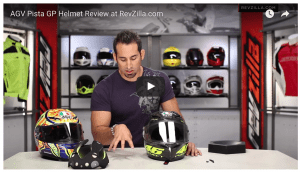 Amisano Gino Valenza founded AGV way back in Italy in 1947. Since then, the company has grown a reputation for offering some amazing motorcycle accessories and riding gears. AGV products are classy, they look good, and have that upmarket feel to them. Plus, they are one of the best bets when it comes to the safety quotient, too.
AGV helmets can surely make heads turn, and the company is definitely not into making cheap helmets. However, if you are looking for a solid and branded helmet, the premium price tag won't bother you. The AGV Pista GP Helmets has a minimum price of around $1000.
These helmets vary in their price range which depends on several other features like model chosen and graphic designs. The AGV Pista Helmet review helps you to understand the characteristic features of this helmet that make them a perfect buy.  Check price here.
Benefits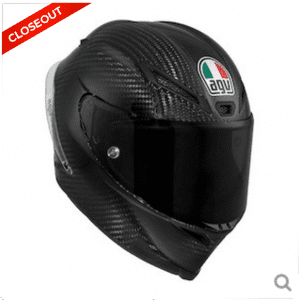 Pista GP is most certainly a high-class premium helmet. It allows various types of designs and comes in a range of colors. The Pista GP helmets from AGV always have acclaimed reviews.
These helmets provide a complete change to the basic designs of AGV helmets. What makes it stand out is that it has almost all the extraordinary features you may be looking for. Several features include low weight, class-leading aerodynamics, and exclusive ergonomic designs. Apart from this, it sets new performance standards with many other unique features. The price of these helmets ranges from $1000 to $1600.
Features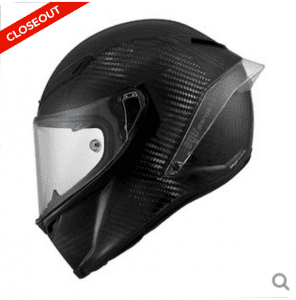 As discussed, the Pista GP has almost all the features you would be needing. Sometimes, you have to burn a hole in your pocket if you are looking to buy the best products in the market. What is definitely applauding is the fact that they make use of Human Engineering concept which applies to AGV helmets. Human Engineering ensures greater safety standards of the helmet. They also use FEM, also known as Finite Element Analysis, to ensure comfort and perfect fit.
It is a full face helmet which weighs 3.38 pounds, making it super light and comfortable while you ride.
The 4-shell feature in this series is the most commendable feature which makes it stand out in the crowd. Sometimes you have to compromise with the price if you want the best for yourself.
The shells are available in varied sizes that give the customer good choices to select what they want according to their skull size. Also, unlike K5 S helmets, they are only available for men.
Another remarkable feature of Pista GP helmets is that they are comparatively lightweight. They are more comfortable for longer rides due to this reason.
Many people complain that sometimes the restricted space makes wearing a helmet tedious because of this reason. And many argue that it doesn't give them enough space even to use earplugs.
Hence, Pista GP helmets make sure that these loopholes are well looked into. They are considered to be spacious and very comfortable when it comes to the AGV series. Also, the rubber flow system helps to control the air flow. Its compactness is another added advantage for its customers.
Face Shield
Pista GP offers you excellent visibility in addition to fantastic aerodynamics at high speed. It is perfectly made and takes into account all the needs of the buyers in the market. It would definitely fit on your head with ease. The eye port allows for excellent lateral and forward visibility even in the tuck position. The shield can be changed conveniently without any tools due to its special engineering.
Shell Design and Build Quality
Pista GP helmets are made of Carbon fiberglass which is well equipped to provide perfect protection in case of accidents. It allows for different shapes and sizes so that your face can appropriately fit the helmet. It also allows you to choose from multiple shell sizes. Hence, undoubtedly, this is the most viable choice for you. Apart from that, it is highly recommended because of its high quality.
Allows Scope for Ventilation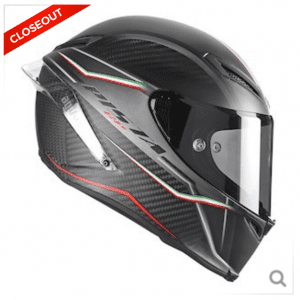 They have a superbly built system which allows enhanced scope for ventilation. The helmet has an exhaust vent, one chin vent, and two front vents.
One of the most lovable features of this helmet is that even exhaust vents can be adjusted. Yes, you heard it right! It allows you to enjoy long rides without feeling exasperated or suffocated.
Hence, it is the most desirable choice for those who are wanting to travel long distances. Also, in sports racing, you can easily open or close the vents as needed to make riding a beautiful experience.
It has three layer systems consisting of neck roll, cheek pads, and crown pads. This improves the functionality of the helmet. It offers optimal performance in 3/4th riding positions.
Removable and Washable Inner Padding (Interior)
Pista GP enhances not only the riding experience for you, but also looks into the inner workings of things which are as significant as inner padding. The cheek pads and inner liners can be taken out and washed. The lycra material is breathable and keeps you dry even in hot weather. It keeps you comfortable by the use of Cool Max fabric in the interior.
Safety
The shell is made of fiberglass which makes it super strong. Coupled with the Double D retention system it provides great protection to your skull.
Other Factors for Consideration
With its exceptionally stylized features and affordable price, it is surely the best choice for you in the market. If you are looking for something which has all the best features, then nothing should cross your mind other than choosing Pista GP helmets.
You have a wide variety to choose from in the GP series and you can find one to suit you. You will not find better than GP helmets if you are looking for the best helmet on the market.