AGV Miglia Flip-Up Helmet Review Summary
AGV Miglia Flip-Up Image Gallery
I used to be the world's biggest fan of flip-up, or "modular" motorcycle helmets.
It wasn't because of styling or comfort or convenience; it was due to poor eyesight. A modular helmet offered the only full-coverage solution that I could find to wear over my eyeglasses.
I really wanted to ride with a full-face helmet, because I think they're safer and less noisy. But I just couldn't figure out how to wear one over my glasses.
Then one day a light bulb went off (or on) and I thought of a solution.
I rummaged through my dresser, searching for an old pair of eyeglasses.
I clipped off the ears and sanded down the tips of the side arms.
Then I discovered that without the ear "hooks" or temples, the arms would easily slide into the space between my head and the helmet liner with enough friction to hold the glasses in place.
Presto!  My problem was solved.
And it's been full-face all the way ever since (here are the details).
At one time, I was convinced that modular helmets would eventually become the most popular type of motorcycle helmet for street riders.
They seemed to have all the advantages of an open-face helmet with the coverage of a full-face.
But modular helmets have not taken over the world, and it doesn't seem like it will happen any time soon.
For some reason, modular helmet evolution just doesn't seem to be going anywhere.
They're really not much different now at all then they were in 2000 when we wrote about the Lazer Century, which was one of the very first webBikeWorld reviews published.
Possibly the demand for modular helmets doesn't justify a lot of expense on behalf of the motorcycle helmet manufacturers to improve the breed?
Or maybe there's more profit in full-face helmets because they're easier to design and build than fooling with the complexities and cost of the flip-up mechanism. Who knows?
I'm also surprised that someone hasn't released a Snell-approved modular helmet. You'd think that it could be done by using, say, a titanium frame and locking mechanism, which might theoretically make a closed modular helmet even sturdier than a full-face.
As we've mentioned before, it is theoretically possible to design a modular helmet to pass the Snell tests; I have a copy of a report from several years ago from a European Snell-approved testing lab that shows that a European brand flip-up did indeed exceed the Snell tests.
Unfortunately, that helmet never made it to the U.S. market but it's still being produced and sold in Europe. Don't ask us to reveal the brand, as we were sworn to secrecy as a condition of seeing the information.
However, most of the modular helmets do meet the ECE 22-05 safety standard and, of course, they have to meet the DOT FMVSS 218 standard to be sold in the U.S.A., so that's something to bank on anyway.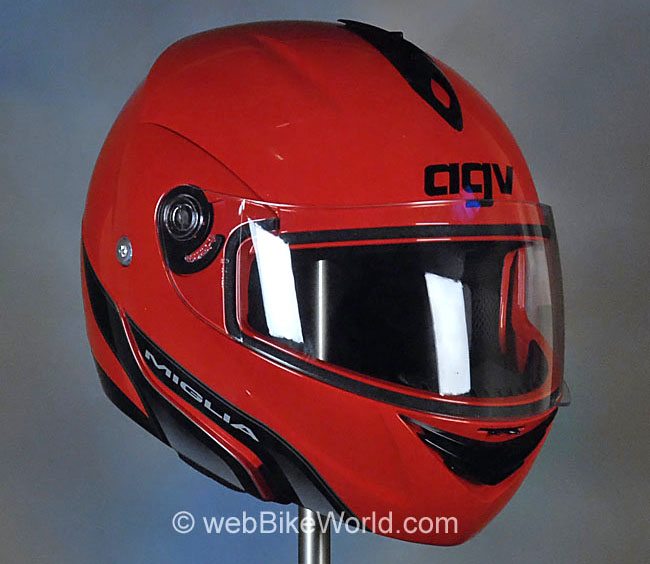 The AGV Miglia Flip-Up
The AGV Miglia is the North American version of the AGV Longway, sold in Europe. The Miglia is not labeled as meeting the ECE standard but the Longway is. AGV also makes a more expensive flip-up helmet, the GT Open.
AGV has manufactured motorcycle helmets since 1947 and the company has been instrumental in the development, manufacture and promotion of motorcycle helmets and safety standards for both street and track from the very beginning. Many famous motorcycle racers and Formula 1 drivers have worn AGV helmets through the years.
But although AGV helmets are popular in Europe, I just don't get the sense that the brand is a big seller in the U.S.A. I can't recall seeing an AGV helmet for sale in any motorcycle shop I've ever been in, and I've visited a lot of them.
That's not to say that AGV doesn't make a lot of very nice-looking helmets; it's just that for the most part, you'll probably have to buy one through an online retailer if you're an American customer.
The AGV Miglia ("Miles") is probably one of the least-known modular helmets marketed in the U.S.A. I didn't even realize there was an AGV modular helmet until I stumbled across this one while looking for the soon-to-be-released Shoei Multitec (we have one on order and they're supposed to be released to the retailers the second week of December).
But the price was right at a suggested list of $169.95, so I figured we'd give it a try.
At first glance, the Miglia seems to be the model of a basic, no-frills modular helmet. My expectations weren't high, based on my low-cost bias, but I figured that the low price might make up for any minor deficiencies.
There's always that first and lasting impression that one gets when pulling the helmet out of the box for the first time, and although the Miglia's brilliant and deep red paint caught my eye (it's an almost perfect match for Ducati red, but the photos here don't represent the true color), I noticed right away that the moving parts seemed slightly loose, letting out various creaks and groans as I handled it.
Not a good sign, but it turns out that the creaking and groaning of the various plastic parts ("HIR-TH high-resistant resin", according to AGV) is more of an idiosyncrasy than an issue.
I'm not sure I've ever heard a helmet creak as much as this one, but it so far has only expressed itself when it's being handled or when the flip-up visor is being opened and, thankfully, not on the road.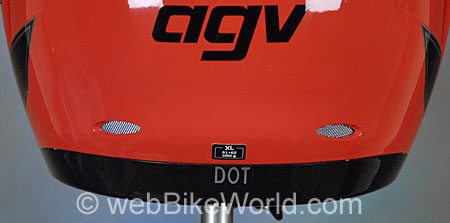 Paint, Graphics and Overall Quality
The Miglia is available in basic solid colors; silver, gloss or flat black, blue, red and white. A red patterned graphic is listed in their catalog but I wasn't able to find one at any of the motorcycle helmet retailers who handle the brand.
It's usually hard to determine paint quality with a solid color helmet, but overall I'd say that the Miglia's red paint is deep and very nicely applied with no evidence of dust, orange peel or any other imperfections.
The AGV and the "Miglia" logos are covered with a nice layer of clearcoat. By the way, the red paint is an almost perfect match for the Ducati GT1000 in that color!  I assume that it matches other Ducati reds also. The logos and graphics on the helmet are not reflective.
So I'd rate the overall quality of the paint and surface finish as excellent.
Internal Shape and Fit
The AGV Miglia has a neutral-to-round internal shape, in my opinion, and it may not fit "long oval" or narrower shaped heads as well as it fits me.
The size XL shown here is a real, full XL, unlike the AGV TiTech we reviewed last year that ran at least two sizes smaller than the label indicated. In fact, the size XL Miglia may even be about 1/2 size over, and if I was going to do it again, I'd order a size large. So keep that in mind when ordering yours.
Our Motorcycle Helmet FAQ page has more information on fitting a motorcycle helmet and a discussion on head shapes.
Note that we look at the helmet's internal profile from both a front/back view and also from looking down on to the top of the head. The front/back profile is important, because many helmets have one type of fit up top and a different fit down the sides, with various shapes and widths that can affect the helmet fit along the cheekbone (temporo-mandibular joint), a crucial area for helmet comfort.
The Miglia does seem to have a slightly too short front-to-back internal distance, as the inside of the chin bar just about touches my chin when the visor is closed. I have a big jaw, so this may not be an issue for riders with more "normal" shaped head profiles.
A short front-to-back length seems to be typical of the European designed modular helmets, for some reason, but overall, the Miglia has slightly more room than most. If you have a Jay Leno style chin, the Miglia may not have enough room for you.
Another curious finding is that the Miglia seems to fit more like a full-face helmet than probably any other modular I've tried, which I think is a plus. Once the visor is closed, it's hard to tell that I'm wearing a modular helmet.
---
Helmet Liner and Comfort
The liner and cheek pads are claimed to be removable, washable and hypo-allergenic. I removed the cheek pads and they snap in and out with authority using real snaps and not Velcro. I did not try to remove the liner.
The "Dry Comfort" liner is very comfortable and has thicker padding and a softer feel than other modular helmets I've tried. The fabric feels similar to a microfleece, rather than the sometimes scratchy mesh that's found on low-priced (and sometimes higher-priced) helmets. AGV has left a fairly large space over the ears, so the Miglia may be a good candidate for speakers.
Helmet Weight
This size XL Miglia weighs 1666 grams (3 lbs., 10-3/4 oz.), which makes it one of the lightest modular helmets we've reviewed, with only the Vega Summit II and ROOF Boxer before it.
We have created a new chart to compare only modular helmet weights on the wBW Motorcycle Helmet Weights page. That page also has a chart and a graph illustrating the weights of all of the helmets we've reviewed on webBikeWorld (60 as of the date of this publication).
The Miglia feels balanced and the center of gravity does not feel too high, a problem we've noticed on some other modular helmets. A helmet with a center of gravity that is too high can make the rider feel like the helmet is unbalanced and can increase buffeting or helmet lift.
Although I will say that the Miglia does feel like it moves around slightly more than other helmets, but this may be because the size is just a touch too big for me.
Face Shield
The Miglia's clear face shield seems to possess good optical qualities with no obvious distortions or waviness. It's thick enough that it doesn't twist or warp as it is opened or closed.
It has four strong detents that hold it open as it's lifted, although the first detent raises it about 37mm (1.5″), which is a bit higher than I'd like when cracking the visor open just a bit to enhance air flow.
The face shield on our helmet seals correctly against the thick foam gasket that surrounds the eye port; the gasket can be seen in the first photo below.
Although AGV claims that the face shield uses the "Quick Release System", it doesn't appear to be a quick-release system as far as I can tell and the entire modular assembly must be removed by loosening the plastic screws on either side.
Since I don't change face shields very often, the lack of a quick-release system doesn't bother me. Spare clear and tinted face shields, screws, breath guards and other parts can be ordered directly from the AGV website, which is a nice feature for those in need.
The eye port opening may be just a tiny bit smaller than normal, with slightly less top-to-bottom and side-to-side distance, but it's not bothersome. The sides of the eye port are squared off as a styling effect.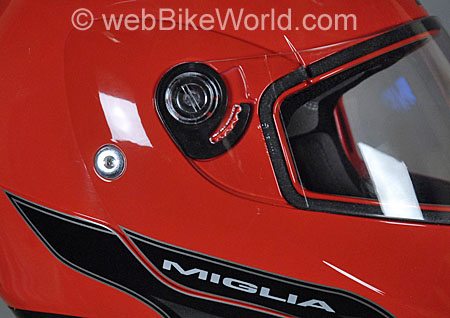 AGV Miglia Rotating Visor
The flip-up visor opens via a single, centrally located button that is hidden underneath the back of the chin bar. There's a short vinyl chin curtain located just under the chin and it's split in the middle to allow the rider's finger to find the release.
The visor swings up and has a detent at the topmost position. The detent is acceptable and should keep the visor open during fuel stops or the like. We do not advise riding with the visor in the open position.
I'm not sure about the construction of the internal lifting mechanism, but the latches and the post that catches the latch as the visor is closed are made from metal, another nice feature that hopefully makes the Miglia stronger than some of the other modular helmets that use only plastic for these parts.
The sides of the flip-up mechanism are also tight to the body of the helmet and are about as flush as can be expected on this type of helmet, which helps reduce wind noise.
[
UPDATE:
 AGV has a Miglia sun visor, I'm not sure how it works or what it looks like, but it is the 
Miglia sun visor from RevZilla
.]
---
Noise Levels
Once you get beyond the creaking and squeaking when the helmet is handled, the AGV Miglia is surprisingly quiet. There's some whistling wind noise from the top vent when its open and when the rider is sitting straight up, caused by the "blowing over the Coke bottle" effect of the wind rushing over the vent parts.
But the noise seems to disappear when riding a sportbike in the leaned forward position. The noise also stops when the top vent is closed. But overall it's really not that bad and certainly not as bothersome as the noise on other helmets I've tried.
Depending upon the type of motorcycle and the turbulence coming off the fairing or windscreen, the helmet can generate some low-frequency "booming" noise around the bottom of the helmet.
The noise can vary depending upon the angle of attack of the rider's head, turbulence, cross winds and even the type of collar on the rider's jacket. But again, the noise in this area is not as bad as some other helmets.
There is also a bit of wind rushing noise that seems to come from the rear of the helmet. But overall, the Miglia is probably about the least noisy modular helmet I've tried, which is a very pleasant surprise.
Remember that we always wear correctly fitted, high quality earplugs and an extra helmet liner when riding, and we strongly recommend that you always wear hearing protection also. See the wBW Earplugs and Hearing Protection page for more information on choosing and wearing earplugs.
Your experience with noise levels may be different, depending upon many factors, including your head shape, motorcycle configuration, prevailing winds and more.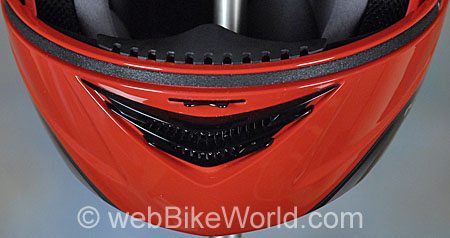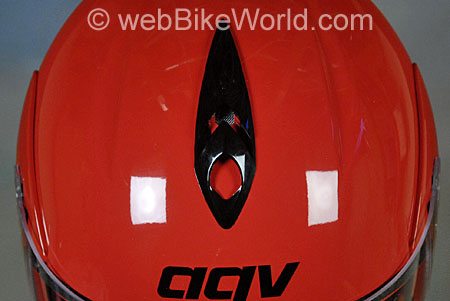 Ventilation and Air Flow
The Miglia has a larger than normal chin vent with three horizontal V-shaped splitters that direct the air up on to the back of the visor. This vent seems to do a good job of moving air. It can be opened or closed with a sideways movement of the tab located just above the vent and visible in the photos.
The vent is open when the tab is in the center position and closed if the tab is moved to either the left or right sides. It's easy to find and to use when wearing gloves and it has a strong detent that gives the rider a good feel for its position.
The top vent is a stylized slider that opens a cover over the vent hole when the slider is pushed rearward. The air enters the vent and is directed through a hole and thus down through the foam liner and across the top of the rider's head, but the liner doesn't really have any venting through the mesh, so the air flow isn't as strong as it probably could be.
There are also two small mesh-covered exhaust ports located at the lower rear of the helmet.
But overall, the Miglia flows an acceptable amount of air, although in warmer weather the back of my head can feel a bit warm.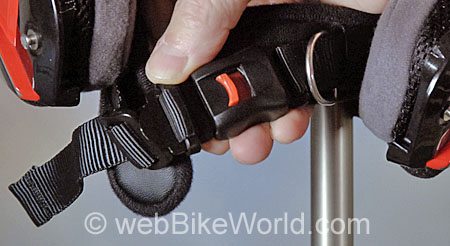 AGV Miglia – Miscellaneous Features
The Miglia meets DOT standards only in the U.S.A. and the AGV Longway meets ECE standards in Europe.
The helmet has a "quick release" buckle which takes some time to adjust the first time the helmet is worn. I much prefer a simple D-ring attachment, but at least the padding underneath the release is thicker and wider than normal.
Since some riders actually pay extra for accessory "quick release" buckles, this can be considered as an extra bonus in the Miglia, especially considering its low list price.
Conclusion
I'm very impressed with the AGV Miglia; doubly so considering its low list price of $169.95. Perhaps AGV sees this helmet as a "loss leader" to bring riders into the AGV family.
It exhibits high-quality construction and paint, it's more comfortable with a higher quality liner, it's quieter and overall it just seems to work better than just about any other modular helmet I can think of. If you're in the market for a new modular helmet, I recommend comparing the Miglia to any of the others.
NEW! AGV Miglia II Review
w

BW

 Review: AGV Miglia Modular Flip-up Motorcycle Helmet
Manufacturer: AGV Helmets
List Price (2006): $169.95
Colors: Red, Gloss Black, Flat Black, Silver, Blue, White.
Made In: China
Review Date: November 2006
Note:
 For informational use only. All material and photographs are Copyright © webWorld International, LLC since 2000. All rights reserved. See the webBikeWorld® 
Site Info page
. Product specifications, features and details may change or differ from our descriptions. Always check before purchasing. Read the
Terms and Conditions
!
---
Owner Comments and Feedback
---
From "C.C." (1/10):  "I purchased the Harley Davidson version of the AGV Miglia. When I tried on this helmet (size Large) I immediately knew this was the one for me!  When I saw the price tag the deal was sealed!  It fit my head perfectly and is one of the most comfortable helmets I have ever worn.
I had only ever worn full face helmets. I have sport bikes and dirt bikes and have had fallen off with face plants on both street and dirt so I know the value of full face protection. I bought a Harley FLTR (Touring) a year ago, and I could not bring my self to get a shorty 1/2 helmet.
A flip up seemed like a compromise and actually are catching on in the "Bagger" segment of the Harley Touring set out here in California. [I will admit that "bad company corrupts good manners", and that in the year since I have owned a Harley I will now wear a shorty DOT 1/2 helmet in the summer heat on a short boulevard cruise.]
Anyway, I am very pleased with this helmet. As you stated, it wears like a full face when the visor is down. The flip mechanism is easy to use with one hand. I actually like the quick release strap fastener. Easy to use with gloves on. The helmet is reasonably quiet. The only gripe I have is that the clear shield vibrates in the first open indent at speeds over 35 mph. Other than that I really have no complaints considering the price."
---
From "B.J.":  "I just recently purchased the AGV Miglia Helmet because of your review on it and as far as I can see it is spot on!  I really enjoy this helmet it does have a few corks but for $139.95 you can't beat it! As far as the quick release visor, you do not have to remove the front half of the helmet you just use a coin (a nickel works best) and stick it into the slot on each side of the visor and turn a quarter turn and it just pops right out. It really is quite simple. Thanks for the good review."
---
From "M.R.":  "Based on your reviews, I purchased the AGV Miglia last fall and have found your comments, positive or otherwise to be right on the money. It appears to be of very good quality given the moderate price.
At first there was a lot of the creaking and clicking you mentioned, and after a while it became difficult to close the front of the helmet with one hand. The application a very small amount of dry lubricant eliminated this, and changed the impression from that of cheapness to solid quality as it quietly rotates and snaps into place.
The helmet is comfortable, very light, and as quiet as any modular I have tried. Ventilation is only fair, but it doesn't fog up easily. It will occasionally leak a few drops in a heavy rain but only if my head is tilted very forward. Unlike other "modulars" I've had, which become loose after a few months as the chin pads wear in, the fit has remained snug — a good thing. The only real drawback for me is that although my head is fairly round, I still find the chin bar to be too close.
Thank you for your excellent reviews. webBikeWorld continues to be the first place I look when shopping for motorcycle gear."
---
From "J":  "I've enjoyed reading your reviews of all kinds of motorcycle stuff and (among many other purchases) recently used your helmet reviews to help make my decision about which modular helmet to buy. Ultimately I chose the AGV Miglia, but also considered the Shoei Multitec, HJC Symax 2, and the KBC flip up.
Based on my experience while borrowing my motorcycle safety course instructors two year old Symax, I was ready to buy one of those until I learned that they were no longer available and had been replaced with the Symax 2. I tried on the Symax 2 it seemed terribly heavy and cumbersome compared with the Symax 1, and if I rotated the helmet even slightly forward while using the integral dark visor, it cut into the tip of my nose (ouch!) so I was disappointed that HJC no longer offered a modular I could be comfortable in.
Next, I tried on the KBC flip-up at a local dealer but neither the L or XL fit my head shape properly. The Multitec was obviously very well built and seemed comfortable to me, but with a metal on metal locking device very similar to the Miglia and similar comfort, I couldn't justify spending more than 3 times as much money on it.
I've noticed that the most obvious difference in the more expensive helmets are that they are made of more rigid materials that are required to get that Snell sticker on them, but I'm not at all sure that additional rigidity buys any extra safety and it may even provide less. Is there ANY record of possibly survivable motorcycle crash deaths that were attributed to a polycarbonate helmet shell failure?
I'm not sure quite what the Miglia shell is made of since they call it "HIR-TH high resistant (resistant to what?) resin" and Googling all that doesn't seem to help at all, but I suspect that it's just a fancy name for polycarbonate or some other kind of plastic. Anyway, I purchased the Miglia and am very happy I did.
Your sizing advice is right on, with most helmets I fit an XL but the L fits perfectly, a bit tight at first but after just a few hundred miles it's just right. In order to verify your sizing advice before purchasing, I tried on a AGV Granville while visiting Nice, France and noted that this helmet, which seems identical to the AGV Miglia, sells for 199 Euros or slightly more than $300 over there!
I also agree about the chin strap issue. Once you get used to it the seat belt type buckle on the strap works well, but I have to keep adjusting it tighter because the strap slowly slips through the buckle over time. D rings would be easier and simpler to deal with.
One feature of the Miglia that I especially like is that due to the way the top of the cheek pad is arranged, it's real easy to slide on my eyeglasses and they aren't being pressed into the side of my face like many other helmets do. I began considering modular's after trying on many full face helmets and having trouble putting on my eyeglasses or even experiencing pain while wearing them.
I read your suggestion about cutting down a pair and just sticking them in the sides but not around my ears, but wanted to be able to wear any of my various pairs of prescription sunglasses and clear glasses while riding so it was important to me to find a helmet that is "eyeglass friendly."
I guess modular helmets aren't catching on as fast as some expected them to, but I really enjoy the ability to raise the front of the helmet while at stop lights or when I want to briefly talk to someone at a gas station. It seems so refreshing on a hot day to feel some fresh air on my face when I flip up the front of my helmet while at a stop light or even while riding very slowly through city streets or a large parking lot.
Thanks for all your valuable information and advice as I sort through all the many options available as I gradually "gear up."  I've also used your site to guide my purchase of a SW Motech luggage rack and Givi top box from Twisted Throttle, an AGV Miglia helmet from Pro1Powersports, and a Joe Rocket textile pants and a spare clear visor from Motorcycle Superstore and a Joe Rocket jacket and gloves as well as Napoleon bar end mirrors at a local store.
All of these companies have knowledgeable and friendly people providing customer service, and with your site providing detailed information on these products, it's a combination that makes me feel comfortable buying via the Internet instead of being limited to just what's available locally. Keep up the good work!"
---
From "E.":  "I used to have the Open GT and just picked up an AGV Miglia. I am not sure what some of the other guys are talking about but I had the helmet for about a week so far and rode in a torrential downpour for 4 hrs yesterday. Not one drop got into the helmet. I have quite a bit of experience with modular helmets and I think the Miglia is easily in the top 5.
My experience is with the following helmets
AGV Miglia
AGV Open GT
HJC Clyma
HJC Symax
KBC FFR
Nolan N100, N100E and N100 Classic
And short stints with the Nolan N102 Bluetooth, Roof Boxer, Caberg Trip, Vega Summit II and SCHUBERTH. So I am not new to testing and evaluating helmets for their worth. That's just my $.02
P.S. In regards to your statements about the creaking and groaning of the helmet's flip up mechanism, the dozen or so Miglias I have played with did not have it, I think you got a lemon."
---
From "P.W.":  "I bought a UK version called Longway and though I agree it's a nice helmet the visor doesn't fit correctly around the top at the sides against the foam seal and when out on the bike for the first time wearing it in very light rain, water started dripping inside. I took it back to the dealer who sent it to AGV's importer. They said it was faulty and sent them back another, but due to the delay and poor service in getting it back I cancelled it. I may try ordering another, but it sounds from your other correspondent ( B.S ) that they are all the same…?"
---
Follow-up from "B.S" (see below):  "I wanted to submit an update on the AGV Miglia modular helmet. The problem with the seal around the forehead area for the visor was bad enough to make me attempt to contact AGV. It may seem like a small deal to others but I figure the visor should seal properly as advertised. This is where a product shows its true colors, will the manufacturer stand behind the product with good customer service?  The answer is NO!
I e-mailed AGV twice from their official website. I have yet to receive a reply, and yes, I have waited a considerable amount of time, I've got nothing. I have called customer service 3 or 4 times , at various times of the day, I get no answer, just voicemail. I had a couple other minor issues I just wanted to ask about but still, no replies. By the way, you may wonder why I've tried to contact AGV directly, this is what the company I bought the helmet advised if I had "any" issues or complaints.
I gave up and have accepted the fact that I only paid $145.00 for the helmet so I'll just move on. I wore the helmet all day today while riding my BMW LT and my impressions are not very good. The most annoying thing is the loud roar in the top of the helmet. No matter how I adjusted the windshield the roar was still there. It was almost impossible to tell if the top vent flowed any air since it seemed to take on air from all directions. This is a good thing for the summers here in the south but not so good when its cold.
I decided almost immediately that this helmet will be relegated to the spare/back up shelf. I had sent my HJC Symax off to a friend to have some new speakers and mic installed (he's a lot better at this than me) so in a way I was glad I ordered a "spare" helmet. The bottom line is; no matter what kind of helmet AGV makes in the future I would not spend another penny for one. Their customer service stinks, in fact, for me it's non existent. Your other readers may have better luck with AGV, especially if their name is Rossi !
I'm going to purchase another modular in the future, but for now I can't wait to get my Symax back."
Editor's Reply:  Thanks for the follow-up. Sorry to hear about the problems, which I guess have become apparent after your initial impressions. I'll never understand these manufacturers — the Internet and email is the greatest thing that has ever happened to manufacturers and retailers, giving them an incredible opportunity to connect directly with their customers, and they seem to blow it every time. AGV, are you out there?  How about it??
---
From "B.S.":  "Just got my new, AGV Miglia modular helmet in the mail today. I thought I would let you know that your evaluation of the helmet is spot on. It's lighter than some other helmets I've owned and the overall quality is much more than one would expect from a helmet that costs around $145.00
So far I haven't ridden with it on but my first observation is the visor doesn't seal well on the top sides (above the eyebrow area). It seals well everywhere else on the helmet so I might give AGV America a call and see if they would exchange it. It might just be this particular helmet.
The rest of the features work out very well for me, that is to say, it fits my head nicely right out of the box and there is ample room for speakers. The lining is soft but once closed the helmet feels firm and secure. In closing the helmet it snaps into place tightly and doesn't seem to flex anywhere. I wore the helmet around inside my house for approximately 30 minutes and it's still feels good, no hot spots. Last but not least, it was easy to put on my glasses while wearing the helmet. No sore spots around the ears."
---
From "S.W.":  "Based largely on the webBikeWorld review of the AGV Miglia modular helmet I purchased one. What a pleasant surprise when I opened the box.
Appearance, fit and finish are excellent. Wind noise is not too bad, even at highway speeds.
I have to agree with virtually all of the points noted in your review. That said, the helmet front-to-back internal distance seems fine (to me anyway).
For the money ($130 from mawonline.com) the helmet is a bargain. Recommended."
---
From "D.M.P.": Your article on the AGV Miglia helmet (has a) reference to "customizing" glasses to fit into full-face helmets. FYI, Randolph Engineering sunglasses are made for the US Air Force, and are designed to fit into flight helmets. The arms have no ear "hooks", and instead have curved plastic "blades" that slip between your face and the liner. If they have frames for sunglasses, I'm sure they'll do prescription lenses….
Editor's Reply:  Thanks for visiting webBikeWorld and for sending this info. I actually tried a pair of these (not sure if they were the same brand, but they were identical in design) but the arms were too long and caused some pain along the back of my ears. I've found that the arms have to be short enough so that they don't go behind my ears, otherwise the tightness of the helmet pushing against my ears with the arms in between hurts after a while.