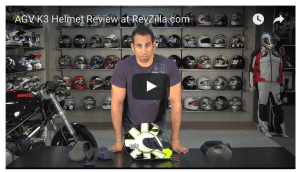 AGV is one of the companies you can trust, and they've been making helmets for ages. What makes the company stand out in the crowd is the fact that it makes highly resilient helmets which ensure the safety standards.
The company is well known for offering some supreme quality merchandise – albeit at often a premium price tag. But if you are looking for something that can last long, then premium price tag shouldn't be a matter of worry.
The AGV K3 Helmets have a minimum price of around $150. These helmets can, however, be priced up to $230. Also, the the price range of these helmets depends on several extraordinary features like colors, graphic design, and model chosen.
The AGV K3 Helmets are chosen because of many unique features they have to offer. Their external shell shape is designed innovatively to reduce noise when the head is turned, which is one of the best features. The helmets come in three basic colors – basic red, basic black and mono flat black.
What Would You Love?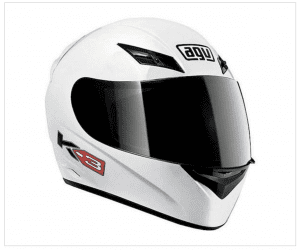 K3 helmets are most affordable helmet in AGV series. They offer not only various types of designs but also are available in many colors. They are mostly divided into four segments, namely Open Face, Off Road, Race, and Street. The K3 helmets from AGV have always received commendable reviews. These helmets provide a drastic change to the basic designs of AGV helmets.
What makes them unique is that it has almost all the incredible features you may be looking for. The important features include exclusive ergonomic designs, class-leading aerodynamics, and low weight.
Apart from this, it sets new performance standards with many other amazing features that increase its performance. The price of these helmets is very affordable considering the features that you get. Hence, it can be said that they are cheaper compared to other AGV helmets.  Click here to check price.
Features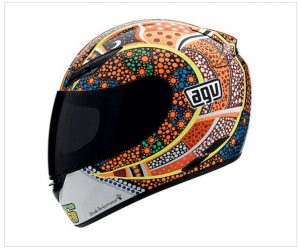 As discussed, the K3 helmets have almost all the features you would be wanting. Sometimes, you have to pay a bit more if you are looking to buy the best products in the market. But, it will be worth it!
What is definitely unique is the fact that they make use of Human Engineering concept which applies to almost all AGV helmets. Human Engineering ensures greater protection of the head.
Apart from that, they also use FEM, also known as Finite Element Analysis, to ensure more safety and comfort ensuring a snug fit. They can also be categorized into graphic helmets, closeout, and solid color helmets.
Availability in a Variety of Sizes
The shell feature in this series is the most commendable feature which makes it stand out in the crowd. Its shell is resilient and strong, with a sleek look, and has excellent ventilating qualities.
All these features with minimal price are available only in this series of KGV helmets. The shells are available in various sizes that give the customer good choices to select what they want. The various dimensions of sizes are XS, SM, MD, LG, XL, and 2XL. Also, unlike K5 S helmets, they are only available for men.
Lightweight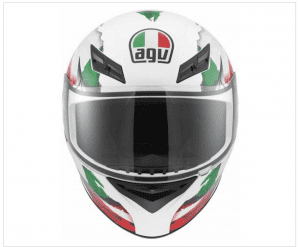 Another remarkable feature of K3 helmets is that they are comparatively lightweight. And this adds to the longevity of these helmets and does not feel like a burden while you put them on.
Customers usually feel that helmets make them feel tightened and fatigued because they are very heavy. Also, they feel that they are not spacious and leave a very narrow scope for them to feel free. And many argue that it doesn't give them enough space to use earplugs.
K3 helmets make sure that these issues are well looked into. They are not only considered to be spacious and very comfortable when it comes to the AGV series but also, the well-advanced system helps to control the air flow. Its compactness is another added advantage for its customers.
Perimetrical Visor Seal for Improved Face Shield Seal
K3 offers you excellent visibility in addition to fantastic aerodynamics at high speed. It is a well-made helmet and takes into account all the needs of the buyers in the market.
It is specially made so that you can replace the visor without using any tools. It is also engineered for quick release so that your ride is not hampered in any way.
Allows Scope for Ventilation
They have a superbly built system which allows better circulation of air. The helmet has an exhaust vent and two front vents. The warm air from inside the helmet is drawn out from the rear exhaust vents, keeping you comfortable and cool. You always have proper air circulation and do not feel stuffy inside the helmet.
Removable and Washable Interior
K3 helmets enhance not only the riding experience for you but also look into customer tastes. The interior fabric is removable and can be washed in a simple manner. The Dry-Lex fabric keeps you dry and is also treated with hygienic properties.
Safety
AGV K3 comes with a Double D ring strap which keeps the helmet securely in place. The shell of the helmet is durable and offers great protection in the event of an accident. Buyers have been satisfied with the performance of the helmet in crash situations.
Other considerations for purchase
The K3 is an affordable helmet considering the extended functions it provides. It is great for casual riding and can also be a helpful friend in sports riding.