The AGV Diesel Hi Jack Helmet features a fiberglass ACF shell, dri-lex fabric that's been hygienically treated, removable and washable parts, an anti-scratch ISV2 visor, an adjustment buckle retention system, and an internal mechanism with the ability to remove and replace your visor within the matter of a few seconds. Needless to say, this top of the line helmet is the latest in designer helmets from the Italian jeans company Diesel and Italian helmet manufacturer AGV.
The customized equipment and helicopter pilot style Hi Jack helmet will be very familiar to regular fans of AGV, while Diesel incorporates its own unconventional style in new and and attractive ways. The graphic variation, the curve of the sides, and the aeronautic design all help to better the helmet. This is a great addition for any rider, and will certainly win them points for style.
HiJack by Diesel Helmet Design
The design was inspired by the helmets of helicopter pilots, and is intended for the rider who wishes to remain protected but not unnoticed. Diesel's features accentuate the sexy new "aerospace" design of the Hi Jack. Best of all, the retractable face shield is available in "Smoke" and "Iridium "Silver," which means riders have even more options and fewer complications.
The helmet has only been available now for a few months, and comes in sizes ranging from XXS to XL. The helmet is also available in black/white/SK-Y 78, black/green, grey/black matt, and white/stripes colour variants, starting at only £175. Gold/chrome/digit and silver/chrome/black variants are available from £200. The many options AGV and Diesel provide simply mean the helmet is adapting to the rider, and the rider doesn't have to put him or herself in jeopardy as they become accustomed to a new helmet. The range of size and color variation serve to reinforce the helicopter spirit of the Hi Jack helmet, while still allowing for an amazing versatility.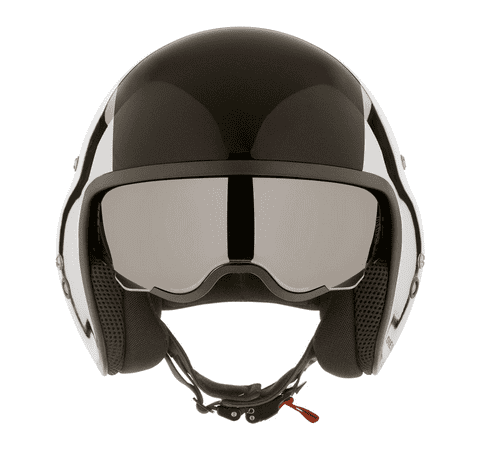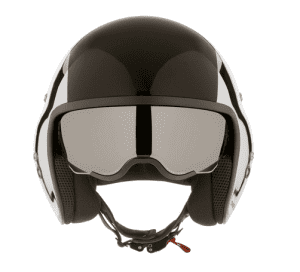 However, not everyone is as enamored of the helicopter style as AGV and Diesel appear to be. That's perfectly okay, and shouldn't be your reason for not picking up this helmet today. While it is styled after helmets worn by helicopter pilots, it offers some fantastic features that any rider enthusiast will appreciate. Many, for example, love the retractable visor, an addition unique to the Hi Jack's design. The interchangeable visor can be put securely and safely away while the helmet is not being used for protection. Even better, many riders have found that, depending on your riding style and speed, the visor may eliminate the need for goggles or sunglasses, both expensive additions to an already pricey safety wardrobe.
Anyone unconvinced by Diesel's credentials, and wonders why they're partnering with AGV to create this helmet need look no further than the 2011 MotoGP Series. Diesel was the title sponsor for Ducati, and the logo was on all the bikes' fairings and tailpieces, and on the fabric of the suits and attire worn by the Ducati Marlboro Team's riders Valentino Rossi and Nicky Hayden. Whether or not you're a fan of these riders doesn't matter–all that matters as that Diesel has proven itself among the professional riding community. The quality design of the Hi Jack helmet will only convince you further of this company's status with riders everywhere.
Though intentionally based on the helicopter helmet style, the sleek and appealing nature of the new design wasn't an accident. A company statement remarked on the helmet: "The international lifestyle brand Diesel and historic helmet producer AGV – a protagonist the motorcycle market for more than 60 years – have teamed up to create the HI-Jack helmet, which is inspired by helicopters and dedicated to fans of custom-built equipment and riders who love life on the road."
"Designed from models of helmets worn by real helicopter pilots, the Hi-Jack is the ideal choice for riders who insist on a high quality product with true Diesel style – rebellious, fresh, unconventional."
Best Open Face Helmet?
Whether you're a new rider, a dedicated rider, or a seasoned professional, this helmet provides each rider with everything he or she needs from a helmet. However, probably the most important aspect of any helmet is its ability to keep the rider safe. This helmet, backed by the legacy and quality products of AGV, will undoubtedly do just that.
With AGV keeps you up to date with the latest safety features, Diesel provides you with the utmost in style and appearance. These two groups have perfectly combined each of their skills to create the perfect helmet, suitable for any and every rider.
While I may not be much of a helicopter-style inspired helmet fan, this helmet has one key feature that attracted me to its unique design; the retractable visor. A clever concept, this interchangeable visor can easily be tucked away when the helmet is not in use for protection. And depending on your riding speed and style, may eliminate the need for expensive googles/sunglasses on the road.
Key Helmet Features:
Diesel Branded inside and out
Shell: Fibreglass ACF (2 shells)
Dri-Lex fabric with hygenic treatment
Removable and washable internal pads
Visor:  Anti-scratch ISV2
Internal Visor mechanism removal and replacement in a few seconds
Adjustment buckle retention system

Every bike seems to have its own particular style. If you have a cruiser bike then it will usually be black leather and half helmets. For sports bikes then it is usual a bright color or race inspired cuts. Now with a scooter then you will still need the protection the same as the other 3 bikes. Scootering has its own style that can be simple or even cartoonish at times. But if you are a scooter fanatic then buying a good helmet is one of the first requirements so you have to get it right.
When you are looking for a scooter helmet then you are probably looking for something that is stylish but also has good protection. There is the half helmet or the full face lids which offer the most protection. Now some manufacturers have made helmets that are designed for scooters. A company called AGV is offering 4 helmets that have been designed just for the scooter rider and this Italian company has partnered with Diesel. It is called the Mowhawk Diesel Mowie.
Helmet Features
This helmet is a great looking one and the flip down visor works very well but sometimes lets in too much at when you are going at highway speeds. So bear this in mind when purchasing. It looks like a mix of roman gladiator and fighter pilot and that is the only way to describe this skid lid. The most obvious feature of this helmet is the fighter pilot shield and it is available in tinted and clear versions. It does look very smart though and is very comfortable.
The shield blocks out 100% of UV rays. The speed that most scooters ride at are around 15-40 mph and this shield does a fairly good job of blocking out the wind and bits in the air. However once the speeds get higher than that then the it does allow more air to bombard the visual sensors. This can make your eyes very dry so be careful as you may need to bring some sunglasses with you in the summer. Although if you don't drive at high speeds then you shouldn't have any problem with this.
The details of the Mowie are great for a scooter helmet. The paint on the shell is very glossy and smooth and has no imperfections. On the top the leather Mohawk is stitched very well and i couldn't fault it. It has two Diesel crests that hide the hardware for the multi position shield. It has raised aluminum letters that are like a high automobile badge that spell out Diesel on the back of the shell and overall is very stylish as the attention to details is excellent.
The back of the Mowie
The details on the Mowie are very impressive as there are quality touches – like the leather neck roll and also the Diesel emblems that give this helmet a very high end look. The design fits the head good and wraps around the base of the skull. The liner inside has been hygienically treated with a special material that you can remove for washing. There is some good padding and it is firm as a helmet should be. The leather neck roll which is removable, is held on with a nice silver zipper and has also been lined with the same material as the inside padding. It also has a ratcheting micro lock latch on the padded chin strap.
From my experience i would say that this helmet is good value and has everything that you are looking for. After a long 5 hours ride – I would give the comfort rating of this a thumbs up. The helmet doesn't lift even when you go at high speeds on a small wheel scooter. It is nice to know that the helmet won't do anything weird at speed so that is reassuring. For everyday use the Mowie is a very good choice and at $242 although it's not cheap, the attention to detail is worth it. For everyday riding the Mowie has great function, quality and style and and is worth every dollar.