AFX FX-37 Helmet Review Summary
The AFX FX-37 DS is a new-for-2009 "Enduro" or "Supermoto" or Dual-Sport styled helmet.
It's inexpensive, relatively comfortable and light weight, but a few quality issues and face shield distortion are problematic.
A review of the new book "The Essential Guide to Dual Sport Motorcycling" was recently published on webBikeWorld.
In that review, Burn quoted an interesting statistic from the webBikeWorld Motorcycle Sales Statistics page indicating that dual-sport motorcycle sales increased by 22% in 2008 from 2007.
This has apparently been a world-wide trend, with the BMW R1200GS leading the Adventure-Touring sales races in several countries.
There are many probable reasons for that, including their versatility and rugged persona.
Adventure Touring bike owners are fanatics about farkleizing their rides, so why not look the part as well?
Which brings us to the so-called "Enduro" helmet.
I've owned a couple (the Airoh S4 (review) and the original Arai XD (review) and I've tried a couple (the Marushin X-Moto (review) and the HJC CL-XS (review)) but I can't say I've quite figured these out yet.
The design has a few compromises that don't quite mesh with my riding style. My biggest complaint is the lift and buffet routine served up by the baseball cap peak screwed into the top of these helmets.
So I wonder if others feel the same — after all, I have not seen many dual-sport riders wearing this type of helmet; the pure motocross helmet with goggles seems to be the hot setup around these parts.
But one thing's for sure — I really enjoy the visibility an Enduro helmet can provide.
Nearly unlimited peripheral vision from that large face shield, although riding into the sun or at a 45-degree angle to it can be challenging, peak notwithstanding.
The AFX FX-37 DS ("Dual Sport"?) is new to the AFX lineup for 2009 and it does seem to be made better than the other AFX helmets we've reviewed, but there are still a few issues that concern me.
Sure, the helmet is a bargain at a list price of $114.95 as of this date, but I'd rather pay 10 or 20 bucks more if it would result in, say, a face shield with better optical qualities?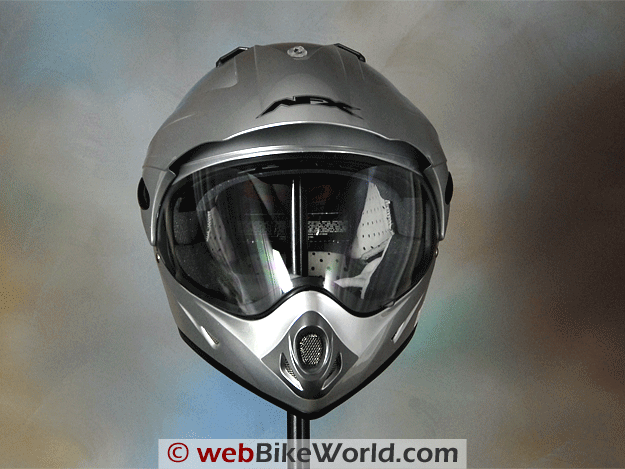 Paint, Graphics and Overall Quality
The FX-37 comes in three basic colors as of this writing:  black, white and silver.
The silver version shown here has what seems like a relatively durable paint job, but there are some dust bumps here and there popping through the thin-ish clear coat.
I've seen worse though, so overall I guess I could say it's decent. The styling of the FX-37 is actually rather nice — in fact, I think it looks better than most of the rest of the Enduro-styled helmets I've seen.
I think the chin vent assembly especially is nicely styled, and it blends nicely into the helmet's overall shape. It has what feels like metal screen mesh that feels solid and fits closely into the vent opening.
But the sharp pointy plastic edge on one corner of the chin vent cover isn't flush; it sticks out about 2 mm or so, and it's already caught on a jacket so I'm not sure what this may mean over time.
The plastic on the top of the helmet that covers the rear vents and the peak that characterizes and Enduro helmet both have some sharp edges and flashing and molding irregularities showing.
I guess the low price helps one to overlook these admittedly minor problems, and some owners may never notice.
But the overall level of quality in inexpensive helmets is so good recently that low price is not really no longer an excuse for these types of mistakes.
And the clear face shield, which I'll get into in a minute, could use a re-do.
It has a higher level of distortion when looking forward than I think is acceptable and this is obviously an area that needs a lot of attention to make right in a helmet like this with its sharply pointed face shield. I think the distortion may be a deal-ender for some.
On the plus side, the peak on top does feel more secure than most of the other Enduro helmets that have passed through my hands, including, if memory serves me, the Arai XD, and the liner, although thin, does provide a relatively comfortable fit.
The helmet shell seems very flexible when pushed on the sides (see the video below), but AFX claims the FX-37 meets DOT and ECE safety standards, so I'll have to figure this is normal.
But the thin-feeling flexy shell, combined with the relatively thin padding and seeing and feeling the shell through the inside of the helmet in places doesn't provide a high level of confidence for me.
So tell me again what's the point of a low price?  Even at, say, $150.00, the helmet would be a bargain, so why not spend a few more and make the helmet at least feel a little better?
Score:  I'll stretch it and give the AFX FX-37 a "Good" rating for it's relatively comfortable fit, the good looks and the relatively sturdy-feeling peak.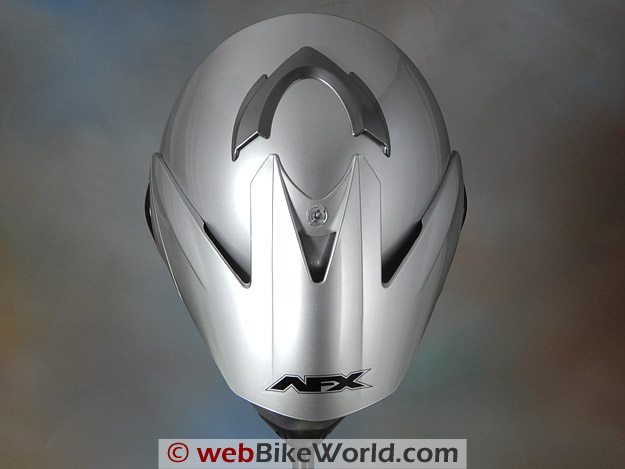 Helmet Fit, Internal Shape, Liner and Comfort
If this example is any indication, then the FX-37 has a round internal shape, but it should be fine also for head shapes tending from round to neutral.
This size XL fits perhaps just a touch snug, but we think it should be comfortable for head sizes ranging from 61 to 62.5 cm.
Note that the AFX helmet sizing chart lists and XL at 62-63 cm, which we think might make the size XL FX-37 too tight.
The liner isn't bad actually, and the material is about average, so the helmet feels comfortable overall.
The chin pads end just above the line of my jaw at the bottom, and they curve in slightly, so I always feel them but so far it hasn't bothered me and I'm figuring they will loosen up slightly over time.
It is important to make sure this style helmet fits correctly (e.g., snugly) because the peak on top tends to catch air when riding and it will probably move the Enduro or Supermoto helmets around more than is usual.
AFX claims that the lining is hypo-allergenic, and the liner and cheek pads are separately removable.
They snap to a thin plastic lining with metal snaps instead of plastic, which is a definite plus in my opinion. Even some of the very expensive helmets use cheap plastic snaps to attach the liner, which usually feel like they'll last for about two removal cycles and that's it.
For more information on choosing and fitting a motorcycle helmet, please see the wBWMotorcycle Helmet FAQ page, which also includes a discussion on head shapes.
As always, remember that helmet fit is crucial to safety and comfort, so make sure you try the helmet on before buying, and try a variety of sizes. The smallest size that fits comfortably is usually the safest.
Score:  I'll give the FX-37 an "Excellent" for a comfortable fit and a relatively comfortable fabric used in the liner.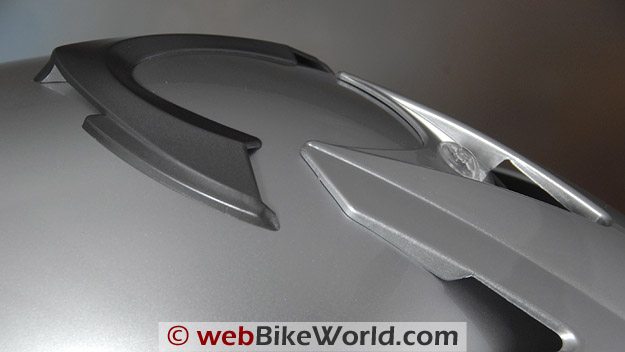 Venting and Air Flow
AFX claims "9 points of ventilation" for the FX-37, including two permanently open vents just above the eye port; two vents on either side, covered by mesh; the chin vent; and two exhaust holes up top, covered by the dark gray plastic assembly.
Unfortunately, none of these seem to do all that much, and my head gets unusually hot and sweaty even in mid-60's to low 70's Fahrenheit temperatures (18 to 22 C).
Plenty of air comes in from up under the chin bar, but the top and sides of the helmet inside don't seem to get much of a benefit from the vents.
The face shield uses an infinite (friction) adjustment system to hold it in place when it's lifted, so it can be opened slightly for more ventilation on the face.
Don't forget also that the large face shield on this type of helmet lets in a lot of sunshine, which can also elevate temperatures inside, especially when moving slowly.
Score:  I'll give the FX-37 a "Poor" rating for air flow and ventilation.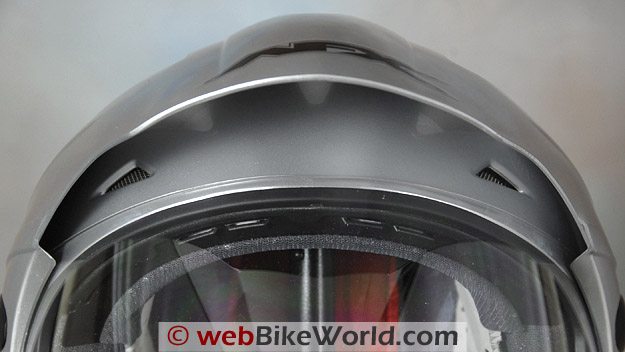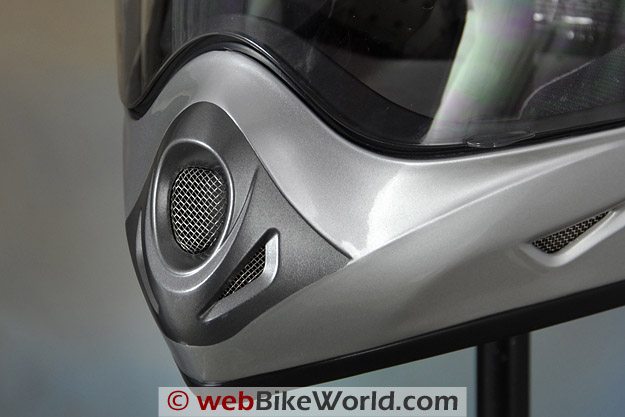 Helmet Weight
The FX-37 is a relative lightweight at only 1571 grams for this XL (3 lbs., 7-3/8 oz.), putting it in the neighborhood of some lightweight full-face helmets.
Those include the old Vemar VSR at 1566 grams (3 lbs. 7-1/4 oz.); the SparX S-07 at 1569 grams (3 lbs. 7-3/8 oz.); and the Suomy Extreme Spec-1R at 1570 grams (3 lbs. 7-3/8 oz.).
For comparison, the Arai XD3 that we reviewed in size large weighs 1675 grams (3 lbs. 11-0 oz.) and the HJC CL-XS in size XL weighs 1697 grams (3 lbs. 11-7/8 oz.).
Lighter than the FX-37 are the Airoh S4 (XL) at 1445 grams (3 lbs. 3 oz.) and the Marushin X-Moto(XL) at 1518 grams, or 3 lbs. 5-1/2 oz.
Both of those have helmet shells that feel very flimsy and flexible to me, beyond the point of which I feel comfortable wearing them.
So perhaps there is something added by the weight of the HJC and Arai, because they both feel much more substantial and sturdier than the FX-37. The FX-37 does feel well balanced.
Ironic, isn't it?  We're usually complaining about helmets feeling too heavy, and here's one that's light, but would probably be better off with a more substantial shell, making it heaver. Can't win!
To compare the FX-37 with other helmets, visit the wBW Motorcycle Helmet Weights page for charts comparing the weights of all of the open-face, full-face and flip-up helmets we've reviewed.
Score:  The AFX FX-37 gets a "Good" rating for its light weight, but does this come at a price?
---
Face Shield and Peak
The clear visor or face shield on the FX-37 uses a friction adjusting system to hold it in place when raised.
This type of system has its advantages, but it usually does not allow the visor to be snapped shut against the eye port gasket, and this is the case here.
The face shield on this example does not seal tightly, leaving gaps along the bottom on both sides.
Also, the face shield has enough distortion in the center to be bothersome.
It leaves me feeling rather cross-eyed, and it's my understanding from other owners that this problem is not isolated to our FX-37 only. So you may want to try on this helmet in a shop first before buying.
The weather warmed up here, so I can't really comment on the anti-fogging capabilities of of the face shield, but the large amount of air coming from under the chin bar should keep things clear.
Although I can't recommend wearing a helmet like this in cold weather, because there is just too much air coming in from underneath.
AFX says that different colored face shields are available for the FX-37, and I don't know if the optical qualities of the accessory face shields are any better than this one.
This is definitely a place where a few more dollars to buy a higher quality face shield would reap rewards in the end.
The face shield is removable and it's held on the sides with metal screws, which also hold the top peak in place. Dark smoke plastic covers on either side hide the screws, and the covers are lifted with a thin tip of a screwdriver or knife.
They are held by plastic tabs on either side of the cover, front and rear.
Credit goes to AFX for making the peak feel pretty sturdy compared to other Enduro helmets I've tried — especially the Airoh S4.
The peak on the FX-37 feels about as tight as one could expect and it doesn't rattle around or flex (at least as far as I can tell) when riding.
However, the more I wear these types of helmets, the more I wonder exactly what this peak does.
When riding into the sun or at right angles to the sun later on in the afternoon, the glare inside that big face shield is tremendous.
And moving the helmet around to try and get some shade from the peak is an exercise in frustration, because I often can't use it to block the sun.
This is a face shield that could use a few strips of "poor man's" sun shade taped on front.
Score:  The AFX FX-37 gets a "Very Good" rating for the sturdy peak, but an "Unacceptable" rating for the distortion in the face shield.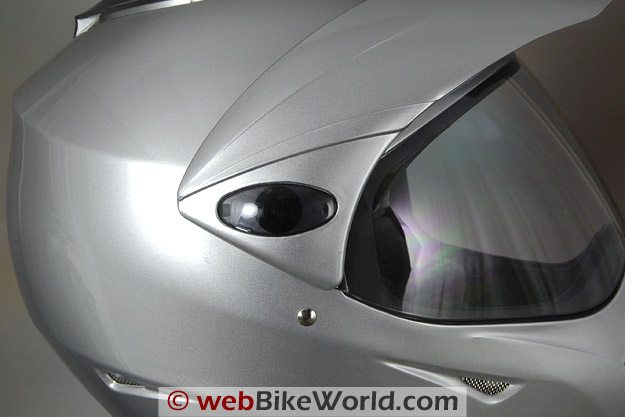 Noise Levels
The FX-37 actually seems to be relatively quiet for a helmet of this type, possibly a result of smooth air flow over the smooth styling.
Other than the increased buffeting associated with helmets of this type, noise levels seem well controlled.
Score:  The FX-37 gets a "Very Good" rating for noise control.
w

BW

 Video: AFX FX-37 Motorcycle Helmet
Miscellaneous
The FX-37 uses a double D-ring attachment system, and it has a very long chin strap. But the loose end can be attached to a plastic snap to keep it in place.
AFX claims the helmet "provides ample ear cavity space for speakers", but I don't see them.
I haven't tried to install speakers, but there's no ear pocket that I can find.
The FX-37 is labeled as meeting DOT safety standards. AFX also claims the helmet meets ECE 22.05 standards, but I can find no European AFX website to support this and, in fact, I haven't been able to find a UK retailer that carries the FX-37?
Conclusion
If you really feel the need to wear an Enduro or Supermoto styled helmet and don't want to lay out a lot of cash, the AFX FX-37 may work for you.
But the face shield distortion is a deal-breaker for me.
If AFX would just step up the game a little bit, they'd have a winner here. I could overlook some of the other minor quality issues at this price, but not the face shield. Sorry AFX, try again!
NOTE: This helmet has been superseded by the much improved AFX FX-39 DS (review).
w

BW

 Product Review: AFX FX-37 DS Helmet
Available From: AFX Helmets
List Price (2009): $114.95
Colors: Black, White, Silver.
Made In: Taiwan
Sizes: XS to XXL. Shell Sizes: Unknown.
Review Date: March 2009
Note: Item provided by a retailer, distributor or manufacturer with these Terms and Conditions.
Note:
 For informational use only. All material and photographs are Copyright © webWorld International, LLC since 2000. All rights reserved. See the webBikeWorld® 
Site Info page
. Product specifications, features and details may change or differ from our descriptions. Always check before purchasing. Read the
Terms and Conditions
!
---
Owmer Comments and Feedback
---
From "D.R." (8/10):  "I couldn't disagree more with the review about this helmet. Its DOT, lightweight, has fabulous peripheral vision, and the airflow is great. There is no feeling of claustrophobia connected with this helmet.
I do not understand the reviewer when he talks about distortion in the visor…..If there is any minimal distortion, it's a miracle that there is so little!  On a huge spread of plastic visor like that, and such a wide angle view, one has to make some optical compromises.
What are all these comments about riding into the sun about??  Any visor can be tricky riding into the sun period. This is the best helmet I have ever owned in 30 years of riding, I have been a three quarter helmet guy for ever, but this helmet offers just that bit more protection without cutting down the "open-air feeling". And its just over $100!!"
---
From "G.S." (7/09):  "(To answer your question about the purpose of the peak on off-road helmets):  When using a helmet like this in off-road conditions, the 'beak' is used to deflect large chunks of dirt and rocks. Goggles are not as strong as a full face visor and leave gaps. Being able to just dip your chin to prevent flying rocks and other debris from hitting your unprotected face is a good thing to have. Beaks aren't designed to be a 'sun visor'."
---
From "A.T." (5/09):  "I purchased this helmet on-line (yuck — brick and mortar please) and found that it was too small so I sold it privately. The helmet looked very promising and it almost was.
My main beef with this helmet that was *the show stopper* was the lack of a proper gasket to seal the shield from the elements. Like the Zeus ZS 2100 B (another low cost DS helmet) which was tested with a tasse of tepid water from the vendor's espresso maker at my request, it completely failed the water test and would be useless in the rain.
This is not a matter of comfort but a safety issue in that streams on the inside of the shield cause havoc with visibility especially if the shield is fogging up.
The ability to close some vents would have been nice as well but perhaps that is a $$ factor. I didn't get a chance to ride with it so I can't comment on the optics."
---
From "B.B." (3/09):  "I read your review of the AFX FX37-DS a few days after I had already purchased one for myself. I must concur with your assessment of the face shield, with one caveat.
Yes, I can see a slight distortion, but find it to be almost unnoticeable. Just out of curiosity (after reading your review), I had my 20 year old son try the helmet on. He felt that about 5 seconds of looking through the shield was enough to give him a headache. My wife tried it on; ditto.
Oddly, my wife and son have exactly the same eyeglass prescription. I ordered the dark smoke shield last week, got it today and tried it out. I can't see any distortion in this shield at all.
Once again tried the family test. Both wife and son say there is a very, very slight perceptible distortion to the right of center of the shield. So, in my experience, the smoke shield seems to be slightly better optically, based upon my very unscientific experiment (as you hypothesized in your review).
I think this is one helmet that you definitely need to try before you buy. Maybe, like me, you won't be bothered by the shape of the shield."